If you have been to Disneyland before, then I am sure you know a little bit about the Disney VIP Tour... OH you know those Cast Members that are dressed in plaid escorting guests (Sometimes even celebrities) around the park for an ultimate VIP experience!
Our Family has always wanted to take part of this experience and decided to splurge and surprise everyone with the ultimate Disney day! That said, we decided to put together a totally honest Disney VIP tour review for you, so that you can know it ALL before deciding on a Disney splurge!
---
Our Disney VIP Tour Review
What is the Disneyland VIP Tour?
The Disneyland VIP Tour is a special experience offered at Disneyland Park, where guests can enjoy a personalized tour of the park with a super friendly tour guides… or as us Disney nerds call them "The Plaids!"
This exclusive tour includes skip-the-line access to popular rides and attractions, reserved seating for shows and parades, insider tips and information about the park's history and hidden gems, and even some behind-the-scenes glimpses of how the magic happens.
---
How the Disney VIP Tour Begins
There are three spots that you can begin your VIP tour at, one is Disney's Grand Californian Hotel & Spa, another is the entrance to Disneyland Park and the third is the entrance of Disney California Adventure Park.
We decided to meet at the entrance of Disneyland Park, we chose this because we did not want to waste any of our time walking through Downtown Disney with the VIP Tour Guide and we wanted to immediately get down to business!
---
THE PROS: Disney VIP Tour Review
#1 Skip the Lines
The first PRO that most people already know is that with purchasing a Disney VIP Tour, you get to skip the line on every single attraction. For example, anything with Lightning Lane, you end up going through the Lightning Lane line, which really makes what should be a super long wait a 10-15 minute wait! (Note – you are not skipping the Lightning Lane, you are able to enter Lightning Lane, which is super awesome!)
This is the case unless you are a celebrity, in which, they have separate entrances for celebrities. My Husband Mike, did however, try to convince our guide that we were celebrities, but they did not fall for that… nice try…Mike Mamian!
For rides that do not have Lightning Lane, they have you go through the exit to get you on the rides. We experienced this with mainly the smaller rides.
#2 Ordering Food Made Easy
If you want to order food at a quick service dining location within the parks and the time on your mobile app says it is two hours out, your VIP Tour Guide will update it so it is automatically there right away!
Reservations
Another thing to note is that your guide is able to set up reservations for you throughout the day. It is a good way to get those "hard-to-get" reservations!
#3 Private Viewing for Shows
You are able to get private viewing for entertainment within the park. For example, we were able to get VIP viewing for the Christmas Parade, which is located right by It's a Small World! They have a seating area for VIP Guests, which gives you a nice break from walking.
We also were able to get VIP viewing for the fireworks.
One thing we did not know, is that as long as you did the tour earlier in the day, you can set up VIP viewing later on when you are NOT with your guide. They just add you to the list.
Note – you can also get VIP viewing for World of Color in Disney California Adventure Park and Fantasmic at Disneyland Park.
#4 Private Meet and Greets with Disney Characters
As part of your VIP Disney Tour, you are able to request private meet and greets with Disney Characters. Note though, that this is something that you need to book day-of with your Tour Guide.
You will need to let your Tour Guide know first thing at the start of your tour that you would like to do a private meet and greet and they will look to see what characters are available. From there, you are able to plan a 10-15 minute private meet and greet with that character.
#5 Parking is Included!
Parking is included with the Disney VIP Tour. You are able to get free valet parking at Disney's Grand Californian Hotel & Spa, which was SO AWESOME!
---
Disney VIP Tour Review – The Cost
The cost of a Disney VIP Tour is currently $450 per hour for a minimum of 7 hours and up-to 10 people. Note that this does not include the price of tickets and that you will need to purchase those ahead of time.
---
Split Your Group Up!
We absolutely loved that the Disney Tour Guide was able to split the group up if needed.
For example, if you had people in your group that were Teens and wanted to ride Space Mountain, but you also had little ones, like Jack, they are able to split up the group and ride different attractions suited for the age ranges.
---
How Many Disneyland Rides were we able to get on?
On our tour, we were able to ride: Space Mountain, Autopia, Matterhorn, Teacups, It's a Small World, Rise of the Resistance, Thunder Mountain, Splash Mountain, Radiator Springs Racers, Guardians of the Galaxy, The IncrediCoaster, Toy Story Midway Mania and the swings!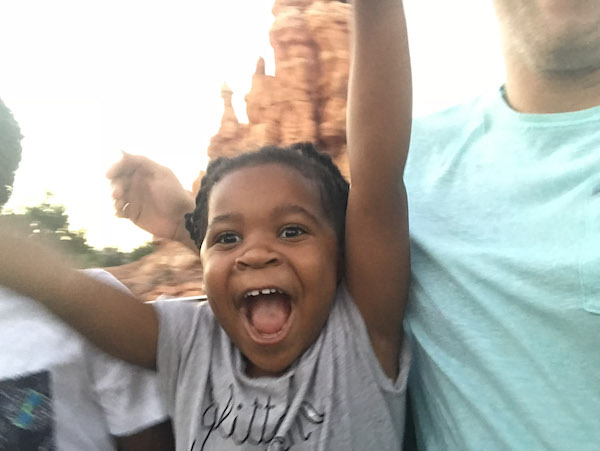 That's RIGHT! We were able to do 13 rides during the tour on top of having dinner, which was awesome!
---
Disney VIP Tour Review: Is It Worth It?
Personally, in our opinion – we think the Disney VIP Tour was worth it and might do it again for a special occasion/trip. However, there might be some things to consider prior to booking the tour to see if it is right for you and your group.
The cost is one of the CONS for this tour, but the PRO to consider is that you are saving a LOT Of time enjoying what you want to enjoy, versus standing in line.
The other thing to consider is the spontaneity of the day that you miss out on. When you book the tour, you want to try and maximize as much time as possible with the Tour Guide. That said, you are going to want to plan out the rides with them.
At the end of the day though, we think all the perks you get with the VIP Tour makes this experience special and WORTH the SPLURGE if you are able to do so!
---
If you enjoyed our article about the Disney VIP Tour Review, you might also enjoy:
DISNEYLAND HEIGHT REQUIREMENTS – EVERYTHING YOU NEED TO KNOW + AWESOME PRO TIPS
WHAT YOU CAN & CAN'T BRING INTO DISNEYLAND – 3 ITEMS WILL SURPRISE YOU!
DISNEYLAND PRINCESS BREAKFAST: THE MOST INCREDIBLE & AMAZING CHARACTER BREAKFAST
THE COMPLETE GUIDE TO DISNEYLAND CHARACTER DINING!
DISNEYLAND GENIE PLUS RIDES: A COMPLETE LIST + HACKS TO HAVE THE BEST DAY!
---
Pin-it for later: A Totally Honest Disney VIP Tour Review – Is It Worth It?
---
Frequently Asked Questions: Disney VIP Tour Review
What does VIP tour at Disney get you?
A VIP tour at Disney typically gets you a personalized and guided tour of the park with a knowledgeable guide who can help you navigate the park and provide insider tips and information.
How many rides can you do with Disney VIP tour?
The number of rides you can do with a Disney VIP tour varies depending on several factors, such as the length of the tour, the size of your group, and the crowds and wait times in the park.
Typically, a VIP tour at Disney lasts about 7-8 hours, and during that time, you can expect to experience between 8-10 attractions, depending on the type of tour you choose and the size of your group.
Latest posts by Ashland Hendrix
(see all)