Planning for Easter as a Mom of 6, can be a bit stressful. From planning the day, to the Easter baskets, there is a lot on my list to do!
Luckily, one of the many perks of being a Mom of a large family is that I have a LOT of experience and knowledge to share when it comes to planning these holidays.
Since my kids range from the ages 1 to 20, I really have to plan out the Easter basket stuffers for each of my kiddos! I have plenty of experience finding Easter basket stuffers that will please children of all ages and I am very excited to be sharing them with you.
Here are some ideas that I've found to be popular with my own kids!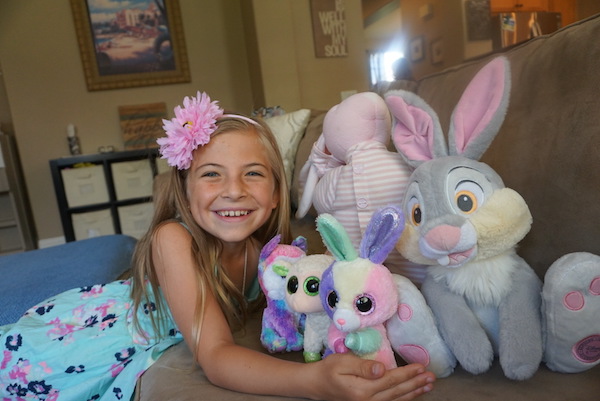 ---
Easter Basket Stuffers – Ideas for Babies
Easter is a fun time to celebrate with family and friends, and it's also a great opportunity to create a special Easter basket for your little one. Here are some Easter basket stuffers ideas for babies!
This cute Easter bunny and peep adds a centerpiece to your Easter basket and gives your little one something to cuddle with on Easter Sunday! Check it out here.
Bath time might be Jack's favorite time and it has a lot to do with some of the amazing bath toys they have available right now. This Baby Shark bath toy swims and sings when placed in the water. Check it out here.
We thought these cute Shark Toddler Sandals are the perfect an Easter basket stuffer for your little babe! Also, if you are like our house, then you might have a little one obsessed with singing baby shark. Check them out here.
Our little one, Jack loves the beach! Adding this to his Easter basket is perfect. If you have a little beach lover as well, check it out here.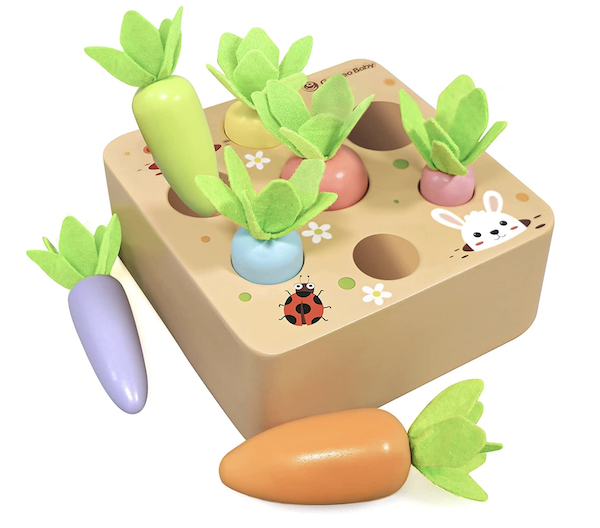 We love educational toys and also loved that this one is themed to Easter with the carrots! Check it out here!
---
Easter Basket Stuffers – Ideas for Kids
Are you looking for Easter baskets stuffers for kids a little older? Here is our list of favorite Easter basket items for kids!
We love art projects in our household. That said, adding these washable Crayola paints to the Easter basket is a great addition! Check it out here.
If you end up purchasing the paints for your little artist, you also might want to consider this great art mat for easier clean up! Check it out here.
Do you have a swimmer in your household? You might want to think about adding these cute no-leak swim goggles to Easter Basket Stuffers list! Check it out here.
Game night is big in our family, I mean we have an entire list here for you to choose from! Uno though is a big family favorite and a great addition to an Easter basket. Check it out here.
If you have not tried Kinetic Sand yet, you really need to! It is such a fun sensory toy for kids and to be honest… adults too! Check it out here.
---
Easter Basket Stuffers – Ideas for Teenagers
Right now, I have a house full of Teenagers, and if you do to, you know their Easter basket stuffers might be a bit tougher! Here is my list of Easter basket ideas for the Teens!
Since we have a house full of Teenagers, we know that it is important to them to keep their phones charged! Especially when we are not doing our #NoPhoneZone Challenge! Check out these mini portable chargers and add it to your list of Easter basket stuffers for this year!
We thought this fun glow in the dark soccer ball would be perfect for those hot summer nights! Our Teens love to play outside during the summer! Check it out here.
The Stanley Quencher is so popular right now and the perfect cup for staying hydrated. Adding this to your Easter basket stuffers for your Teen will be an AWESOME surprise for them! Check it out here.
This Voluspa Kalahari Candle can be the perfect addition to your Teen's Easter basket. Check it out here.
This chic loungewear outfit is also something we are adding to one of our Teen's basket for this year. We love the robe, bralette and shorts all together!
---
Easter Basket Stuffers – The Sweets, Treats & More
You cannot have a complete Easter basket without all the yummy sweets, treats and toys! Shop below for our favorite items to add to your cart for your kids Easter basket stuffers!
Shop The Sweets, Treats & More!

---
Our Favorite Easter Outfits
Looking for the best Easter outfits to wear? Shop our favorites below!
Shop Easter Outfits

---
Other Awesome Easter Basket Stuffers to Consider
The list above is not everything! We went ahead and put together all our Easter basket stuffer finds for you to make your Easter planning life easy this year!
Shop ALL our Easter Basket Stuffers


---
FREE: Print and Add our Easter Coupons to your Easter Baskets!
If you follow us on Instagram, than you might know we love having fun coupons for our Kids to make trips, holidays and family time more interesting!
---
Pin-it for later: 15 Awesome Easter Basket Stuffers for Babies, Kids & Teenagers
---
If you enjoyed reading about our Easter Basket Stuffers, you might also enjoy:
10 OF OUR BEST EASTER BASKET IDEAS FOR TWEENS
THE BEST SPIRAL SLICED HAM ONLINE- PERFECT FOR EASTER