I received products from Coca-Cola's 5by20 program; however, all thoughts and opinions expressed are my own.
Empowering Women Entrepreneurs through Coca-Cola's 5by20 Initiative
There are moments in life that change you. For me, one such moment was April 27, 2010, when I first stepped off the plane in Addis Ababa, Ethiopia. I can still remember the sounds, the smells, and all of the chaos. But, what I remember most was the feeling at the pit of my stomach. It was my first experience in a developing country and I was trying to come to grips with the fact that I was born incredibly privileged. More than I had ever realized before. I remember thinking "I was just born in America, these people were just born in Ethiopia. Neither of us did anything to achieve our statuses they were just inherited." Those thoughts never left me.
Women around the world are not all granted the freedoms we are granted in America. Many of them do not get a voice nor are they allowed to have an opinion, even when it comes to their own future. The conversations I had with women in Ethiopia completely broke me, and they changed me, and for that, I will be forever grateful. Coming face to face with the stark differences in the living conditions and overall treatment of my sisters around the world opened my eyes and heart in ways I never knew possible. I remember coming home after my first trip feeling a heavy weight to do whatever I could, with whatever means I had, to help support women around the world.
That was 6+ years ago and to be honest the burden to find ways to help women around the world has only grown stronger in my heart & soul. For me, this fight has become increasingly personal. As many of you know I have an adopted son from Ethiopia. In October of 2015, I was able to take my adopted son to visit some of his birth family that still live in Ethiopia, including his two biological sisters. Meeting them, watching them play with their brother, embracing them. All I could think about was the fact that they are just two little girls. Two little girls who just happened to be born in Ethiopia instead of America. Two little girls who are bright, kind, and intelligent but who's future is bleak regardless.
This newfound knowledge + passion has contributed to many of the lifestyle changes I continue to make on a daily basis. Sometimes it means contributing my time and/ or money to reputable organizations on the ground doing incredible things in places like Ethiopia. (*I was lucky enough to visit many such organizations on my last trip to Ethiopia, read more about those organizations here.)
Other times, it means harnessing the power we have as consumers. Power to be the agents of change. Every day we get an opportunity to choose where we spend our hard-earned dollars and by supporting major brands, like Coca-Cola, who are committed to 'social responsibility" we are able to help amazing projects flourish all over the globe.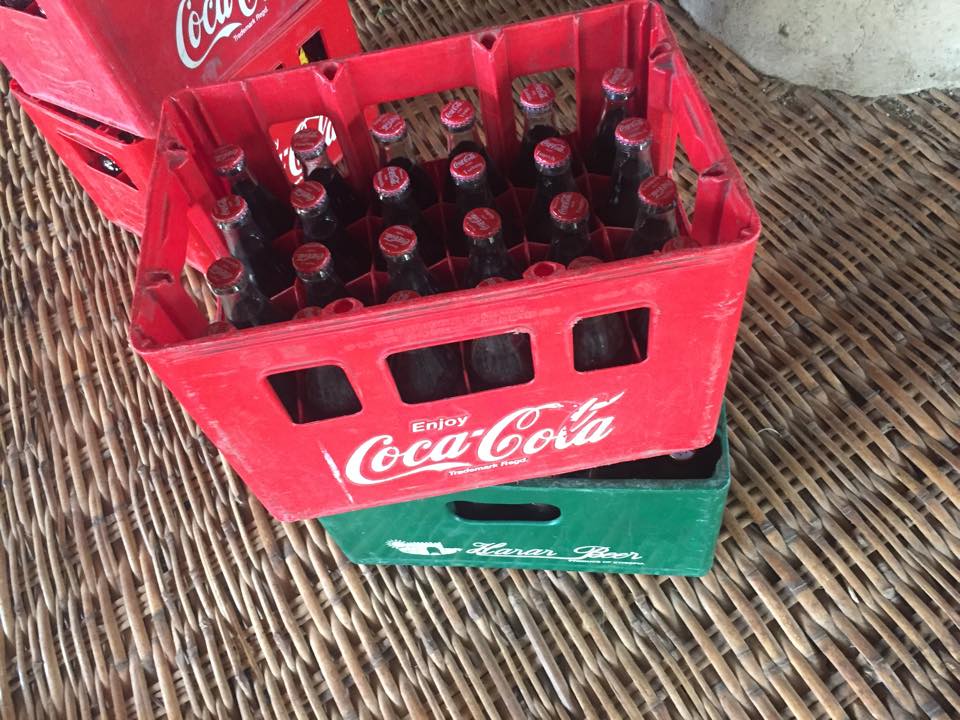 One such project I am extremely excited to introduce you to, on International Women's Day nonetheless, is Coca-Cola's 5by20 Initiative. This amazing project was launched in 2010 with the goal of empowering 5 million women entrepreneurs by 2020.

There are currently 5by20 programs enabling women in more than 60 countries around the world. These programs give women access to training, financial services, peer-to-peer mentoring & more. At the end of 2015, 1.2 million women had been impacted by Coca-Cola's initiative.
[bctt tweet="Support Women around the Globe ? w/ @CocaColaCo #5by20 Initiative. Learn more + Enter to Win here-" username="globalmunchkins"]
Women like Jocelyn from the Philippines, modeling tab earrings-
And, this woman in Brazil-
Find all the incredible handmade products and support women, like those pictured above, at the 5by20 merchandise shop here or enter my GIVEAWAY (click here) and WIN all of the 5by20 products shown below!!!
*Giveaway not affiliated with the Coca-Cola Company
WIN the Colectivo Handbag (BRAZIL), Bottle Cap Purse (TURKEY), Acacia Creations Soda Can Giraffe (KENYA), PCF Narrow Ring-Pull Bracelet (PHILIPPINES), and the Classic Flower (MEXICO). All of which, were handmade by artisan women around the world using their creativity + recycled coke products & labeling.
Some Stats About Supporting Women Entrepreneurs
Studies show that women are more likely to reinvest 90% of their income in food, education, and healthcare for their children and their families.
Simply put, when women rise in their communities, the communities themselves rise to new heights of prosperity and health. Over and over, studies have found a direct correlation between women's empowerment and GDP growth, business growth, environmental sustainability, improved human health, and other positive impacts.
There are mountains of research indicating that when you invest in the education and success of women, it improves the economy and makes the community stronger and more sustainable. Everyone benefits – men, women, and children.
In honor of International Women's Day, I hope you would consider finding ways to support other women – in business and otherwise – as it helps create a ripple effect that benefits society as a whole.