Traveling has exposed my family to many different cultures. One of the benefits of this exposure has been learning how other cultures live. Many European cities we visited seemed to have a much deeper appreciation for the arts whether it was stage theater, painting, sculpting, music etc… So, after arriving home we decided as a family we would branch out and find more ways to appreciate the arts at home. That is why I was SO excited to be invited to the opening night of "Thoroughly Modern Millie" which happened to be performing at the Moonlight Amphitheatre just a quick 25 minute drive from Temecula.
"Thoroughly Modern Millie" at the Moonlight Amphitheatre

The Show
"Thoroughly Modern Millie" is a fantastic musical showcasing a young rural girl's struggles as she moves from her small hometown in Kansas to a shiny new life in New York City. The story takes place in the 1920's when women were just entering the workforce and new thoughts and ideas were mounting about love, marriage and what it meant to be a "modern" woman.
The show is filled with fun characters, an amazing live orchestra, great music and an incredibly talented cast. Plus, a heart-warming lesson in the end. I brought my 9 year old daughter Ella and we both ABSOLUTELY LOVED this performance. It is suited for all audiences and would make a great family night out.
"Thoroughly Modern Millie" is a production performed by the Moonlight Youth Theatre which is founded by the incredible Moonlight Cultural Foundation. The foundation provides professional theatrical training for young people, and stages high-quality student performances that will blow you away!!
I was amazed at the talent these young people possess. They should be singing on Broadway– they are really that good!
Grab tickets quick as this show ends Oct. 23rd!!! Find more details here.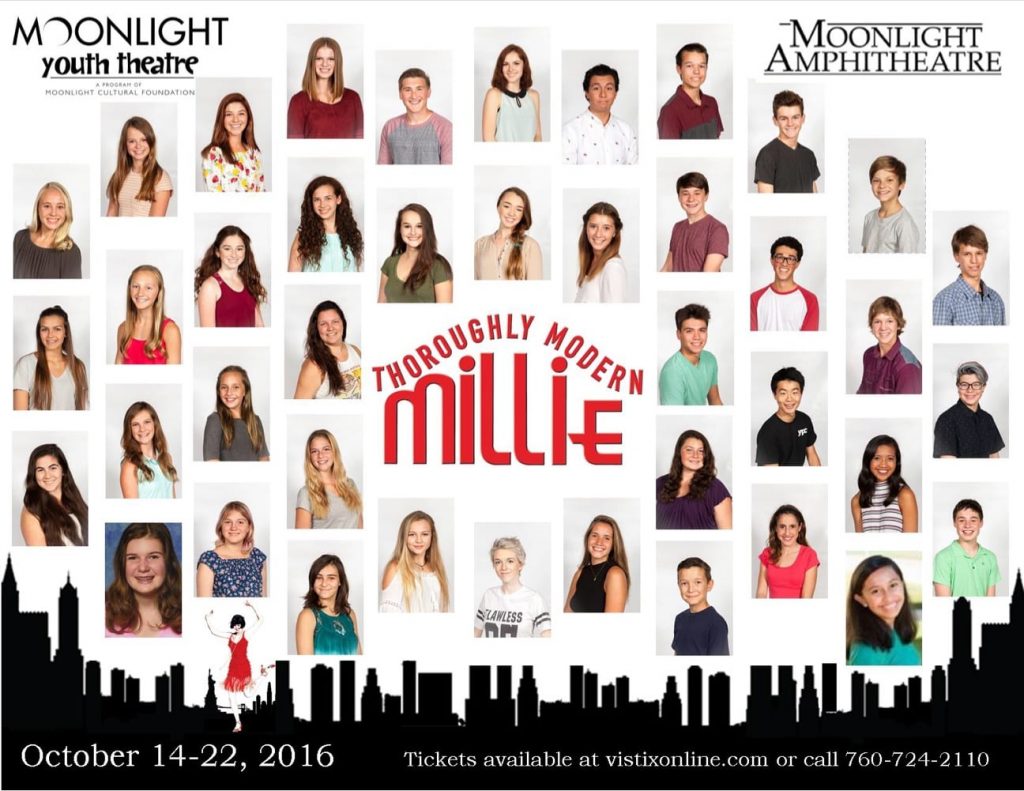 Moonlight Amphitheatre
And, if you have never been to the Moonlight Amphitheatre you are missing out. This gorgeous outdoor venue located in Vista CA was voted San Diego's #1 Outdoor Theatre by readers of San Diego Magazine. Here you will find Broadway style productions with a state of the art sound system and live orchestra on par with what you get in New York! Plus, there is something extra magical about watching a show under the stars!!!
I recommend grabbing seats in the unique "Reserved Lawn Seating" section where you can bring your own food and non-alcoholic beverages and enjoy a picnic on the synthetic lawn while you watch the show. Food and alcoholic beverages are available at the Artisan Cafe on site as well. And, don't forget to bring a blanket to bundle up in because the temperature tends to drop after the sun goes down.
Have you visited Moonlight Amphitheatre?
*a special thanks to the Moonlight Youth Theatre for providing Global Munchkins with complimentary tickets in exchange for my honest review. All thoughts and opinions, as always, are 100% my own. Photos provided by Moonlight Amphitheatre and the Moonlight Youth Theatre.