Family movie nights are an excellent way to promote family bonding. Today I am sharing my top 3 tips to make your next family movie night extra special. Plus, I have an awesome offer from Fandango today too!!
3 Tips for a Great Family Movie Night (+ Fandango offer)
Family movie night is a weekly occurrence in our house and for good reason, watching movies together is a great way to bond as a family, it's pretty cheap to throw one together, it appeals to all ages, and it super fun!! Of course, because we do them so often, I have had to come up with some clever ways to jazz them up. Here are 3 Tips for making your next family movie night a great one! And, don't forget to grab that awesome Fandango offer to help SAVE some cash on your next movie night!
1 Popcorn Add-Ins
We are a popcorn loving family and so no movie is complete without a big bowl of popcorn to share. Which is why I always have plenty of Pop Secret on hand. I make sure to stock up every time I am at Target. My kids love the great butter taste and I love that popcorn is a high-quality snack that I can feel good about sharing with my family.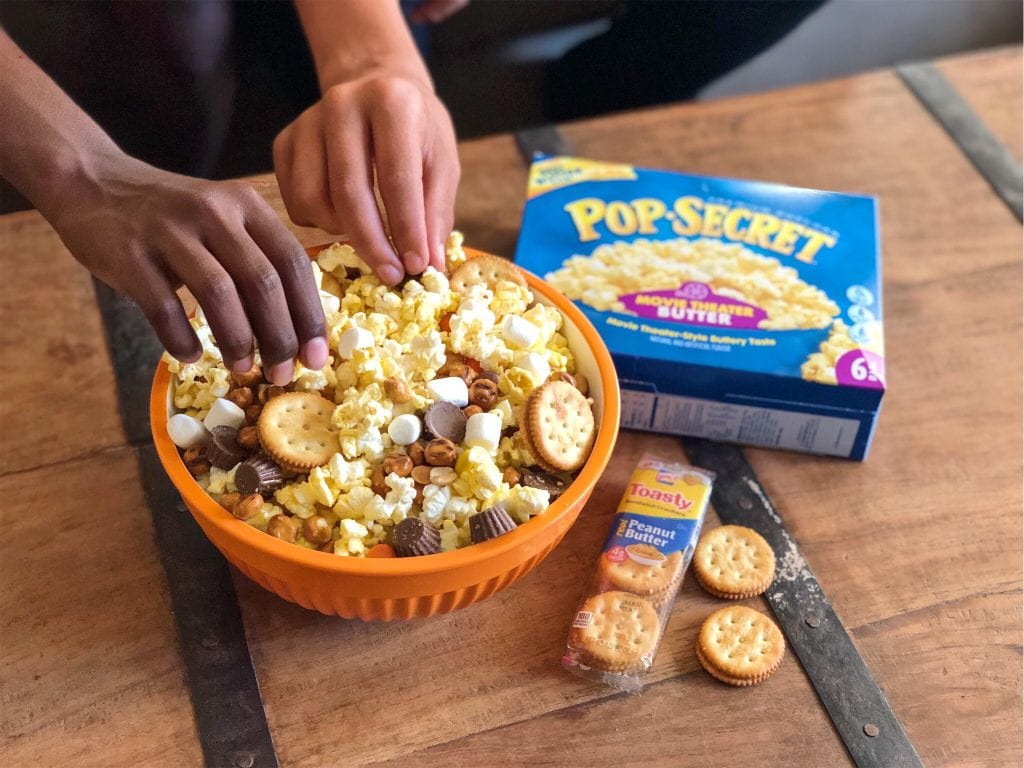 While we love the taste of our Pop Secret on its own we also think it is fun to mix things up by adding some fun popcorn add-ins like Lance peanut butter sandwich crackers to help fill up the kids, pretzels for an added crunch, mini marshmallows, and candy pieces make it feel like a real treat too!
Speaking of Lance crackers did you know that they are made with real peanut butter? It tastes delicious between those two crispy baked crackers, and they actually have up to 5 grams of protein which helps to fill up hungry bellies (even my teens), and no high fructose corn syrup- woot! woot! We love to grab a variety of flavors and keep them on hand for when the kids need to grab a quick snack for school or sports as they are running out the door. I love that Lance crackers have been around for over one hundred years too. You know a business is doing something right when they have been around that long.
FANDANGO OFFER
This summer when you spend $10 on participating Pop Secret or Lance Sandwich Cracker products and get an $8 Fandango promo code toward a ticket to the Hotel Transylvania 3: Summer Vacation or any other movie.
Bonus offer – spend $15 on participating Pop Secret or Lance Sandwich Cracker products and receive an $8 promo code + $3 FandangoNOW promo code valid toward the rental of Hotel Transylvania 1. Offer expires 8/31/18 , while supplies last."
2 Take it Outside
Have you ever tried a backyard movie? My kids think they are pretty amazing. We have brought our projector outside and shown movies on our backyard screen, but we also love pulling the projector out front to our garage and inviting the neighborhood kids to join in as well.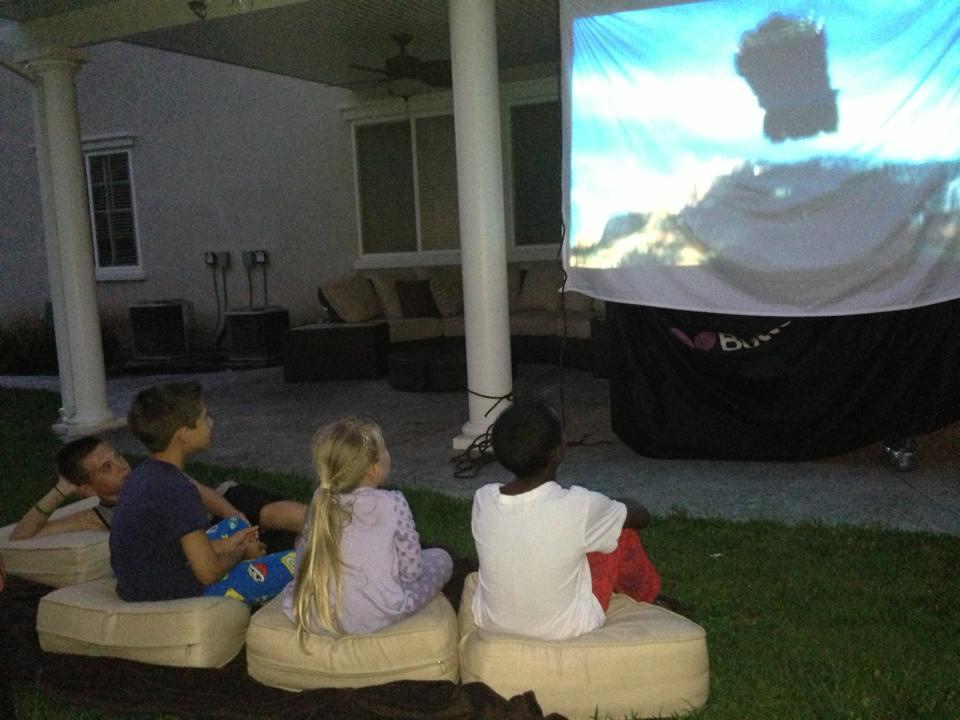 3 Pick a Movie the Whole Family Will Love (including parents)
You also want to make sure that you pick a movie that the whole family will love. We try a healthy mix of new films that star voice actors that we (as adults find humorous) like Adam Sandler in Hotel Transylvania- did you know he plays the voice of Count Dracula? and then we toss in some oldies from our own childhood because the nostalgia ensures that we are fully engaged in the film too!
Something else we have found to be fun is to watch series one movie at a time. It's especially fun when a new film is being released. That way you can do your own movie marathon leading up to the new movie being released in theaters.
What are your favorite family movies?
We definitely can't wait for Hotel Transylvania 3: Summer Vacation to hit theaters July 13th. It's one of Olivia's favorite movies and it also one of those films that all of my older kids find humorous too! Not to mention the basis of the movie has to do with vacations and cruise ships, which y'all know are some of our two favorite things in the world!!!
We plan on watching the first two Hotel Transylvania films this week in anticipation of Hotel Transylvania 3 being released. Why don't you join us?
You may also like our DIY Popcorn Bar here, or 38 of the BEST Family Movies here.
Latest posts by Mama Munchkin
(see all)