These super easy keto dinner ideas will help you stick to your diet plan and please your family too. The best part is they are super easy, require just a few ingredients and are finished in less than 30 minutes!! In fact, some go straight from the freezer to your plate in just 15 minutes flat!! These meals are also low carb & kid-friendly too!
Super Easy Keto Dinner Ideas the Whole Family Will Love!
*This post is in partnership with Omaha Steaks. All opinions expressed are 100% my own.
With our super busy lifestyle, I knew sticking to a new diet wouldn't be easy. However, after finally losing those 5 pesky pounds I was determined to keep the weight off. So, I had to do some research and come up with a list of keto dinner ideas that not only were super simple (I'm talking ready in 15-30 minutes with only a few easy steps) but they also had to be delicious. After some trial and error, I finally have a list of easy keto dinner ideas that my whole family is happy about. Hopefully, you will be able to add a few to your family meal plans for the week.
I do want to mention that I feel like the quality of protein and fats that you consume affects the way you feel which is why I have recommended a brand below that I personally trust and serve regularly to my family. As many of you know my love for Omaha Steaks recently landed me an ambassadorship which I am over the moon about. It's a dream brand partnership because I have been devouring their delicious foods since I was a child. So, I couldn't resist sharing a few of my favorite Omaha Steaks items that just happen to be super keto-friendly too!
Frozen keto dinner ideas that go from freezer to plate in 15 minutes!
I find that the best bang for our buck is investing in high quality frozen foods. I find that even my best-planned weeks seem to go awry and having to toss out fresh food that went bad in the fridge kills my soul. With frozen food, I never have to worry about that.
Here is the caveat though, it has to be high-quality frozen foods which is why I recommend Omaha Steaks. I swear you will be amazed, like absolutely gaga when you try them out and taste the difference. Recently they came out with their skillet meals and they have been a total game changer. You get high-end restaurant quality meals on the table for a fraction of the cost and without the hassle of actually having to get the family dressed and ready.
Each of the following keto dinner ideas comes frozen to your door and goes from freezer to plate in 15 minutes. Literally, all you do is take it from the box to the skillet and saute it for 15 minutes- voila! a delicious healthy keto dinner that your whole family will love is served.
Asian Pepper Steak Skillet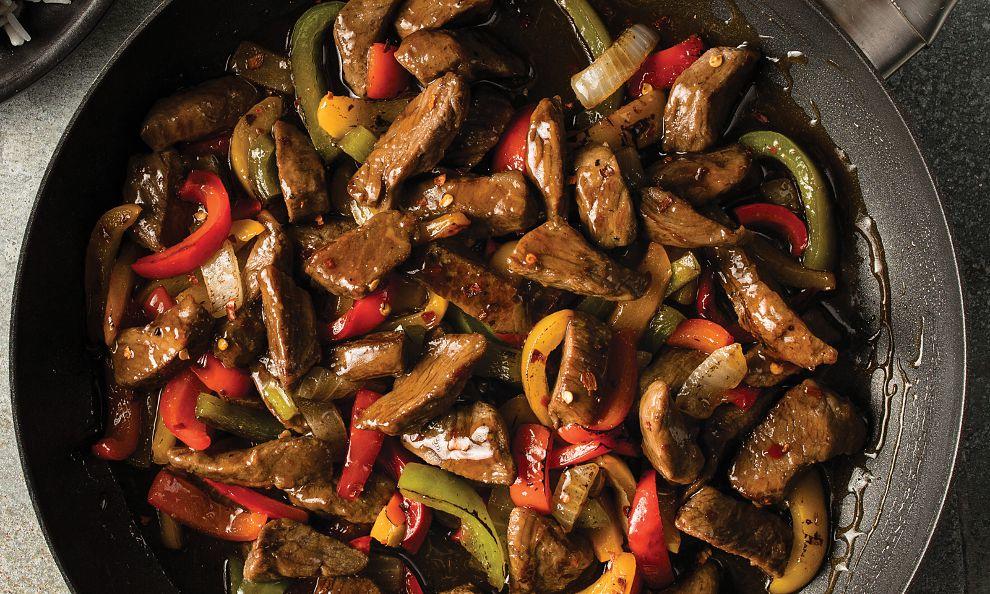 This meal pairs well with cauliflower rice or you can make your family regular white rice too.
My kids love to eat this one with crusty french bread. It's perfect for the fall/ winter months.
Again, great paired with cauliflower rice or regular white rice for those not on a keto diet plan.
All of the above keto dinner ideas above come straight from Omaha Steaks. Check here to see what deals they have going on.
Keto dinner ideas with minimal meal prep (ready in 30-minutes or less!)
Bacon-Wrapped Blue Cheese Steak Bite Salad
This dish is perfect for a quick weeknight dinner but is also one of the keto dinner ideas that you can pack and take with you to a party too. It makes a great appetizer and looks like it took a lot of time to prep when really it is super duper easy.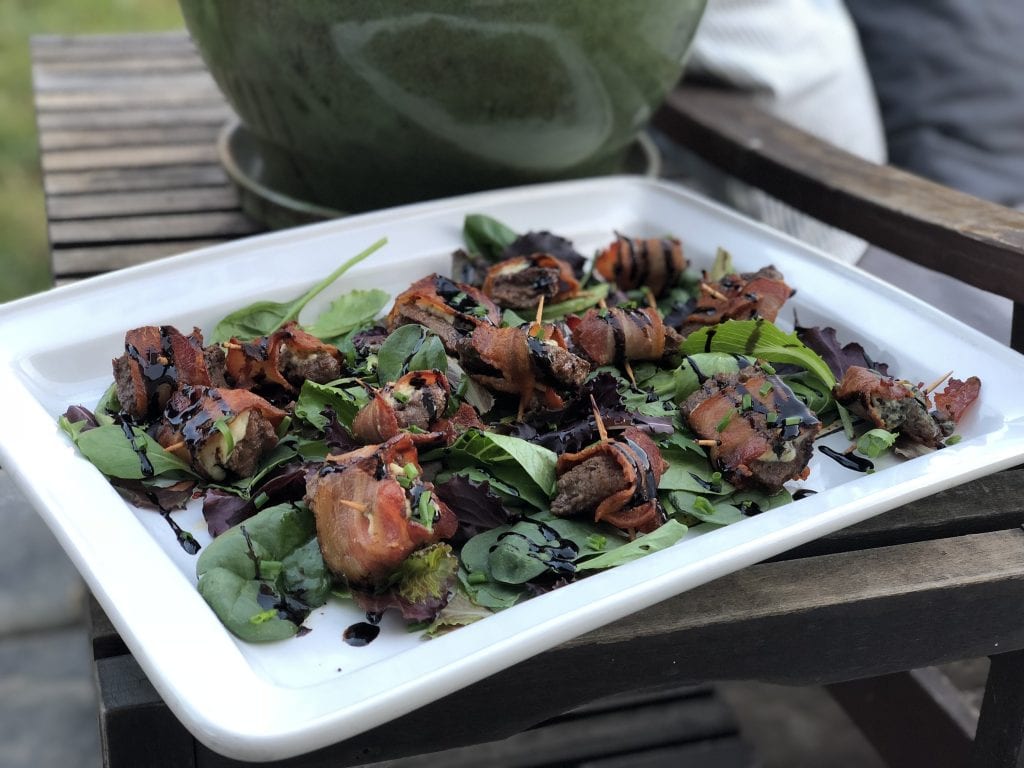 Ingredients
Omaha Steaks Precooked Bacon
Omaha Steaks Filet Mignon Tips
Blue Cheese
Arugula
Balsamic Glaze (I got mine at Trader Joes but you can easily make your own by reducing balsamic vinegar in a saucepan)
For instructions see my post here. *In this recipe I used the raw bacon, but I find the precooked one to be thinner and easier to maneuver plus it saves me time.
Quick Skillet Steak & Onions
This keto dinner idea is on our family's weekly rotation because 1) it's delicious, 2) its versatile we've thrown it into wraps for the kids, switched up the seasoning and used it for tacos (I use Boston lettuce for my shells), and 3) tastes delicious as leftovers so it works great for meal prep too!
Ingredients:
Omaha Steaks Beef Sirloin Tips
1/2 Small Red Onion Sliced
1 Tbsp Olive Oil
1/2 tsp. Garlic Powder
Salt & Pepper (to taste)
Garnish with fresh herbs
Instructions:
Defrost meat according to instruction
Place meat in a bowl and toss with olive oil
Next season the meat with garlic powder salt, and pepper to taste
Add the onion slices
Heat a skillet over high heat, once hot spray with cooking oil and saute the meat until you reach the desired doneness. Usually 5-7 minutes for medium/ well.
Serve with a salad of spinach and avocado tossed in olive oil or with zucchini sautéed in olive oil.
Salmon is packed with healthy fats and my nutritionist suggested eating it once a week. To be honest I was nervous about the taste because I don't love fish. But, these Alder-Planked Salmon Fillets from Omaha Steaks are such a treat. They are absolutely delicious and they come on these gorgeous wood planks which makes you feel like you ordered it at some fancy restaurant. Out of all the keto dinner ideas I listed this is probably my personal favorite!!
Ingredients:
Instructions:
You can take these Omaha Steaks planked salmon fillets straight from the freezer to the grill making these a great weeknight meal. Simply unwrap and place on the grill for 15-20 minutes. (You can alternatively bake these in the oven for 30-35 minutes).
Mix the salad in a bowl and serve alongside the salmon.
I mean, bacon + pepper jack + shrimp how could one go wrong? Pair these tasty morsels with some cauliflower mash and you will never believe you are actually on a diet. Make these and bring them to your next party and you won't have to worry about answering any lame questions about being on a diet.
Ingredients:
Instructions:
Preheat oven to 400 degrees
Remove shrimp from the tray and placed individually wrapped shrimp onto a foil-lined baking sheet. Allow about 1 1/2 inches between shrimp.
Bake uncovered for 14-16 minutes or until the cheese melts and the shrimp turn pink.
Heat the Cauliflower mash according to instructions.
Ingredients:
Instructions:
Heat and serve according to package directions. *some veggies in the mix are not keto-friendly but I just served myself the ones that were and my family ate the rest.
Ingredients:
Omaha Steaks Steak-Cut Bacon
Mixed Spring Lettuce
Avocado- cubed
Red Bell Pepper- sliced
Favorite Cheese (I like brie, halloumi, blue and Toscano personally)- cubed
Olive Oil
Balsamic Oil (try flavored like honey or jalapeno)
Instructions:
Cook the bacon according to package instructions
Put salad ingredients together and mix with bacon and serve
Which of these Keto Dinner Ideas will you try?
*Disclosure- this post is in partnership with Omaha Steaks and some of the images included are theirs. All opinions are my own.