*this post is in partnership with Walmart.
Being a mother of six, one of the things I attribute to my family being so close is those special and fun memories that we put together. From creating chore challenges, to family vacations and amazingly fun themed parties – my husband and I truly try to parent with intention when planning these fun moments for our family.
Since the holidays are our favorite time of year, we were excited to throw a festive and yummy gingerbread party with affordable items all from Walmart!
We all know that Walmart has amazing prices and a wide assortment of products that can really give you everything you need in one place and for LESS! That is why, we think you should add a gingerbread party to your Family's calendar this year and start making your own family memories and annual holiday traditions!
Our Gingerbread Party
Our daughter, Ella wanted to invite some friends over during the holidays and we thought what fun it would be to have them all make their own tiny gingerbread house. We loved that we only had to make one stop at Walmart to create this festive-themed gingerbread party and better yet, we got it all for less!
Gingerbread Party: Everything you need from Walmart
From the baking equipment, to the gingerbread house kit, we have everything listed out for you below! Enjoy all our favorite Walmart Holiday Home finds and start planning your new annual family gingerbread party!
We loved using this gingerbread village kit and if it is the only thing you end up purchasing, that is okay! This Walmart Exclusive find comes with everything pictured and makes 4 gingerbread houses!
Just to add that extra special holiday touch to your gingerbread house, you need to add Santa and his reindeer…right? These 10 piece gingerbread house icing decoration are not only super adorable, but they are edible too!
If you are looking for more of a traditional gingerbread house with little gingerbread men and women, you probably want to shop for these gingerbread icing decor.
This adorable gingerbread insta-house is perfect if your kids love animals! You really can create your own country-side Christmas scene during the party!
If you are not really an engineer and/or architect when it comes to building gingerbread houses, you might want to consider this pre-built gingerbread house kit! This kit is ready to decorating and includes many fun and yummy decorations for your gingerbread house.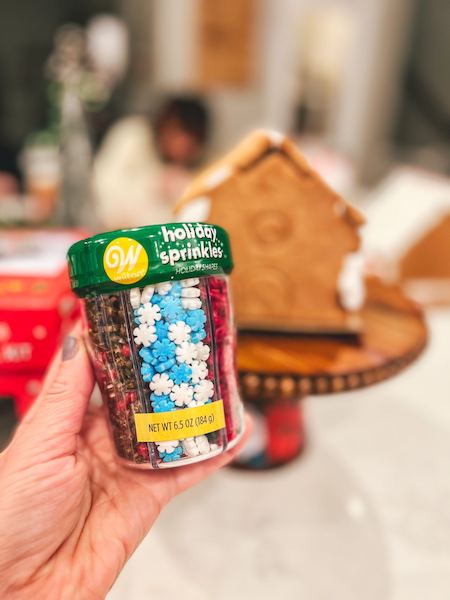 Adding those extra touches of Christmas magic to your gingerbread house is a must! During the holidays we always love keeping holiday sprinkles on hand for any kind of Christmas baking.
This was actually our favorite find for the gingerbread party! The Pioneer Woman cake stand was definitely a great holiday home find. It dotes a very elegant elevated look and great quality! We will most-likely be using this cake stand for many future family events.
If you are baking your own gingerbread, then you are going to want to get some great non-stick baking pans. If you are not baking, it is always great to have these on hand when you are making gingerbread houses with little ones, because you can set up their station in front of them! Less Mess!
Baking during the holidays is also a great annual tradition you can start with your family. If you are making your own icing and gingerbread, I highly recommend a KitchenAid. Not only do they make your baking life significantly easier, it really can make the quality of your baking go up!
Once you have all of your gingerbread houses made, you are going to want to display them proudly! We loved displaying ours on this chic looking bar cart from Better Homes & Gardens!
Shop The Post

Pin It For Later: Our Festive Gingerbread Party with Walmart's Holiday Home
Other articles you may enjoy:
THE BEST HOLIDAY MATCHING PJS FOR LESS!
HOLIDAY OUTFITS FOR LESS- OUTFITS FOR EVERY EVENT!
RANKING THE BEST 53 FAMILY-FRIENDLY HOLIDAY MOVIES TO WATCH TOGETHER RIGHT NOW!
Latest posts by Ashland Hendrix
(see all)