Summer is in full swing and with my new vow to a healthy lifestyle for me + my family I knew I needed to figure out a few things about being healthy on the go. Because in summer that seems to be what we do. Go…go…go!!! There are a few items that have made this incredibly easy for me and I thought I would share them with you today.
Healthy Summer Must Haves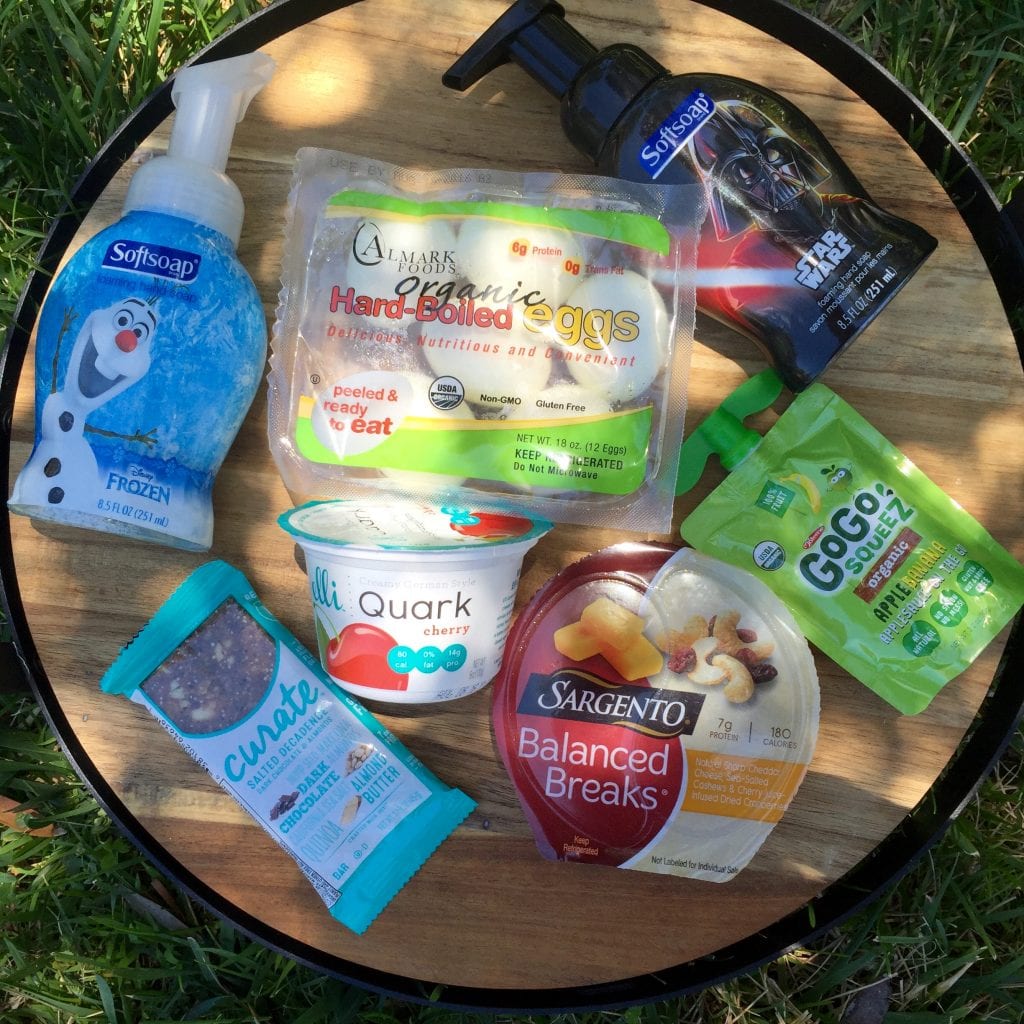 Eating Healthy
After traveling all around the world frequently (11 countries in the past 13 months) I began to realize that our families energy & immunity levels were hitting an all time low. Traveling is such an important element in our lifestyle and I knew we didn't want to curb that. So, I decided to overhaul our eating habits while on the road instead. You see at home we are a pretty healthy family. We stay active, drink tons of water and eat whole foods. I love to cook so I know everything that is being put into my children's mouths. We buy organic where we think that is important (hello berries, fruit, eggs and meat) and we try to ensure our meals are balanced plates of complex carbs, lean proteins and veggies.
The trouble is when we leave the house we are a mess. We love to try new foods and treat the kids to an occasional soda and ice cream. But, between doing that + eating all of our meals out it just wasn't working.
So, we started packing food before we left. We began requesting mini fridges to be placed in our rooms or stayed at Air BnB's that offered kitchens. And, this has made an enormous difference not only in our waistlines but also in our energy levels and maybe most importantly our moods. Traveling with 7 grumpy people is no fun.
After doing this for the past few months I have come to depend on a few great products. I wanted to share my summer must haves with you. This way your family can be healthy & happy this summer to. No matter where your free time takes you 😉
Go Go Squeeze Yogurtz & Applesauce

Gogo Squeez has always been a hit amongst my kids. It is easy to pack and its delicious. But, now they have taken it to a whole new level with their new Gogo Squeez Yogurtz. Real yogurt + fruit that needs zero refrigeration and has zero added preservatives. This means with the added 4 grams of protein your little ones will stay fuller longer 😉  It comes in 3 tasty flavors including banana, strawberry and berry. My kids are keen on the banana- yummy!! As you can see the girls think these are pretty great.

Liv loves them so much I have been keeping them in her diaper bag. She is a picky eater when we are out at restaurants so these have come in handy. See her in action below-

Curate Bars

Ella and I are not big fans of granola bars so when we found these new Curate bars at our local Super Target we were pretty stoked. These bars are made with super tasty combinations like dark chocolate & hazelnuts, dark chocolate strawberry & pistachios and more. Unlike traditional bars they are nut full of crunchy oats instead these tasty treats are jam packed with powerful ingredients that your body will love like chia seeds and quinoa making them a great source of protein & plant based fiber too. They are only sweetened from natural sources and their sugar content is very low. This is a big one for me since sugar is my downfall. They are non gmo and never contain artificial junk. They also make a kids bar but I haven't tried those yet.
Organic Hard Boiled Eggs
High in protein, easy to pack and super filling my kids and I love hard boiled eggs. Costco sells the Almark foods brand I have been purchasing and we love them. We pack them in baggies with salt and pepper. Slice them on top of toast or make egg salad sandwiches. Having them in the fridge ready to go makes it so much easier.
Sargento Balanced Breaks
I'm a snacker and so are my kids. We like 3 balanced meals and 2 snacks in between. This can be costly while traveling. Have you ever purchased a banana or granola bar from Starbucks- YIKES! So, we try to pack enough snack foods to hold us over. These Sargento Balanced Breaks have come in handy with our snacking habits. The kids and I love the combo of cubed cheese + nuts and dried fruit. It comes in several varieties including one with pepper-jack cheese and honey roasted peanuts which my older boys absolutely love. This one does require refrigeration so making sure you have a fridge is key 😉
Elli Quark
This has to be one of my all time favorite snacks/ breakfasts. Elli quark is actually a type of german cheese that tastes similar to greek yogurt but less tart and more creamy. It packs a powerful punch in regards to protein (14 whopping grams) and is super low in calories- only 80. Pair that with the fact that they are only sweetened with stevia and erythritol and you have a real winner. My favorites are their cherry, strawberry and vanilla bean flavors. I top them with fresh fruit or muesli and I enjoy every bite. The kids love them too, but they usually have to pry them out of my hands as I am a bit partial to these ones- ha!
Soft Soap

With all this healthy eating your kids are sure to build up some strong immunity levels. But, nothing keeps kids healthier than proper hand washing. But, that doesn't mean kids like to do it. In fact Liv hates washing her hands and she'll often run off or hide to try and avoid it. So, I have been popping these new Softsoap Frozen and Star Wars themed foaming hand soaps in my bag. I have found that Liv is much more willing to wash her hands when her favorite characters are involved. We even started singing "Let it go" while she scrubs to make sure she gets in enough dirt + germ fighting action. And, it has been working like a charm.
It has even come in handy several times when we were traveling and made a stop at a rest stop that had no soap- yuck! And, I am not sure about your kids but when we stay at a hotel my kids hardly ever use the bar soap the hotel provides to wash their hands. I think they just are not accustomed to it. But, when I replace the bar with one of the Softsoaps at the sink everyone is much better about staying clean. And, let's be honest we love our kids a little bit more when they are clean. Those sticky dirty hands can be NAASTAY!
BONUS- Minted Labels

While this one might not directly keep families healthier they will help keep your storage items for your healthy foods from getting lost. You see Minted has brand new labels that are both dishwasher & laundry safe! With 5 kids having things labeled keeps arguments at bay. It also helps us keep track of all of our items. Thermos' are expensive y'all.
This really came in handy this summer when we visited Disneyland. Ella lost her thermos and we were immediately called (our number is voided out but it is under her name on the labels) and we retrieved the thermos BEFORE we ever knew it was missing. BAM! Saved me $19.99 thank you very much!!
These would be great for summer camp, school, daycare and youth sports too! They come in a bunch of super cute designs, are made of non-toxic materials and they can be placed on plastics and clothing labels too.
Pin for later-
Are there Summer Must Haves that have been helping your family stay healthy this summer?
Please share them in the comments below.
*A special thanks to Gogo Squeez, Softsoap & Minted for offering free products in exchange for my honest review. I was not paid to write this post. My thoughts and opinions, as always, are 100% my own.
Latest posts by Mama Munchkin
(see all)