Woohoo for sunshine and pool days! We are absolutely stoked for our first full summer with a swimming pool in our backyard, but even before this, we would spend the majority of our sunny days in the community pool. In preparation for our first summer with a pool in our backyard (and plenty of scheduled pool play dates), we are stocking up on all the best pool toys to keep the kids entertained.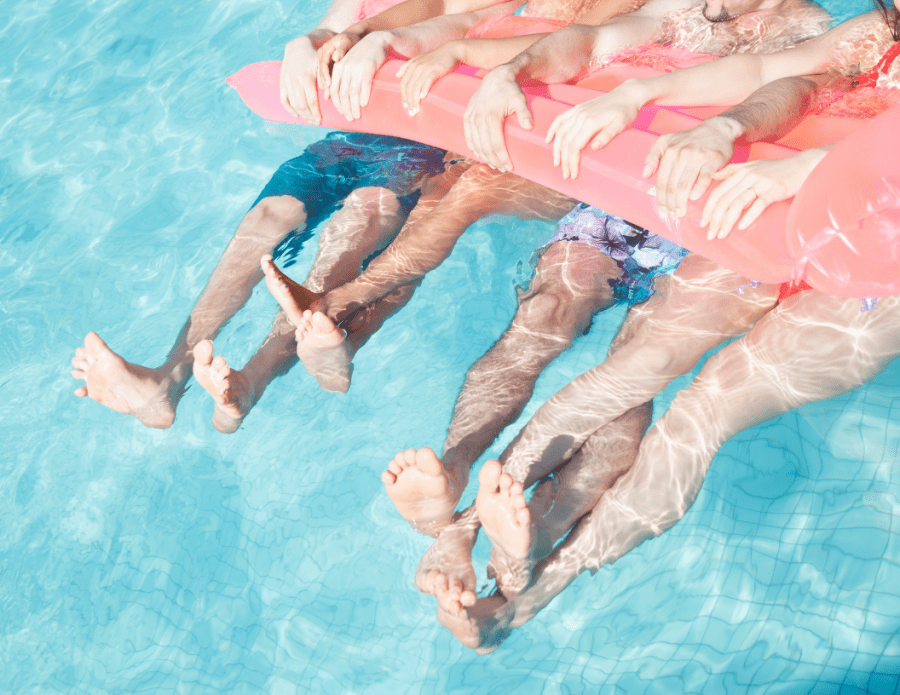 Pool Diving Toys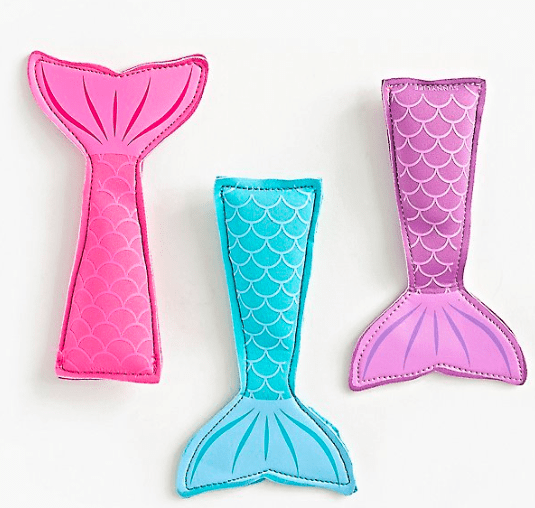 Ella loved these little mermaid tails, they are great for improving your child's swimming and diving skills. The pack comes with three dive buddies. You can come up with all sorts of different diving games to play together or solo. Also, these dry off super quick making them a great toy to bring to a community pool or beach.
Look no further than this set to meet all your diving and underwater game essentials! It comes with rings, sticks, treasure and more making it the perfect pool toy purchase for big families like us. Not to mention, you get all of this at a really great price and it comes with a bag to pack it all back up in. My kiddos would dive for rings and sticks for hours when they were little and I really see the results now of their improved swimming skills.
Sports Pool Toys
Pool Volleyball is the ultimate pool party game. In our family, it gets pretty competitive but it is so fun! This net just floats right on your pool surface and you can hold it in place with anchor weights. Although it does make for some interesting game twists if it is free floating! The set includes the net along with an inflatable ball to play with.
We use our poolside basketball hoop probably more than any other pool toy in our backyard. After all, it does combine the best of both worlds with water fun and sports. This hoop is durable and strong with a shatterproof backboard, meaning it can withstand even your teenagers. It also has adjustable height increments and a traditional basketball rim.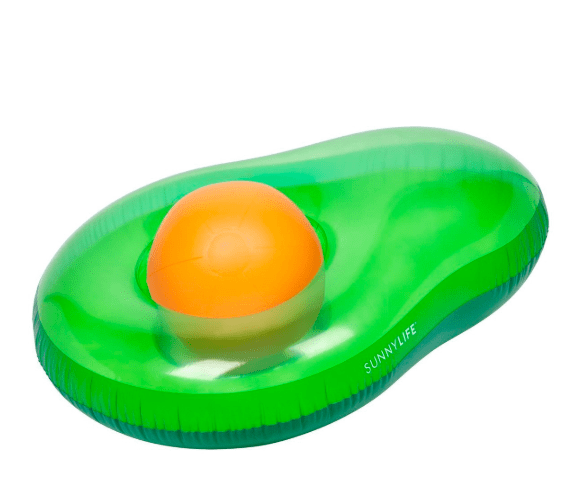 This Avocado Pool Ring might fit just as well under the floaties section below because that is essentially what it is. However, we are going to put it here as the "avocado pit" doubles as a ball. This means you can float around in the avocado or you can try and get the ball in the hole. In our family, I'm sure it would get used for both. And really I am just obsessed with how cute it is!
Floats & Rafts
Pool days don't feel complete without inflatable swimming floaties! I love the look of this pineapple raft and you might just find me laying out on it during all my free time this summer. One of the best things is how big this float is allowing you to get comfortable or fit a couple of kiddos on it. The float is made of a thick material and is durable, so it will make it through this summer and more.
I am adding this inflatable to the list because it isn't one I have seen over and over again. It's always fun to add something unique to the pool toy mix! Plus, it is built to hold a couple of people which adds to the fun (and probably someone getting dumped into the pool against their will). It is 115 inches long! This Sea Dragon is durable and holds up even when multiple people are riding.
A friend I recently visited had this bull in their pool and it was a ton of fun! Admittedly, none of us actually lasted very long riding it but that's part of the thrill. At pool parties, it is a great way to host competitions by seeing how long each person can last. Just keep in mind, it is quite large so you will want somewhere to store it or a good air pump so you can deflate it between uses.
Pool Toys for Little Ones
Other Water Toys
We recently surprised Olivia with this giant unicorn sprinkler and it's safe to say she is obsessed! It is a great toy to set out in the backyard when some of your kiddos may not feel like swimming but still want in on the fun. Bonus; it is super easy to set up with an air pump!
These are the best alternative to traditional water guns. They are foam and look like a piece of a pool noodle, giving you the element of surprise when you squirt an unsuspecting friend. Both your little ones and teens will love playing with these blasters. These are great as a pool toy and just for the yard.
The Wet N Wild Light Show Sprinkler is the coolest twist on sprinkler fun. I also love that it can be played in the evening since it lights up!
Our kids absolutely love Spike Ball and we are so excited to add this twist on the game, Spike Buoy, to our collection of pool toys this summer. You follow the same rules that you do in regular Spike Ball with outside of the pool being out of bounds. Keep in mind, the more shallow water you stand in the more fun this actually is because there will be more diving and running.
Check out our Instagram as we will be sharing our summer fun in our backyard and across the globe.
Have a great time in the pool.
Latest posts by Emily Myers
(see all)