I came across Vitamin Angels at a conference I was attending and I was immediately drawn to their mission. Having seen first hand what the lack of nutrients does to young children in developing countries I wanted to learn more and see how I could help. Kim Samm was generous enough to take the time to answer some of my questions.
If you are looking for a fantastic year end organization to support look no further. www.VitaminAngels.org
An Interview with Kim Saam from Vitamin Angels-
Why vitamins? What is "hidden hunger"?
Some vitamins are produced by the body while others must be consumed in food or supplement form. Of course, the best way to get enough vitamins is to eat a balanced diet with a variety of foods but, for a variety of reasons, that simply isn't an option for the moms and children we serve. When individuals consume enough calories to survive, but their daily diets lack the micronutrients (vitamins and minerals) needed to function properly they are malnourished, or more specifically, undernourished. Because many of the effects of undernutrition, such as a weakened immune system that results in more frequent and/or severe illness, are not visible – undernutrition is sometimes called "hidden hunger".
The period from conception through age five is absolutely critical to a child's survival, healthy growth and development. When pregnant women, breastfeeding mothers, and young children lack access to nutritious foods, the consequences of undernutrition can be devastating. In fact, undernutrition is the #1 cause of preventable child death worldwide. Vitamins are a simple, proven, cost-effective and immediate solution that can save lives, today.
What is your global reach?

(How many countries are you able to help, how many children are you able to serve?)
In 2015, we're reaching over 40 million children and moms in over 50 countries including the U.S.
I noticed you have a domestic program, can you tell me more about that?
The reasons for undernutrition in the U.S. often differ from those we see in developing countries. In the U.S. there is easy access to inexpensive foods that are calorie rich but nutrient poor. Purchasing high quality, healthy foods on a regular basis is still out of reach for many due to poverty, unemployment, and other factors. This year we will reach approximately 100,000 pregnant and breastfeeding mothers and children under age five with multivitamins through a nationwide network of pregnancy resource centers, free clinics, and food banks. (See U.S. page via the Impact Map)
How did you learn about Vitamin Angels and why did you decide to join their team?
I actually read about Vitamin Angels in a magazine and made a mental note that if I were ever to move back to Santa Barbara (I lived in Portland at the time – and have since moved back; I work remotely), I should look them up. That time came and, fortuitously, Vitamin Angels' was hiring for a position I was qualified for. 7+ years later, the organization has grown exponentially in reach, staff, and overall impact. I joined Vitamin Angels as a way to give back to others who are not as fortunate, on a global scale. I love knowing that, in some small way, what I do makes lives easier for fellow moms around the world, and thanks to the power of vitamins, moms can watch their children laugh and play, rather than worry about their health.
How can people get involved… How can they help Vitamin Angels and children in need around the world?
Well the most immediate way to support our work is to make a donation. Even a small gift can make a huge impact on the lives of those in need.
Other ways to support our cause include: (See Take Action)
  Shopping with our corporate partners. Many companies in the natural products industry and beyond make donations for every item sold or allow customers to add on donations at check out. This is a really easy way for individuals to support our work – by purchasing products already on their lists!
 

Helping to spread the word about our cause, whether it be in person, by text, email, blog or social

media – recommendations mean most coming from a trusted source.
Staying up to date on our work, event & fundraising opportunities, and more by signing up for our newsletter.
Helping us identify Field Partners locally or globally.
How does someone know they can trust your organization with their donation?  (I noticed you are a Top 10 highly rated charity by Charity Navigator)
We take great pride in our strong financial track record working extremely hard to responsibly manage funds and ensure we maximize the benefit of every dollar given. We have 8 consecutive 4-star ratings (the highest) from Charity Navigator for fiscal responsibility. Over 90% of our revenue goes to bringing vitamins to those most in need worldwide.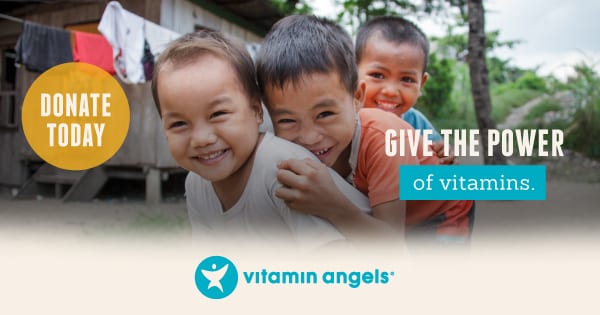 Your website says you are looking for field partners. Are you looking for NGO's in specific countries?
Our network of 700+ partners makes it possible for us to reach 40M children, but millions more need our help. We are always looking for new non-profit partners who want to supplement their existing community healthcare or nutrition services with a vitamin grant. While we work across the globe, we're focused particularly on expanding our reach to those living in areas classified by the World Health Organization as experiencing moderate to severe vitamin A deficiency or worm infections, as well as growing our reach domestically. (See our Impact Map & Eligibility Quiz for Field Partners).
*Images provided by Vitamin Angels