*This is a sponsored post is in partnership with Kelley Blue Book, however, all thoughts and opinions expressed are 100% my own.
The car buying process can be pretty daunting with so many models available and big bucks spent on marketing to grab your attention. But, what if car-buying didn't have to be so confusing? I recently discovered the Kelley Blue Book Best Buy Awards and I am SO impressed with the how easy it was to scroll through their list and find a car that meets my own individual needs. It's a total game-changer!
The Key to Finding the Best Car for You
Being entrepreneurs with a growing family it seems like we are almost always in the market for a new car either to try and impress clients or because we've added another kid to our family- ha!
As exciting as it sounds to have the opportunity to purchase a new car it's a process that usually has me completely stressed out. There are just so many factors to consider when you are searching for a new car like dependability, how it drives, and what it costs to really own the vehicle.

Lessons Learned
For example, we once purchased a car that had a great advertised price but realized later on that the parts & labor were so much more expensive than the other cars in its class. It also had tires that wore through super fast and were also very costly to replace. That cost to own factor is one I take very seriously now.
Another lesson I have learned the hard way is that cars depreciate at different rates. So, while it may seem like you got a great deal at the time of purchase you may be disappointed by the resale value later on.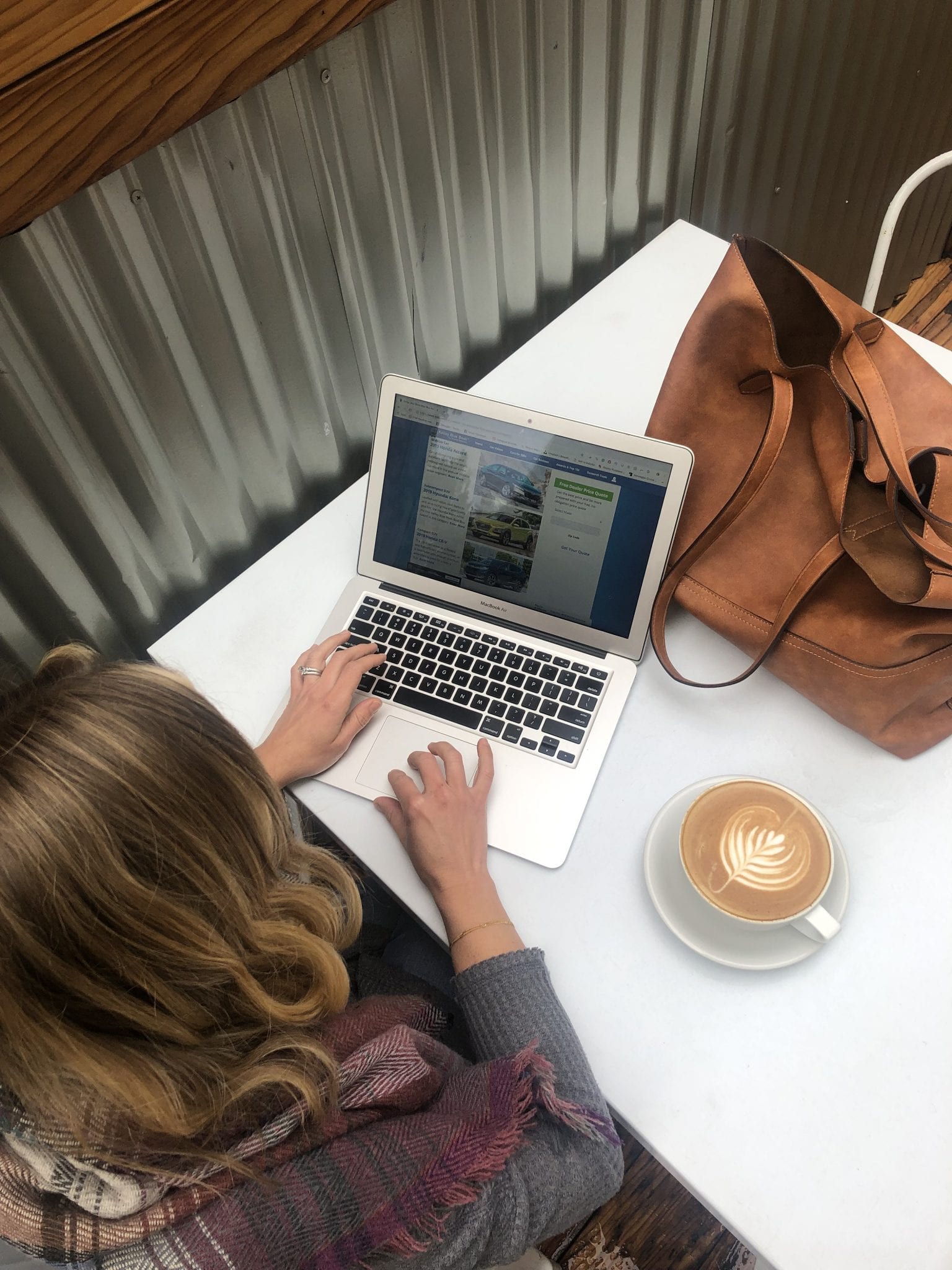 Kelley Blue Book Has Your Back
Kelley Blue Book understands our struggle. Which is why they take great pride in the hard work their editorial team spends test-driving hundreds of new vehicles each year for their Annual Kelley Blue Book Best Buy Awards.
Not only does their staff check out the driving dynamics, dependability, and quality of tons of vehicles. But, they also dive into what it actually costs to own the car over a 5-year period and the resale value. They even check into the warranty coverage and the manufacturer's reputation in the marketplace too!
They don't stop there either. The team at Kelley Blue Book also takes their research seriously so you can that vehicle-related data & consumer reports were taken into account as well.

My Top Pick for 2019
With so much research at my fingertips I was excited to see which vehicles made it on the 2019 Kelley Blue Book Best Buy Awards so after dropping the kids off at school I headed over to my favorite coffee shop.
A fresh latte at my side, armed with super valuable information at my fingertips- this was the best car-buying research experience ever!!
I carefully scrolled through the list and was immediately excited to see that my favorite category, Crossover SUV's, received a little more attention this year. In fact, Kelley Blue Book added three NEW categories on the 2019 list- subcompact SUVs, subcompact luxury SUVs, and compact luxury SUVs.
I am definitely a big fan of all the new compact SUV models because they are small enough that I feel comfortable behind the wheel despite my short stature. And, they still have enough seats to fit my whole family.
So, I skimmed the list to reach the NEW compact SUV categories. As I read through the descriptions I almost instantly fell in love with the 2019 Audi Q7.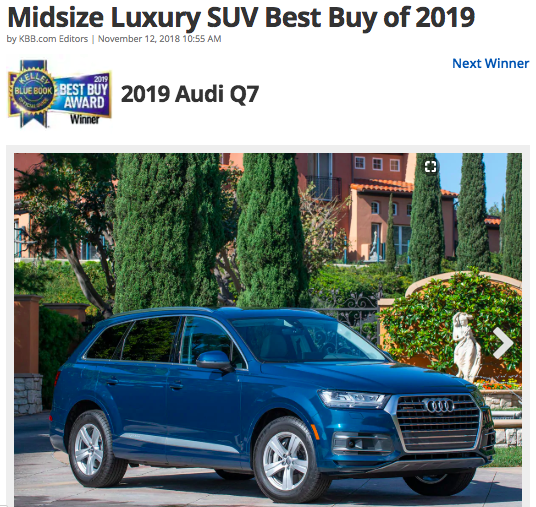 First off, it has the capability to seat our whole family (7 passengers) which is hard to come by. Plus, it is equipped with Apple CarPlay (in fact it comes standard) and it has a tumble-folding second-row making 3rd-row access simple. Both musts for me in my next vehicle. Not to mention electric switches to help the 3rd-row seats fold flat easily which I imagine would be super helpful on all of my grocery runs.
The Audi Q7 is my pick, but everyone's individual needs are different. I would love to know which vehicle you would pick from the 2019 Kelley Blue Book Best Buy Awards. Check out all of the winners here and then come back and let me know your top choice.
Did your favorite 2019 vehicle model make the Kelley Blue Book Best Buy Awards List?