This post is in partnership with Peerless Faucet.
When we purchased our home nearly twenty years ago (fun fact – on our wedding day!), we had a vision for what it would be. Slowly but surely, in the past few years, we have begun to make that dream a reality and one of the renovations I am most excited about is the kids' upstairs bathroom. So, today I thought I would share our Kids' Bathroom Renovation Reveal.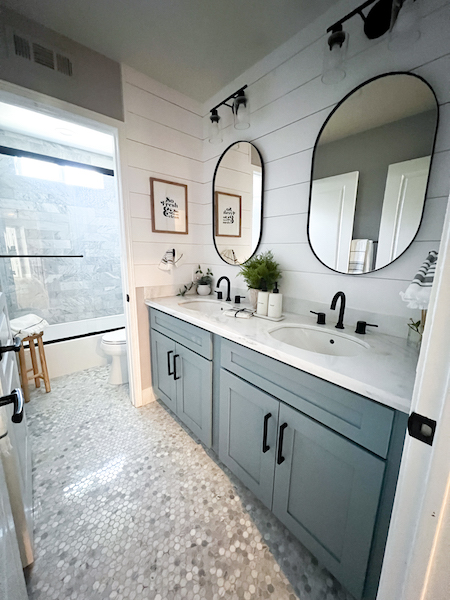 When purchasing our new home, it was an "everything's included" home which was awesome as new homeowners because there were fewer decisions to be made and we didn't have to constantly think upfront. We also got excellent quality products like premium cabinetry and fixtures. So, as much as I loved our house, it never really felt like home because there was that lack of customization – does that make sense? 
Throughout our years of travel, we have been fortunate enough to stay in some amazing places around the world, and our family always gravitated toward the coastal areas. So, when I was deciding on a creative direction for the bathroom I channeled those coastal vibes along with a resort feel. Why not feel like we are on vacation every day – ya know!
Anyhoo, I am in LOVE with the final product!! What do you think?
So, let's get into it. Here are some before photos of the kids' bathroom. Over the years, we had made minimal changes like updating the cabinet paint and adding tile – it was originally carpet and vinyl. But, without a vision for what we wanted the updates kind of fell flat.
One thing I have learned during our renovation process is to really do my research before any construction or updates take place. I like to create vision boards and layout ideas I find on Instagram and Pinterest, source products, and get multiple quotes on everything. 
This way, when demo day arrives things go more smoothly. Below is a peek at the transformation in progress.
In doing my research, I came across Peerless Faucets. They have a wide variety of affordable faucets that come in many different styles and finishes allowing you to easily customize your bathrooms and kitchen.
Not to mention they are backed by Delta Faucet Company, the largest U.S. manufacturer of residential and commercial faucets, and all Peerless faucets come with a limited lifetime faucet and finish warranty.
After looking through their site, we decided on their Precept Two Handle Widespread Bath Faucet in Matte Black. I loved the minimal design and simplicity of the look. I feel like it's a timeless option that we will love for many years to come.
Peerless also offers shower & tub kits as well. To make things simple we went with the coordinating Precept Tub and Shower Trim Kit, also in Matte Black. 
The showerhead feels amazing! And, again that modern simplistic design really elevated our bathroom without taking away from the overall aesthetic. 
Another thing that made a big difference was the tile work. We chose to splurge on the wall tile and go all the way up to the ceiling. Previously, the fiberglass stopped below the showerhead. The added height made the bathroom feel so much bigger.
I didn't want the bright-colored product bottles of my kids' favorite beauty products to distract from the relaxing vibes so I purchased these refillable containers instead. The kids say they make them feel like they are at a spa.
If you follow along on Instagram you know we were hesitant about our choice once all the gray tile was installed. To ground things, I incorporated some green plants, baskets, and textiles. I am very happy with the end result. What do you think?
Overall, I cannot be more pleased with how Peerless renovated my bathroom. I love how affordable their faucets are and the range of styles + finishes they offer. You can learn more about Peerless Faucets and create a space in your home that you love by visiting their website here.
Latest posts by Mama Munchkin
(see all)