*this post is in partnership with LoveSac
We have been in search for a new couch for our home for a very long time! For the last couple years we have slowly been remodeling and renovating our home. Since this is something we love to do, we have been taking our time to find the perfect couch for our living room! During our research, we discovered LoveSac and actually polled our audience for their LoveSac review.
We had an overwhelming response come back with raving reviews on LoveSac from our audience, which gave us the confidence to bring one of their "Sactionals" home!
Once we brought our new couch home and started enjoying it, we knew we had to do our own LoveSac review for you and let you know how amazing and incredibly comfy this couch truly is!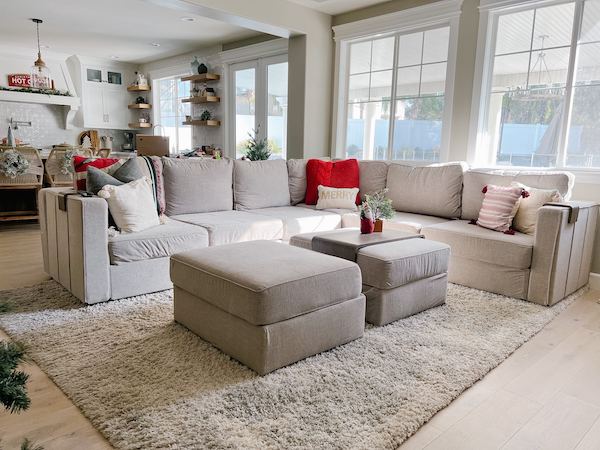 LoveSac is an American furniture store who specializes in their own patented furniture system called "Sactionals." The name LoveSac comes from its original beanbags called Sacs.
LoveSac Review: What we Purchased
We ended up purchasing 2 standard seats, 4 deep seats and 3 ottomans total; 2 of the ottomans are actually storage ottomans. We loved putting the LoveSac bed kit in one and in the other we store extra blankets and our son's toys!
We ended up selecting the standard filling because of the response from our community. Our community mentioned the extra soft filling gets too soft over the years.
Make sure to check out our Instagram Highlights to see our purchasing experience with LoveSac and our stain fabric test.
The Seats and Ottoman
One thing to note is that all the seats are the same. The only big difference in a deep seat is the way you turn it and the pillows are narrower too. Seats are rectangular in shape so in one way they are wider/shallower seats. We do like these seats when my parents visit as it is easier to get off of them and they are great for nursing a baby!
If you turn the seats the other way around they become narrower and deeper, which is super comfy and provided an extra seat on the deep side compared with other sectionals we measured for our space. Note though, because they are so deep you do have to scoot your butt a bit to get out; which would be difficult for anyone limited to their mobility.
Since we initially bought all standard seats and not deep seats we had to buy the deep pillows separately.
We also didn't realize there is a standard ottoman and a storage ottoman. We ended up exchanging 2 of them because we wanted storage ottomans.
The Color
After stain testing 4 different color/fabric swabs that we picked up from our local LoveSac retail store we decided to go with Beachwood Rained Chenille. Our community shared that overall chenille is a fantastic couch fabric and one that stands the test of time. And, with our own stain testing we could see that Beachwood Rained Chenille performed far better than the rest. One note- It is more of gray than tan in our house.
Accessories
We have StealthTech which gives us wireless charging on both armrests and a speaker system built into the couch. It is super awesome but, super tricky to set up.
We also have the bed kit; you push two ottomans up to the two seats and use the bed kit to create a guest bed. It actually is super large, and comfortable and our kids LOVE it! This is perfect for movie nights!
We have two cup holders as well as a wooden table to make one of the ottomans a coffee table too.
One item you definitely should add is the charging port, which has a standard plug and USB-C plugs. This is great when both Mike and I want to work on the couch.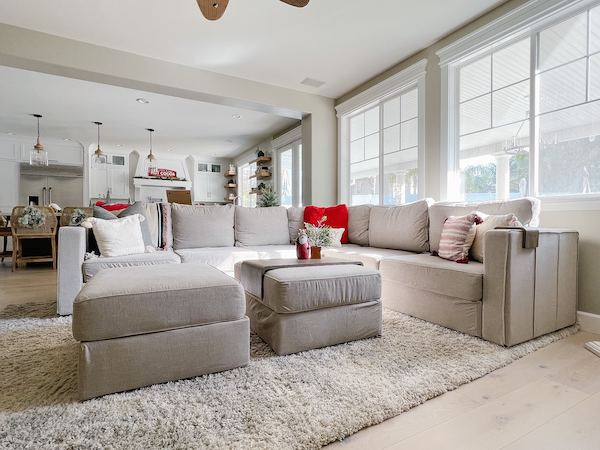 Versatility
One of the main things we love is the versatility of LoveSac. If we move or feel like a change we can always add or subtract pieces. We can also throw every single cover in the washing machine which is so great for families, people with pets, and messy husbands!
We also love the ability to buy all new covers and change the color over the years.
As we mentioned above, we had an immense response from our community who had their LoveSac Sactionals for years, loved them, changed them when they moved into new homes, and bought new slipcovers and our community was the ultimate reason we made the switch!
Our LoveSac Configuration
We ended up with the below configuration for our living room, which we love. We usually keep two ottomans out in our living room but, we pull out the third and push all ottomans up to the deep side of our couch to make that movie night experience.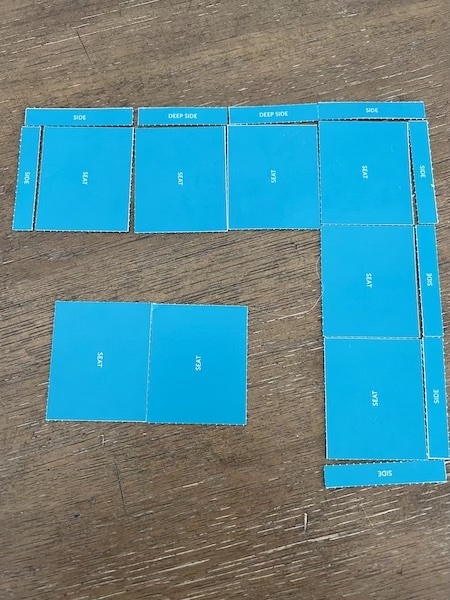 The Bottom Line
Overall, we are very happy with our LoveSac purchase. It is definitely a splurge but we feel like it's a good investment and it truly is the comfiest couch we have ever owned!
Other articles you might enjoy:
KITCHEN REVEAL- OUR CUSTOM KITCHEN TRANSFORMATION
GOT A KITCHEN TO REMODEL? WHY CHOOSING THE PERFECT BACKSPLASH CAN BE A TOTAL GAMECHANGER!
JACK MADDEN'S MODERN NURSERY TOUR
Pin It for later: Our LoveSac Review: Everything You Need to Know and Why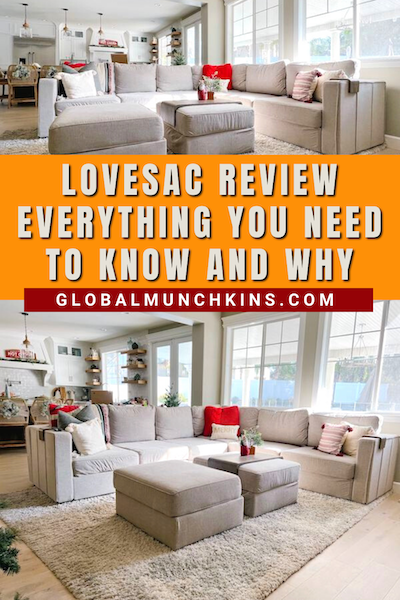 Latest posts by Ashland Hendrix
(see all)