This year we had several big projects from our garage to baby #6's new room, but none was bigger than our master bathroom. It is one of the last rooms in our house to need a remodel. We have kept it the same way for the 17 years we lived in our house and even the carpet (yes, carpet) has been the same for that whole time. So, finally we finished all our other projects from the backyard to the kitchen to the kids rooms and were ready to take on our master bathroom remodel with everything we used from fixtures to the adorable shampoo bottles.
Master Bathroom Remodel Project Timeline
Our contractor told us that our project timeline for a complete remodel would be about 7-10 days, so Mike and I estimated it would be more like 20-30 days. To be perfectly honest they were pretty close to their timeline, except for there was a long delay waiting for the cabinets to come in for our sinks. But within two weeks we had everything completed with a fully functional shower, we were just waiting on the vanity to be completed. The cabinets arrived 3 weeks after all the other works was completed do we were completely finished in 5 weeks.
Master Bath Budget
We just did a refinance on our house so we decided to take 20k out of our house to pay for the remodel. Considering this wasn't a DIY project we knew it might be tight, but we figured we could make it work.

Flooring
For the flooring we wanted to go with something that would contrast our wood floors in our bedroom. After a lot of walking up and down the aisles of Floor & Decor we settled on the 12″ x 24″ concrete grey tile. The tile is only .99 cents a square foot. The grout we used was Flexcolor Pewter.
Shower
With the shower we didn't have too much room to expand it as we still wanted to keep our tub and the master bathroom window. So we made it 1/2 foot wider and 1 foot longer and that seriously made all the difference. It's the perfect size because it's big enough so you feel like you have space but still stays nice and warm
Shower Wall Tile

For the shower tile we definitely went towards the more expensive tile. We wanted that clean refreshing feel and the 12 x 24 marble dolomite tile from Floor & Decor. This tile ran $15.99 a square foot and was definitely more expensive then we wanted to pay, but since we saved money on the floor tile, we decided to splurge. For the grout we used the color Avalanche
The wall tile was also used to create the shower curb around the shower.
Shower Floor and Inlet Tile
For the shower floor we went with some small tile to make sure the shower floor was not going to be slippery. In addition we used the same tile for our inlet to hold the shampoo bottles, soap and razor. Once again we went with Floor & Decor and got the Terra Marine Dolomite Marble Mosaic tile
Shampoo Bottles
The Shampoo, Body Wash and Conditioner bottles were from the Polished Jar on Etsy. I don't know why, but this is one of my favorite purchases for my bathroom.
Shower Fixtures
The Shower fixtures we used were the Venza Tub Shower Faucet from Home Depot. I loved this faucet because it has a push button start, so once you have the perfect temp set, you never have to change it again. It's also great for my little one, so she can just press the button to start and I don't have to worry about her burning herself.
Bathroom Tub
We did not have too much room for our tub since we expanded our shower. That being said, I still wanted one, mainly for the little ones and I enjoy a bath myself. Since I am not a very tall lady this was not a problem. We found a 59″ acrylic tub on Wayfair that fit perfectly
For the faucet I wanted one with a hand shower to wash my kids head. So we went with this model from Wayfair.
Bathroom Light Fixture above Tub
For the light fixture above the tub, we found this adorable basket pendant light from World Market for only $79.99, make sure to order the rope kit ($34.99) along with it as we forgot and had to order it later on when trying to install.
Bathroom Cabinets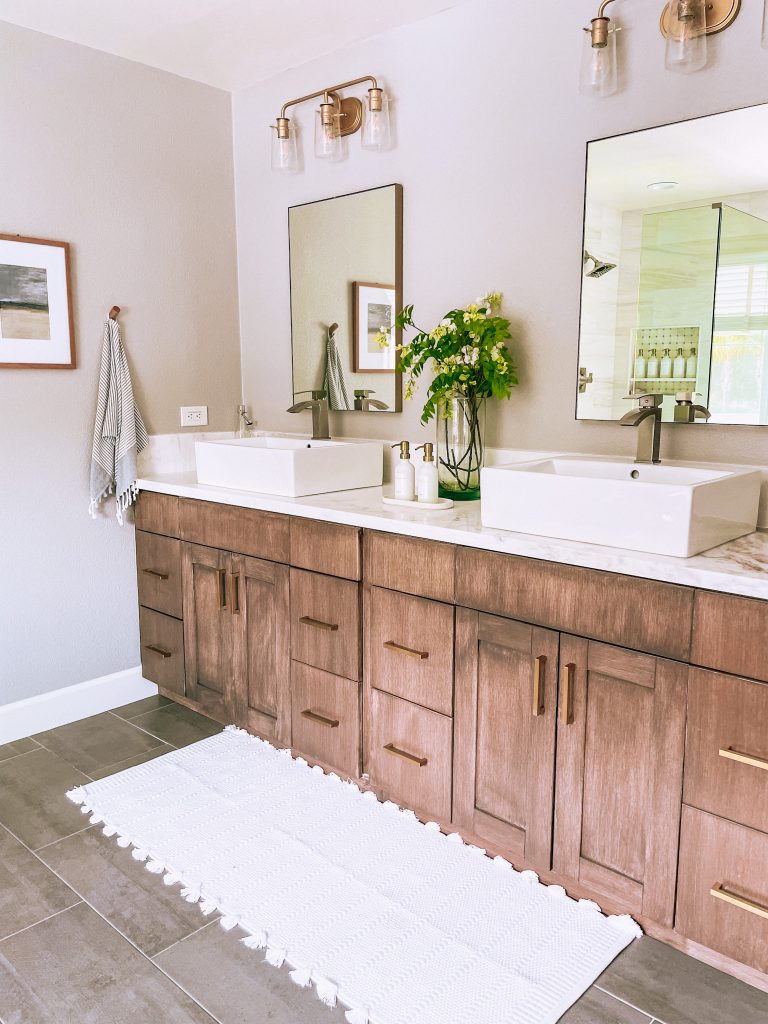 For the bathroom cabinetry we wanted to warm up the room. We got white ash shaker cabinets from Arcadia Cabinetry and then warmed it up by staining it with some Briar Ash cabinet stain from Home Depot. This made a huge difference in the feel of the bathroom. Without the cabinets the bathroom felt a little cold and this added the warmth needed to finish off the look.
The handles are Brainerd brushed gold handles purchased from Lowe's
Sink Bowl, Faucets, Mirrors & Lights
When it came to the sinks I love the raised sink look. Now the one thing to note that I made a mistake on, is I am not a very tall woman at 5′ 1″ so the raised sinks are a little taller than I would like. However for anyone else, this would not be an issue. We got the Floor & Decor rectangular sink (only $99)
We got the bathroom mirrors from Amazon. They have a brushed gold metal and provide a nice contrast to the grey throughout the bathroom.
For the Bathroom Lighting we also went with a brushed gold look. We went with the Ksana 3 Light modern Bathroom fixture.

Bathroom Niche
We busted out the fireplace what was in the bathroom previously, it was just dark, and a bit awkward. Instead our contractor built a beautiful arched niche with shelving and storage below.
We got some white oak floating shelves from Etsy and stained them to match the cabinets below. The ladder to hand some hand towels is from Hobby Lobby.

The Little Details
Towels & Hooks
There were other little touches that I thought really brought the bathroom together. I love the turkish fast drying hand towels for Mike and I to use. They were on amazon and super affordable. The towels were hung on some beech wood coat hooks.

Bath Mats
I got my bath mats from Serena & Lily and absolutely love them. The bath mat in front of the shower is the Sydney Bath Rug and in front of the bathroom vanity is a 24″ x 60″ version of the Sydney Bath Rug.
If you have any questions about our bathroom remodel or any of the items we used feel free to leave a comment below.
Pin for Later: Master Bathroom Remodel Reveal!