I can't believe summer is over already. It always goes by way too fast! Luckily, I have back to school shopping to look forward to. I always love the beginning of the school year when everything is new and fresh. And, I especially love buying my kids' cute clothes that I know they will look & feel great in which is why I always shop at
OshKosh B'gosh
with Olivia. I love their bright, fun, positive, kid-appropriate styles. I also love that they always have a ton of great mix & match outfit options along with some really awesome sales and coupons. Like the awesome
20% OFF coupon below
to help you #StyleUp4School with your kids + enter to win my
$50 OshKosh Back to School GIVEAWAY!
(
details below
)
Back to Preschool in Style with OshKosh B'gosh + GIVEAWAY
"This post is sponsored by Everywhere Agency on behalf of OshKosh B'gosh; however, all thoughts and opinions expressed are my own."
I can't believe Liv is already headed to preschool. It seems absolutely crazy! But, here we are. The one thing that makes this a lot easier is all the fun back to school shopping we got to do together. I mean, seriously, is there anything cuter than a little kid in overalls? I think not.
We checked out her new classroom, went to the store to buy a new backpack and lunch pail, and then we read a few books to get ready for the big day. I was a nervous mess. But, turns out Liv was ready to go. She gave me a big hug and walked into her class with a huge smile. This girl is ready to take on the world, in style of course 😉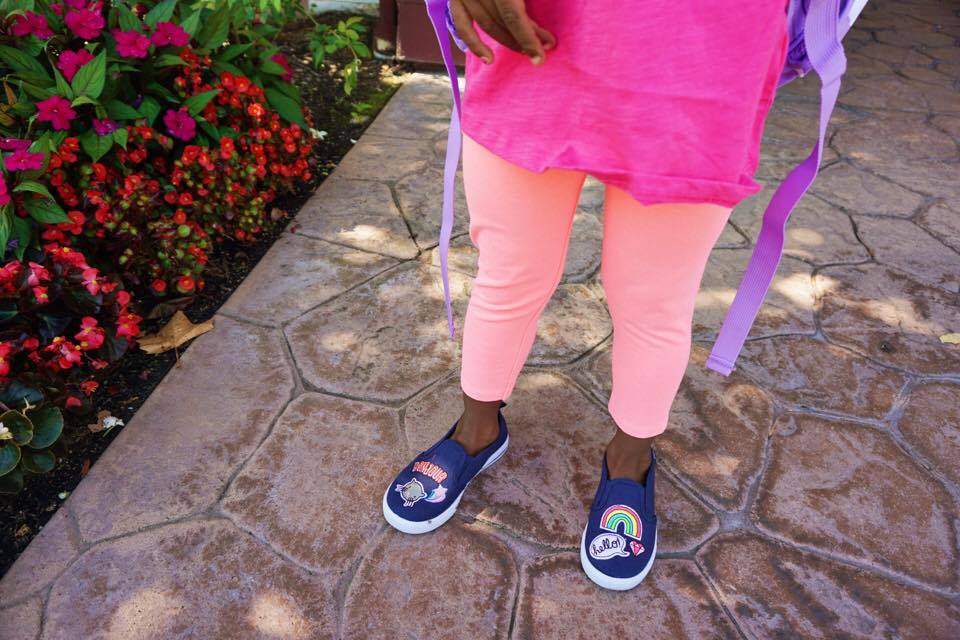 Kids Style Tips
Preschool is a unique time when it comes to dressing your little ones because they need things they can easily get on & off themselves, but also something they can climb up the playground in or wear underneath their dress up clothes. To help you figure out which pieces are essential for preschooler's wardrobe check out my kids' style tips below.
1 Buy clothes your kids actually like!
It's true! If they don't like it they are not going to want to wear it. So, avoid the early morning meltdowns by buying your kids things they will actually want to wear. OshKosh B'gosh makes it easy with kids fashion that is both toddler and parent-approved. Like these cute overalls. Liv would wear them everyday on repeat if I let her.
2 Purchase items in the same color palette for easy mix & match options
You will save a bunch of money if you color coordinate your child's wardrobe. It is called creating a wardrobe capsule and basically, you just build the season's apparel on one or two key pieces. For our back to school wardrobe, we chose to build around the pink top seen below and the overalls.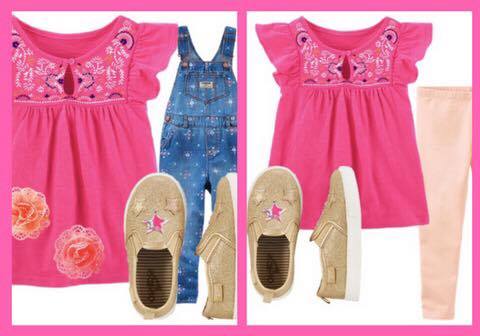 3 Find items that allow your kids to dress themselves
Tops with wider necks and arm holes are easy for young kids to pull over their head all by themselves. Same goes for elastic waisted shorts, skirts, and pants. OshKosh has a spot on their site called "The Mix Kit" where you can find tons of affordable pieces that you can mix & match to create the perfect kids' styles for back to school. Olivia lives in their leggings and they wash and wear so well. I love them!! *Tip- buy overalls big and teach kids how to pull the straps off the shoulders so they can easily dress themselves and use the restroom without assistance.
4 Add cute accessories to complete the look
My favorite part about dressing Olivia is finding the cutest accessories to complete the look. OshKosh makes it easy with stylish accessories that are in the same color palette as each season's new line. And, the other great thing about OshKosh B'gosh's accessories is they are kid-friendly like this soft headband. It is one of the only ones Olivia will actually keep on her head all day because it fits perfectly and doesn't hurt her head.
5 Don't forget the shoes!
Oh, maybe I have a few favorite things when it comes to dressing Livvy because OshKosh just kills me with these adorable slip on shoes. Not only does it make my mornings so much easier because Olivia can put these shoes on all by herself but they are also sooo cute!!
Save 20% OFF with : OKBG3352 
Now it's your turn to shop! Print the coupon below or use the coupon code OKBG3352 at check out if you are ordering OshKosh B'gosh online and SAVE an EXTRA 20% OFF Your Purchase! Valid through Oct. 2, 2017. Certain exclusions may apply, see store for details. Find the store closest to you here.
Enter to Win a $50 OshKosh B'gosh Gift Card!!! 
Global Munchkins OshKosh B'gosh $50 Giveaway

Give Back through B'gosh Jeanius
Our family is always looking for ways we can give back which is one more reason I LOVE OshKosh. They have a fantastic annual campaign called B'gosh Jeanius that they started back in 2014. Here is what they have to say about it.
"In 2014, we launched The B'gosh Jeanius Campaign as an annual effort to support our customer's local communities with donated clothing and school supply needs. Since then, we've partnered with DonorsChoose.org, Delivering Good (formerly K.I.D.S. fashion delivers), OshKosh Moms, families and friends to collect over $1.1 million and distribute more than 66,000 articles of clothing to impact the lives of over 260,000 students.
Join our effort by donating a new pair of jeans in-store or making a cash contribution in-store or online at oshkosh.com/bgoshjeanius from July 25 through September 18. And, share your "shop to give style" on social media using #BgoshJeanius. We can't wait to see your style!"
Pretty awesome, right? To learn more watch the short clip below.
Share your back to school tips in the comments below.
Pin for Later-
"This post is sponsored by Everywhere Agency on behalf of OshKosh B'gosh; however, all thoughts and opinions expressed are my own."
You Might Also Enjoy:
https://www.rookiemoms.com/my-very-strong-opinions-about-kids-backpacks/