Whether for the summer you are planning a road trip, trip to Hawaii, Internationally or a weekend away, we have created the the ultimate packing list for Summer vacation!
As a mom of six, I know that planning and packing for a summer vacation can be a daunting task. From diapers and bottles to teenage fashion and technology, there is a lot to consider. But with a little bit of planning and a whole lot of humor, you can create a packing list that will ensure a successful and stress-free summer vacation.
---
The Best Packing List For Summer
We broke it all down for you in regard to our packing list for Summer vacation. From essentials, to what to pack for babies and even technology!
We have it all listed below in order of some of our favorites and down to the nitty gritty of clothing, toiletries and travel documents!
---
The Essentials
First things first, make a list of all the essentials that pretty much everyone in the family will need!
Sunscreen is a definite essential when it comes to your packing list for Summer. The Supergoop brand happens to be my favorite sunscreen to bring on our trips. Check it out here.
---
Depending on where you travel to, having some insect repellent might be a big essential. Murphy's Naturals is a plant based bug spray that is great to pack. Check it out here.
---
A hat is an absolute summer packing list essential and I absolutely love this "Not Salty At All" hat from Aerie. Check it out here.
---
A good pair of sunglasses is a Summer essential for everyone in the family. Check out these popular Ray Ban sunglasses here.
---

Bathing Suit
A good bathing suit can be hard to find, but is a packing list essential for Summer. Above are some of our favorite swimsuits that we know you are going to love!
---
If your Summer destination is a tropical location or a resort with a gorgeous relaxing pool, then a good beach towel should be on your list! This microfiber, super absorbent beach towel is perfect and compact for your suit case. Check it out here.
---
Wherever you end up going to during the Summer. A great bag is another essential that you are going to want to have. I personally love this cute beach bag from the Hearth & Hand collection at Target. Check it out here.
---
For the Babies
If you are traveling with a baby, packing for them is an entirely different story in regard to essentials and needs.
The main essentials like diapers, wipes, baby formula and baby food is a definite must, but we have also included below some other amazing items for you packing list for Summer.
---
Our little Jack is always sporting a cute hat and glasses on our vacations. I absolutely adore these wood baby glasses from Carter's. Check it out here.
---
Beach toys is another must if your summer vacation involves the beach. We loves these adorable beach bucket toys for the little ones. Check it out here.
---
Having a wagon for the little one is not only great for giving the baby a break and place to nap. It also is great to haul things from and to the beach. Check it out here.
---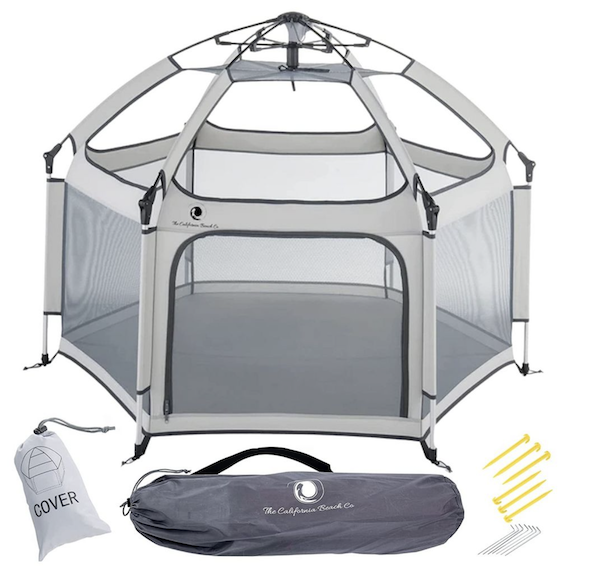 Having a little play area dedicated for your baby at the beach is also another great thing to pack. Check out this one from the California Beach Co. here.
---
For the Older Kids
For the older kids, make sure they have comfortable walking shoes and plenty of clothes. If you're going to a colder climate, pack some jackets and sweaters.
And if you're going to a warmer climate, make sure they have plenty of shorts and t-shirts. Below are some other things you might want to consider bringing for the older kids.
---
Your older kids need some fun beach toys as well. Like these awesome boy boards from Amazon. Check it out here.
---
Are you heading to a resort with a pool? Having this waterproof football will add to so many family vacation memories. Check it out here.
---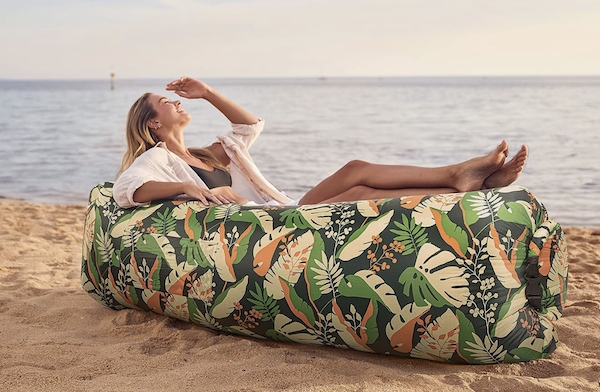 ---
Technology
Now, let's talk about technology. As a mom of teens, I know how important it is for them to stay connected with their friends, even when they're on vacation. But that doesn't mean they need to spend the entire trip glued to their phones.
Encourage them to put their devices down and enjoy the sights and sounds of their surroundings. You also might want to consider rolling out our #NoPhoneZone challenge while on vacation!
---
Cell Phones + charger
Laptops + charger- This really isn't a necessity, but if you need it, it always is good to remember to pack.
Portable USB Charger + cords- these are like gold when you travel and I would highly recommend packing a few portable chargers.
iPads/ Tablets
Kindle- I know some of my friends love bringing their kindle's so they can read poolside or by a beach!
Headphones– for entertainment.
Camera + charger + extra batteries + extra memory card– trust me on the extras, you will need them!!
GoPro + charger + extra batteries- there are plenty of water shots you are going to want photos of between the pools, beaches, and snorkeling. If you don't have a GoPro I would suggest getting a disposable water camera.
---
TRAVEL DOCUMENTS
Passports/ Birth Certificates– If you are traveling international make sure you bring a passport (check expiration dates)
Drivers License
Cruise Documentation– If you are planning to head on a cruise for your Summer vacation!
Luggage Tags (If cruising or flying)
Flight Boarding Documents (if flying)
Transportation/ Hotel Reservation Confirmations
Medical Insurance Card- always smart to do in case you need it.
Travel Insurance Info
Cash/ Credit Cards
---
Clothing Items
Sundresses Something light and airy is perfect and you will want to pack a few.
Cute Tops Pack three-five, a mix of fancy and casual.
Jean Shorts Comfy ones for every day
Cocktail dresses or Jumpsuits – Optional
Formal Dress – Optional
One pair of jeans
Pajamas
Bras– make sure to pack the types you need for each outfit.
Underwear
Socks
Exercise Clothes (if you plan on working out or doing activities during your vacation.)
One long sleeve shirt or lightweight sweater
Lightweight jacket or sweatshirt
---
TOILETRIES
Shampoo, Conditioner
Toothbrush/ Toothpaste
Makeup
Dry Shampoo
Styling Products
Brush/ Comb
Curling Iron
Bobby pins, hair rubber bands
Deodorant
Razor
Lotion
Makeup Remover
Wrinkle Release Spray
Nail Clippers
---
Packing List for Summer Strategies and Tips
Now, let's talk about packing strategies. With six kids, it's important to stay organized.
---
Consider packing each child's clothes in separate packing cubes or bags. This will not only keep their clothes organized, but it will also make it easier to find what you need without having to dig through a giant suitcase. Check it out here.
---
Mix and Match
Encourage the entire family to mix and match their outfits to create different looks with fewer pieces. This not only saves space in the suitcase, but it also encourages creativity and personal style.
---
Don't Stress
So, as you plan and pack for your summer vacation, remember to stay organized, bring plenty of snacks and drinks, and as always do NOT forget to pack some humor and fun.
Whether you're heading to the beach, going on a road trip, or visiting a theme park, there will inevitably be some unexpected moments and challenges.
---
Pack Light
One important tip for packing for a family vacation is to pack light. It might seem impossible with a big family, but trust me, it can be done. Bring only the essentials and try to pack clothes that can be mixed and matched. This will not only save space but also make it easier to get ready each day.
---
Make a List
Another tip is to involve the kids in the packing process. Have them make a list of what they want to bring and let them pack their own bags (with some guidance, of course). This not only gives them a sense of responsibility but also ensures that they bring things they actually want to wear or play with.
---
Packing List for Summer Vacation – The Overall
At the end of the day, we can always PLAN! PLAN! PLAN!… but we need to remember what these vacations are really for, the memories. That said, I encourage you to truly live presently and go-with-the-flow and create those beautiful family memories!
---
We would LOVE to hear about your Summer vacation plans! Comment below so we can read about your plans!
---
If you enjoyed reading about our Packing List for Summer, you might also enjoy:
SUMMERTIME LAKE OR BEACH VACATION PACKING LIST + FREE PRINTABLE
THE BEST TROPICAL VACATION PACKING LIST + WHAT TO LEAVE BEHIND!
THE ULTIMATE DISNEYLAND PACKING LIST! + [FREE PRINTABLE]
---
Pin-it for later: The Ultimate Packing List for Summer
Latest posts by Ashland Hendrix
(see all)