I know that we are not the only parents who feel like they are constantly battling between creating quality family time together with phone screen time.
After speaking to some of my other fellow parent friends I have found that it has become increasingly common for people to feel like they are constantly connected to their phone and the rest of the world through social media and the internet.
This constant connection can be a HUGE distraction and can really make it difficult for families to truly spend quality time together.
Now, there are many approaches that families can take when it comes to building quality family time together. What worked for us and what we are excited to share with you is our #NoPhoneZone Challenge!
---
Download our #NoPhoneZone Challenge Resource here!
---
What is the No Phone Zone Challenge?
The no phone zone challenge is basically an area in your home where being on a phone is NOT allowed, at all, aside from real emergencies, of course. The point isn't to be super strict, or make it unenjoyable but to prevent mindless scrolling. For example, your family could designate the dinner table as their #NoPhoneZone, where everyone is expected to put their phones away during meal times. Our no phone zone was our kitchen and family room area.
A lot of the time we think that when we are on our phones we can also be present with our family when in reality we are not. Our no-phone zone challenge concept is simple, if you want to be on your phone, you have to leave the no-phone zone, that way you AND the family are fully aware that you are not present.
---
Why does the No Phone Zone Challenge create Quality Family Time?
This family challenge that we created has truly been the only screen time success we have had! We believe it creates a more focused and present atmosphere during our family meals, and movie times and overall it encourages conversation and connection.
---
Tips On Getting Your Family On Board with the No Phone Zone Challenge
Communicate With Your Family
Part of building a strong foundation to create quality family time is healthy communication. Make sure to talk with your family about why you want to take away phones and how it will benefit everyone. Explain the benefits of having quality time together and how it can strengthen family bonds.
Make it FUN!!
We never eat out so to get our kids on board I promised to pick up their favorite take out 3x the first week. We also came up with a list of shows we all enjoyed (them more than us), games we liked to play together (JackBox.tv is always a hit!), I bought a few fun things for dessert and we awarded a prize to the person with the lowest screen time at the end of the week. Figure out what might motivate your family and get them excited and this challenge will be more successful and enjoyable for everyone!
Set Clear Expectations
Make sure that when you present this to your family, you have all the designated areas and rules planned out. You might also want to allow the family to vote together on where they think should be the no phone zone. By the end of your family meeting, you want to make sure you have clear rules and expectations that the entire family agrees on. *Some of the teens' ideas included the ability to chuck a nerf ball at anyone caught mindlessly scrolling in our #NoPhoneZone- ha! Again, keep it fun and do what works for you and your fam!
Offer Alternative Activities
Have a variety of activities and hobbies available for your family to do together during phone-free times. This can help make the transition to being without phones easier and more enjoyable. If you haven't checked out some our fun chore challenges, you should check out our TikTok! Check out our favorite tv shows and movies here. Or our favorite family games here.
Be Flexible
It's important to be flexible and open to adjusting the rules as needed. If something isn't working, be willing to make changes and find a solution that works for your family. Again, the point is to STOP the mindless scrolling and work on building stronger bonds as a family. These bonds will take time, but forward progress is the goal.
Lead By Example
If you want your family to disconnect from their phones and build quality family time together, it's important to model this behavior yourself. Put your own phone away and show your family that it's possible to have a good time without being constantly connected.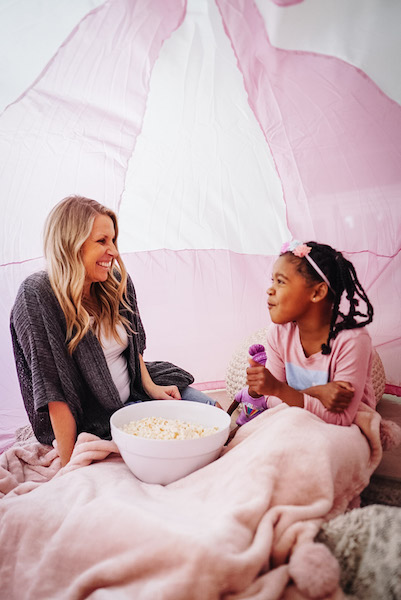 ---
What do you need for No Phone Challenge?
---
Shop and Prep for the #NoPhoneZone Challenge!

---
Overall Benefits to the #NoPhoneZone Challenge
Stopping the mindless scrolling in your home can be a powerful way to create more quality time together. It can help families disconnect from the outside world and focus on each other, strengthening their bonds and deepening their connections. While it may be a difficult adjustment at first, the long-term benefits for families can be well worth the effort.
Since starting our first #NoPhoneZone challenge at the beginning of 2022 my family has grown closer, we enjoy phone-free dinners (aside from Mike's nightly questions- but are all engaging and having fun so that doesn't count), and the kids request to play games together now after dinner. Plus, it's helped me and Mike with our marriage as well. It's honestly one of the best things I have implemented which is why I am so excited to share it with you.
---
Let us know in the comments below if you are joining our #NoPhoneZone Challenge!
---
Pin-It for later: Create Quality Family Time and UNPLUG with our No Phone Zone Challenge!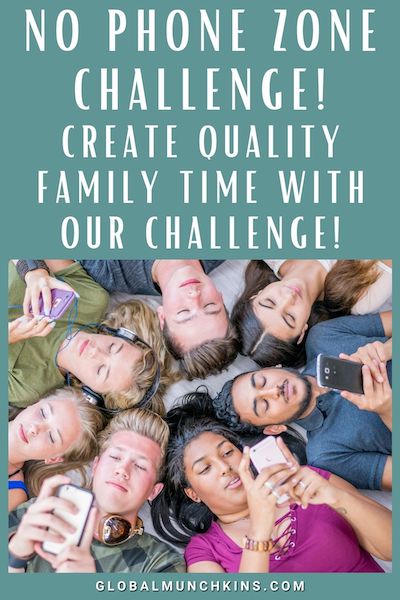 ---
If you enjoyed our article about quality family time and the #NoPhoneZone Challenge, you might also enjoy:
FAMILY MOVIE NIGHT IDEAS – 129 AWESOME MOVIES & TV SHOWS FOR FAMILIES
20 FUN & EXCITING BEST FAMILY GAMES
33 AWESOME MATCHING DISNEY FAMILY SHIRTS [+3 WEIRD ONES!]
81 FAMILY VACATION QUOTES THAT ARE FUNNY, HEARTWARMING AND TOO HONEST