"This post is sponsored by ALDI USA."
Dad; he's the fun guy! The guy that can grill a mean burger and who is always ready for a pickup game on the court. Our childhood hero, the man that helps push us to become our best selves, and while to the world he is just another dad, to our family he is the world.
On Father's Day, it is only fitting that we celebrate him with a day of outdoor family activities and perfectly grilled Spiced Mediterranean Burgers. The BEST part is this delicious meal is incredibly easy to whip up & requires very little prep, leaving more time for fun!
And, if the dads in your life are anything like the dads in mine – FUN is what they are all about!
Planning the Perfect Father's Day BBQ
Gifts from the heart always mean the most to my husband so I like to enlist our kids' help. I usually put the boys in charge of brainstorming ways to entertain their dad as well as creating a playlist with all of his favorite songs.
My daughters love to bake so they usually get the fun task of making dessert, with mom's help, of course! Since Father's Day lands during summertime, it's the perfect excuse to whip up delicious fruit-based treats. One of our family's favorites is Strawberry Shortcake.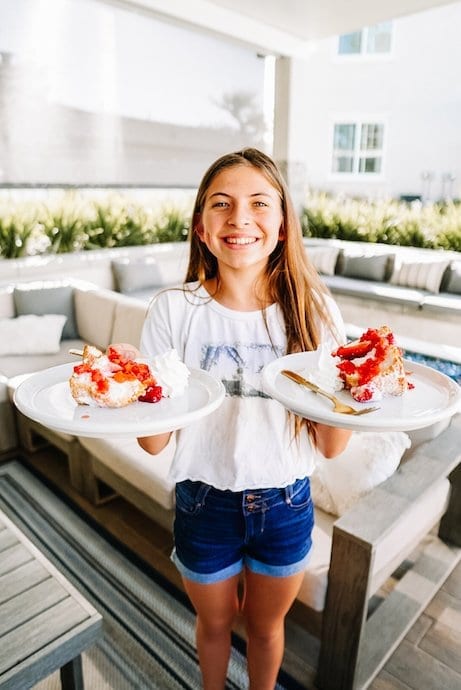 I also have the kids work on handwritten cards for their father. I give them plenty of time to work on them so they can come up with something really thoughtful to say! It is always so amazing to see what they come up with.
The ALDI Difference
For Father's Day, I wanted to come up with a recipe that would surprise and delight my husband while still being appetizing to the kids. I love that I can always count on ALDI for unique and flavorful seasonal items. I hopped online and browsed their website for inspiration which is where I found the Kirkwood Mediterranean Style Chicken Patties.
Boom! How simple! Instead of the traditional burgers and franks like we have done on most Father's Days in the past, I knew these Mediterranean Style Chicken Patties would be a hit!
My husband has always been a fan of Mediterranean-style cuisine, plus, I knew this twist on the traditional burger was something he wouldn't expect. I quickly checked out the impressive summer selection at ALDI and discovered they had everything I needed to create the perfect Spiced Mediterranean Burger including the Emporium Selection Feta Cheese Crumbles and the Park Street Deli Cucumber Dill Tzatziki Dip.
I paired it all with fresh organic produce including cucumbers, bell peppers, beefsteak tomato, and fluffy Specially Selected Brioche Buns. One of my little tricks when it comes to whipping up a special meal is to find one ingredient that can be homemade. Something about a homemade sauce or condiment just seems to bring everything together.
Adding Distinctive Flavor
For this meal, I decided homemade pickled red onions were a must. If you haven't tried making pickled red onions yet, you are missing out! They are absolutely scrumptious on so many different types of meals from fresh-made salads and tacos to pulled pork, sandwiches, and more. Their tanginess elevates all types of cuisine.
Plus, they are SUPER EASY to make. *See my recipe below. Note that they do need to sit in the fridge for at least 4 hours, even better if you can leave them overnight so plan accordingly!
Don't Forget Dessert!
I was happy to find that ALDI also had all the fixings for the girls' strawberry shortcake – angel food cake mix, heavy whipping cream, and organic strawberries.
Leave it to ALDI to always have exactly what we need and at affordable prices. Have you tried shopping at ALDI yet?
When It All Comes Together
Over the years I have come to value the planning process. Plans just help everything operate more smoothly, especially while running a big family. We kicked off an early Father's Day celebration this year since we have plans to get away for summer over the actual holiday. Our day with dad was a smashing success, the good tunes set the mood, and having a delicious (and super easy) meal ready to grill allowed for plenty of time to catch up over funny stories and memories.
My husband couldn't get over how delicious the burgers were and how fresh all of the vegetables tasted. He is usually picky about his tzatziki sauces but he gave the ALDI-exclusive Park Street Deli Cucumber Dill Tzatziki Dip his seal of approval. In fact, he couldn't believe that it wasn't homemade!
But, it was the kids' handwritten cards that gave him all the sappy feels. I think I even caught him wiping a tear as he read one of them. But, don't tell him I told you.
If you are looking for a unique and delicious recipe for Father's Day I highly suggest you recreate these Spiced Mediterranean Burgers. Not only will you love the way they taste but you'll also love how easy they are to prepare.
Grab all three recipes mentioned below and head to ALDI where you can grab everything you need to make them.
Super Easy & Delicious Spiced Mediterranean Burgers
Prep Time: 30 min
Cook Time: 15 min
Servings: 6
Ingredients
1 package Kirkwood Mediterranean Style Chicken Patties
1-2 tablespoons Extra Virgin Olive Oil (to oil grill grates)
Stonemill Roasted Garlic Herb Grill Seasoning (to taste)
Emporium Selection Feta Cheese Crumbles
Park Street Deli Cucumber Dill Tzatziki Dip
2 packages Specially Selected Brioche Buns or 1 package of L'Oven Fresh Potato Sandwich Rolls
Mixed greens
1 beefsteak tomato
3 bell peppers
1 cucumber
Pickled red onions (*see my recipe for making your own below)
Directions
Prepare your grill by heating it to medium/high.
While your grill is heating up, wash and slice your veggies. Bell peppers can be cut into quarters, while the tomato and cucumber are thinly sliced.
Arrange veggies, pickled onions, tzatziki sauce, and feta cheese on a platter.
Once your grill is preheated lightly brush the bell pepper quarters with olive oil and carefully place them on the grates.
Repeat this process with the Kirkwood Mediterranean Style Chicken Patties and sprinkle lightly with the Stonemill Roasted Garlic Herb Grill Seasoning (to taste).
Cook the patties for about 5-7 minutes on each side or until the internal temperature reaches 165° and the peppers until softened and charred.
Once the burgers and bell peppers are ready, it's time to eat.
Place the burgers on top of your choice of buns and top with desired toppings. The winning choice is really a little bit of EVERYTHING!
Homemade Pickled Red Onions
Prep Time: 15 min
Cooling Time: 4 hours (preferably overnight)
Servings: 18
Ingredients
1 large red onion
½ cup apple cider vinegar
1 tablespoon sugar
1 ½ teaspoons salt
1 cup of warm water
Directions
Thinly slice the red onion. I prefer to use a mandolin.
Stuff the red onions inside a jar or container. I used three small canning jars for mine.
Place vinegar, salt, sugar, and warm water in a medium-sized bowl and stir until sugar dissolves.
Pour the mixture over your onions, make sure to evenly distribute if you have multiple containers. Onions should be fully submerged.
Allow onions to sit at room temperature for about an hour. Then cover and store in the refrigerator. (they typically last for up to 2 weeks but taste great after 3-4 hours)
And, because no summer afternoon would be complete without a tasty treat. I suggest whipping up a delicious and beautiful Strawberry-Topped Angel Food Cake featuring Baker's Corner Angel Food Cake, found at ALDI, for dessert.
Simple Strawberry Shortcake
Prep Time: 30 min
Cook Time: 45 min
Cooling Time: 3 hours
Servings: 12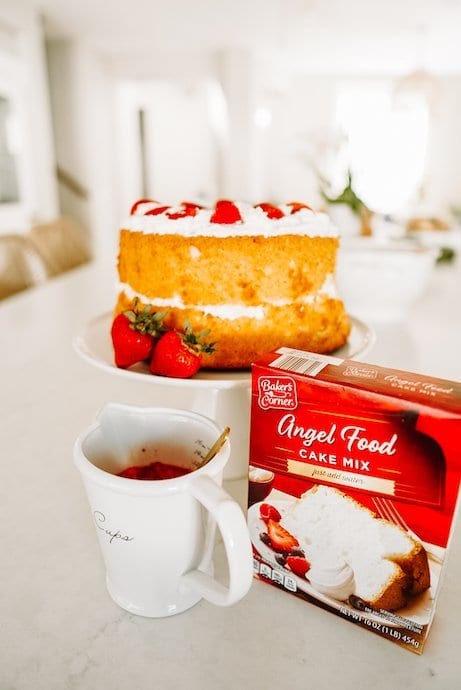 Ingredients
1 package Baker's Corner Angel Food Cake Mix
6 cups sliced strawberries (divided)
2 cups Countryside Creamery Heavy Whipping Cream
6 tablespoons sugar (divided)
Directions
Bake the Baker's Corner Angel Food Cake Mix according to package instructions, then cool completely (roughly 3 hours).
While your Angel Food Cake is cooling you can prepare your whipped cream. Start by placing your mixing bowl and whisk in your freezer for 10-15 minutes.
Next, simply place 4 tablespoons of sugar in your mixing bowl and top with the Countryside Creamery Heavy Whipping Cream and mix. Continue mixing until stiff peaks form. Set aside.
Take 2 cups of sliced strawberries and the remaining sugar (2 tablespoons) and place them in a medium bowl. Begin to mash strawberries and sugar using a potato masher to create a chunky strawberry sauce.
To assemble your Strawberry Shortcake carefully slice your cooled Angel Food Cake in half horizontally. (*please note that due to the delicate nature of whipped cream it is best to assemble 15-30 minutes prior to eating)
Top the bottom half with ⅓ of the whipped cream and 2 cups of the remaining sliced strawberries.
Place the upper half of your Angel Food Cake on top and repeat by topping it with ⅓ of the whipped cream and the remaining 2 cups of sliced strawberries.
To serve simply slice the cake into 12 even pieces and top with a dollop of the remaining whipped cream and a drizzle of strawberry sauce.
Which of these three recipes do you want to try first?
Tell me in the comments below.