The boys woke up pretty tired from the day prior not only from the actual exercise but also from the sheer excitement the day held. They are H U G E football fans and pretty much talked about everything they did and saw their first day at camp A L L D A Y L O N G to anyone who would listen! They mustered up all the energy they had though and still got ready like champs. They couldn't wait to learn what the day had in store for them. And, what a day it would turn out to be!
The kids received some fruit and water again when they arrived. They were then divided back up into their groups (same ones as yesterday). And, then they went right into stretching and drills which did vary a bit from yesterday. They practiced offense and defense drills, running and passing. They also had weighted bags with squats, rope work and blocking drills. Reggie jumped up and demonstrated the older boys drills by competing against some of the other coaches. The kids got a kick out of watching Reggie play 😉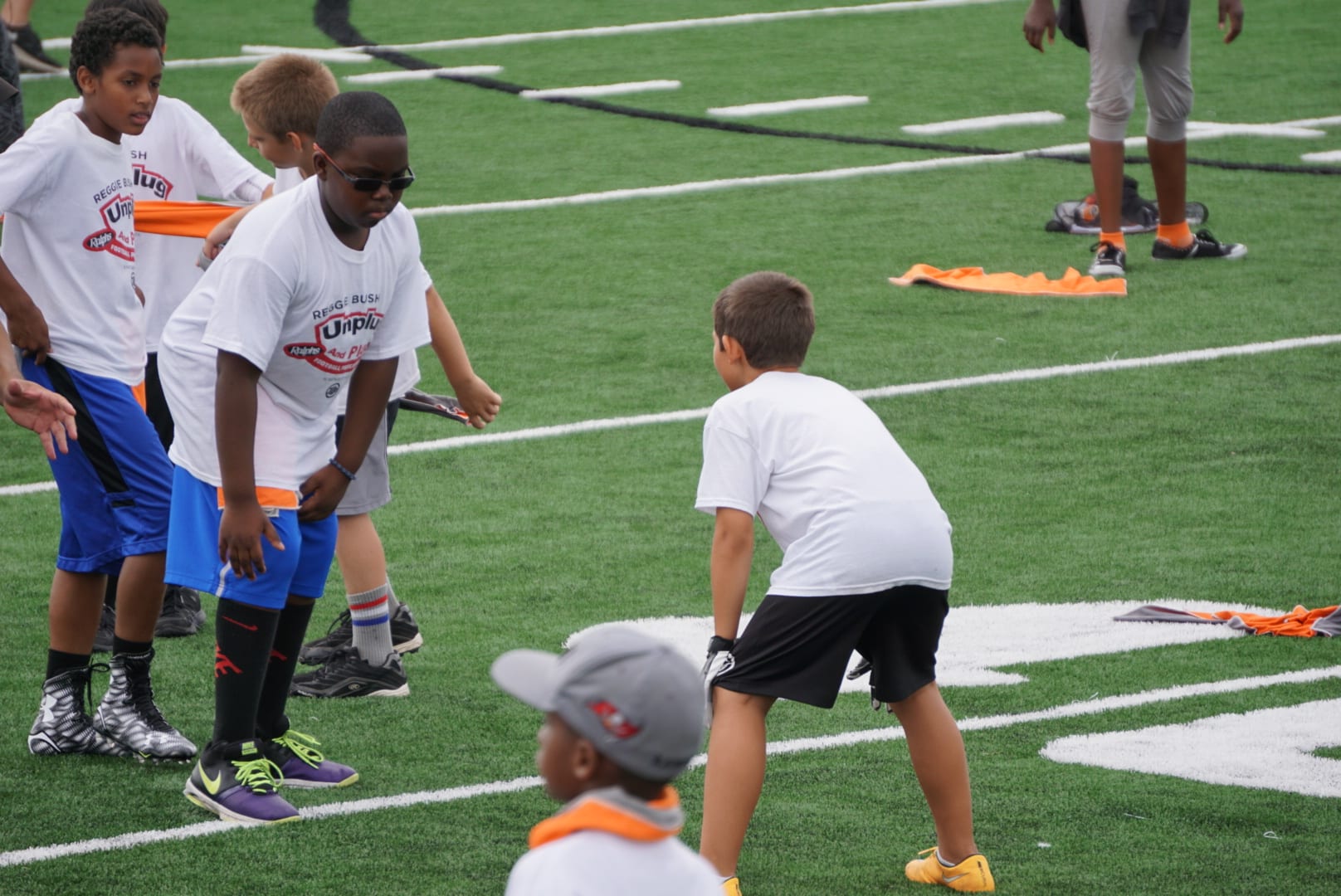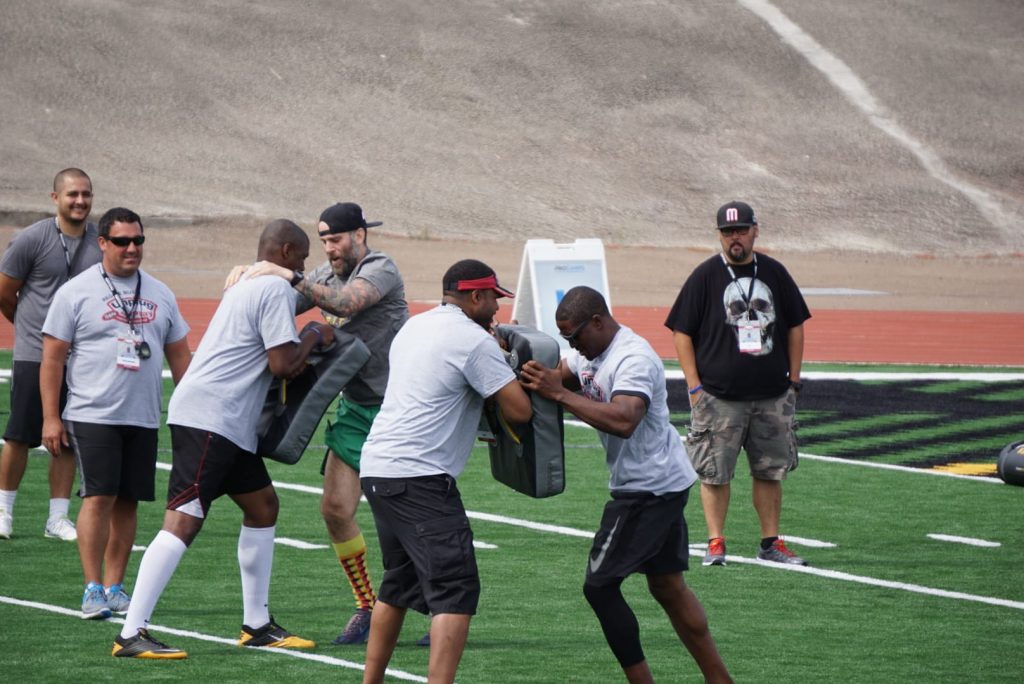 Reggie also held the Smokehouse Run where the kids raced to see who was the fastest in each age group. This was definitely a highlight for my boys. Mine all came in 3rd for their own age groups. Perfect… because no one had any better bragging rights. Score for mom!!!
The last thing they did was play games of 8 on 8. It is hilarious to watch the pros competitiveness strike when the clocks started to run out. And, equally funny to watch them celebrate when their team won.
Least but not last was the dance party… it was way too fun to watch all these big athletes dancing and goofing off with a bunch of starry eyed kiddos. And, a great way to end the day.
When the day wrapped up a Taco Bell truck pulled up with a generous sized lunch for the kids. Most campers said their good byes after receiving a picture of themselves signed by Reggie Bush and a few other goodies (their choice of hat or shirt from pink dolphin clothing company and a mission cooling towel).
But, for 80 lucky campers the most exciting part of the day was yet to come.
These lucky kids (mine included) were invited to join Reggie Bush for an advanced 3D screening of the all NEW Ant-Man movie!!!!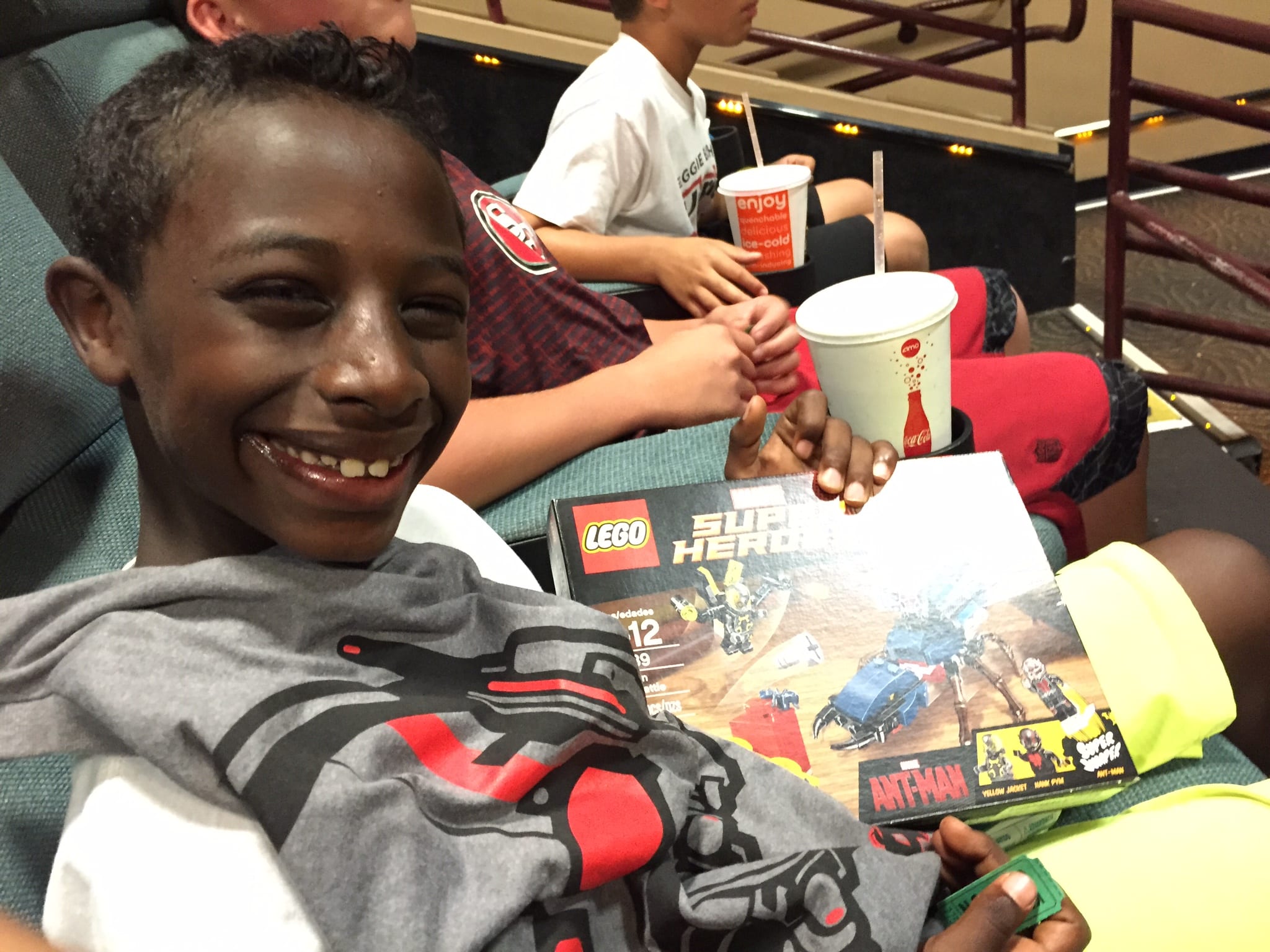 When we arrived at the theater more surprises awaited the campers. Each kid received a $50 gift card from Dick's Sporting Goods. Plus, popcorn, candy and soda for the movie. When they arrived at the movie door Reggie Bush was there and available to take pictures. Once inside the theater they held a raffle and gave out goodies. Shea won an Antman shirt and Lego set which totally made his day. In fact the second he got home he put his Antman lego set together- while wearing a 49ers shirt (had to support Reggie- obviously he's Reggie's #1 fan now).
I really cannot say enough great things about this experience. It was a once in a lifetime kind of thing and I am so glad that my boys were able to participate. I would highly recommend any parent to check out www.ProCamps.com for their child. They offer so many different camps all over the world and I am sure there is one just right for your little munchkin!
Comment below and let me know what sports your munchkins enjoy!
NOTE- PROCAMPS HOSTED MY FAMILY AT THIS CAMP IN EXCHANGE FOR MY HONEST THOUGHTS AND OPINIONS. ALL VIEWS & STATEMENTS ARE COMPLETELY MY OWN.
Latest posts by Mama Munchkin
(see all)