This year Starbucks is having a Springtime game to mark the 50th anniversary of Starbucks. Starbucks is always trying to work towards being a more sustainable company, so this year the game involves rewarding consumers with fun sustainable prizes. The Starbucks Earth Month Game will give you the chance to win E-Bikes to reusable mugs to Bonus stars. You can even win Non-Dairy Starbucks Drinks for a Year, like their delicious oat milk lattes. Sure it's not Starbucks for Life like their holiday game but still not too shabby.
The new Starbucks Earth Month Game gives Starbucks® Rewards members a chance to win more than 2.5 million prizes.
Starbucks Earth Month Game How to Play
Here are the basics:
You have to be a Starbucks rewards member
Sign up by going to starbucksearthmonthgame.com or via the Starbucks App
The game will go from April 1- April 30th
You earn one game play just by signing up for the game. (Easy enough!)
You earn additional game plays every time you make a qualifying purchase with the card that is registered to your starbucks rewards. (It's easiest if you use the app)
You can earn up to two game plays a day (basically by drinking Starbucks twice a day)
Throughout the game, players will earn additional "plays" by participating in weekly activities – The first week you simply take a pledge to go straw free, read a little bit about the environment, and bam you earn chances to win!
from saying "no" to single-use plastic straws and trying meatless breakfast choices, to voting for their favorite nondairy beverage or reading articles about combatting food waste.
In the "Choice & Chance" portion of the game, players can select an item for a chance to win prizes ranging from coupons for free non-dairy beverages to money off select food items and reusable merchandise. There will also be the chance to enter a sweepstakes to win grand prizes such as an electric bike prize package from Rad Power Bikes and nondairy drinks from Starbucks for a year. *
2) SUPER SECRET WAY TO INCREASE YOUR CHANCES OF WINNING!
Hey, I love Starbucks, but I usually only go once or twice a week unless I am traveling. So, the odds of someone like me winning is slim to none. However, there is a Super Secret way you can still earn 3 entries every single day without spending a dime There is no need to break from your normal routine to get gameplays. Here is how to do it.
Visit Starbucksearthmonthgame.com and sign in to your rewards account
Click on Play the Game!
At the bottom you will see no purchase necessary and then click here to enter.
Fill out your name and address
Choose the Purchase you want an Entry
In a minute you will receive an email saying activate your entry and play
You can do this twice every day
Thus, you earn the max 2 entries every day and can earn 60 entries if you repeat this strategy every day.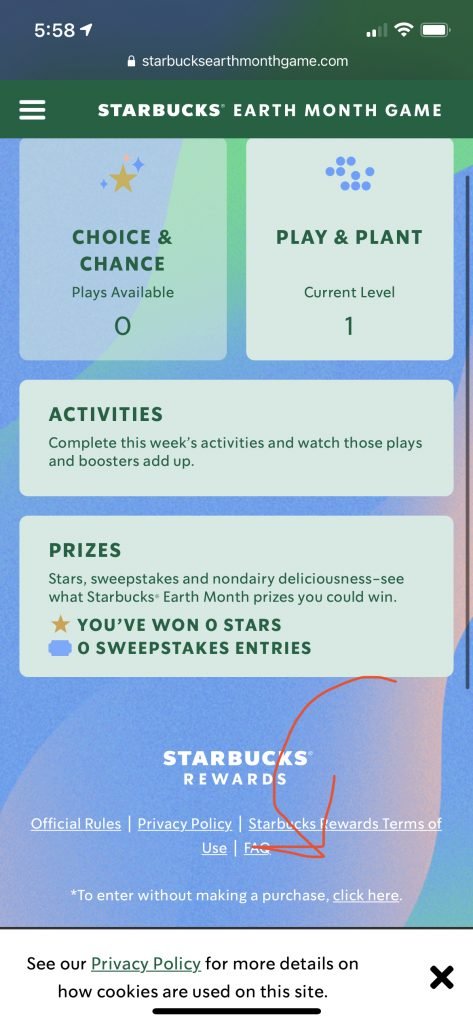 A link for the Starbucks Earth Month Game will be available for Starbucks Rewards members in the Starbucks app starting April 1; the game will end on April 30, 2021.
YOU CAN ALSO EARN YOUR BONUS PLAYS THIS WAY!
Simply, visit the Promotion Site and follow the links and instructions to select the bonus play option and complete and submit the form. All in all, you can earn 68 total entries.
What Can you Win?
The Starbucks Earth Month Game doesn't have some of the crazy big prizes like their summer game, but they still have some great stuff you can win including:
Rad Power Bike
Starbuks Dairy Free Drinks for a Year (1 Dairy Free Drink Per Day)
Starbucks Reusable Grande Cold Cup (Pictured Below)
Cotopaxi fanny pack
Bonus Stars
Free Drinks
50% OFF Drinks
Good luck on all your entries and hopefully one of my readers gets the grand prize in this year's Starbucks Earth Month Game!
Latest posts by Michael Mamian
(see all)