Stitch Fix Kids has made my life substantially better. NO JOKE!! Imagine trying to take 5 kids ages 5- 16-years-old to a mall to shop for clothes- it's literally a nightmare!!! We've tried to divide and conquer but forget it!! Who has the time?? Thankfully, my friend who was pregnant was doing Stitch Fix Maternity and told me about Stitch Fix Kids where they handpick pieces based on my kids' personalities, their likes & dislikes, and they send them right to my doorstep. Oh, and its tailored to my budget!! And, I am only just getting started on why I love Stitch Fix Kids read below to find out why I am completely OBSESSED!!!
Stitch Fix Kids- 5 Amazing Reasons Why Moms Love It!
Saves Time & Hassle
This is a no brainer. After filling out your kid's profile all you have to do is schedule a fix and a box of 8-12 handpicked items (clothes/ shoes/ accessories) arrives at your door. You detail out the pieces your kid is in need of so you get exactly what you are looking for and they are personalized to your kid's style, size, and your budget!
Then comes the trying on which is usually my kids' least favorite thing about shopping. However, not with Stitch Fix Kids. In the comfort of their own home, they don't mind trying on clothes.
Plus, I love that the kids are able to try them on with the clothes they already own making sure that we will be able to create a few new styles with each piece.  You can't do that at a store.
Busy schedules no problem. You've got several days for the kids to try everything on and make decisions before you need to check out and make any returns.
To set up your munchkins' Stitch Fix Kids profile click here.
Stitch Fix Helps My Kids Try New Styles
When mom suggests new looks kids usually roll their eyes. However, when their very own personal stylist does it somehow its the next best thing since sliced bread and I love it!
The stylists at Stitch Fix Kids do an incredible job finding pieces that really match your kids' personalities whether that's sports or sassy, classy or laid back. Then the stylist writes a personal note that is included with each box explaining why they chose some of the pieces. The kids can't wait to read this note each time they receive a fix.
The top on Ella (above) was her favorite top going back to school. She loved that the stylist had noted her birth year and so she really felt connected to this piece.
My favorite piece from Stitch Fix Kids has to be Olivia's Pink Pleather Unicorn Jacket. I mean this jacket is 100% Livvy!!
We received it right before Christmas and it has been this girl's go-to jacket through winter and now moving into spring and it goes with everything! I just love it!!
To see what great looks are waiting for your little ones click here.
Stitch Fix Kids is Budget-Friendly
I assumed that because I was saving time and hassle Stitch Fix Kids would end up costing me more than if I went out and shopped but it turns out I was wrong. Stitch Fix Kids is totally budget-friendly.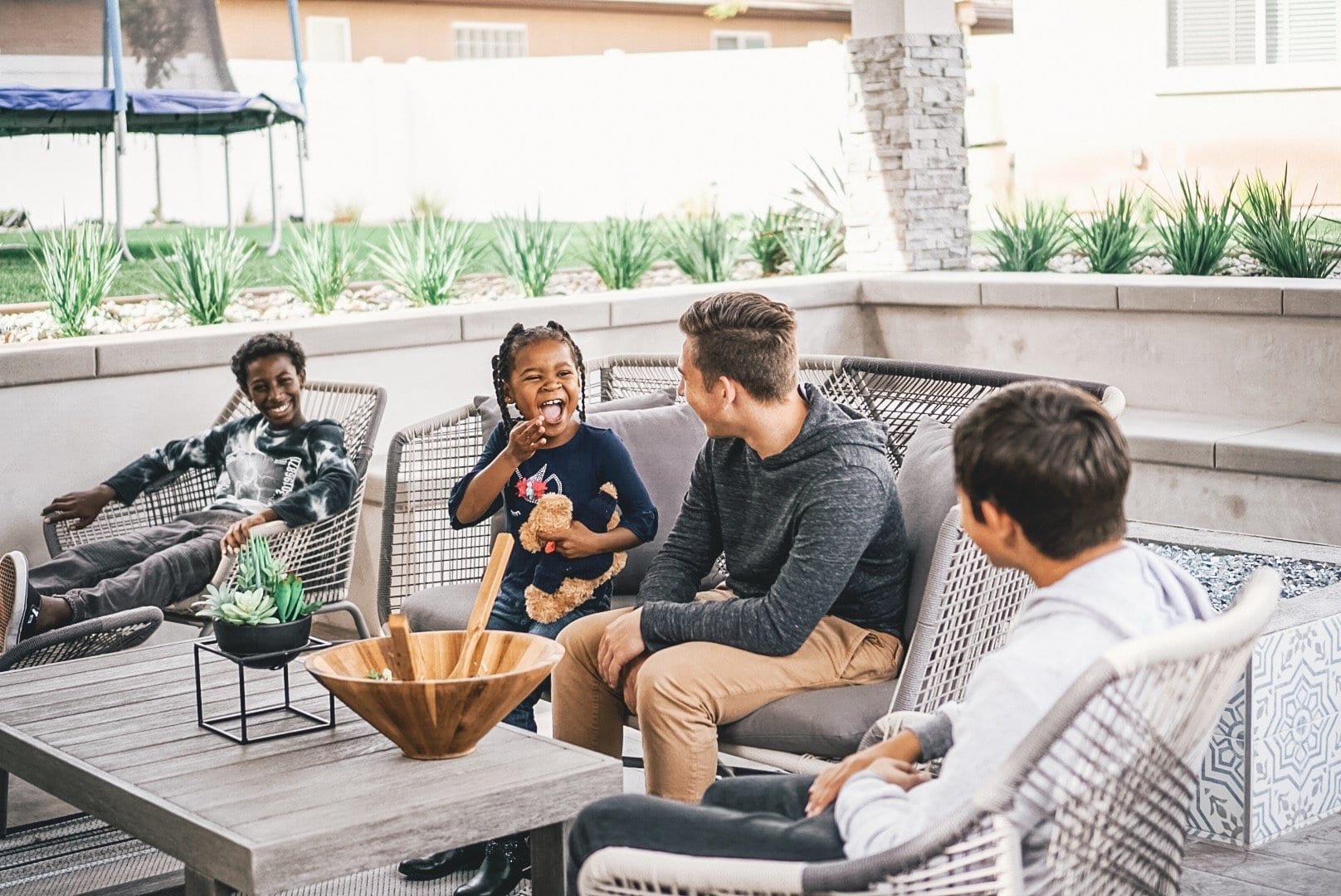 The key with making sure your Stitch Fix boxes arrive with items that are within your budget is to make sure you properly fill out your child's profile. It will specifically ask how much you typically spend on shirts, pants, etc…
If you are curious about their pricing overall I would refer to their site where they state pieces are typically in the $10-$35 range. They note that kids' leggings starting at $10, dresses at $18, outerwear $24, graphic tees $12, and denim $18.
The BEST part is you don't pay until after you have tried everything on. If you decide to send it all back you are charged a $20 styling fee, but otherwise, the $20 styling fee goes towards your purchase. And, if you keep the box you get 25% OFF everything!! So, again making sure to take the time to give your stylist a great picture of your kid and what you are looking for is key when it comes to saving money.
Also, a lot of people mistake this for a monthly subscription. While you have the option to automatically schedule fixes you can also just manually request them when you need items too! That is what we do.
To schedule your kids first fix click here.
How I Use Stitch Fix with my Teen Boys
Stitch Fix Kids only comes in sizes 2T-14 so, what is one to do about clothing a tween or teen? Here's a tip.  My two oldest boys are now in men's sizing so I actually order their Fixes through the men's department and just note their ages/ styles in their profiles. We have been very impressed with the looks their stylists have been able to put together.
I have to say this may actually be my most favorite thing about Stitch Fix. Teens are so hard to dress usually and nothing I suggest is ever cool enough. But, the fact that they can say they have a personal stylist changes EVERYTHING!!
Our stylist had my teens finally out of their exercise uniforms (that's what I called their style bc they would only wear workout clothes previously) and into trendy and fashionable looks that we both love.
Even my super trendy 16-year-old approved of their styles. Just look at that smile, I love that kid.
Oh, and my boys also wanted me to mention that they really loved the shoes that Stitch Fix sent too!! And, again I loved them because instead of clunky athletic shoes they had some good-looking casual shoes. Perfect for family dinners and outings together. Total #MomWin
Returns are Simple
The other wonderful thing about ordering from Stitch Fix Kids is that you only pay for what you like. Every Stitch Fix order comes with a free USPS return envelope. All you have to do is check out online and mark the items you don't want. Then stick those items in your free USPS return envelope and pop it in any mailbox- it's that easy!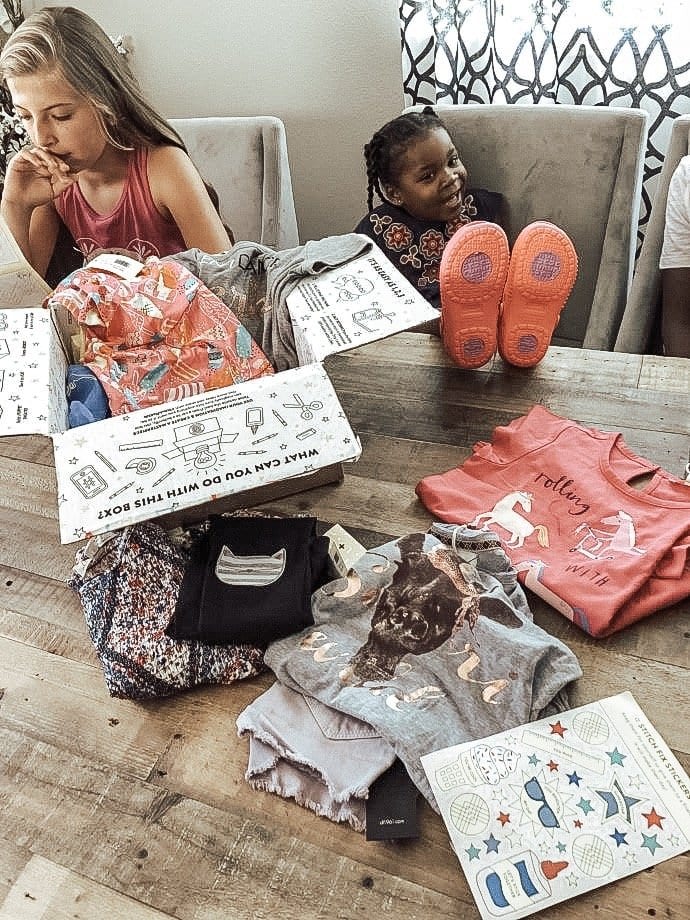 Definitely beats the old school way of dragging kids to a mall, the torture of having them try everything on only to have them decide they don't like the items once they get home and try them on with their other clothes leaving you to have to head back to the mall asap to return them.
Be smart and give try Stitch Fix Kids a try by setting up your child's profile here. I promise you will love it!!!
Have you tried Stitch Fix Kids yet?
You may also like these hand-selected articles-
*Disclosure- at times Global Munchkins works with companies gratis for the purpose of providing you with an honest review. However, we only ever share our own thoughts and opinions about the brand.
Latest posts by Mama Munchkin
(see all)