Birds are chirping, flowers are blooming, and the world outside is awakening from its long winter hibernation. Summer is finally right around the corner. For most families, that is when things go from busy to busier. The smell of a hot grill is something that never fails to lift my spirits with the promise of a delicious meal to be had shortly. Not a meal out of a bag or a frozen pasta dish that seems to be more plastic than actual food. I'm talking about a real meal, real meat, real food. Delicious food. Burgers, brats, and franks are the epitome of summer living.
That's right, folks, it is officially grilling season. Gone are the days of the messy stovetop and the hot oven. Goodbye hard to clean casserole dishes. Good riddance to all the hours spent meticulously following the recipe that was so sure to have been the one that my picky eater would love, but no one really ended up liking at all. Grilling is simple, fast, and a guaranteed approval from even my pickiest eater.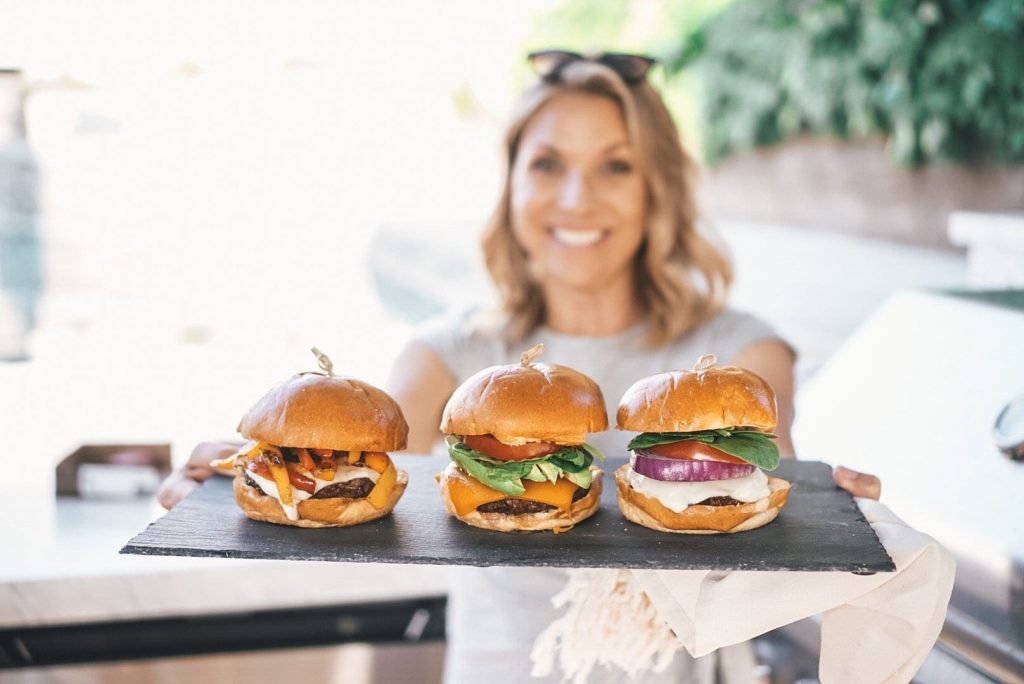 Easy Summer Grilling Ideas with Omaha Steaks
As many of you know, I absolutely love Omaha Steaks. And if you have been following me on Instagram you know that we have been going through a major kitchen remodel. Being without a kitchen for the past 4 months has been no easy feat. We have been relying on summer grilling since, well the middle of February (thank goodness we live in Southern California). Well, Omaha Steaks has been our savior.
The solution to our dinner struggle is found by just firing up the grill, going to the freezer and choosing from the Loaded Salmon Burger, Filet Mignon Sliders, or any of the nineteen burger options from Omaha Steak Burgers, Brisket Burgers, Grass-fed Ground Beef Burgers, Alaskan Pollock Burger, to their Garden Sun Veggie Burgers or the delicious Private Reserve Wagyu Burger. The best part? It's simple and it's fast.
Perfect for Impromptu BBQ's
This past weekend the sun was out, the pool was warm, and somehow almost magically my parents and my brother and his family showed up to hang out. The joys of having a new pool include having surprise guests, who happen to be quite hungry after a little swim time. Luckily, we had a freezer full of Omaha Steaks Burgers.
We grabbed some Delmonico Burgers, a few Filet Mignon burgers and fired up the grill. The 21- day aged filet mignon burgers are in a class of their own. They're exclusively from Omaha Steaks with a 75/25 lean-to-fat ratio, making the burger an incredibly juicy and taste filled burger.
Rubs & Toppers that Make your Burgers Taste Incredible
The problem with having an impromptu BBQ is you really don't have time to marinate or add anything special to the burgers. Alas, we were once again saved by Omaha Steaks. They have their signature rubs plus these toppers which are so incredible that everyone was completely blown away. We had the smoky bacon jam along with some grilled onions. Both were amazing but the smoky bacon jam was by far everyone's favorite. It was so delicious and it was only 4 grams of sugar. Basically, what I am saying is get the Smoky Bacon Jam
In addition to the toppings we had, Omaha Steaks offer an incredible variety of seven delicious steak sauces, six different options of amazing Toppers, and six types of Rubs that are perfectly seasoned and ready to be enjoyed.
More than just Burgers
Do you have a picky eater in your family or maybe someone that isn't a big fan of burgers? No problem. Omaha Steaks has thirteen different types of franks and brats. The Apple and Gouda Chicken Sausages are a favorite, as are the Gourmet Jumbo Franks, Whiskey and Fennel Chicken Sausages, Filet Mignon Hot Links, Kielbasa Sausages, or Italian Sausages. The Filet Mignon Polish Sausages topped with any of their Steak Sauces or delicious toppers never fails to impress.
Delicious Treats as well
We finished the meal by enjoying the Omaha Steak's German Chocolate Cake, and I could not believe how delicious it was. I was especially excited because my grandma came over and it is her favorite cake. It was phenomenal, with just the correct amounts of coconut and chocolate frosting. It was truly a delectable treat. Other options that I have been dying to try is the two-layer carrot cake and pineapple upside-down cakes.
With Omaha Steaks Burgers, Franks, and Brats in the freezer, dinner can be on the table in less than thirty minutes, and the varieties are almost limitless thanks to the rubs and toppers. No more last-minute trips to the grocery store or having to go through a drive-thru for dinner.
No more frantically trying to figure out what's for dinner while snapping at one another as the stress and hunger whirl around you and someone yells, "What's for dinner tonight???" Instead of throwing together a mediocre, rushed meal during our busy schedules and life's demands, let's relax and enjoy the ease of grilling a perfectly delicious meal on a summer night, knowing that you and your family are about to enjoy a delicious, quick and easy meal by Omaha Steaks while making memories that will last with you forever.
Are you ready for summer?
You Might Also Enjoy:
9 Amazingly Fun Things to do in Omaha with Kids
Six Quick & Easy Dinners for Busy Families