This is a sponsored post written by me on behalf of Cricut. All opinions are 100% mine.
There is nothing I love more than organization, so when I learned about the NEW Cricut Joy I knew I had to try it. A friend of mine had told me that as a newbie this would be the best Cricut machine for me. Boy was she right!
If you are into craft projects and are looking to buy a Cricut, we went ahead and put together everything you need to know about this machine.
---
What is the Cricut Joy
I honestly had no clue what Cricut machines really were before getting my Cricut Joy. I just knew that my friend was making really awesome personalized crafts with hers and I wanted in on it.
What I have learned is, in the most basic form, the Cricut is a cutting machine. It actually is one of the best cutting machines on the market!
This allows you to create and cut beautiful and intricate designs on a bunch of different crafting materials. So it takes the place of scissors, craft razors, and label makers. I am always a fan of multi-tasking!
The Cricut Joy is able to cut any shape to absolute perfection. It works great for materials like vinyl, iron-on, cardstock, peel-and-stick label paper, even the construction paper you already have at home.
Although the Cricut Joy is the smallest of the Cricut family of machines, don't let it fool you. This pint-sized powerhouse makes it easier and faster (aka why I think it is the best Cricut machine) to whip up unique designs.
Aside from its awesome cutting machine the Cricut Joy works as your personal scribe to create beautiful labels, inscribe a custom card, or pen the perfect monogram. You can choose the color, line weight, and your favorite font.
---
Who is the Cricut Joy good for?
The Cricut Joy is great for all craft-lovers- beginner to advanced. Its compact size makes it perfect for quick, everyday fun projects and for travel too! I could totally picture a girls' crafting getaway- could you? It would also be great to bring for your kids' classrooms and for teachers too!
The main difference between the Cricut Joy and the Cricut Explore Air® 2 & Cricut Maker® is the maximum material width. The latter two both have a maximum material width of 12' whereas Joy's maximum is 5.5".
Other noted differences are the number of tools available for the machines, additional materials that can be cut with the machines, compatible with both USB and Bluetooth, and the Cricut Maker® also has commercial-grade cutting capabilities.
Whichever you decide is the best Cricut machine for you, expect tons of help to maximize your enjoyment thanks to the amazing resources Cricut has available on their website and blog. Plus, the Cricut community is also super helpful and welcoming too!
---
Setting up Your Cricut Joy (the best Cricut machine IMO)
The Cricut Joy is super duper easy to set up. You basically just take it out the box, plug it in, and connect it to your phone or desktop wifi. Next, you go to cricut.com/setup for step by step instructions. Which basically just takes you to download the DESIGN SPACE® software and/ or app. From there you can get started making your first project.
Step 1
Pick a project and customize it to your liking (upload your own for free, use one of the included 50 free templates, or access thousands of premium designs for a small monthly subscription)
Step 2
Cricut Joy cuts and writes for you
Step 3
Put it together and you are done
Interested in getting a Cricut Joy for yourself? Find it at Target here.
---
Let's Talk Materials
The Cricut Joy offers NEW Smart Materials which allow you to just load & go without the use of a mat!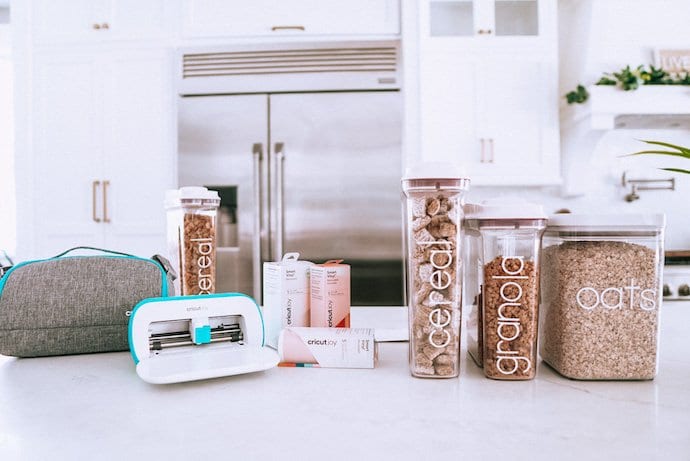 Smart materials are available in vinyl, paper vinyl, iron-on and many more types of material! And, the Cricut Joy can cut up to 20 feet at one time – perfect for placing your favorite quote on the wall, creating a galaxy of glittering stars, or making jerseys for the whole team.
The Cricut Joy also works great on cardstock allowing you to make a custom card at a moment's notice- From a birthday to a bon voyage, just married to just because you'll always be at-the-ready to honor any event with a thoughtful card that says it all – and then some.
Just choose the right design, put the pre-scored card on the mat, and let Cricut Joy do the rest!
---
So what can you craft with a Cricut Joy?
You can personalize, organize, and customize just about anything your heart desires- I told you this was the best Cricut machine! Everything from pillowcases and totes to water bottles and tumblers, your pet's dish, team jerseys, birthday cards, even home decor!
Check out Cricut's DESIGN SPACE® software and app for ideas. They also post a bunch of great ideas on their blog too!
---
Where can you purchase the best Cricut machine for you?
I am SO excited to share that you can find Cricut machines and supplies in-store at your local Target and online at Target.com. See here for details.
---
My First Project- Super Simple Pantry Labels
I am a sucker for organization and so the first project I wanted to tackle was to create labels for our food storage bins.
Within minutes of setting up my Cricut Joy, I was printing these labels. I used the Smart Permanent White Vinyl material and this free template from Cricut's DESIGN SPACE® app.
I'll I had to do was swap the wording to Cereal, Granola, and Oats and press click "Make It". It was so easy I couldn't believe it. After the labels printed I applied them as you would a sticker and BAM! My pantry was upgraded to a whole new level.
---
DIY Food Storage Labels Detailed Instructions
Materials Needed
Cricut Joy machine

Smart Vinyl (permanent)
Directions
Make sure your Cricut Joy is plugged in and connected via Bluetooth to your desktop, tablet or mobile device.

Open Cricut's DESIGN SPACE® app or software and go to

this template

.

Click "Customize"

Customize your labels making sure to check that the sizing is appropriate for whatever storage container you will be applying your vinyl to.

Adjust sizing as needed.

Y

ou can change the font by clicking the "Edit" button on the toolbar.

Make sure to click "Edit" in the toolbar and check "Cut" and the color of the material you are using.

Next, click the green "Make It" button on the bottom right (on the DESIGN SPACE® app).

Then click "Continue" and follow the prompts which will include loading the proper-sized materials into your Cricut Joy machine. For me, that just meant trimming the length of the vinyl.

Once loaded the Cricut Joy does all the work cutting your intricate design.

When completed you simply unload the project and stick the vinyl onto the food storage container like you would a sticker.

… and VOILA! You are done.
---
Do you own a Cricut machine? Share your favorite projects below. Considering purchasing one and have questions? Let me know. I promise to try and help you the best that I can.
---
You may also be interested in these posts-
---
Pin-it for later: The Best Cricut Machine for Beginners
---
Frequently Asked Questions about the Best Cricut Machine
What Cricut machine can do the most?
The capabilities of different Cricut machines can vary depending on the model, but generally, the Cricut Maker is considered to be the most versatile and capable machine in the Cricut lineup.
Which Cricut can cut everything?
The Cricut Maker is the Cricut machine that can cut almost everything. It has the ability to cut thicker materials, such as balsa wood and some metals, as well as the ability to cut delicate materials like fabric, thanks to its rotary blade that allows for precise and smooth cuts.
The Cricut Maker also has the Adaptive Tool System, which means that it can use a variety of blades, including the fine point blade, deep point blade, and knife blade, to handle different materials and cutting tasks.
Additionally, the Cricut Maker has a cutting mat that allows for accurate placement of materials during the cutting process.