*This is a sponsored post in partnership with Blink, an Amazon-owned home security system. All thoughts are my own.
Between frequent travels, pet sitters, and this new stage of allowing our teen to babysit, we have entered an era where home security was a must. At first, I was worried about hardwiring a system and having yet another monthly bill, but then we found, Blink For Home a new wire-free home security system owned by Amazon.
The BEST Way to Keep Your Home Safe While You're Away
Being a frequent traveler can be exhilarating, but it can also cause quite a bit of stress. One of the things I personally have struggled with when I'm away from our home is security. I looked into purchasing different security systems, but most required hard wiring and a hefty monthly bill.
So, when I heard Amazon's new Blink home security system uses wireless technology and only costs $129, I was all in.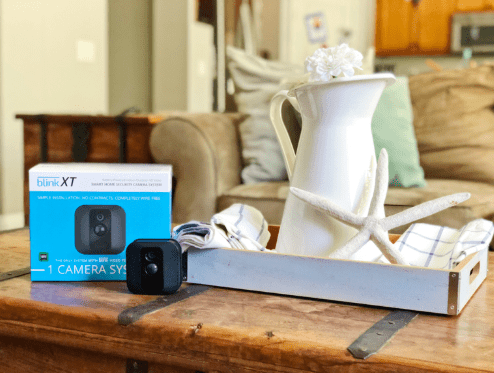 Turns out that was a fantastic decision because Blink offers so many features that are perfect for my needs…things like having access to a clear view of my home by clicking an app on my smartphone – talk about convenience! Blink also has a motion activated capability that automatically records a short video clip and sends me a notification on my phone when triggered as well as on-demand streaming if you just feel like checking in.
While we first tried out the Blink system for home security, we have found many more ways to utilize it. Some of my favorites include being able to check in on my 15-year-old son babysitting his younger siblings while my husband and I sneak away for a coffee date and checking in on our dogs while I am out running an errand.
To do this, I use the live-streaming feature on the Blink app. Thanks to the 720p HD security camera I get a clear view without as much distortion or blurring. This allows me to view my kids or the dogs clearly right from my smartphone no matter where in the world I am at the time. Check out how clear the view is.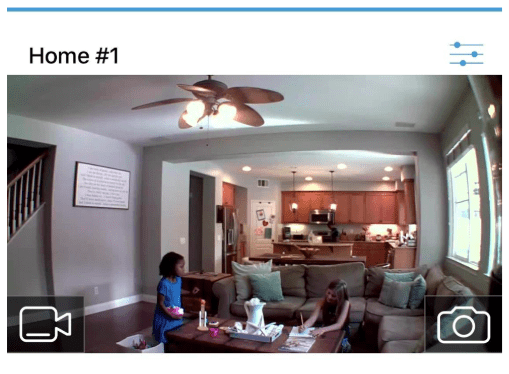 Another great feature with the live streaming is the built-in microphone which allows one-way audio access, so you can not only see what is happening, but you can hear it as well. I should note that we make everyone aware that we are recording. and the camera has a non-hackable, hardware-based LED indicator that lets everyone know when Blink is recording so that no one is ever caught off guard.
With the Blink XT camera, you can also install the system outside which would be perfect for tracking packages while you are away too. We are even considering adding one on the outside of our new backyard slider door since we just added the pool. We are installing a fence, an alarm in the pool, a door alarm and upper door lock because you can never be too safe. Having a notification sent to the phone and being able to drop in on the backyard while we are away would give me more peace of mind.
Speaking of peace of mind, another feature we have utilized is the built-in temperature sensor. We have a pug and he is very sensitive to heat. During the summer we have used the temperature sensor to let the pet sitter know when the dogs need to be let inside the house.
Easy to Set Up & Use
Setting up my Blink home security system was super simple. I literally unwrapped the box, downloaded the app, and followed the simple instructions on the app to connect my sync module.
I would say total time was less than 5 minutes. On the instructions, it also noted you could read the instruction book and follow the steps in there or follow the steps online at support.blinkforhome.com.
The site also has in-depth information and troubleshooting tips. I highly recommend checking out the site to get a handle on using all of the functions. It helped me out a lot on things like setting up motion sensors and notifications, how to view video clips, how to access LIVE video, and how to arm the system from my phone.
Installing your Blink Camera
Next up is installation. Blink can either be placed discreetly in your home on a shelf or mantel or it can be mounted to a wall. The Blink XT camera is safe to use both indoors and outdoors and can easily be mounted near an entryway or wherever else you may choose.
Versatility
Another neat thing about Blink is you can add on multiple cameras so you can essentially monitor the inside & outside of your home, while also monitoring your business or your pets. Check out this photo from the Blink website showing two different Blink cameras being monitored on the Blink app.
We feel that the Blink home security system is an incredible option for families looking to keep an eye on their home while they are away. The peace of mind you get being able to protect your entire home, inside and out, without the hassle of wires, dealing with contracts, subscription/ or data storage charges, or a monthly payment just can't be beaten.
Learn more about Blink Home Security here.