*This is a sponsored post in partnership with Babble Boxx & Justice
I don't know how it happened already but we blinked and now fall is here. Which means pumpkin spice takes the center stage, crisp cool breezes fill the air, the leaves begin to change, and your tween casually sneaks in the fact that they need to update their wardrobe to go along with the cooler climate! Okay, maybe that's just my tween, but I am pretty sure most girls her age would agree that Justice has the most popular looks this fall when it comes to tween clothing. So, I caught up with Ella during a recent trip to New York to chat about her favorite looks this fall.
Honestly Ella's Guide to the Best Fall Fashion- tween clothing
Me: I love your new travel outfit from Justice. Do you want to tell me a little bit about why you chose this look for our flight today?
Honestly Ella: Sure! Travel days are so tiring so I knew I wanted to pick out an outfit that looked cute but was also super cozy. This logo quarter zip pullover is perfect because I can layer it over a shirt. That really helps when we go from one state to the next and I am not exactly sure what the weather will be like. I also really love the circle zipper pull- I feel like its a statement. I paired my pullover with my moto leggings because I felt like they were pretty cool looking. I really like the mesh details on them- they are very New York.
Me: That's great! I think you nailed it!
Me: What types of patterns or designs do you think will be popular when it comes to tween clothes this fall? Any trends that you are seeing.
Honestly Ella: Yes! Totally! I am really loving the camo vibes. One of my favorite looks for fall has to be my slit sleeve camo hoodie from Justice. In fact, I had to get one for my best friend because I loved mine so much. I think the raw hem gives it a cool edgy look and the crop top is also really trendy right now. I honestly wear this one all the time and I think it goes with pretty much everything, but I think it pairs best with my maroon shimmer leggings. These leggings are so cool. I love the extra sparkle and they are still super comfy too.
Me: What else will we see you wear this fall?
Honestly Ella: Pretty much anything I can find at Justice- kidding/ not kidding (laughs), but seriously, I am pretty obsessed with Justice.
Me: That really doesn't come as a surprise to me (or anyone that knows you).
Honestly Ella: You will definitely see me in my Wrap Around 2fer Dress. I think its super cool. It looks like a t-shirt dress with a flannel wrapped around the waist but really its all one piece- I love it! I feel like this dress can be worn right now as it is and when it cools down I can add some tights or a denim jacket and it will still look really cool. I also love this dress because it is super unique and I can dress it down and go skateboarding in it or wear some nicer shoes and go to dinner.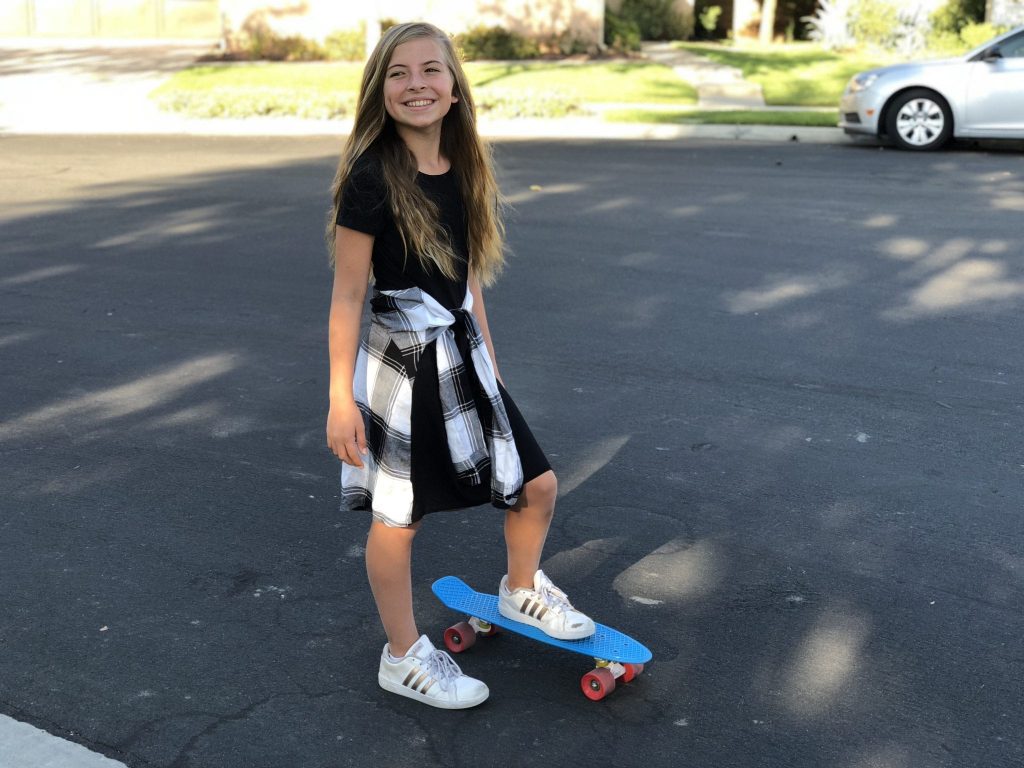 Me: I like the way you think, you must get that from your mom.
Honestly Ella: Ha, ha, ha! You do always say less is more! Okay, back to my cute outfits. On days where it gets pretty chilly, I like to make sure that I have something soft and warm. This is where my Fierce Kitty sweatshirt comes in. I really love the lace detail it's pretty popular right now. It also has a high/ low hem which makes it great to wear with leggings. I really love Justice's basic black leggings they are really soft and stretchy and they pretty much go with everything.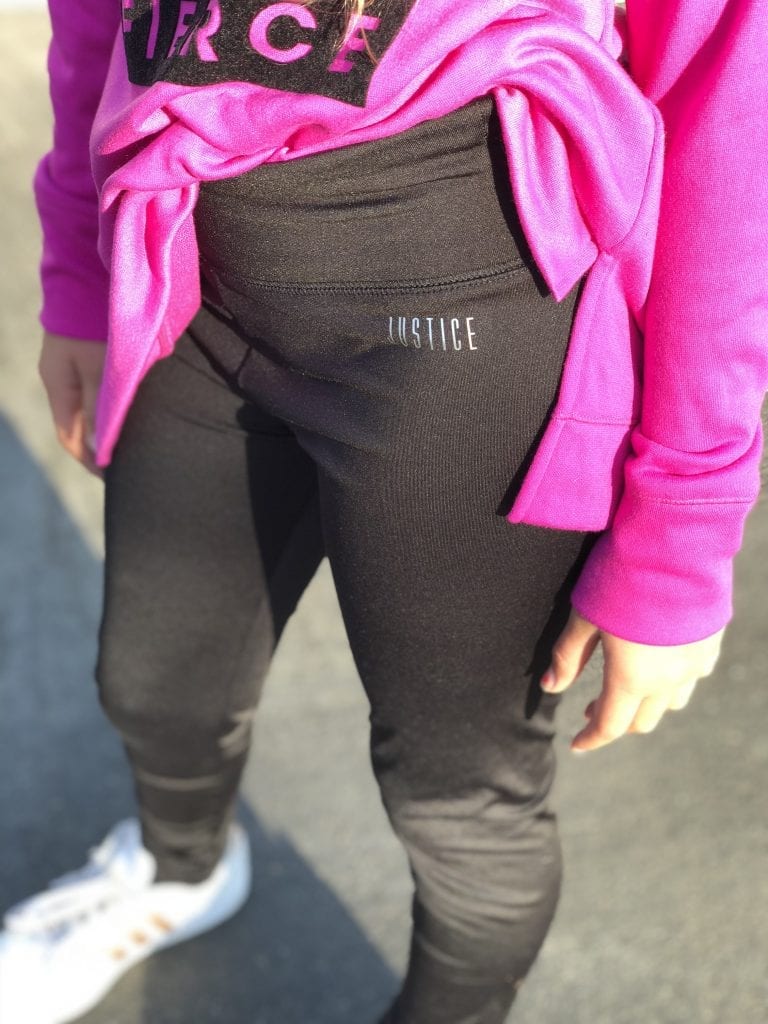 Me: Oh, I like that one! I think the messaging on it is great! I am all about fierce girls who chase after big dreams.
Honestly Ella: I knew you would say that.
Me: Okay you have given us some great tween clothing options so far, is there anything else?
Honestly Ella: I have one more. I covered most of the cozy options but fall is also about denim and I think ripped jeans are going to be big. I like to pair mine with my new Unicorn Sparkle Sweatshirt. It is super cozy and keeps me warm but it also helps me stand out. The sparkle is almost like rhinestones and it looks super pretty when the sun hits it. Of course, everyone knows unicorns are really in right now too!
Me: So, where can tween girls find all of these cute looks you shared with me?
Honestly Ella: Justice, of course, they can check out all of these cute looks and more right here.
Watch Ella Unbox Tween Clothes from Justice- Fall 2018
What tween clothes does your daughter have her eye on this fall?
You may also like these related posts:
*Disclosure- this is a sponsored post in partnership with Babble Boxx and Justice Clothing.