Let's face it, we all mean to give great gifts when the holidays roll around. But, life moves way too fast and if you are anything like me (major procrastinator) your good intentions probably fall flat. Well, not this year because I have put together the Ultimate Holiday Gift Guide with something for everyone on your list! And, to make things even more merry gifts highlighted in green also have a give-back element allowing you to do good, while you gift. Happy shopping!!!
The Ultimate Holiday Gift Guide 2016- something for everyone on your list!
This post may contain affiliate links which won't change your price but will share some commission.
Babies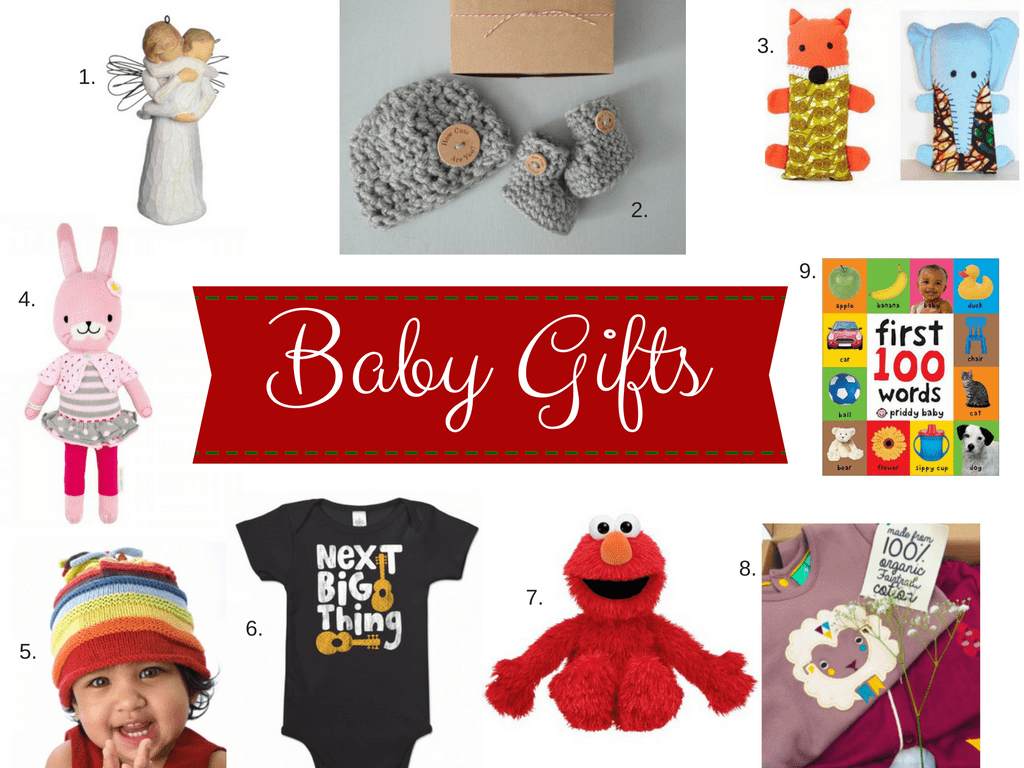 Baby's 1st Ornament | Beanie + Booties Set | Plush Malawian Toys | Cuddle & Kind Doll |
Pebble Beanie | Next Big Thing Onesie | Love2Learn Elmo | Organic Layette | First 100 Words
Give a gift that both parents and baby will love this Christmas. For Baby's 1st Christmas the Willow Tree Angel's Embrace ornament and the adorable hand knit beanie and booties are perfect. Babies 6 months and up will adore the plush animals, colorful beanie and hip onesie, all of which have a give-back element. The fox & elephant plush by dsenyo are handmade by women from a sewing cooperative in Malawi, Africa. Cuddle and Kind stuffed animals donate meals for each toy and print purchased on their site. The colorful beanie by Pebble is a fair trade company which employs rural women close to their homes in Dhaka, and the cute onesie is made using eco-friendly practices. Then of course Elmo is always a big hit and this year the Love2Learn Elmo is incredibly interactive. The customizable app allows Elmo to have 350+ responses. Little Green Radicals is another great eco-friendly clothing line with adorable layette sets and snow buntings that will keep baby warm during the winter months. And, finally the book our Liv still adores, First 100 Words is a great gift for any baby or toddler on your list!
Kids
1.My Blazin' Dragon | 2. Googly Eyes | 3. Yoobi Highlighters | 4. Mermaid Tail Blanket | 5. Soccer Ball
6. Story Cubes | 7. Dash Robot | 8. Disney Pictopia | 9. Worry Eating Plush
SAVE $5 Off Your Mermaid Tail. Use Code: USFAMILY16
Kids are super fun to shop for, but that doesn't make shopping easy. With so many toys to choose from, where do you even begin? Well, since my house is full of kids I put together a great assortment of unique gift ideas for kids. And, these are gifts they will actually use and love too! Starting with the FurReal Friends Dragon. This cute toy is on both Ella and Olivia's list this year. He responds to over 50 sound and motion combinations, eats his color changing treat and if you fill his tank with water he breathes flame-colored mist! Kids always love games and Googly Eyes is one they most likely have never heard of. Pop on the vision-altering glasses and  draw while your team tries to guess what you are drawing before the buzzer goes off. Yoobi has tons of fun school supplies in vibrant colors and for each item purchased Yoobi donates to a local school in need right here in the U.S. little girl I know dreams of being a mermaid. Make her dreams come true with the mermaid tail blanket or actual mermaid tails for swimming. I was pleasantly surprised with the fine quality of the mermaid blanket when I took it out of the packaging. The soft minky material is so comforting I wish I bought one for myself as well.
Every little girl I know dreams of being a mermaid. Make her dreams come true with the mermaid tail blanket or actual mermaid tails for swimming by Fin Fun Mermaid. I was pleasantly surprised with the fine quality of the mermaid blanket when I took it out of the packaging. The soft minky material is so comforting I wish I bought one for myself as well.
And, what boy doesn't love playing soccer? Ultra-durable balls purchased from One World Play Project are matched and donated to organizations working with youth in disadvantaged communities. How cool is that? Or stretch your child's creative play and reinforce artistic expression (something many schools lack) with Rory's Story Cubes. A hot item this year is another educational based toy called Dash. This award winning toy teaches kids to code! Have a Disney lover in the family? They will LOVE Pictopia, a fun picture trivia game the whole family will adore. And, lastly for anxious kids (I've got several) gift them a Worry Eater plush. Kids write down their worries and their Worry Eater plush will hold on to them so the child no longer has to. This teaches healthy coping skills and builds self esteem.
Teens
1. HP Sprocket | 2. Uber Gift Card | 3. Solo Eyewear | 4. Splashproof Bluetooth Speaker | 5. Bombas Socks | 6. Speak Out | 7. R2D2 Car Charger | 8. Kraken Gaming Headphones | 9. Fuji Instax Camera
Teens… if you are like me you do NOT want to just hand out cash and gift cards. That's not Christmas. Instead, I suggest you surprise them with one of these AMAZING gifts for teens. Teens love their social media which is why they will love the NEW HP Sprocket portable mini photo printer. This printer connects via Bluetooth to your smartphone device and allows you to print 2″x3″ sticky backed photos from your photo library and social media channels! Keep older teens and young adults safe and gift them a gift card for Uber. This car service is a hit among young adults and has dramatically reduced the risk of drunk driving. Teens will LOVE Solo Sunglasses, not only are the super hip and trendy but this eco-friendly company funds eye care for people in need for each pair of glasses purchased. What teen wouldn't want a fun and colorful splashproof Bluetooth speaker? Or tie in that give back element and hop on the sock craze with Bombas socks. This clever company offers one-to-one donations of socks to homeless shelters and they also have a special Product (Red) sock on sale right now!! Want to get teens to hang around the dinner table? Gift them the crazy and hilarious Speak Out game. They won't be able to resist hearing your hilarious speech once you pop the mouthpiece in. Star Wars fans and tech loving teens will appreciate the R2D2 car charger. I mean who doesn't want him in their cupholder?? If you have video gamers in your house, like we do, splurge on the Kraken Gaming Headphones and you will win their heart. Lastly, the Fuji Instax Camera allows teens to snap and print photos instantly, perfect for the fast paced world our teens are living in.
Women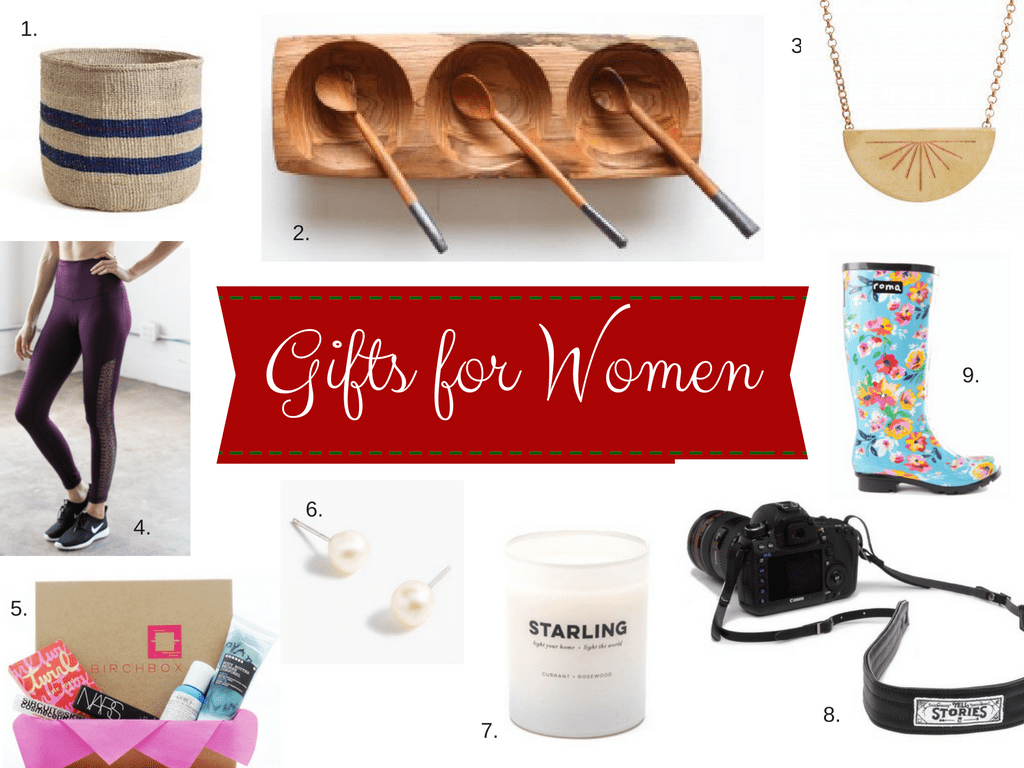 1.Striped Basket | 2. Badala Batu Tray  | 3. Bombshell Necklace | 4. DIY Workout Apparel | 5. BirchBox |
6. Pearl Earrings | 7. Starling Candle | 8. Camera Strap | 9. Roma Boots
It should come as no surprise that my gift ideas for women almost all give back in some way because those are always the gifts that I love most! This year I am swooning over this gorgeous Striped Basket from Far & Wide Collective where each sale helps provide employment for hundreds of artisans in post-conflict and emerging countries. Or the beautiful hand-carved Badala Batu Tray made with love in Kenya by Badala artisans which would also make the perfect hostess gift. Give her something to treasure with the Bombshell Necklace by Ten Thousand Villages which is made from repurposed brass originally used as bombs and bullets is made into wearable symbols of peace, hope and strength. Does the women in your life love fitness? Why not gift her a fashionable workout apparel from DYI who's goal is to empower women. She will also love a subscription to Birchbox, a monthly subscription box with hand curated beauty products just for her. These J. Crew pearl earrings are sure to win her heart. These are perfect for your mom! You could also light up her life with a special candle from Starling. The Starling Project was founded in 2015 with the mission of providing solar energy to communities in need around the world. Does your women love photography? Gift her a gorgeous new camera strap from Sahel where part of the proceeds from each strap sold will support charity: water operations. Lastly, what woman doesn't want a fun new pair of wellies. Roma Boots donates a pair of boots to a child in need for every pair of boots purchased. Plus, they also give 10% of all proceeds to fund educational initiatives around the world!
Men
1.WeWood Watch | 2. Best Dad Shirt | 3. Aeropress Coffee Maker | 4. Scarf | 5. Apple Watch Stand |
6. Just Porter Backpack | 7. Panda Sunglasses | 8. Tile | 9. Tom Ford Cologne
Men are another tough category. They either already have it or they want something ridiculous like a new sports car- ha! I think it really just comes down to the fact that they don't have much time to shop. So, I have done that task for them and put together a list of gifts that will wow them come Christmas day starting with the beautiful WeWood watch made of 100% eco-consciously sourced wood. WeWOOD watches are non-toxic, free of chemicals, and extremely lightweight. Let the kids gift him a shirt that proudly states how they feel with the "Best Dad Ever" tee. Coffee lovers will adore the speedy Aeropress coffee maker which brews a rich flavor coffee with lower acidity and without bitterness in just 20 seconds flat. Or keep him nice and warm this winter with a scarf from Twice as Warm which offers one-to-one giving of cold weather items to homeless shelters and organizations in need. Did your man get an Apple watch this holiday season? If yes, then he will love this handy Apple Watch + iPhone docking and charging station. The man on the go will also be giddy about my favorite travel backpack brand Just Porter. Their bags are made with the highest quality, water resistant fabric and have the perfect amount of pockets to organize all his goodies. Plus, Just Porter donates a bag full of school supplies for every bag purchased. Or how about some trendy sunglasses? This pair from Wear Panda is made from sustainably sourced bamboo and helps to fund eye exams and prescription glasses for those who need it.
Co-Workers/ Crazy Aunt/ Sitters & More!
1. Goop Beach Towel | 2. Godiva Truffles | 3. Calming Prompt Cards |
4. Rebecca Minkoff Power Tassle Keychain |5. Kate Spade Card Holder | 6. St. Jude Beanie | 7. Water Bottle 
 8. Scarf | 9. Emoji Polish
Are you struggling to find the perfect gift for teachers, babysitters, hair stylist and your crazy aunt. Not sure what to buy for the white elephant gift exchange at work? Well, lucky for you I have sought out the BEST unique gift ideas to help you knock everyone off your list pronto! Even I am totally swooning over the GOOP beach blanket (only $39). Of course you can never go wrong with quality chocolate like this box of Godiva truffles. Calm everyone down with these awesome calming prompt cards or give them something they will definitely use like the Rebecca Minkoff Power Tassle Keychain, which conveniently hides a charger (up to 40% charge) and apple lightning cable, or  a Kate Spade business card holder. Or purchase a cute beanie that doubles as a way to help fund St Jude children's hospital where they are always striving to find cures and save children. Do your part to reduce waste and save your friends money when you purchase a reusable bottle from Faucet Face. Each bottle you buy also helps provide a minimum 100 liters of clean water for families in India. Teachers will love the gorgeous scarves, slipper socks, gloves and hats from MinxNY, I especially adore their Plaid Blanket Shawl. Or get something fun and unique like Emoji nail polish.
Teachers
Glow for a Cause Body Butter | 2. Save the Children | 3. Grammer Mug | 4. Willow Tree | 5. Teachers Swear Coloring | 6. I Made a Difference | 7. GLOW for a Cause Candle  | 8. Stamps | 9. Whiteboard Erasers
Teachers deserve a category all their own. I mean seriously, I don't know how they do it… in a room with 25+ small children. Give them something special this year like GLOW for a Cause Body Butter to nourish their dry skin from all the hand washing they have to do. GLOW for a Cause also gives 5% back to their partner causes with every purchase. Which is also why buying a candle from them for your teacher is also a great idea! Teachers that love kids will adore receiving a handcrafted Balinese bracelet that gives back to Save the Children. Or spark their humor with the "I'm Silently Correcting Your Grammer" mug and How Teachers Swear adult coloring book. Looking for something sentimental? Willow Tree figures are always a great gift and this one embraces the love of learning so it would be perfect on a teacher's desk. You could also inspire your teachers with this amazing book (it's available on Amazon Prime) and it features inspirational stories from real educators. Classroom supplies like teacher stamps and cute whiteboard erasers are two gifts that really come in handy. I always bake up delicious baked goods to go with my teacher gifts and it is always appreciated.
BONUS Stocking Stuffers!!!
Rainbow Koosh | 2. Project 7 Gum | 3. Personalized Crazy Straw | 4. Yoobi Erasers | 5. Good PB Packets | 6. Would You Rather | 7. Knot Free Pineapple Scented Comb | 8. Give Love Scratchers | 9. Andy Warhol Crayons
Don't just fill their stocking with candy… fill it with some of these awesome and unique stocking stuffer ideas. Many of which have a give back compenent (highlighted in green to make it easy). Remember Kooshi balls? My brother and I loved these and so will your kids. Or how about some tasty gum from Project 7. Did you know Project 7 gives back in 7 different ways? Find out more here. Your kids will stop questioning if Santa is real when they see a personalized crazy straw in their stocking. Or give them something fun for school like these colorful Yoobi pretzel erasers. Yoobi gives back by donating school supplies to schools here in the U.S. If your kids are anything like mine they will LOVE these Good Spread PB Packets. Good Spread donates treatments of Mana to impoverished children all around the globe. Give the gift of laughter with these hilarious Would You Rather cards, also great for travel. Girls will adore the Pineapple Scented Knott Free Comb. Not only does it smell like Pineapple but these combs are the BEST for untangling without tears. Kids will get a kick out of these social good scratch offs with 100% chance of winning by LottoLove. Their winnings include things like literacy tools, clean water, nutritious meals or solar energy. Great for teaching the importance of giving back! And, finally Andy Warhol crayons for your little artists!!
What other great gift ideas have you found?
Share them in the comments below.
*Please note some links above contain affiliate codes. That means I make a teeny tiny percentage when you click through and make a purchase. You pay the same rate as if you went directly to the store but you help fun Global Munchkins which I greatly appreciate! Also, some products above were provided by the manufacturer or the pr agency that represents them free of charge for purpose of my review. All thoughts and opinions, as always, are 100% my own.
Latest posts by Mama Munchkin
(see all)