*this post is in partnership with Walmart Fashion.
The holidays are the best time to cozy up in your favorite holiday pajamas and what better way to commemorate these special moments than with matching PJs for the entire family? We went ahead and researched matching Christmas pajamas from Walmart and compiled a list of our top favorites here.
From stylish to funny and even Christmas family photo-worthy pajamas, we broke it all down for you to have options to choose from! Grab some hot cocoa and get ready for our list of top holiday-matching pajamas!
Our Personal Favorite Matching PJs Set!
We all love to have a traditional set of holiday pajamas that have that simple, subtle Christmas touch. This is why these Joyspun Holiday Matching Family Pajamas are featured as the number one choice on our list!
We also think pairing these matching sets of pajamas with our personal favorite, DearFoam slippers would just add that special touch you are looking for.
Shop Our Personal Favorite Matching Set Here:
Most FUNNY Matching PJs Set!
Christmas holiday pajamas could easily become your next family tradition! That said, why not go all out with a fun theme, like DINOSAURS? Add a little humor this holiday season with these PatPat Christmas Dinosaur print Family Pajamas!
We loved this set because it is not only funny, but they also look super comfy and perfect for opening those presents on Christmas morning! Have Kiddos that are Dino lovers? Pair them with these super cute dinosaur slippers to top the outfit off!
Shop Our Most FUNNY Matching PJs Set Here: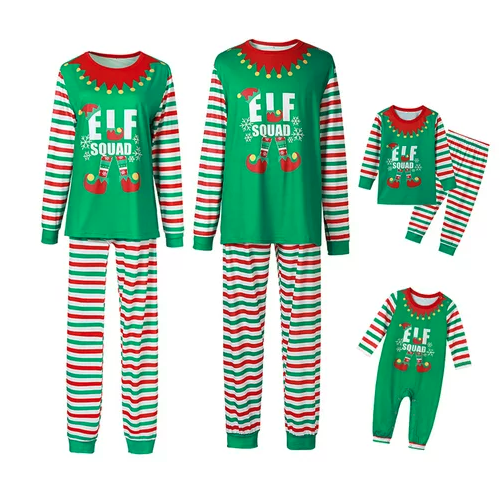 Most FESTIVE Matching PJs Set!
Looking for a more festive option for your family pajama matching set? We fell in love with these cute "Elf Squad" Aunavey Matching Family Christmas Pajama sets and thought you would too! Not only are they adorable for the holidays, they also look extremely comfy and perfect for your next holiday family gathering!
Want to add more fun to these pajamas? Pair them with these cute Elf Christmas Slippers and really bring out the Santa helper in you!
Shop Our Most FESTIVE Matching PJs Set Here:
Perfect For Family Holiday Photos Matching PJs Set!
Starting the family tradition of photos in your matching pajamas is a great way to kick off the holidays. These super cute Viworld Christmas Family Matching Set will be a HIT for your family photos this year! Not only are they adorable and comfy they also have that chic classy Christmas look making it ideal for your annual family photos!
Pair them with these cozy Dearfoam Comfort Wool slippers to add that extra spice to your family photos!
Shop Our Family Holiday Photos Matching PJs Set!

Latest posts by Ashland Hendrix
(see all)