Thank you to Motorola for sponsoring this post. With 5 kids and constant travel, headphones are a necessity in our house. We use them to listen to music, when we work out, to tune in to audio books and SO much more! So, when Motorola approached us to try out their NEW Motorola Pulse Escape headphones I was really excited. These headphones offer a host of features and they are totally affordable priced at just $39.99 (plus they look cool, too). Check out the 3 reasons we are head over heels for our Motorola Pulse Escape headphones and why they make the perfect holiday gift for everyone on your list!
3 Things We LOVE about the Motorola Pulse Escape Headphones
1 Amazing Sound Quality
With rich HD sound and passive noise isolation, you receive incredible audio quality. This is so important, especially when you are traveling because the planes can be super loud and it is hard not to get distracted by all that noise around you. With passive noise isolation, your Motorola Pulse Escape headphones help you tune out all the unwanted background noise so you can focus on your movie, music, or audiobook. They are also compact & foldable, making them easy to pop in your travel bag.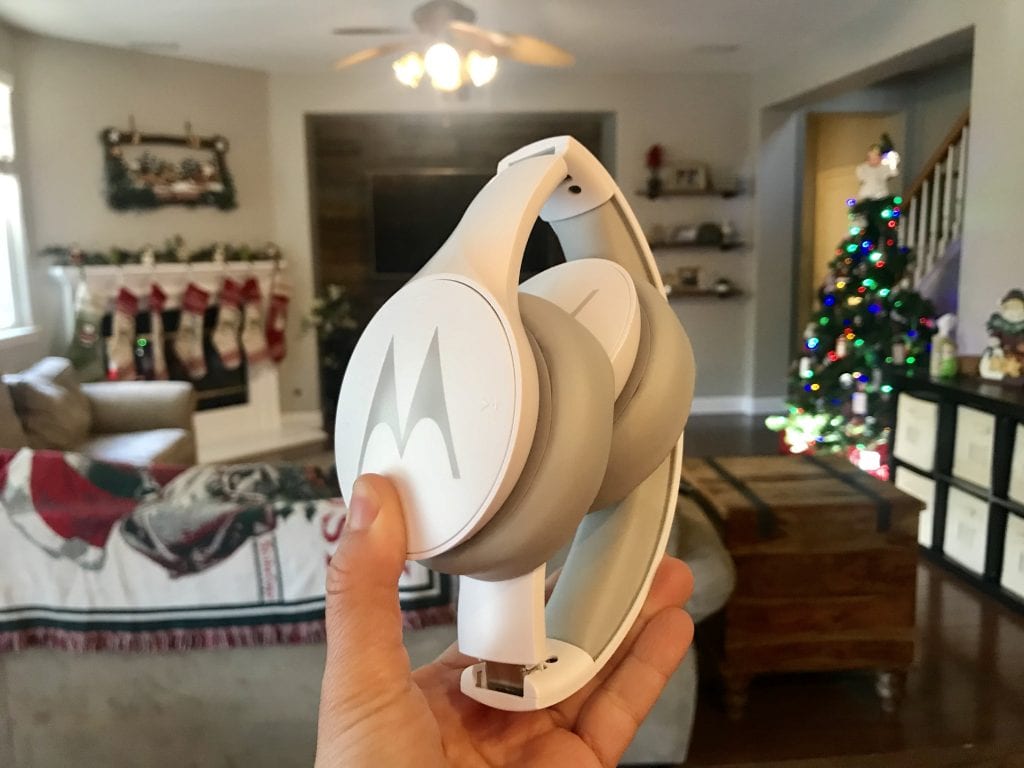 2 Super Comfortable (even Olivia will keep them on)
One of the most important features of a good pair of headphones is how comfortable they are. If they hurt your ears or the top of your head you aren't going to use them, period! I can honestly say these are the coziest pair of earphones we own. We even put it to the Olivia test on our recent flight to Hawaii and she LOVED them so much she wore them her entire movie, which made my flight much more enjoyable.
3 Ten Hours of Playtime
One thing that drives me nuts with all of these wireless headphones is how fast their battery dies. But, thankfully Motorola has stepped up the game with 10 hours of playtime with the rechargeable battery + it also comes with a cord so you could always just plus them in old-school style too.
BONUS
Bluetooth 4.1 Technology + Connect to Two Devices at ONCE!
The Motorola Pulse Escape headphones are Bluetooth compatible with an impressive 60-foot range of connectivity with your device. They also have a built-in microphone and easy to use touch controls on the side of the headphones. And, the touch controls are actually large and easy to use versus tiny buttons that you are always scrambling to find.
You can learn more about the Motorola Pulse Escape Headphones and purchase them here. They are available in black, red and white.
What do you look for when you purchase headphones?
Pin for later-
*This is a sponsored post in partnership with Motorola. All thoughts & opinions expressed above, as always, are 100% my own.