*This is a sponsored post in partnership with GoGo SqueeZ BlastZ, however, all thoughts and opinions, as always are 100% my own. Thank you for supporting Global Munchkins.
The sun on your back, fresh mountain air, spotting wildlife together and being as far from wifi as you can get make hiking the perfect activity for parents with tweens. Of course, hiking can also be pretty grueling if you come ill-prepared, pick the wrong trail, or don't pack enough water or hiking food. But, don't worry I've got your back today I am sharing my Top 6 Tips for Hiking with Tweens in tow. Plus, I am sharing our new favorite hiking food- the NEW GoGo squeeZ BlastZ!
Top 6 Tips for Hiking with Tweens (+ our NEW favorite hiking food)
Hiking with kids can prove to be very challenging at any age if you aren't equipped with the right tricks up your sleeve. Tweens are no exception. Even though these kids may be a tad older doesn't mean that you can be lackadaisical in your approach. Truth is they are still kids so preparing for your hike with appropriate expectations can make all the difference in a successful day on the trails.
With several tween hiking adventures under our belt we've learned a few things, mostly through trial and error, but hey our loss is your gain- ha! So, take our advice and check out our best practices below.
Pack Plenty of Hiking Food & Water
This is by far the most important tip for any parent taking a child of any age on a hike- pack much more water and hiking food than you ever anticipate needing. Hiking is a strenuous activity and the kids will need to fuel themselves in order to keep up the pace and stay in a good mood.
Of course, water is absolutely critical for safety too. When you hike there often is not a place to refill your bottles with clean water, so you have to pack enough not only for the way up but also the way down as well.
Next up is snacks. Packing portable on-the-go options help keep everyone happy on the trails. One of my kids' favorite NEW hiking food options is GoGo's NEW BlastZ fruit pouches. As you may have heard me mention before my kids are huge fans of GoGo SqueeZ, they have been for years. Well, now they came out with a NEW larger pouch with bold new flavors and my tweens are OBSESSED!
The best part is us moms can feel great giving it our kids too because BlastZ is made from 100% fruit and only natural ingredients. They are also gluten, nut & dairy free, have no added sugar, no high fructose corn syrup, no preservatives, and they are BPA FREE, Non-GMO Project certified and Kosher too! I mean seriously, right?
The NEW BlastZ comes in three refreshing flavors, Raspberry Rush, Tropical Burst, Berry Madness, and your kids are going to want to try each one of them, trust me! Learn more about the NEW BlastZ here- www.blastz.com
Pick the Right Trail
Next up in importance is to do your research and pick the right trail. A few things to consider when picking a trail are incline (less is better), length, and reward.
By reward, I mean an awesome waterfall, exceptional view, cool area to play-something that makes the hike worthwhile to the kids so they feel accomplished once they reach it!
Set Appropriate Expectations
When it comes to traveling with kids I think that setting the right expectations is EVERYTHING!
Dress Appropriately
The best hiking clothes are thin, moveable fabrics that cover the skin and are easy to layer. Many hikes involve a change in altitude which also equals a change in temperature. Since you may not be able to anticipate the weather it is always recommended that you layer up your clothing.
Start Early
You know the saying the early bird gets the worm? It's definitely true when it comes to hiking. Hitting the trails early means the whole crew, including you, will have more energy. It also means that, if you are lucky, you beat the heat & the crowds too!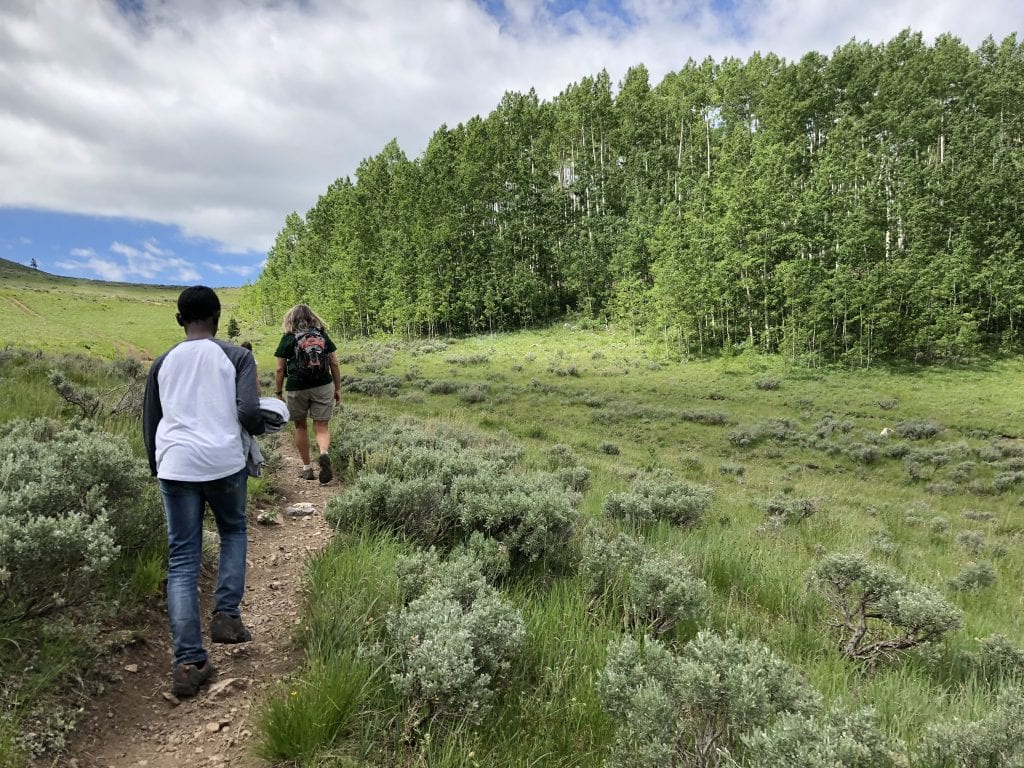 Take Plenty of Rests
Going back to expectations you definitely need to schedule in breaks along the trail. Even though the kids may be old enough to make it without them, taking a break helps the journey become more enjoyable for everyone and slowing down helps you to be more present in the moment. It's a win all around!
Know When It's Time to Call it Quits
Even with the best of intentions, research and determination sometimes you just have to throw in the towel. Unexpected weather changes like rain have occurred during our hiking adventures and we've had to turn around and go home. The good news is those become some of the best family memories.
What are your best family hiking tips? Which hiking food do your kids love?
*This is a sponsored post in partnership with GoGo SqueeZ, however, all thoughts and opinions, as always are 100% my own. Thank you for supporting Global Munchkins.