Traveling with 5 kids isn't always easy. Especially, when it comes to getting all of our luggage into and out of airports and train stations with our 5 kids. Making sure that we can efficiently carry all of our bags while still keeping an eyeball on the kids is like an insane practice in both patience and creativity. So, any new travel gadget that helps us get from point A to point B with as few snags as possible is like gold to us! That is why when I came across the Demi Hugger I knew I needed to test it out.
The Coolest New Travel Gadget that You Need to Buy

We have all been there. You packed your carry on bags perfectly and then your kids begged to bring one more extra bag, blanket, pillow or stuffed animal. They promised they would carry it the WHOLE TIME so you allow it. But, after an hour in the security line and another at the gate they are simply to tired to carry it anymore. Being the super mom that you are you try balancing all the extra bags and blankets on your wheeled suitcase as you start to board only to have all of it crash onto the floor in a giant heap. Totally embarrassed you apologetically pick up all the pieces and scramble to your seat exhausted. But, what if there was something that could have saved you from this disaster?
Meet the Demi Hugger. The super cool convenient and versatile strap that securely attaches any of your travel items to your wheeled luggage case. You simply slip the Demi Hugger over the handle of any size wheeled suitcase and it quickly secures anything from a large tote, stuffed animal, pillow, blanket, box even a guitar. The Demi Hugger is lightweight, soft, removable, easy to store and can be used both vertically or horizontally. And, best of all this new travel gadget works without any plastic hooks or clamps making it easy enough for kids to use too!
What I loved most about this product is the practicality. It's so easy to fold and stick in your bag allowing you to pop it on as you need. We recently bought all of our big kids their own carry on bags. Which is great because it saves us a ton of money and is teaching our kids to be more independent and responsible. But, in doing so we realized it also made it difficult for them to pack their pillows or stuffed animals because they just don't have the extra space anymore since their luggage is packed tight with all their clothes. They could carry a backpack but that almost always turns into another item for me to carry. The Demi Hugger will help them in either scenario as they can easily attach their blanket, stuffed animal or their backpack onto their wheeled suitcase. You can bet I will be purchasing one for each of them.
Check out my demo to see the Demi Hugger in action below-

WIN Your Own Demi Hugger!!!
Pin this for later-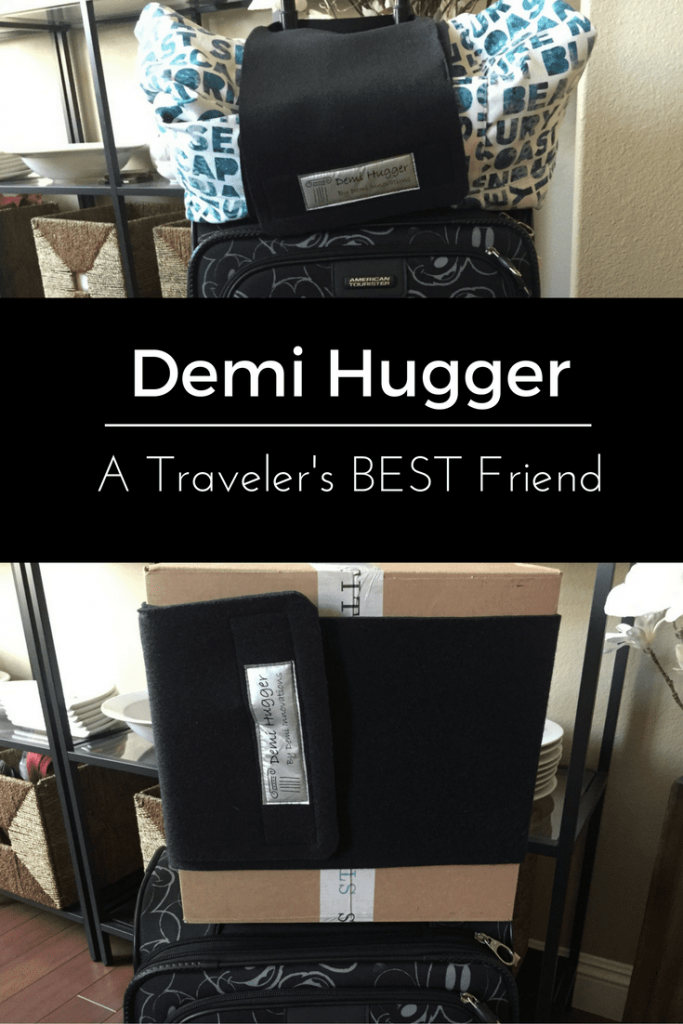 For more information about Demi Hugger or to order visit www.DemiHugger.com
*A special thanks to Demi Hugger for offering me a complimentary sample for purpose of this review as well as a separate Demi Hugger to giveaway