Today on episode 10, how cool is it that we've already hung out 10x, I am sharing details on how you could WIN a FAMILY VACATION to DISNEYLAND + my 10 Tips on Beating the Heat & Outsmarting the Disneyland Crowds + I found some INSANE Flights for you guys including Hawaii and Sweden from the West Coast for under $350.00!!!!
Family Travel Chat Tuesday- Episode 10 (Disneyland Vacation Giveaway + 10 Ways to Beat the Heat & Outsmart the Crowds at Disneyland + the BEST Travel Deals TODAY!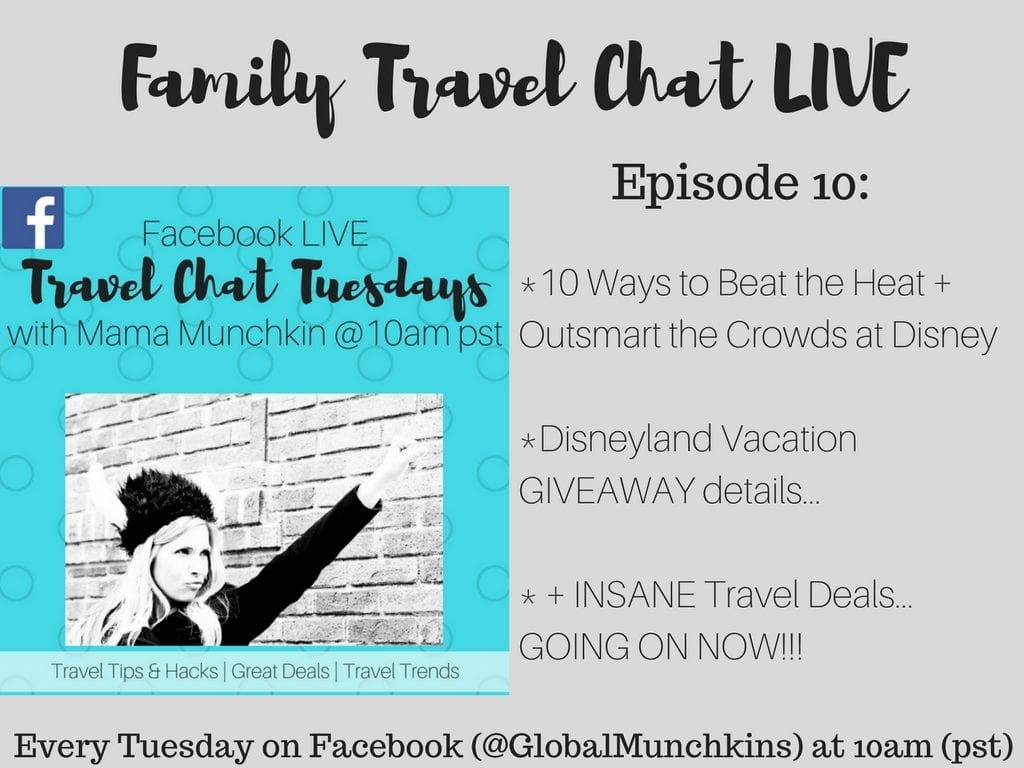 As you might now from checking out my Instagram feed, I LOVE Disneyland. It's not that I am Mickey obsessed but I simply love the family fun entertainment value and honestly it's pretty hard to beat Disney in that arena. They just ROCK it! I mean seriously look at Olivia's face… it's those moments that make Disneyland all worthwhile!
10 Ways to Beat the Heat + Outsmart the Crowds at Disneyland
1 Ice Water is FREE
2 1 ride + Fast Pass + Back of Park
3 Disneyland FIRST
4 Cool Off & Escape the Crowds
5 Characters, How to Find Them
6 Pack Lunch
7 Parade & Picnic Dinner
8 Pack Distractions
9 Fireworks
10 Parking (how to Mickey & Friends)
VIEW EPISODE 10 in it's entirety:


PLUS… Find more great Disneyland Tips + Enter to Win a Disneyland Vacation for a Family of 4 including tickets & lodging on Trekaroo!
Flight Deals
Want to learn how I find and book the cheapest flights every time we travel?? Click the banner image below 🙂
We also talked a lot about Aulani and Hawaii. Check out these posts for more info:
Join me next Tuesday (and every Tuesday) at 10am (PST) on Facebook for #FamilyTravelChatLIVE!
Got a burning travel question?? Leave it in the comments, I LOVE to help my readers!