Woohoo! You're taking your first trip on an airplane. You may be excited about your first flight experience. You may have heard horror stories and you're expecting the worst. However you feel, some tips for first time flyers will help you prepare for this adventure to wherever it may be, Maui, Orlando, Oklahoma City, wherever! One of my readers recently asked me about tips on flying for the first time. I have flown so much, it's like second nature and something I don't really think about. So, on my last trip, I paid attention to everything I do to make flying a breeze. Thus, here are my best tips for first-time flyers. 
Before You Leave for the Airport
Download the Airline App a Month Before Your Flight
Airline apps have come a long way and they are essential to having a smooth trip for first time flyers. As soon as you book your ticket, download the app for the airline on which you'll be flying. Become familiar with navigating the screens, figure out seat selection, and boarding pass options. Being comfortable with the app before you depart on your trip will allow you to access all your info quickly.
Most apps allow you to check in for your flight 24 hours before departure. At this time, you can also download your boarding passes. Another option is to print your boarding pass if you're more comfortable with paper!
Planning out your Luggage – Be aware of luggage fees
Figuring out how to pack is hard for first time flyers, but it will be much easier with these tips. First, decide what you will need to take with you. Different airlines have different baggage allowances. Pay attention to the ticket you purchase in order to avoid unexpected and significant charges at the airport. You will receive an itinerary which typically includes information on baggage limitations. Check out the best-wheeled luggage from our friends at Freedom56Travel
If your bag is over the limit, you may be required to remove items or pay additional fees. To help be prepared and limit stress, use a checklist to ensure you have everything you need in your bag. Most airlines now charge bag fees on domestic flights and some of the low-cost airlines even charge you for carry-on baggage. To make things more compact, check out EZ Packing Cubes. These are my favorite travel essentials!
What's Allowed in Your Carry On- Clearing It Up for First Time Flyers
Not only is weight a factor in your luggage, but there are limitations as to what can be placed in your luggage. TSA is responsible for defining what can be carried on board. Any liquids and gels must be in their original containers and must not be over 3.4 oz or 100 ml for each container. Items that exceed those sizes should be placed in your checked luggage.
Additionally, your containers of liquids and gels must all fit into one one-quart Ziploc baggie. Usually, you will be required to remove this baggie from your carry on when you go through screening at the airport. Make sure it is easily accessible! A knife or sharp item, firearms, fireworks, and matches are all restricted as well.
Also, place your charging cords and definitely pack a portable charger for your flight. There is nothing worse than a dead phone or iPad on a flight when you are trying to watch a movie on it.
Make Sure to Have Your Identification
You're going to be pulling out your ID a lot at the airport. Making sure you have it and it's accessible is an important tip for first-time flyers. You will need it when you check in for your flight, check baggage, and pass through TSA security checks. This can be a valid drivers license, a passport, or a passport card. Be sure that you keep your ID with you and don't inadvertently leave it at an airline counter or checkpoint. After you've cleared security, you can put your ID away in a safe spot.
Allow for Plenty of Time at the Airport
On the day of travel, allow adequate time to navigate through the airport. Keep in mind, there is usually a requirement for minimum check-in times prior to a flight. For most domestic flights, you must check in 60 minutes before departure which can be extended to 90 minutes if you're checking a bag. For international flights, check in two hours before your flight.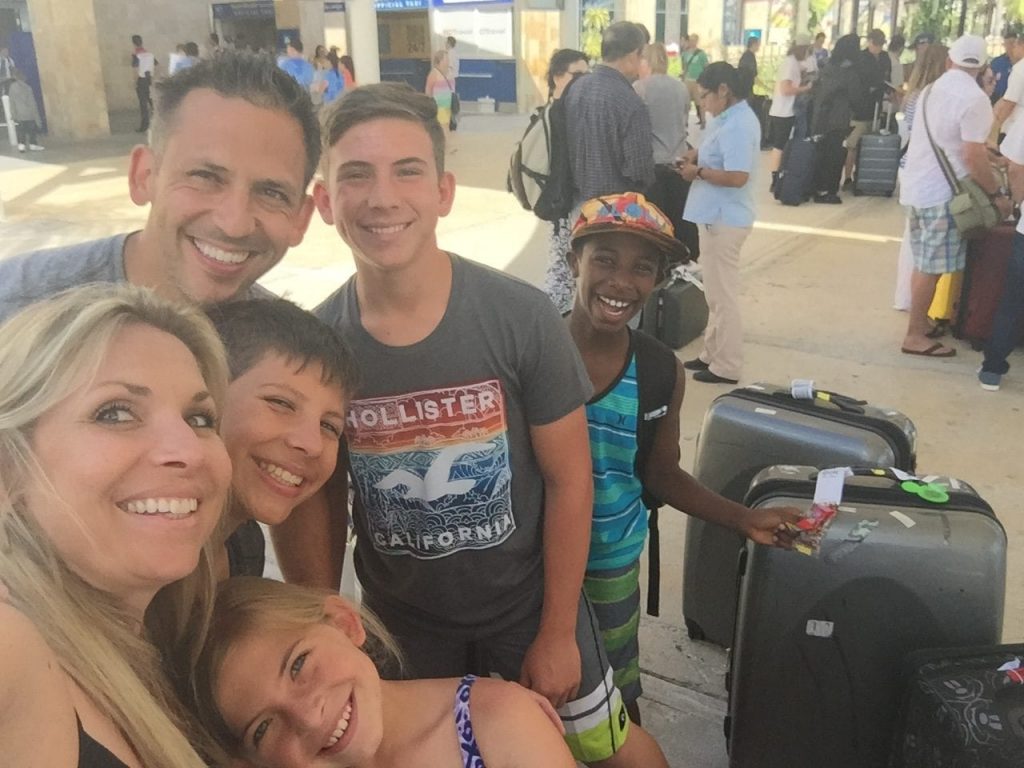 Some airlines are particularly firm about adhering to check-in times – leave yourself plenty of time to meet the requirements and avoid stress (I missed a flight to New York because I checked in 55 minutes prior to the flight). Unless you have one of your well-traveled friends traveling with you to help navigate, it's best to increase the amount of required time and reduce your stress!
Tips for First Time Flyers at the Airport
Checking Bags as a First Time Flyer
If you're checking a bag, your first stop will be at the airline counter. Here you'll present your bags to be checked along with your ID and your boarding pass. This is also where the airline representative can print a boarding pass for you if you have not done so already.
If the airport offers skycap service, you can check your bag right at the curb! Simply provide your ID and boarding pass, and your bags will be tagged to your destination and you'll be checked in for your flight. Be sure to give the skycap a tip of at least $2 per bag for their added service.
Going through Security
This can be one of the most daunting things for first-time flyers, but follow these tips and it'll be a breeze. Once you've checked your bags and you have your boarding pass, you can head right to the security screening lines. Look for signage to make sure you're in the right line. As this is your first flight, you may not qualify for expedited screening known as TSA Precheck. If you're eligible, it will be noted on your boarding pass. If in doubt, ask the security screener at the entrance to the line to make sure you're in the right spot!
Follow the directions of the TSA staff for the screening line you are in, which may include removing shoes, jackets, some types of electronic items and all liquids from your luggage. If you have questions, don't be afraid to ask! One word of caution – going through security is not the time to make jokes. At best, TSA Agents won't appreciate them.
Post Security Tips for First Time Flyers
Once you've cleared security, you're that much closer to getting on the plane! Locate your gate and make sure you've got ample time to get there prior to departure. Many airlines require you to be at the gate a minimum of 30 minutes prior to departure. You want to get to the gate as soon as possible, especially for airlines like Southwest who do not provide seating assignments.
Once you go through the process of boarding, you'll find your assigned seat. In most cases, you have the option to select your seat prior to the day of travel and can see a seat map online. Be sure to take your assigned seat. If, for some reason, you need to change your seat assignment after you have boarded, seek the assistance of a flight attendant. Don't just sit where you want to sit, as this will cause chaos.
If you think you're going to want to stretch your legs during the flight, try to secure an aisle seat that will allow you to get up during the flight without disturbing others. If you want to marvel at the scenery below, choose a window seat and keep your phone handy to take some great shots!
Tips for First Time Flyers During the Flight
In-Flight Etiquette
There's an unwritten code amongst frequent travelers! The person who got the middle seat really pulled the "short straw" and deserves special consideration: in order to improve the experience for the middle seat, allow them to use both the armrests.
As space onboard airplanes has become incredibly tight over the last few years, it's also best not to recline your seat unless you absolutely have to. You'll find a reclined seat does little in the way of providing additional comfort while occupying a significant amount of personal space of the passenger behind you.
Bring Extra Masks – Mask Rules
Masks are required in all airports and flights in the U.S. for the unforeseen future. Bring extra masks because masks fall, get dirty, etc… This way you always have a fresh mask to use. While you are eating inside the airport or on a flight you can have your mask off. Airlines are very strict about this rule, so please don't try to slowly eat throughout the flight just to not wear a mask. Be courteous to the flight attendants and the people around you and wear one.
Don't Worry About the Noises
Airplanes make weird noises. You will hear chimes that are actually providing information to the flight attendants. You may hear a lot of banging coming from below your seat. Don't be alarmed – it's merely the luggage being loaded. If traveling during the winter months, it may sound as though the aircraft is going through a carwash!
That would indicate that the aircraft is being deiced, which is a normal preparation for flight into freezing conditions. Listen carefully to announcements from the crew. Bring some headphones and play tunes that relax you if you're worried about these noises!
How to Stay Distracted
It is okay to be nervous. My tip to you as a first-time flyers is to remind yourself that the most dangerous part of your trip is the drive to the airport. Bring items that are familiar to you that will provide you with distractions. Load your iPad with music and videos that will keep you entertained. If you become anxious, it's perfectly okay to let a flight attendant know it's your first flight. They will be helpful in providing updates, information, and encouragement. Do not, however, address stress or nervousness with alcohol as this could actually worsen your anxiety.
Take charge of what activities you're going to enjoy during the flight. Entertainment varies widely from one airline to another and may be out of service on your particular flight! If possible, bring enough items to occupy yourself and any kiddos you have with you. A phone or tablet can help pass the time and provide a good distraction. A flight is a great opportunity to read that novel you haven't had time to open!
How to Entertain Kids on a Flight
Many of the same activities will help keep kids occupied throughout the flight. You may also want to bring coloring books and card games for the children. Wiki Stix are a great item to take for little kids when flying. It keeps our daughter entertained for hours. Be sure to bring a familiar stuffed toy for small children as it can provide some comfort along the way. Older kids will mainly rely on their iPads and phones, so make sure they are fully charged. Check out my 10 tips to help you survive Flying with kids! + One Super Secret Tip
How to Hit Snooze
You may decide that you're going to try and sleep – or at least get your children to sleep – on the flight. Recommended sleep-inducing techniques include eating a full meal shortly before departure, traveling at night if possible, and using a sleep mask to help block out the cabin lighting. If you plan on taking a sleep aid, just make sure it is one you have used and know the effects of.
You should also check into getting a neck pillow! These are super helpful in getting to sleep. This Everlasting Comfort Memory Foam Pillow is super comfy!
Keep Your Belly Full
Food options while traveling by air have shifted significantly over the years. No longer do domestic airlines serve hot meals, with the exception of premium class tickets. Most airlines will offer a complimentary snack (cookies or pretzels) and a non-alcoholic beverage. Additional snack items and alcoholic beverages may be made available for purchase.
Most airlines will serve full meals on international flights. It's also permissible to buy food items in the terminal and bring those onboard; however, as a matter of etiquette make sure that the aroma of your meal isn't going to overwhelm those sitting near you!
Bring snacks that you can pack in your carry on bag. These include granola bars, trail mix, dried fruit, cheese and crackers, beef jerky and of course, chocolate! Bringing these along will help you avoid paying higher prices in the terminal.
Air travel has become commonplace and chances are you will have many flights after your first one! With thoughtful preparation, and packing your common sense for the journey, you'll find that it can be a very enjoyable and memorable experience!
If you've got any questions about flying please reach out! You can find me on Instagram, Facebook, or by simply commenting here.
You Might Also Enjoy:
TSA Precheck with kids, a Complete Game Changer!
How to Book Cheap Flights- Top 10 Tips!
10 tips to help you survive Flying with kids! + One Super Secret Tip