Welcome to the summer edition of Family Travel Chat LIVE Tuesday at 10am PT where we meet on Facebook to chat all things family travel related. This week I shared 3 flights that are SOOO cheap you will want to book them (I actually booked one myself bc it was too good to pass up). We also chatted about the good, the bad, and the ugly of road tripping with kids, I shared 3 products that I am OBSESSED with, you met our newest member of the family AND I clued you in on a $100 VISA Gift Card Giveaway!!! Read through my notes below or watch episode 19 in its entirety below. Then meet me next Tuesday at 10am on Facebook for more!!
Family Travel Chat LIVE Tuesday – Episode 19 (3 INCREDIBLY Cheap Flights + Road Tripping With Kids + 3 Products I Am OBSESSED With Right Now & a $100 VISA Gift Card GIVEAWAY!!!)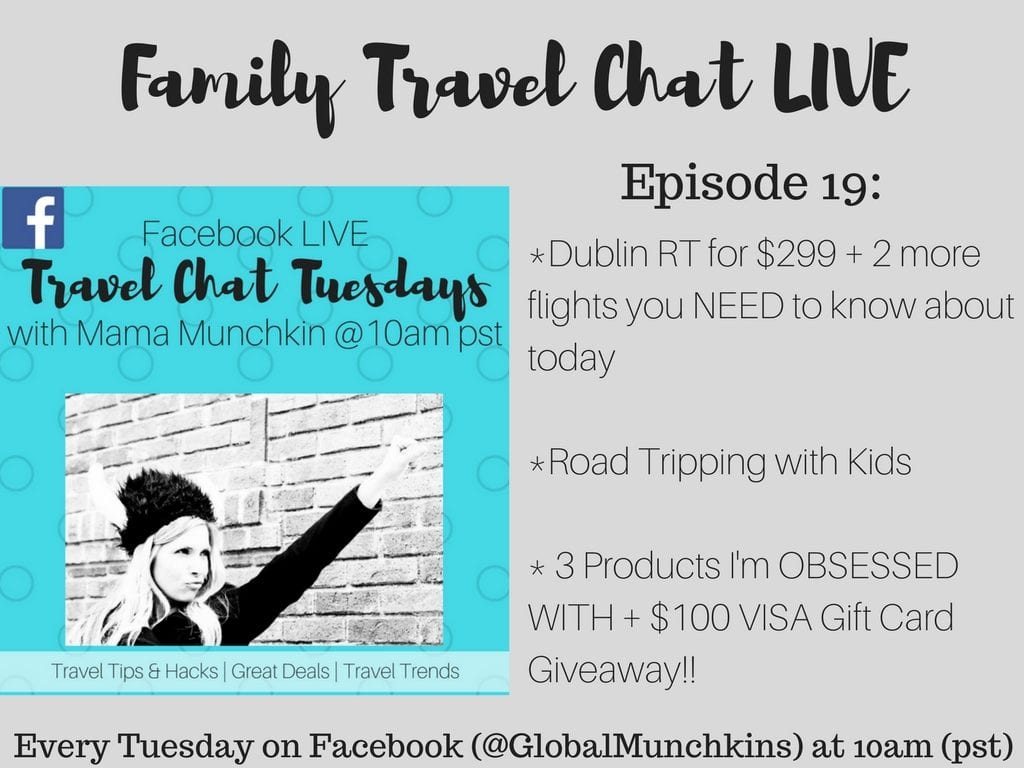 Three Flights You NEED To Know Abut TODAY!!
These fares are so good I already booked Ireland for next spring (sans the munchkins) and I am considering the Thailand flights with the kids. Act fast, they won't last long!!
Watch Episode 19 in its entirety-

The Good, The Bad & The Ugly- Road Tripping with Kids
The Good- We learned that Road Tripping is actually an incredible way to bond on vacation. With so many kids we are always passing each other day in and day out. We rarely get much time all together in one place. Road tripping helped us catch up on lost time as we were finally all locked up together in the car. I shared with you the importance I think having the right road trip vehicle was since you are cooped up for long periods of time in a small space.
The Kia Sedona proved to be the perfect car for our road trip because it had more outlets/ usb ports than we could count, the dual sunroofs prevented the 3rd row dungeon syndrome, the seats were super comfy and sporty. The second row seats were actually heated and had leg rests which was pretty sweet. In fact, I opted to sit in the second row with Liv and gave my teen the front. The other thing I loved about the second row was the fact that it moved horizontally so when Liv wanted to nap I could easily move right next to her- major bonus for us!!
Other good things were the fact that we swapped between vacation rentals and hotels so we had the comfort of home including things like laundry, a full kitchen, and more space at times. And, then we would switch to a hotel and have more amenities and luxe service which was nice too.
We talked about how much we loved the cities we chose: Charlotte, Myrtle Beach, Hilton Head, St. Augustine (day trip) and the godfather of family vacation cities—> ORLANDO!!!
I shared with you why we choose to head to Orlando for the theme parks when we have Universal and Disney at home in SoCal. We chatted about our love for the Harry Potter lands, Pandora and Universal's newest theme park, a water park, Volcano Bay!!!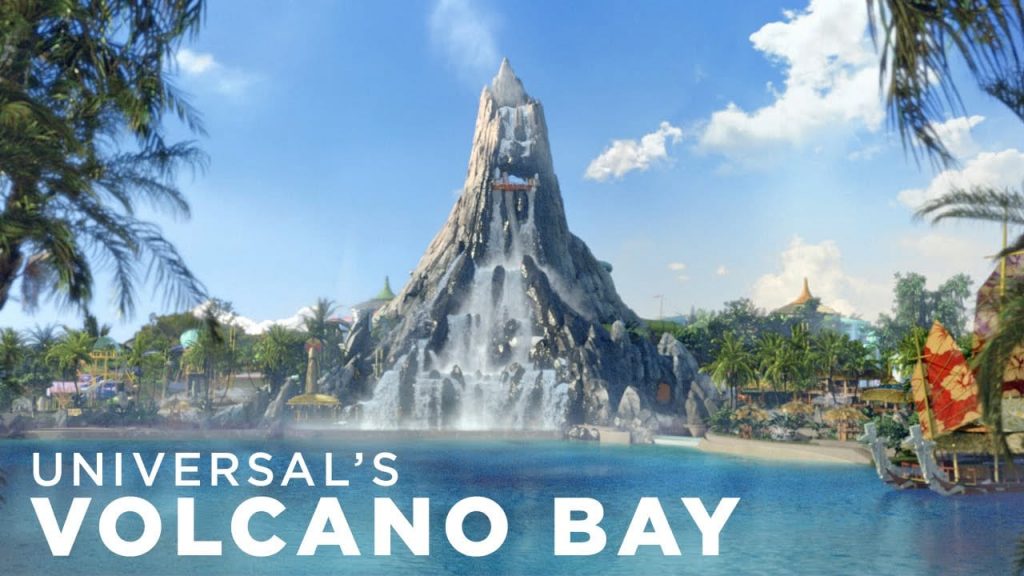 The Bad- There really wasn't much bad except for some poor weather with the rains being heavier than we usually see this early in Orlando.
The UGLY- I actually forgot to mention what the ugly was… it was just coming home to summer chaos. We had Father's Day the morning after we got back, picked up Owen's new puppy Bosco (follow them over here on Instagram), Shea's birthday was yesterday and 3 of the kids started camps all across our town, in different spots, and with different pick up and drop off times. I need a BREAK already!!!! Wishing I was back on my road trip 🙁
Three Products I am OBSESSED With and You Will Be Too!
Listen to the episode to learn about why I am SOOO OBSESSED with my munchkins' new Amazon Freetime Tablets (see below), how the Mifold turned out to be the most amazing booster seat and learn about the cutest hats for moms and kids this summer so you can look hip while protecting your face from the sun!!!
+ Enter for a Chance to Win a $100 VISA Gift Card
And, don't forget to hop over here to enter to win a $100 VISA Gift Card + Learn What I Pack in My Summer Day Bag to make your summer packing simple and effective for all your amazing day trip plans.
What are You Up to this Summer???
*At times Global Munchkins may receive products at a discounted price or gratis in exchange for possible coverage in the future. However all opinions and thoughts expressed on my blog, as always, are 100% my own whether I paid full price or received something complimentary. You couldn't pay me enough to lie 😉 **This post also contains affiliate links.
You may also like the following posts:
Latest posts by Mama Munchkin
(see all)