As much as I enjoy the toasty summer days, I know how bad overexposure to sun rays can be. This is why I have decided to make the best of this summer, I am going to need to find a beach canopy! Not only can sun exposure cause awful things like cancerous skin lesions, but it also leads to wrinkles and discolored sun spots (WebMD). I would prefer to keep my skin looking younger and less like a leather handbag! With this said, you will find me under the shade this summer with a store bought tan.
Beach canopies are also great to have when you have little ones who might need to take a break from the sun or take a snooze in the shade. We always brought one along with us when our kids were little and it was a life savior on long days allowing us to spend many more hours and make more memories at the beach! Check out all the best beach canopies on the market today so you can kick summer off right.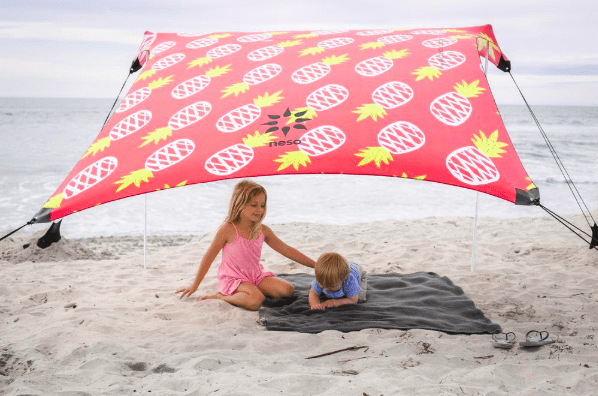 Best Beach Canopy for Families
Crown Shades Beach Canopy
This is your simple, easy pop-up beach canopy. It is the best one if you are looking for something that gets the job done but you don't need any fancy extras. It is reliable, so your family can have this shade for years to come. Plus, it comes at a great price. It is 10'x10′ giving you plenty of space for 4-6 people. My favorite features; the height is adjustable and the shade offers 50+ UPF sun protection. Also, it comes with an easy to carry bag to pack it up in. You can check current pricing here!
EasyGo Cabana
EasyGo mastered the giant beach umbrella, but they have also got a wonderful canopy option! Plus, how can you not be obsessed with this fun pineapple design? Don't worry, it also comes in a simple blue or striped pattern if you want to keep it more simple. It is great on either grass or sand. You will have 6×6 feet of space under this canopy, allowing for the whole family to enjoy some shade. It also has adjustable height allowing you to customize exactly what you want. Check out current pricing!
The Emily & Meritt Beach Lounger and Sun Shade Tent
This is one of the great beach canopy options from Pottery Barn. I love the bold pattern in black and white. Again, it is on the smaller side but very easy to transport and fit on a crowded beach. This is the perfect set up for two people, especially if you get the beach lounger add-ons. These are definitely a must in my book! If you have got teens, they will use this tent all summer long whether it be in your backyard or somewhere in paradise. I like that it gives you plenty of shade when you want it, but by laying out on the lounger you can still get a nice tan on your legs. Get this set here!
Beach Canopies- Best Tent Versions
TAGVO Pop Up Beach Tent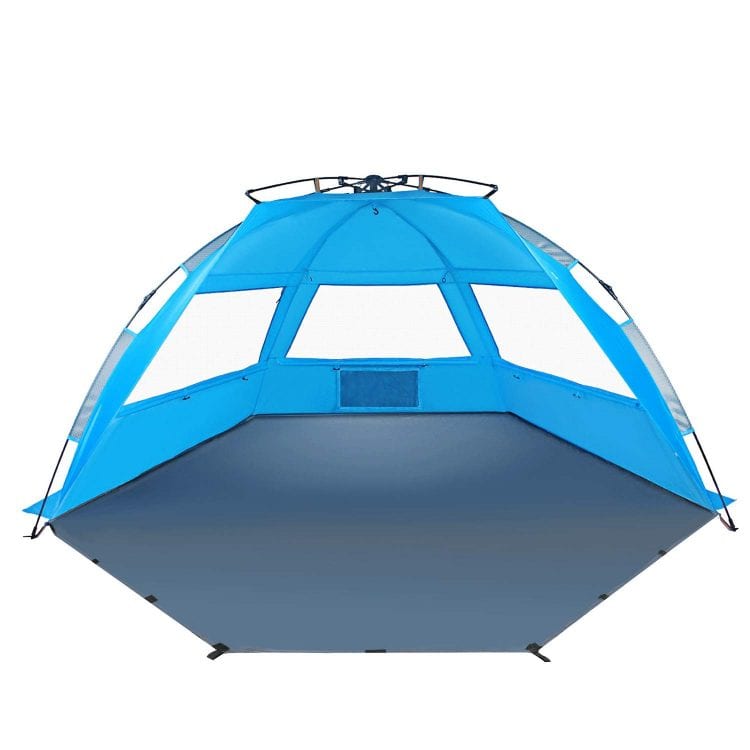 Some beach canopies come as a tent, which I would highly recommend for families with little ones or if you like to snack because there will be a floor. This tent pops right up and will offer you plenty of shade and 50+ UPF protection, without feeling like you're locked in. There are three big mesh windows allowing for lots of ventilation. These can be left open or closed shut for extra protection. Another benefit of this tent is that it stays stable on windy days, so it won't go flying away from you. It is easy to fold up and put inside the carrying bag, so you can take it wherever it needs to go! Here is the pricing information.
Pacific Breeze Easy Set Up
Like mentioned before canopy tents are a great option for families. You will find that this tent is very similar to the TAGVO we mentioned above, so check both out and go with the best-priced option. This tent is also easy to set up, take down, and tote in the carry case that it comes with. It is very lightweight, weighing only 4.5 lbs, which means that means even your kids can carry it for you! It is water resistant, so even on a rainy day, you can seek shelter under this beach canopy. The tent has enough height for you to pop a beach chair inside and sit comfortable with space above your head, so that is definitely a perk. Check it out here!
Neso Tents Beach Canopy Sunshade
If you want to sit under a beach canopy in style, this Neso Tent is something you will probably like. It comes in the cutest patterns and unlike many of the other options, it does not have the typical easy pop-up or tent vibe. It is the modern, trendy take on the classic beach canopy.
It is basically a 7×7 rectangular piece of fabric with 2 front poles and 4 bungee cord anchors. This makes it very easy to set up, as you just fill the anchor pockets with natural resources around you, pull the fabric tight, and then snap the front legs up. Its design also makes it very easy to pack up and take with you, and you can even throw it in your luggage. The fabric it is made of is very durable and it will block out 98% of the sun's harmful rays. Get yours here!
Caddis Rapid Sun Shade
You can fit a whole party of people under this tent, which is nice because on hot days you never want to be packed in tight close to others. While this canopy is really made for camping, it is also perfect for soccer game shade or beach day lounging. In fact, it can actually fit over and shade a whole picnic table. Making outdoor dining way more enjoyable! It is pretty easy to set up and even comes with interior loops in case you have any accessories to add on. Buy yours today!
Best Beach Canopies for Babies & Toddlers
Pottery Barn Family Pop Up Tent
The classic navy and white stripes on this beach canopy make it feel like it's 4th of July every day. This pop-up tent does not have a ton of room under it, but it is perfect to use if you have toddlers that you don't want playing out in the sun all day long. It is easy to set up and comes with a carrying case that has an easy to hold handle. You can easily secure this to the ground with the 4 stakes provided to you.
I would also recommend buying one of Pottery Barn's cute oversized round beach towels to tuck into the beach canopy and make a wider floor. We had a tent very similar to this when our kids were babies and we adored it! Buy this tent here.
Monobeach Baby Beach Tent
I totally understand if you aren't looking for shade yourself, but you want to make sure there is a safe spot for your baby at the beach. This baby beach canopy is the perfect solution to that and is made for children under 3 years old. Of course, it is very small and easy to carry along with you weighing only 1 lb. You can take this along for beach vacations, like Hawaii, because it can so easily be brought in your suitcase.
My favorite thing about this beach tent is that you can create a mini pool for your little one! With their own pool and a couple of beach toys, they will be entertained for your whole beach day. This tent offers UV protection of 50+ but always be sure to lather on that baby sunscreen for extra protection from the sun. Check it out here!
For even more Baby Beach Tents check out the Best Baby Beach Tents from our friends at RookieMoms.com
You May Also Like:
7 Reasons Your Family Will Love Margaritaville Hollywood Beach Resort
Aloha! 5 Amazing Spots to Enjoy Maui Snorkeling
15 of the Best Summer Vacation Spots in the US for Families
Latest posts by Emily Myers
(see all)