How often do us moms get to escape the craziness of family life and enjoy a once in a lifetime trip with our very best friend- NEVER! Am I right? I mean its hard enough for me to get a date night together with my husband let alone a week in Alaska with my best friend… BUT this is LEGIT actually happening!!! Yes, that is right O, Magazine is sending me and my best friend on a one week cruise onboard Holland America Line's Eurodam for the Oprah Inspired Adventure of Your Life Cruise to Alaska!!! Read on to learn how this all came to be and how you can book this same cruise with your bestie!!!
I'm Taking My Best Friend on Oprah's Adventure Of Your Life Cruise!! Follow Along!!
Before I get started on this absolutely mind-blowing once in a lifetime trip I am about to embark on with my best friend I want to share a little backstory with you.
About our friendship
Harmony and I met through a Yahoo group back in 2009 when we were both researching adoption. At that time I had an adoption blog- you can actually still find it here– and she had come across it and realized we were both local to Southern CA. She ended up messaging me and it turned out that she was moving to my city. Long story short that was the start of our friendship.
We would go on to both adopt from Ethiopia, through the same agency, in fact, our children are actually from the exact same orphanage- even though they were there at different times. I cannot tell you what it meant to me to have someone to walk beside me through that entire process.
If you have read my adoption story you know we did not have the easiest transition and I was so thankful to have a friend like Harmony to help support me through those difficult days, to pick me up when I was at my weakest, take me out to dinner (or brunch- that's our fav), throw a few perfect Oprah quotes at me, and just to give me time to decompress and vent. And, I believe as the years have gone by I have been there to return the favor for her as well.
Harmony ended up moving just blocks away from us and thankfully our husbands and our children get along great. In fact, they have truly become the best of friends and would consider each other family. Rightfully so as we have vacationed together, put our kids in sports together and spent many major holidays at each other's homes.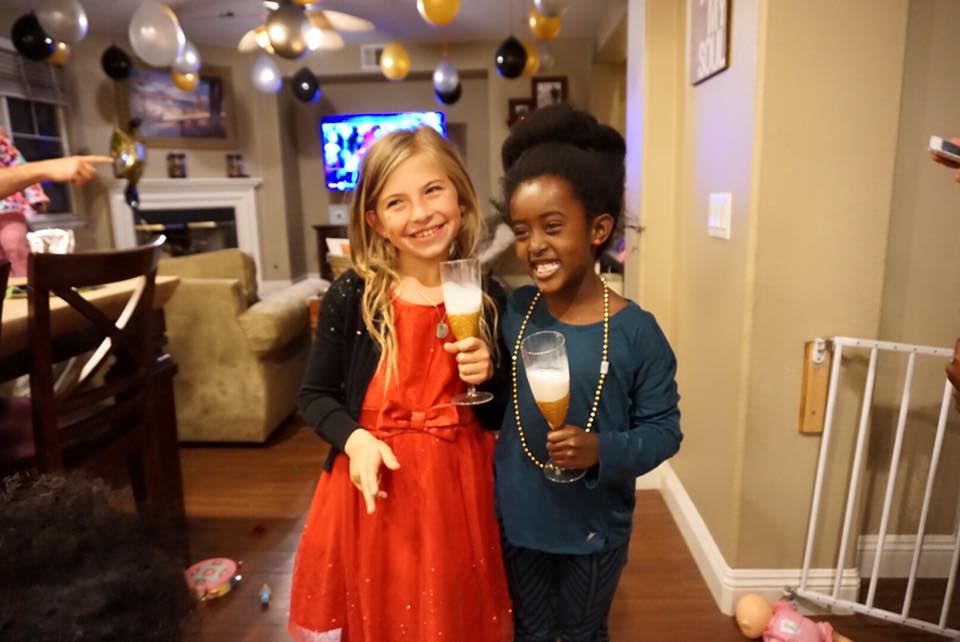 To make things even crazier in 2013 we found ourselves both wanting to adopt again. Initially, my husband and I looked into another international adoption from Ghana whereas Harmony and her husband chose to pursue a private adoption here in the states. My family was pretty far into the process when we learned that the child we were adopting had a maternal grandmother who wanted to raise her. We were able to reunite the little girl with her grandmother, but after doing so we decided international adoption wasn't something we wanted to continue with so we started to look into private adoption. As luck would have it we were matched with our daughters right around the same time and the girls were born several months apart and they have been best buddies ever since.
As you can imagine families that look like ours are rare and it is so unbelievably amazing for us and our husbands and kids to have each other. But, the truth is most of the time we spend together also includes kids and/ or husbands in the mix. So, this trip is an incredible opportunity for us to connect and nourish our own friendship without needing to tend to owies or diaper changes mid-conversation. I seriously don't even know what we are going to do with ourselves- we still can't believe this is really happening!!
How this amazing experience unfolded
So, how did this happen? Well, I was chosen to be an #OMAGInsider in Nov./Dec. last year. Seriously, opening that email was probably one of the highlights of my career. I mean an ambassador for Oprah- it's seriously a dream come true! Within the first few months, O, Magazine had reached out about an upcoming cruise opportunity. I expressed interest but never in a million years did I think that I would be chosen. I am surrounded by some pretty incredible women in the OMAG Insiders group.
Low and behold an email came through stating that Alaska was calling and my heart burst into a million pieces. As I read the email I learned not only was I going but I was able to bring a guest!!! I never will forget making that phone call and telling Harmony that she was coming on board with me on an Oprah Inspired cruise to Alaska. This will be her very first cruise and both of our first times visiting Alaska. I can say for certain we are definitely living our best lives!!
What we are looking forward to the most
I talked a little bit about the O-Mazing O, Magazine onboard activities here previously. We are pretty much looking forward to attending every single one of those. We also recently found out that we will be attending a VIP Cocktail party with HAL VIPs, the onboard featured talent, and O staff. How cool is that?
I think what we are truly looking forward to the most is a week of incredible insight in a way that only Oprah and her team can deliver. Soaking up some of the most glorious sights in the world and taking time to truly be present and celebrate the crazy beautiful past 9 years of our friendship. I am also looking forward to snapping some photos of the two of us together because Harmony is usually the one behind the lens. She is an incredible photographer and she has the ability to capture the essence of my family in a way no one else has ever been able to- it's pretty great to have an amazing photographer as your best friend 😉
Here are a few of Harmony's amazing photos of my family-
How you can follow along
We leave August 10th to fly to Seattle where we will board the Holland America Eurodam and head to Alaska. I will be documenting everything and I can guarantee Harmony will be taking some incredible photos along the way because we need to have proof that this cruise actually happened. We are still having a hard time realizing this isn't a dream as we approach the cruise- just days away.
I would love so much for you to follow along by searching my feed for the #OMAGONHAL hashtag. This is definitely going to be an Adventure of Our Life Cruise!!!
If you were headed on the cruise of a life with your best friend what would you be most excited about??
*Disclosure- My Holland America Cruise (as well as Harmony's) is a sponsored cruise in partnership with O, Magazine, and Holland America Line.
Latest posts by Mama Munchkin
(see all)