Halloween is a blast for our family. My husband gets obsessed with finding ways to scare our teens and I love taking the little ones to the fun more family friendly Halloween events. That being said, we have gone on a search to find the best Southern California Halloween Attractions in 2022.
Best Theme Parks Events for Getting Scared
Having teens for Halloween is a ton of fun, even though they tend to roll their eyes at another trip to the pumpkin patch, they do love several halloween events. My husband takes all my teens to a couple of the more frightening Halloween events around Southern California
# 1 – Universal Halloween Horror Nights
Universal's Halloween Horror nights is definitely the best event to give you scares and thrills.
Why we Love Universal's Halloween Horror Nights
Most Intricate and Well Designed Mazes – Universal definitely has the best themed mazes coming from your favorite shows or movies. It is definitely a neat experience.
Tons of Attractions & Shows – The quantity of experiences is also great as all the major attractions are open (except the tram), plus a ton of mazes and shows.
Great Food – Universal does serve up some of the better food of all the parks serving up frights this Halloween Season
What Could be Improved
You are going to walk…. a lot – Universal opens up there backlot to create some of there mazes. That being said you have to walk quite a ways to get to that back lot. Even my teens were tired of walking after a night at Universal
It's the most expensive Halloween Horror Event – Tickets start at $79 and can go as high as $300 with front of the line Passes. (You can snag discounted tickets here)
Wait Times are Extremely Long – Many waits hit the triple digits, if you can afford express passes…. get them!
You can check out my full review of Universal Halloween Horror nights here.
#2 – Knott's Scary Farm
Knott's Scary Farm is still the premiere Halloween Haunt of all the theme parks when it comes to getting scared in our opinion.
Why we Love Knott's Scary Farm
It is the most frightening while simply walking around the park. – Everywhere you walk you feel like someone can jump out at you at any time and frighten you. The characters jump out at you and slide on their knees causing sparks. Others have elaborate tricks to scare you.
It has the most mazes – Knott's does have the most mazes of any theme park, it definitely takes a full night to get through them all unless you have a VIP Fright Pass
It is affordable – Tickets start at $50 so unlike some of the other theme park events
Some frightening rides as wells – Knott's also has some intense rides as well, the Ghostrider and Accelerator will definitely get your heart racing.
What can be improved
Break up the lines better – One of the things about Knott's is they let too many people in a maze at one time so it is harder to get scared if you are following a huge group.

*Pro Tip* Walk Slow and Create a Gap – My husband loves to get scared so he walks slowly at first through the maze to create space so he doesn't see who is going to scare him.

Long Lines – The lines at Knott's can get quite long. Get there early and head to the back and then work your way backwards or if you can afford it by the Fright Lane Pass which will let you skip all the lines for rides and mazes.
# 3 – Sea World Howl O' Scream
Next on the list of best events for teens is Sea World's Howl O' Scream which opened for the first time in 2022! You wouldn't think Sea World could be transformed into something scary but they sure know how to do it.
What we loved about Sea World's Howl O' Scream
Entrance into Mazes were broken up by party – this made the mazes a lot scarier as you didn't know when monsters would pop out.
Short Wait Times – The park was pretty quiet, which made it all that more creepy
Well themed – Walking through the park, they did a pretty amazing job transforming Sea World into a haunted environment.
What Could be Improved
Food – The park lets you in at 6pm but there is no where to purchase food til 7pm. Also, there are only 3 small stands which serve a couple food items.
# of Mazes – Right now there are only 3 mazes and 3 rides, so you can finish this event quite quickly.
#4 SIX FLAGS FRIGHT FEST
To be perfectly honest this event is nothing too great. I would skip it entirely if you are just coming for the fright fest.
Best So Cal Halloween Events for Kids and those who don't want to be scared
Disneyland basically has two separate events going on during Halloween. You can enjoy with regular theme park admission Disneyland's Halloweentime. This is simply the park decorated in it's Halloween themeing (which is incredible and then a special night time event at California Adventure, the Oogie Boogie Bash.
Why We Love the Oogie Boogie Bash
Incredible Parade – The parade at the Oogie Boogie Bash is a ton of fun. You will see the headless horsemen and all your favorite Disney characters dressed up in their Holiday best.
Themed Trick or Treating – The trick or treat trails are well themed this year with a Disney villain appearing somewhere along the trail.
Redwood Creek Trail Transformations – The redwood creek trail is transformed into an incredible spooky experience that is one you have to see to believe.
Guardians of the Galaxy After Dark – The transformation of this ride is a ton of fun and worth a ride.
Short Wait times for rides – You can enjoy short wait times for your favorite Disney rides which is A-mazing!
What could be improved:
It's pricey – This is one of the most expensive events in Southern California with tickets going from $129 – $169. Although this won't change because….
It Sells out Fast – If you don't but tickets for this event on the first couple of hours it is on sale you will find yourself out of luck.
Entry into the parks is a bit slow – If you come in early then it is not too bad, but if you enter at the time the event starts or anywhere near there getting through the ticket and wristband line takes 30-45 minutes.

#2 – Sea World's Spooktacular
While Sea World might have a haunted event at night the day time event is a ton of fun as well. Sea World's Spooktacular is fantastic.
Why we Love it
Kids can trick or treat through the park at fun stations where you will see workers dressed as flamingos and other Sea world characters.
Some of the shows are adapted to have a Halloween twist. Our favorite is Clyde & Seymour
# 3 – Legoland's Brick or Treat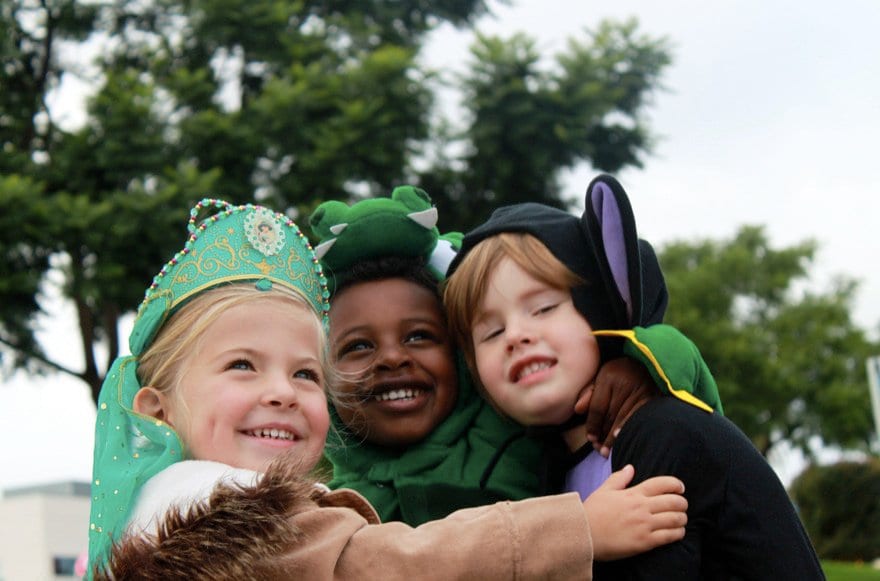 Legoland's Brick or Treat is great especially for kids ages 3-9
Why we love it:
The park is setup with adorable Lego Built Halloween Decorations.
The ticket includes a full day at the park unlike all the other theme parks
What can be improved:
The shows are a bit lackluster especially when comparing to the Oogie Boogie Bash
Limited Dates – There are only 4 dates available for all of 2022!
Take a Halloween on the High Seas Cruise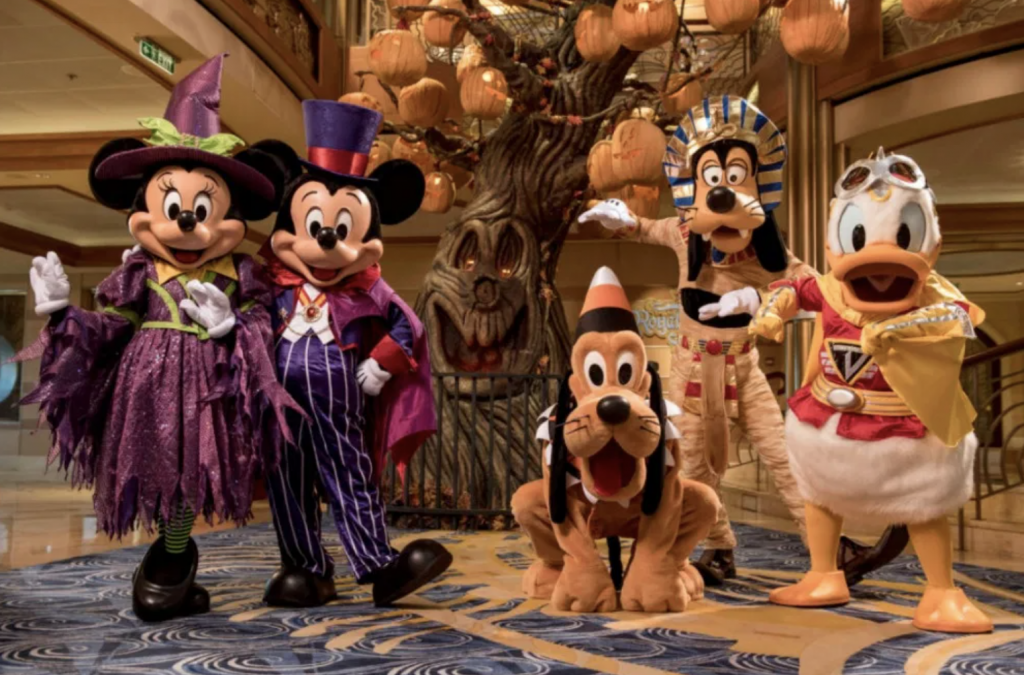 The Disney Cruise is sailing out of San Diego for the first time in a couple of years and this year it is during their Halloween on the High Seas Cruise. The best part is a ton of these cruises are having huge sales.
During Halloween on the High Seas you can get dressed up and see some amazing costumes and the kiddos can go trick or treating all over the ship. It truly is a great event.
If you book with our friends over at Tinks Magical Vacations – mention our site Global Munchkins and you will get a stateroom credit on top of the discounted cruise price.
Best Local Halloween Haunts
A lot of the small cities around Southern California which have some great Halloween Haunts. Here are a few you should check out.
Head through a frightening corn maze where you will definitely have quite a few jump scares to get your Halloween Scares going.
Enjoy 5 Haunted attractions and a Dark Shadow Marketplace in one spooky location!
Temecula Terror is Temecula's newest haunted attraction. The Temecula terror is two part at first sits a small town hosting its first-ever Halloween Harvest Carnival, but once you make it past the festive fanfare, you will discover that the town itself is really the haunted attraction!
The town residents welcome you to Otis Hatcher's twisted Halloween home at 301 Hyde Street, a brush with the spirit world beyond the veil at the town Crypt cemetery, and finally a perilous peek into the halls of Butterfield Asylum. There are 3 terrifying mazes.
The terror we've come to know and love is back – with mazes, trick-or-treating, plus the haunted hayride.
The Haunted Trail of Balboa Park
The Haunted Trail of Balboa Park is a stroll you will never forget. As you walk the mile-long Trail, spine-tingling sights and sounds will leave you trembling.
Where: 6th & Juniper at Marston Point, San Diego, CA 92103
When: September 24 – October 31, 2022
Cost: $24.99-$34.99
> Find out more about The Haunted Trail of Balboa Park
The Disturbance created by The Haunted Hotel
The Haunted Hotel has been "disturbed", completely upset, thrown into disorderly chaos…every possessed zombie, every dead freak, every spider web, and every last drop of blood have been unearthed and re-located.
Where: 1640 Camino Del Rio N, San Diego, CA 92108
When: October 1 – October 31, 2019
Cost: $24.99-$34.99
The Best Pumpkin Patches in Southern California
Bates Nut Farm is as classic as it gets, which is to be expected because they have been in business for over 50 years. Everybody gets to grab a wheelbarrow and head out to the field to find their perfect pumpkin. There's great BBQ, food trucks, and tons of different activities. Check out their family fun packages to get the most out of your day.
Do you want to take your pumpkin picking to the next level? Tanaka Farms in Irvine (which was famous for its Hello Kitty-themed farm experience a few years ago) offers festive activities including wagon rides ($6) and a petting zoo.
Please keep in mind that this themed patch is very popular on weekends, so parking reservations ($10) are required in advance. Plus, if you're looking for something other than pumpkins, the U-pick veggie garden is open every day for your picking pleasure. Keep an eye out for the launch of a sister patch in Costa Mesa, which promises a more laid-back experience.
The Mountain Valley Ranch Pumpkin Patch is located near the little mountain hamlet of Ramona. Take some time to look for the perfect carving or cooking pumpkin, get lost in the massive corn maze, shoot an ear of corn out of a cannon, pet some farm animals, and fill the scrapbook with photos of the kids riding vintage farm equipment.
Head out to Mr. Bones Pumpkin Patch for a true LA experience, where you can get a fleeting glimpse of a star or two while picking up a few pumpkins. They'll be open from 9 a.m. to 9 p.m. from October 7th to October 31st, 2022. Check their website for the most up-to-date information; they occasionally close for private parties.
Pin for later!