Universal Studios in Orlando is definitely one of my favorite theme parks for our family. They have incredible rides, I absolutely love the different themed lands and my daughter Ella is obsessed with Harry Potter. If you go during any normal season the Universal parks are a blast. Plus, if you go during special events like Universal Studios Mardi Gras, this park is absolutely incredible. Here are 7 reasons why you need to check out this super fun event!
7 Reasons You'll Love Universal Studios Mardi Gras 2022!
Family Fun Mardi Gras + it's included with price of admission
Every year Universal Orlando hosts their annual Mardi Gras, this year it will run daily from Feb. 9 through April 4. Mardi Gras is included with the price of admission and annual pass holders can use their pass for entry as well (check block out dates)
Unlike Mardi Gras in New Orleans, Universal Studios Mardi Gras is a family fun event that occurs rain or shine.
They even have a special viewing area of the parade for little kids: The Little Jester's Parade Viewing Area located in front of the Brown Derby Hat Shop offers an unobstructed view for petite partygoers. Access is available beginning one hour before the parade starts. Once the parade begins all the rides in the park shut down as this is an event you will not want to miss.
The Grammy Award Winning Performers:
On select nights during the event, guests can enjoy performances by some of the biggest names in music, including GRAMMY award-winning musicians, The Roots, globally renowned superstar, All-American Rejects, chart-topping Marshmello and legendary Earth Wind & Fire. Here is the complete lineup:
Concert Lineup
Saturday, Feb. 1 – The Roots
8:30 pm
Saturday, Feb. 8 – Karol G
8:30 pm
Saturday, Feb. 15 – Bell Biv DeVoe
8:30 pm
Sunday, Feb. 16 – +Live+
8:30 pm
Saturday, Feb. 22 – Kool & the Gang
8:30 pm
Saturday, Feb. 29 – TLC
8:30 pm
Saturday, Mar. 7 – REO Speedwagon
8:30 pm
Sunday, Mar. 8 – Dustin Lynch
8:30 pm
Friday, Mar. 13 – Luis Fonsi
8:30 pm
Saturday, Mar. 14 – The All-American Rejects
8:30 pm
Sunday, Mar. 15 – Diana Ross
8:30 pm
Friday, Mar. 20 – Chris Young
8:30 pm
Saturday, Mar. 21 – Earth, Wind & Fire
8:30 pm
Sunday, Mar. 22 – Marshmello
8:30 pm
Saturday, Mar. 28 – Why Don't We
8:30 pm
Sunday, Mar. 29 – Gavin DeGraw
8:30 pm
Incredible Floats made by the same people that make the Original Mardi Gras Floats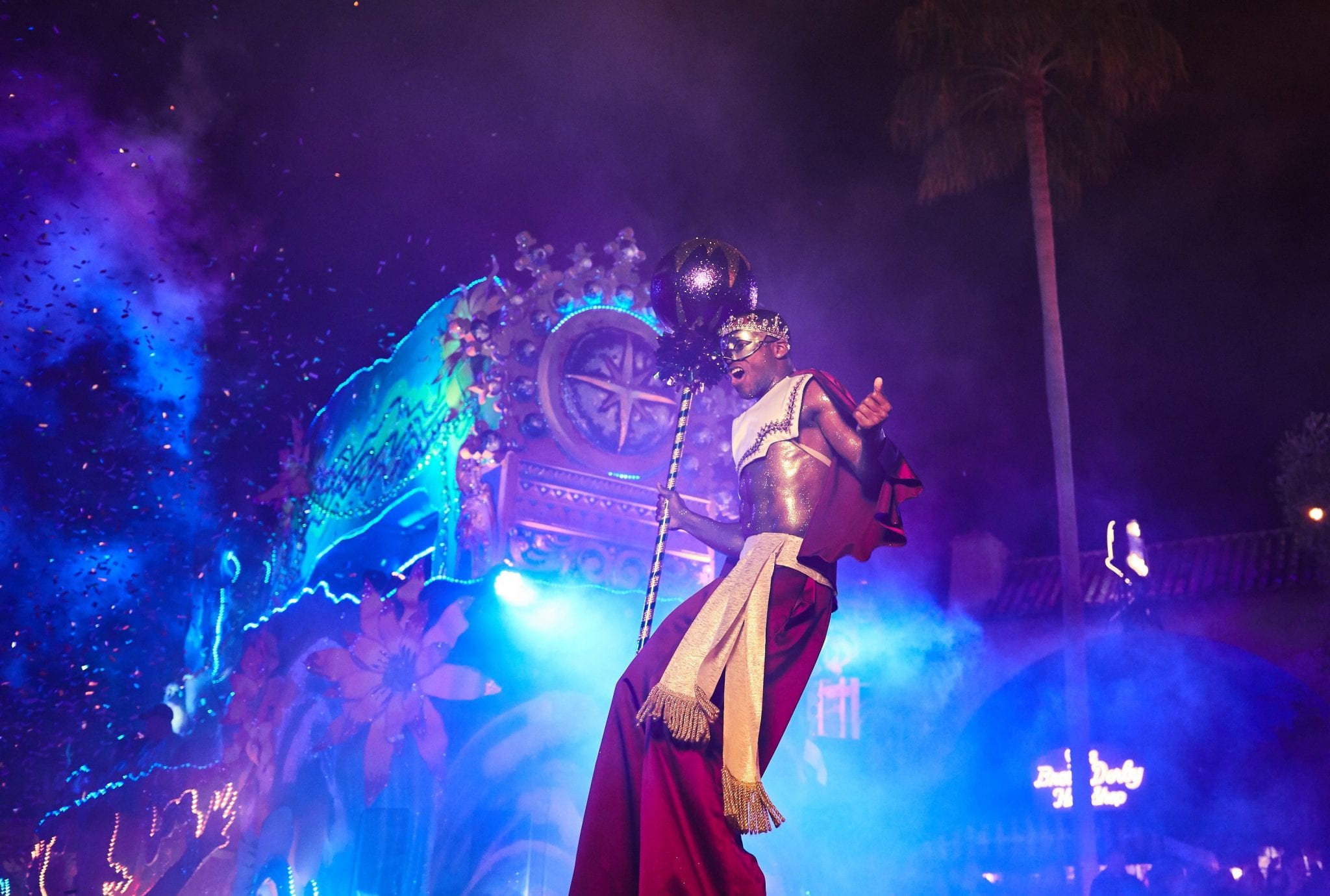 Besides the live concerts, you can dance along with street performers and collect beads being tossed by the floats as the parade heads throughout Universal Studios. This year, the party animal-themed parade will debut six new floats featuring animals from the arctic, jungle, ocean and more – rounding out the lineup of 12 hand-crafted floats engineered by Kern Studios, the same company that has created floats for the iconic New Orleans celebration since 1947.
*Pro Tip* If you want to get a good spot along the parade route get their about 45 minutes before the parade time (75 minutes on the weekend or concert nights)
You Can Ride on the Floats in the Parade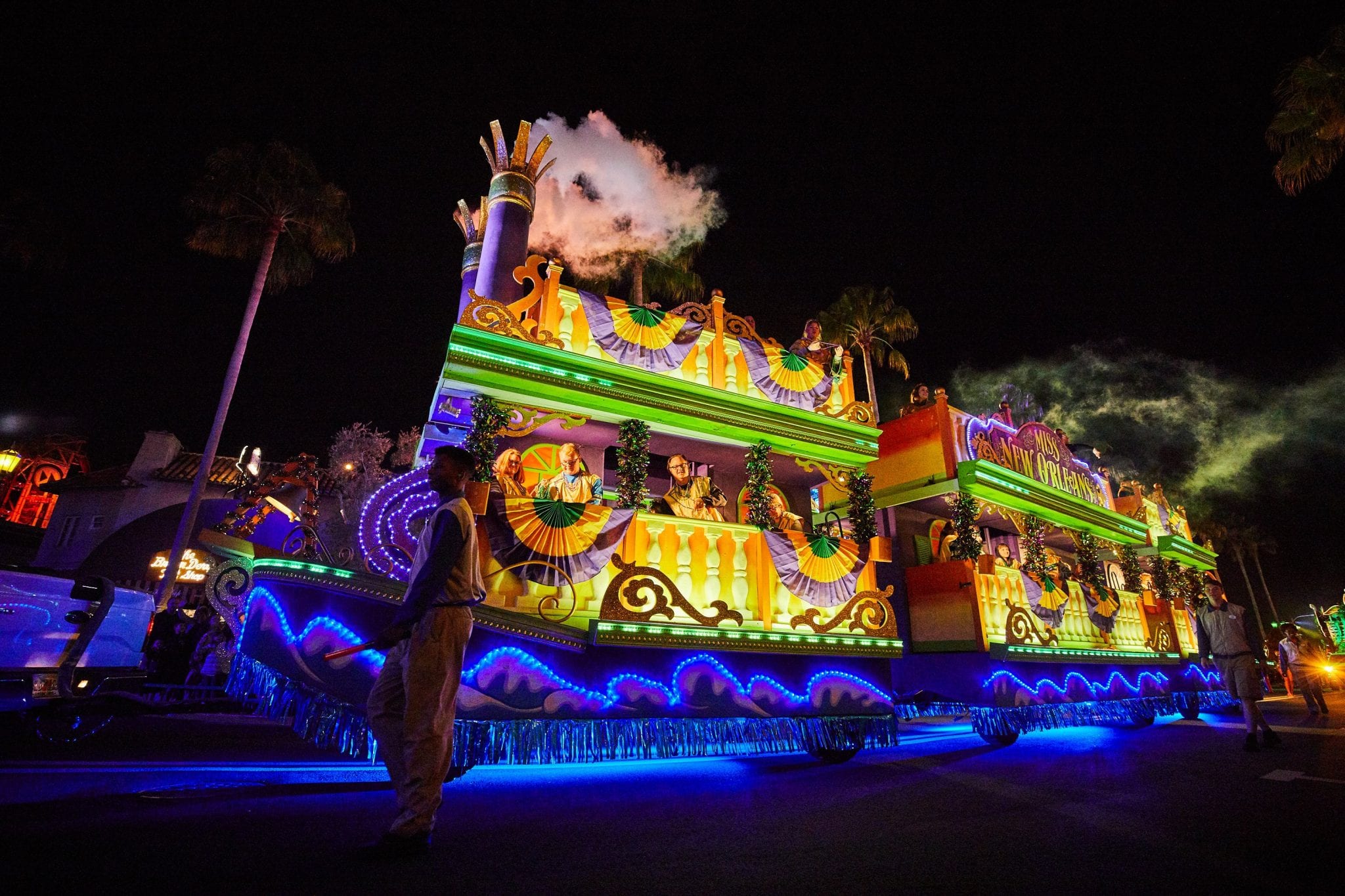 A limited number of guests can ride the amazing floats as they wind through Universal Orlando. You get to have a blast up on the floats while tossing beads into the crowd. There are certain requirements
To ride on the float you must be at least 18 years or accompanied by an adult
Must be at least 48 inches in height
No bags or strollers
Can accommodate standard push wheelchairs only with advance notice
The one thing to know is there are very limited spots as annual pass holders do get first priority. Although pass holders are blocked out of the main concert days. If you are an annual pass holder you can reserve a spot by filling out theRSVP form online.
Not an Annual Passholder? Last minute spots are available on the day of the parade. You will see Universal staff members passing out passes on a first come first serve basis.
The Crowds aren't too bad!
One of the things that is great about Universal Studios Mardi Gras is that the crowds aren't too bad since the festival is mainly during the slow season. That means more rides and fewer wait times! On the weekends and concert event days expect larger crowds. In addition as Mardi Gras winds down towards its final days expect the crowds to be busier with some schools spring break beginning.
Pro Tip* Grab a Park to Park Ticket and visit Islands of Adventure in the morning and then head to Universal Studios via Hogwarts Express in the afternoon!
Enjoy Delicious Cajun Cuisine while listening to some Live Music straight from Bourbon Street
At 4 Pm Universal Studios Orlando opens up a special section at the French Quarter Courtyard for an incredible Cajun food festival. Everything is served in tasting size so you can enjoy a wide variety of delicious treats. This years samplings will include:
Gumbo,
Jambalaya
Po boys
Frog legs
Crab etouffee
Mimosa Wine Bar
Craft beer flights featuring regional brews from Louisiana.
& of course Beignets
While you are enjoying some incredible cajun cuisine, enjoy some live music. Universal pulled out all the stops as bands straight from Mardi Gras are there to perform while you dine and sip away. Here is a list of who will be playing:
Feb 1 – Feb 13 Dirty Bourbon River Show
Feb 14 – Mar 6 Free Agents Brass Band
Mar 6 – Mar 21 New Breed Brass Band
Mar 22 – Apr 2 Naughty Professor Brass Band

Some Pretty Amazing Ticket Deals
If you live in Florida, you can get an exclusive 2-Park, 3-Day Base ticket offer for $159.99 – that's three days for
less than $54 per day. This limited-time offer can be used at one park per day and is available for
purchase with a valid promo code from Coca-Cola® or Coke® Zero Sugar.
Amazing Annual Pass w/ Bonus Offer –
If you are like our family, we like to visit Universal Orlando twice a year (yes, even though we live in California). The parks are our kids absolute favorite and we love to visit in the summer and during the holidays. Right now, Universal is offering annual passes with up to 6 months added to your annual pass. Basically, you get 18 months for the price of 12!
Overall, Mardi Gras is definitely one of the best times to visit Universal Orlando. For more information visit: www.universalorlando.com/mardigras.
Have you been to Universal Studios Mardi Gras? Let us know your experience in the comments?
You Might Also Enjoy:
The BEST Universal Orlando Tips from a Pro [Over 25 Amazing Tips]
Ultimate Guide to Volcano Bay Rides, Food, Cabanas & More
Pin for Later – 7 Reasons You'll Love Universal Studios Mardi Gras 2022!