We awoke on our last day in Rome and couldn't wait to get started. It was a day we had been looking forward to probably the entire trip. We were going to explore the Colosseum and Ancient City with our guide from Overome.
We grabbed a quick bit down the street from our Air BnB apartment. The kids picked various pastries (their European breakfast staple) while Mike and I enjoyed the most delicious lattes. We saddled up to the bar and realized the Colosseum was right there before us… just up the street! This is why I love Rome. It is a such a small city that you run into huge tourist sites every where you go.
After breakfast we strolled up the street and when we reached the Colosseum we were so impressed. It is just massive in size and incredible to look at. We were astonished that it was still standing even though it was built so long ago. After admiring it for awhile we went to meet up with our guide.
As usual Overome has great meeting locations so finding your guide is no trouble at all. We wore headsets for the first time on this tour and I actually loved it. We had opted not to have them on our last tour and in hindsight that was a mistake. The headsets made it very easy to hear and follow along with the guide and it kept the kids even more engaged than previously.
Reasons to have a guide when traveling with kids:
1) You don't have to wait in line… you typically get to walk right in
2) They know where all the bathrooms and drinking fountains are
3) They answer your kids questions (all million of them) so you don't have to
4) They actually know the answers to your kids questions so your kids actually learn
5) They add depth to the sites by using tools like iPads and pictures to help you visualize concepts and understand what you are looking at. Incredibly helpful when looking at ruins.
It has completely changed the way we will tour as a family from now on. Guided Family Friendly Tours are the BEST!!! And, Overome is a great choice if you are in Rome!
I loved listening to our guide tell us all about the history of the Colosseum. I learned so much… like the fact it only took 8 years to build, that it was called the Flavian Amphitheater but attendees began calling it Colosseum for the colossal sized statue that stood at the front, that it became a marble quarry at one point after the Roman Empire fell. See more reasons to have a guide. It's not just for the kids 😉 Below is a pic of the colossal statue.
I was surprised that the Colosseum housed its own sort of museum. As you walked through the corridors there were artifacts displayed. We saw pieces of the columns, statues, carvings in rocks from the viewers and artifacts they have uncovered from the sewage system that gives you a glimpse into the types of foods that spectators brought in with them. It was fascinating!! The even had hands on displays that explained the pulley systems which the kids loved.
After exploring the corridors we climbed the stairs to get to the viewing area. It was funny the stairs are tilted at an angle which slows you down on the way up… on the way down it actually helps you exit quicker. That was no mistake but rather a form of crowd control that the Romans were clever enough to come up with.
Once we reached the top we got our first up close glimpse of the amphitheater. W O W!!!
Its a bit confusing to make out but the maze looking area was actually the pulley/ elevator system added to the amphitheater to allow elaborate scenery, animals, gladiators etc… to be hoisted through trap doors in the floor. This area was covered like the piece at the top of the picture and would not have been seen by the spectators.
After finishing up the Colosseum we walked towards Palatine Hill passing the Arch of Constantine. I had no idea that there were multiple Arch de Triomphes. Prior to visiting Europe the only Arc I knew of was in Paris. Turns out they copied it from this one 😉
When we arrived at Palatine Hill my daughter started reciting all the facts she knew about Romulus and Remus and the origin of Rome. I loved listening to her and realizing how amazing it was that she could be here to actually see the history she was taught come to life before her eyes. It was one of those moments you want to pinch yourself bc you just can't believe how lucky you are. My heart was swollen with joy.
We walked up Palatine Hill and I just listened with joy as Ella and the guide conversed. When we got to the top we were standing at the site of the Imperial Palace built by Emperor Domitian. There was not much left of the palace and without a guide it would have been a complete wash to understand. However, once again our guide made this place come to life using pictures and explaining what we were seeing.
Above was the Emperor's private gardens complete with fountains. In its prime it would have been fit for a modern day millionaire. The layout of the garden encompassed by gorgeous archways must have been stunning! We also saw the emperors private stadium– its huge! Here he would have watched his own games and shows with his family and guests. The emperor also had his own circus known as Circus Maximum– the first and largest circus in Ancient Rome- where the Emperor and his family would have watched chariot races.
The palace area ended on a cliff that overlooked the entire Roman Forum. It was amazing to look down at this ancient city. It is absolutely incredible that it is still there. It almost seems like something out of a fairy tale. We were overlooking some of the most fundamental monuments in the history of Rome, such as the Curia, the centre of the Roman Senate, temples including the funeral altar of Julius Caesar– JULIUS CARSAR!!! You could also make out the remains of the magnificent House, the Temple of the Vestals, and the Arch of Titus, with decorations recalling the Jewish religion.
After admiring the city from atop… we hiked down to the bottom and actually walked the streets ourselves. YES, our jaws were dropped the entire time. It was just insane to be standing on a road where over a thousand years ago chariots raced through. To stand where the infamous Roman Senate was stood. To be next to the site where Julius Caesar was cremated… it was just a once in a lifetime moment. You have to go and see it for yourself.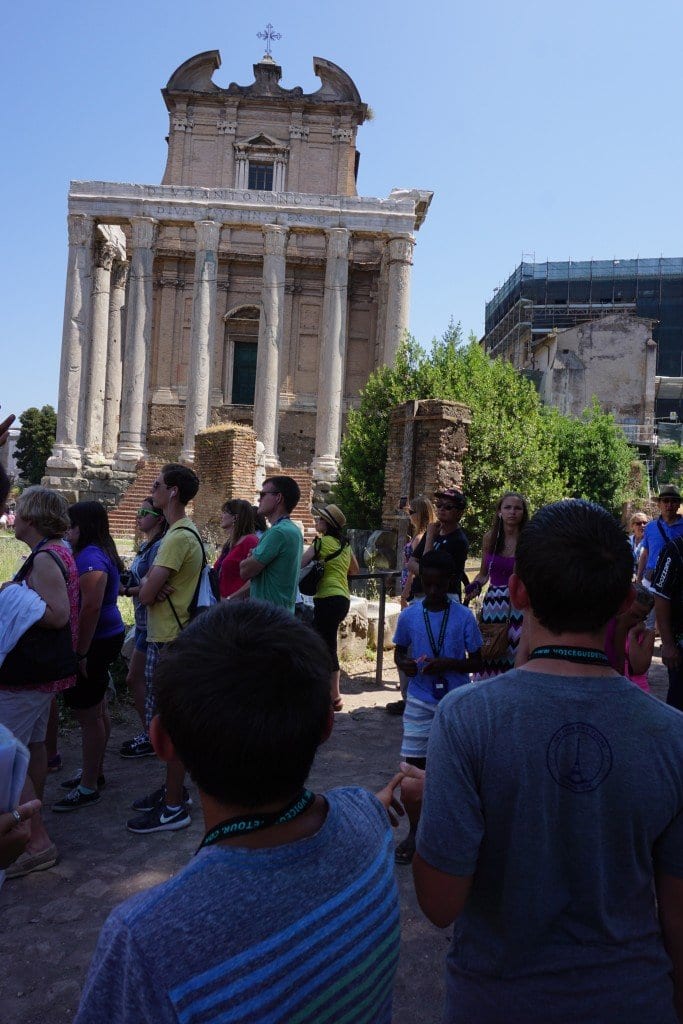 After the Forum our tour was complete. Our guide as always was wonderful and offered up suggestions for the rest of our day. We decided to grab a bite to eat and some gelato- of course! Then continued exploring the streets.
Down the street we arrived at these ruins… not sure what they were as we were sans guide but impressive nonetheless. I think it may have been more of the Roman Forum area or a piece of the city from that time at least. And, when we got to the end of those ruins we turned and… H E L L O modern Rome.
I had to look this one up but I believe it is Rome's capital building. It was gorgeous and so detailed I could have walked around it for hours. But, the kids were begging to get to the tourist traps shops to get their last souvenirs. Owen thought this picture of the little boy was his doppelganger… it was pretty close 😉
Shea decided he needed one more drink from the Roman Fountains. He was fascinated by how fun it was to drink out of them.
To finish our day and put an end to our European Extravaganza we agreed on one last gelato… two in one day is a MUST on your last day I hear 😉
I can't say enough great things about Overome. They are a fantastic company and I highly recommend their services. If you would like more information on Overome Tours visit them online www.Overome.com, their facebook page,
or check out what people have to say about them on Tripadvisor
NOTE: WE WERE GUESTS OF OVEROME. WE RECEIVED A COMPLIMENTARY TOUR FOR OUR FAMILY IN EXCHANGE FOR MY EXPERIENCE AND HONEST THOUGHTS. ALL THOUGHTS & OPINIONS ARE COMPLETELY MY OWN.