I can't believe it is already this time of year. The weather is finally beginning to cool, Christmas commercials are on TV, catalogs are arriving in the mail and the holiday tunes are starting to play. By far, Christmas is my most favorite time of the year. There are so many things to do during the holiday season and Christmas in Temecula & Murrieta. Let's Check it out
Christmas Lights in Temecula & Murrieta
---
City of Temecula & Murrieta Holiday Decorating Contests
Every Year, both cities Temecula & Murrieta have a map of all the Holiday Light Contestants and winners of their Holiday Lights Competition. Map Coming As Soon as it is Released
---
City of Murrieta Christmas Lights –
Just like the City of Temecula, Murrieta also has a Holiday decorating contest -Map Coming As Soon as it is Released
---
Bainbridge Circle
Christmas is Temecula and Bainbridge Circle pretty much go hand in hand. This incredible street has pretty much every house fully decked out in lights an animation with music synchronized to all the lights in the neighborhood. As you pull up, you will see signs to tune into a certain radio station and you can pipe the music directly into your car as you drive through. I prefer to park and go for a stroll along this incredible spectacle of lights.
**Pro Tip** Go early in the season and on weekdays to avoid crowds. This place gets very busy!

---
Kraklow Family Christmas Lights
Probably the best Christmas Lights in all of Temecula. They have an incredible show and it is definitely worth a visit.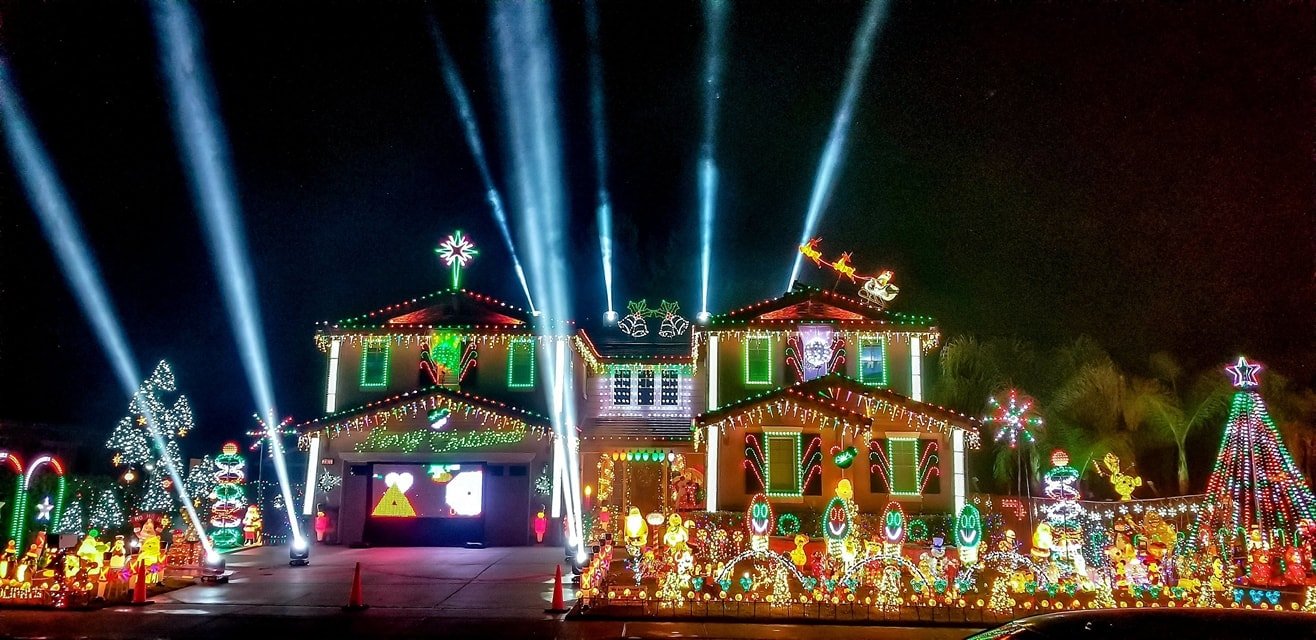 ---
Murrieta Holiday Lights Drive-Through (free!)
On December 4,5,6,11,12, & 13th from 5:30 pm. through 9:30 pm you can drive through Candy Cane Lane (aka Temecula Square Loop) for a Christmas Light Extravaganza.
Family Filled Fun as there will be carriage rides, fully themed decorated trees, a magic show, and photos with the one and only Santa Clause!
---
Christmas Tree Lighting at the Duck Pond
Date: Monday, November 29th

Time: 7:00-8:30 PM

Location: Temecula Duck Pond
What a bright time, it's the right time to light the Christmas tree! While we wait for the countdown to the light the tree at the annual Christmas Tree Lighting Ceremony, enjoy a tasty treat, a visit from Santa Claus and festive music.
---
Holiday Parades & City Events
Old Town Temecula Santa's Electric Light Parade
Date: Friday, December 3rd
Time: 7:00 PM Start
Have yourself a merry little Christmas when you attend the annual Santa's Electric Light Parade. The parade will begin at 7:00 PM sharp at the intersection of Jefferson Ave & Del Rio Rd. Be sure to bring your blankets and chairs as you watch the entries travel north along the parade route.
Chilled in the Park
Date: Saturday, December 18th
Time: 12:00-8:00 PM
Location: Ronald Reagan Sports Park
To celebrate the holiday season, join us for Chilled in the Park! This event will feature magical entertainment, an ugly sweater contest, kids zone, and food vendors. Be sure to stick around for the festive fireworks display at 7:45 PM sharp.
---
Join us for a fun, family event with crafts, holiday story reading, entertainment and vendors. Admission is an unwrapped toy or non-perishable canned good.
December 4th from 5pm – 8pm
---
Holiday Magic Movie Night Featuring ELF
We will have games, crafts, vendors and prizes as well as the movie. Feel free to wear PJ's! December 5th at 6pm
Temecula Wineries Christmas Events
Many of the local wineries light up for to celebrate Christmas in Temecula – We will have a map together as we get further information.
Longshadow Ranch Vineyards & Winery
12/3/2021, 12/4/2021
39847 Calle Contento, Temecula, CA 92591
Sip, Shop & Jingle Holiday Winery Hours at Danza Del Sol
Drink, shop, and jingle Winter Hours are Extended! Shopping Event for the Holidays. 11 a.m. to 8 p.m. on Friday, December 3rd. Fat Lip Pizza Food Truck | Chickenbone Slim Live Music 30% off all apparel, 40% off merchandise *Discounts off retail prices. They'll be serving a delectable Holiday Sangria by the glass or by the carafe. Wine will be sold by the glass or by the bottle. Purchase only 6pm-8pm. At 5:30 p.m., the Wine Club's complimentary glasses expire.
Motown Christmas
December 18, 2021
37338 De Portola Rd, Temecula, CA 92592
A holiday tribute show featuring the music of Motown, including Stevie Wonder, Gladys Knight, Marvin Gaye, The Temps, The Commodores & More.
An energetic and spirited holiday show featuring music from some of the beloved Motown artist including Stevie Wonder, Gladys Knight and the Pips, Marvin Gaye, The Commodores, The Temptations and more! Accompanied by a live band, featured artists Monty Seward, Geg "Debonaire Laster, and Valerie Pierce will usher in the holiday spirit with an assortment of your favorite Christmas carols, dancing, and holiday cheer intermingled with hits from old and new!
Christmas at Thornton Winery
Cafe Champagne at Thornton Winery
December 25, 2021
32575 Rancho California Rd., Temecula, CA 92591
$69.95 per person | 12 & under 21.95 and under 5 free
MAKE YOUR RESERVATION: 951-699-0099
---
Visit with Santa!!
Santa Visits are Back. There are several places to visit Kris Kringle.
Santa in Old Town Temecula
Santa Claus is coming to Old Town! Come visit the Jolly ol' Elf himself at his special Old Town location – in between Pennypickle's Workshop (42081 Main Street) and The Merc (42051 Main Street). Be sure to mark you calendars, (and check it twice!) because Santa is only in town on select days this month. After all, he is busy getting ready for the big day!
Santa's Schedule:
Saturday, December 4, 2021 from 10am-1pm
Sunday, December 5, 2021 from 1pm-4pm

Saturday, December 11, 2021 from 10am-1pm
Sunday, December 12, 2021 from 1pm-4pm

Saturday, December 18, 2021 from 10am-1pm
Sunday, December 19, 2021 from 1pm-4pm
---
Donuts with Santa
Saturday, December 4, 2021
9 AM-10:30 AM
Free, but please donate one non-perishable food item per person attending.
First come, first served to the first 300 kids.
Visit Santa's Wine Country Workshop
On a carriage, drawn by elegant horses you and your family will visit Santa at his Wine Country Workshop.
This 12-15 minute private HORSE DRAWN DRIVE THRU experience is a one of a kind holiday excursion.
$65 for up to 6 guests
Ride includes a private horse drawn carriage ride and a visit with Santa.
Your own private group will be picked up at The Temecula Carriage House in wine country Temecula by private horse drawn carriage and taken to Santa's wine country workshop where you will get to see Santa and let him know what you would like for Christmas!
*Santa will be inside the open air gingerbread house and he will be working on building toys. As your carriage pulls into the gingerbread house you and your family will remain on the carriage at all times. Santa will remain at a 6 foot distance from the carriage and you and your family will be able to discuss with him what you would like for Christmas.

*12-15 minute private carriage ride is available for reservation
*Up to 6 guests on your own private horse drawn carriage is $65 ($65 is per carriage not per person)
---
Lorimar Winery Santa Dinner – December 5th
Enjoy Lorimar's annual Lorimar Santa Dinner! Santa will be reading "Twas the Night before Christmas" There will be Cookie Decorating & Photos with Santa! Sunday, December 5th at 5 pmTicket Includes admission and dinner
Adults $35 / Adult Wine Club $31.50
Children $20 / Child Wine Club $18
Toddler Seat (Under 2) – Free (no meal included)
---
Santa's Holiday Hotline
If you can't visit Santa you can always give him a call. Call Santa's Holiday Hotline to hear a special greeting from Santa! Santa's Hotline: 951-461-6086
---
Santa at Temecula Town Center. Near Target and Home Goods. Santa will be available starting Nov 17 for pictures through Dec 24. Reservations and purchases are on-line and highly recommended.
---
Murrieta Santa Stops –
TBD – Throughout the city of Murrieta you will find Stars on the street. This is where Santa and his helpers will be visiting the local children.
Letters from Santa – Annies Cafe on Jefferson Temecula
There are post boxes directly to Santa from December 1st until Christmas Eve so that your little ones can post their letters to Santa. The letters that were dropped off at Annies Cafe will get a personalized reply from the North Pole to pick up when they come in next time.
Visit Santa at Winter Wonderland at the Hotel Del Coronado
Ice Skating in Temecula, Shopping, Movies & More!
---
Peltzer Ice Skating Rink
November 23, 2021 – January 10, 2022
The farm is freezing over, y'all! Peltzer Ice Rink is BACK for its third season! With over 8500 square feet of ice, our rink can safely accommodate skaters during this Holiday Season! Tickets must be reserved ahead of time to ensure you get the skate session you desire. Check it out Here
---
City of Temecula
December 9, 2021 – January 2, 2022

41000 Main Street, Temecula, CA 92590
Let's meet on the ice, sharpen your skates and practice your double axel. Temecula On Ice returns with a state-of-the-art ice rink, rental skates, Bobby skating aid, and its own radio station playing the best ice skating music, sponsored by the Temecula Valley Auto Mall. On Friday, December 13th, join us for the Official Grand Opening!
---
Deck The Malls Holiday Vendor Market
Promenade Temecula
December 11, 2021
40820 Winchester Road, Temecula, CA 92591
Holiday shopping is already here, so we're creating a festive experience for you and your family with over 30+ of our favorite local vendors. Shop small and support local this holiday season as you shop for your loved ones. This is a FREE EVENT and family friendly including activities for the kiddos, family photo opportunities, a DJ, and magical festivities!
HOLIDAY SHOPPING | SUPPORT SMALL & LOCAL | FESTIVE ACTIVITIES
Date: Saturday, December 11th
Time: 10am-9pm
We will be offering family mini sessions! Perfect opportunity for your family Christmas card photo. 15 minutes + 10 professional photos. Only 8 time slots available at ITSPEACHY.CO.
Holiday market at Europa Village
November 26, 2021, through December 5, 2021
10AM – 5PM (Sun – Thurs)
10AM – 6PM (Fri & Sat)
Price: Free
Location: Prelude at Europa Village
Experience the magic of the season and celebrate a holiday tradition at Prelude! Join us for an enchanting holiday wonderland with their European inspired Holiday Market. Discover seasonal gifts and decorations highlighting European craftsmanship, nutcrackers, ornaments, décor, and much more!
FREE Cookies in Old Town Temecula
Every Monday – Thursday in December at 2pm – Santa's Helpers in Blue will be passing our FREE Cookies

---
Christmas Tree Lots
Of course you can't fully Experience Christmas in Temecula or Murrieta without a fresh cut tree. Here are some great places to snag a tree this year.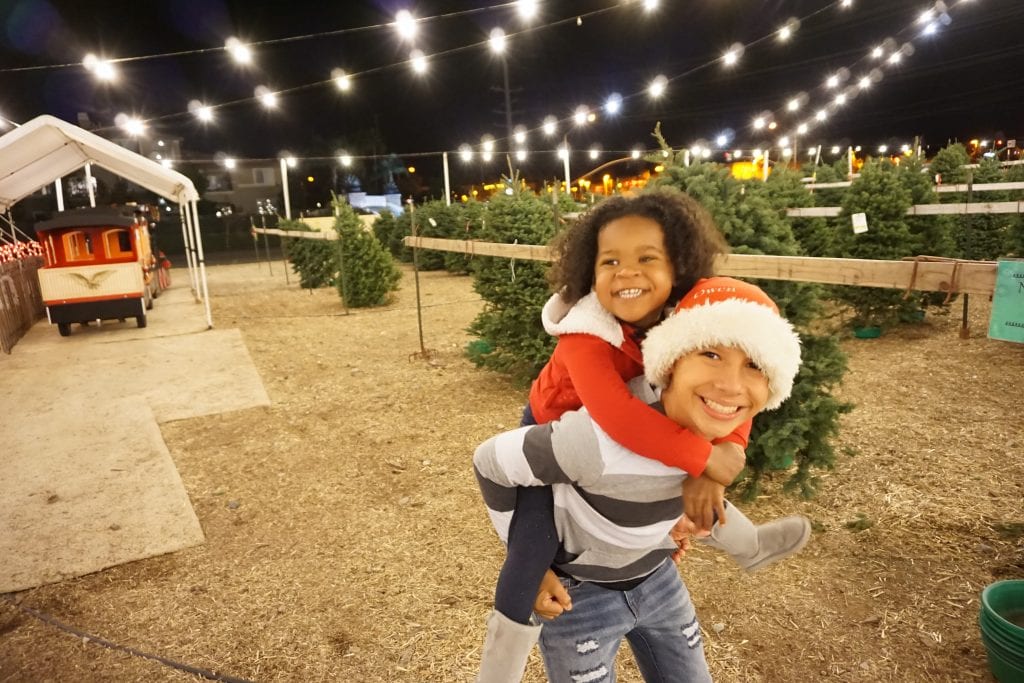 Bennett's Best Christmas Trees – 40727 Murrieta Hot Springs Rd, Murrieta, CA 92562
Moon Valley Nursery –

36705 Briggs Rd, Murrieta, CA 92563

Stu Miller's Christmas Trees –

38174 Murrieta Hot Springs Rd.Murrieta, CA. 92563

Wickerd Farm – (Cut Your Own Tree) 26852 Scott Rd, Menifee, CA 92584
---
Holiday Plays, Music & Musicals
Holiday Shows are back! Here are some amazing shows coming to Temecula this Christmas
Nutcracker at Europa Village –12/2/2021, 12/3/2021, 12/4/2021, 12/5/2021
The Ballet Studio & Norris Performing Arts Center offers their version of the world's most-performed ballet to Europa Village's outdoor Piazza in Temecula Wine Country. Set to Tchaikovsky's renowned symphony, the wonderful story of a girl's first love, a Magician, a Rat King, a Nutcracker, and a Prince comes to life in the magical Christmas setting at Europa.
Not only will guests be able to see this holiday classic, but we will also be serving a special three-course Nutcracker dinner at 5:30 PM before to each performance.
Seating is limited, so get your tickets or one of our exclusive packages now.
A Christmas Carol 2021
A Family Favorite in Old Town Temecula! The year is 1850, and it is Christmas Eve in London, England. This classic tale of redemption, the destructive effects of solitude, and the necessity of love and compassion is depicted via Ebenezer Scrooge's journey from a miserly, selfish, and lonely man into an empathetic and caring individual, based on Charles Dickens' most popular novel.
Some of Broadway's best composers (Disney's Beauty and the Beast, Disney's The Little Mermaid, Little Shop of Horrors, Ragtime, Seussical, and Once on This Island) tell this story beautifully. Come join us for this joyous and enchanting Holiday Tradition!
December 4th – December 12th – Tickets Available Now
---
Holiday Events Worth the Drive
Mission Inn Festival of Lights – Riverside – Mission Inn November 23 through Jan. 6th. Entrance is FREE. Additional activities include: horse-drawn carriages, train rides, food stands & more (fees apply).
Winter Wonderland at the Hotel Del Coronado
NEW YEAR'S EVE!
1) NYE Grape Drop –
Location: Town Square – 41000 Main Street, Temecula, CA 92592
Come ring in the new year Temecula-style at our family friendly Grape drop! Friends and family of all ages are invited to the annual event on Sunday, December 31st, beginning at 6 pm in Town Square in Old Town Temecula! Join us and see our Temecula custom-crafted, beautifully illuminated cluster of grapes descend 65 feet from the third-story patio of the Civic Center tower clock. There will also be live music to dance to, a Fun Zone with activities for all to enjoy, such as hat making, face painting, and a giant slide! There will even be two countdowns, East Coast (9:00 pm) and West Coast (12:00 am), both led by city officials!
2) New Years Eve at Pechanga
Pechanga invites you to join them to celebrate the new year on another level! They are offering a number of events including comedy shows, fine dining, parties and more! Some featured events include NYE at Lobby Bar, Kelsey's NYE party, and The comedy club. You even have a chance to win a free car!!
Lobby Bar: Dueling Pianos Rockin Eve- Come in an enjoy dueling pianos for a very fun night. The event is from 10pm-2am. The presale tickets are $25 and the prices at the door are $35. They are available for purchase at 6pm on 12/31. Table reservations and VIP packages are also available.
Kelsey's NYE Party
Come dance 2018 away! Kelsey's will be having Grammy-winning producer DEEJAY CYFER spinning the Top 40 hits all night! . Tickets are $45 pre-sale and $55 at the door, including a light appetizer of hors-d'oeuvres and a Champagne Toast.
The Comedy Club
Tickets are $18 with a 2 drink minimum. It is now located at Kelsey's Loft
3) Wilson Creek Winery
Sunday, December 31 at 7:00PM to Monday, January 01, 2019 at 12:30AM
Whether you decide to celebrate East Coast or West Coast style, Wilson Creek have just the option for you! From a four-course wine paired dinner to a night of dancing. It will be the best place to ring in the new year!
4) New Years Eve Dinner & Events in Old Town Temecula
Throughout old town Temecula you will find a long row of restaurants offering up New Year's Dinner & Drink Specials. I recommend grabbing an uber into old town as the street will be quite packed.
Looking for more activities in Temecula? Check out my articles on-
THE BEST CATERING IN TEMECULA FOR YOUR NEXT HOLIDAY PARTY
THE COMPLETE GUIDE TO THE BEST BRUNCH & BREAKFAST RESTAURANTS TEMECULA HAS TO OFFER!
20 KID-FRIENDLY THINGS TO DO IN TEMECULA
Latest posts by Mama Munchkin
(see all)