I can't believe it is already this time of year. The weather is finally beginning to cool, Christmas commercials are on TV, catalogs are arriving in the mail and the holiday tunes are starting to play. By far, Christmas is my most favorite time of the year. While 2020 has been a doozy there still is plenty to do during the holiday season and for Christmas in Temecula & Murrieta.
The ULTIMATE GUIDE to the Holidays & Christmas in Temecula & Murrieta- 2020
Christmas Lights Temecula & Murrieta
---
City of Temecula & Murrieta Holiday Decorating Contests
Every Year, both cities Temecula & Murrieta have a map of all the Holiday Light Contestants and winners of their Holiday Lights Competition. Here is the link to the 2020 Holiday Lights map.
---
City of Murrieta Christmas Lights – View Map Here
Bainbridge Circle
Christmas is Temecula and Bainbridge Circle pretty much go hand in hand. This incredible street has pretty much every house fully decked out in lights an animation with music synchronized to all the lights in the neighborhood. As you pull up, you will see signs to tune into a certain radio station and you can pipe the music directly into your car as you drive through. I prefer to park and go for a stroll along this incredible spectacle of lights.
**Pro Tip** Go early in the season and on weekdays to avoid crowds. This place gets very busy!

---
Kraklow Family Christmas Lights
Probably the best Christmas Lights in all of Temecula. They have an incredible show and it is definitely worth a visit.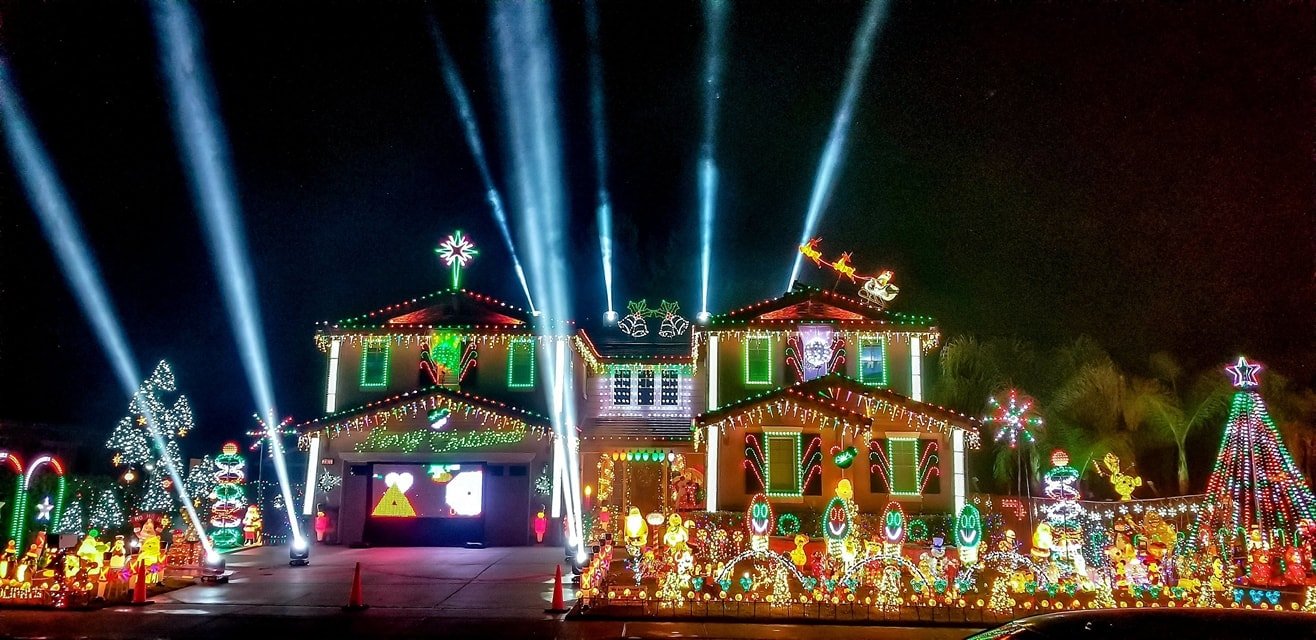 ---
Murrieta Holiday Lights Drive-Through (free!)
On December 4,5,6,11,12, & 13th from 5:30 pm. through 9:30 pm you can drive through Candy Cane Lane (aka Temecula Square Loop) for a Christmas Light Extravaganza.
Family Filled Fun as there will be carriage rides, fully themed decorated trees, a magic show, and photos with the one and only Santa Clause!
---
Virtual Christmas Tree Lighting at the Duck Pond
Even though we are unable to gather at the Duck Pond this year, you can join online as the City of Temecula lights the tree virtually! The video event will premiere on Facebook on Monday, November 30th at 7pm.
---
Merry Little Market
Have your Elf a Merry Little Market and shop small at the Promenade Mall this holiday season!
Santa's little helpers take over the Promenade Plaza on Saturday December 13, 2020 and Sunday December 14, 2020 from 10:00 am – 9:00 p.m. Check off your gift list one small business at a time! Don't forget to stop in the Mall and pay Santa a visit in the JC Penny's center while you visit!
40 local artisans and small businesses to shop from
Elf encounter and socially distanced "Elfie station"
Photo Scavenger Hunt with goodie bags
Letters to Santa mailbox (kids receive letters back from Santa!)
Holiday Craft Activities + more
---
Temecula Wineries
Many of the local wineries light up for to celebrate Christmas in Temecula – We will have a map together as we get further information.
---
Holiday Events Worth the Drive
Mission Inn Festival of Lights – Riverside – Mission Inn November 23 through Jan. 6th. Entrance is FREE. Additional activities include: horse-drawn carriages, train rides, food stands & more (fees apply).
Winter Wonderland at the Hotel Del Coronado
---
Visit with Santa!!
Hey, there are still ways to visit the big man, although it might be from a distance.
Since we can't have Santa in Old Town, we'll bring Santa to your neighborhood. Santa, Frosty and Rudolph will spend 13 nights visiting over 40 neighborhoods while social distancing in a holiday convertible. If it is raining, Santa will still be visiting you, but the top of the convertible will be on. We will encourage residents to stand in their driveways or nearest cross street in their jammies, glow necklaces and bring their holiday cheer.
Maps are listed below for each night. You can also view an online Virtual Map of all nights as well. Times are from 6pm – 8pm each night
---
| | | |
| --- | --- | --- |
| Date | Neighborhood | Route |
| 12/2 | Harveston | Map |
| 12/3 | Winchester CreekSummerfield, Van Daele Signature, AmberwoodGreen Meadows, Monte Vista, Martinique | Map |
| 12/4 | Meadowview/Roripaugh Hills | Map |
| 12/5 | Serena Hills, Chardonnay Hills, VineyardVintage Hills, Villa Avanti, Villages EncoreHome Coming, Rancho Vista Estates | Map |
| 12/9 | Ridgeview, La Serena, Temeku Hills | Map |
| 12/10 | Villages, Alta VistaStarlight Ridge, Starlight Ridge SouthLos Ranchitos, Santiago Ranchos, Santiago Estates | Map |
| 12/11 | Rancho Highlands, HorizonsCountry Manor, Windsor CrestLake Villlage, Pujol StreetRainbow Canyon, Spanish Oaks, Wolf Valley | Map Part 1Map Part 2 |
| 12/12 | Paloma del Sol | Map |
| 12/15 | Paseo del Sol | Map |
| 12/16 | Crowne Hill, Sterling Ranch | Map |
| 12/17 | Wolf Creek | Map |
| 12/18 | Redhawk | Map |
| 12/19 | Vail Ranch | Map |
---

Visit Santa's Wine Country Workshop
On a carriage, drawn by elegant horses you and your family will visit Santa at his Wine Country Workshop.
This 12-15 minute private HORSE DRAWN DRIVE THRU experience is a one of a kind holiday excursion.
$65 for up to 6 guests
Ride includes a private horse drawn carriage ride and a visit with Santa.
Your own private group will be picked up at The Temecula Carriage House in wine country Temecula by private horse drawn carriage and taken to Santa's wine country workshop where you will get to see Santa and let him know what you would like for Christmas!
*Santa will be inside the open air gingerbread house and he will be working on building toys. As your carriage pulls into the gingerbread house you and your family will remain on the carriage at all times. Santa will remain at a 6 foot distance from the carriage and you and your family will be able to discuss with him what you would like for Christmas.

*12-15 minute private carriage ride is available for reservation
*Up to 6 guests on your own private horse drawn carriage is $65 ($65 is per carriage not per person)
---
Santa Arrives in Old Town Temecula at Penny Pickles Workshop – Cancelled for 2020
Santa's Holiday Hotline
If you can't visit Santa you can always give him a call. Call Santa's Holiday Hotline to hear a special greeting from Santa! Santa's Hotline: 951-461-6086
---
Santa at Temecula Town Center. Near Target and Home Goods. Santa will be available starting Nov 17 for pictures through Dec 24. Reservations and purchases are on-line and highly recommended. For visits scheduled after December 15-23, there will be a $20 non refundable deposit.
---
Breakfast With Santa- Cancelled for 2020
Start your morning with a tasty breakfast, carolers, pictures with Santa and a visit to Santa's Workshop. This is an annual family tradition for many! Register early, as space is limited! It is $7 per person and the event is with available slots from 8:00am to 11:00am
---
Donuts with Santa – Closed for 2020
Penny Pickle's Workshop – Closed for 2020

Murrieta Santa Stops –
TBD – Throughout the city of Murrieta you will find Stars on the street. This is where Santa and his helpers will be visiting the local children.
Letters from Santa – Annies Cafe on Jefferson Temecula
There are post boxes directly to Santa from December 1st until Christmas Eve so that your little ones can post their letters to Santa. The letters that were dropped off at Annies Cafe will get a personalized reply from the North Pole to pick up when they come in next time.
Visit Santa at Winter Wonderland at the Hotel Del Coronado
Ice Skating in Temecula, Movies & More!
Holiday Drive in Movies
Visit Old Town for a Holiday Drive-in Movie on Sunday, December 13th and Sunday, December 20th. Pre-registration is required for this event and details will be announced soon.
| Date | Movie |
| --- | --- |
| Sunday, December 13th | The Grinch |
| Sunday, December 20th | The Nightmare BeforeChristmas |
---
Peltzer Ice Skating Rink
November 23, 2020 – January 10, 2021
The farm is freezing over, y'all! Peltzer Ice Rink is BACK for its third season! With over 8500 square feet of ice, our rink can safely accommodate skaters during this Holiday Season! Tickets must be reserved ahead of time to ensure you get the skate session you desire. Check it out Here
---
Holiday market at Europa Village
November 27, 2020, through December 7, 2020
10AM – 5PM (Sun – Thurs)
10AM – 6PM (Fri & Sat)
Price: Free
Location: Prelude at Europa Village
Experience the magic of the season and celebrate a holiday tradition at Prelude! Join us for an enchanting holiday wonderland with their European inspired Holiday Market. Discover seasonal gifts and decorations highlighting European craftsmanship, nutcrackers, ornaments, décor, and much more!
FREE Cookies in Old Town Temecula
Every Monday – Thursday in December at 2pm – Santa's Helpers in Blue will be passing our FREE Cookies

---
Local Christmas Light Tours – Parades
Jingle Bell Horse Drawn Sleigh Rides- Temecula Carriage Co. will take you on a tour through more than 100,000 twinkle lights and holiday décor. 25-minute rides can be booked between the hours of 3pm and 9pm – December 1- December 29 – up to 4 guests on your private carriage $65. Reservations are subject to availability
Twas the Lights Before Christmas Bus Tour- Canceled for 2020
Take a double decker open air bus tour around Temecula – Enjoy holiday refreshments, corny jokes, and holiday cheer. Price is $10 per seat.
This Event Sells out Fast so Book it Early!
Santa's Electric Light Parade! – Canceled for 2020


Listen to holiday music, enjoy the lit up floats, grab some hot chocolate for the 26th anniversary of this classic Temecula Event
---
Christmas Tree Lots
Of course you can't fully Experience Christmas in Temecula or Murrieta without a fresh cut tree. Here are some great places to snag a tree this year.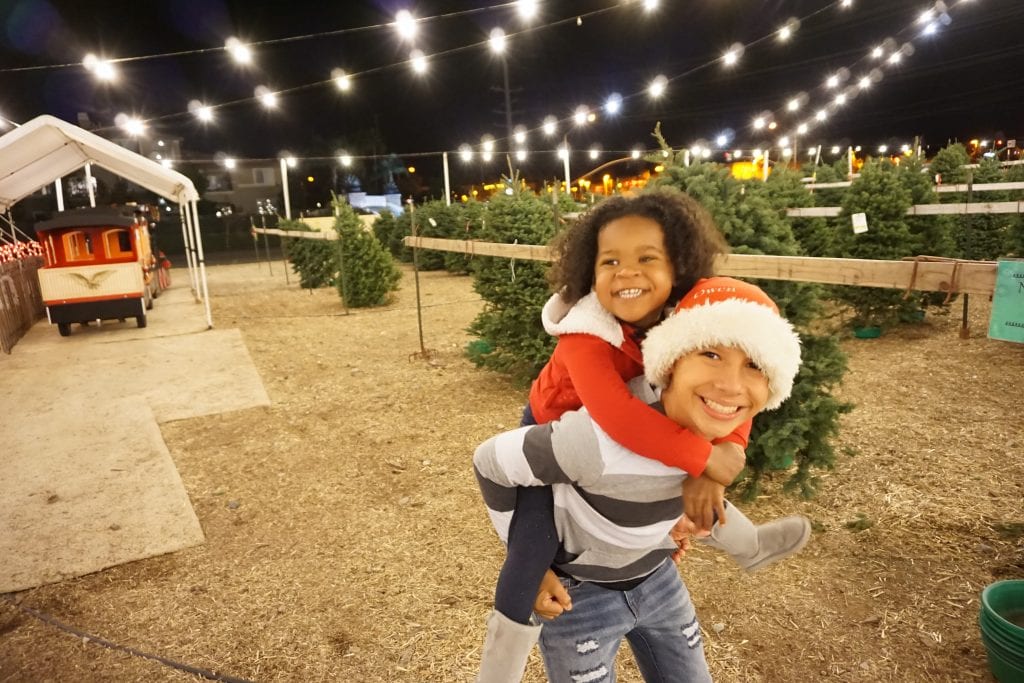 Bennett's Best Christmas Trees – 40727 Murrieta Hot Springs Rd, Murrieta, CA 92562
Moon Valley Nursery –

36705 Briggs Rd, Murrieta, CA 92563

Stu Miller's Christmas Trees –

38174 Murrieta Hot Springs Rd.Murrieta, CA. 92563

Wickerd Farm – (Cut Your Own Tree) 26852 Scott Rd, Menifee, CA 92584
---
Holiday Plays, Music & Musicals
2020 will obviously not have any live plays or musicals but we will update with any virtual showings we find.
---
NEW YEAR'S EVE!
We currently have not updated our New Years list for 2020, we will update them shortly.
1) NYE Grape Drop –
Location: Town Square – 41000 Main Street, Temecula, CA 92592
Come ring in the new year Temecula-style at our family friendly Grape drop! Friends and family of all ages are invited to the annual event on Sunday, December 31st, beginning at 6 pm in Town Square in Old Town Temecula! Join us and see our Temecula custom-crafted, beautifully illuminated cluster of grapes descend 65 feet from the third-story patio of the Civic Center tower clock. There will also be live music to dance to, a Fun Zone with activities for all to enjoy, such as hat making, face painting, and a giant slide! There will even be two countdowns, East Coast (9:00 pm) and West Coast (12:00 am), both led by city officials!
2) New Years Eve at Pechanga
Pechanga invites you to join them to celebrate the new year on another level! They are offering a number of events including comedy shows, fine dining, parties and more! Some featured events include NYE at Lobby Bar, Kelsey's NYE party, and The comedy club. You even have a chance to win a free car!!
Lobby Bar: Dueling Pianos Rockin Eve- Come in an enjoy dueling pianos for a very fun night. The event is from 10pm-2am. The presale tickets are $25 and the prices at the door are $35. They are available for purchase at 6pm on 12/31. Table reservations and VIP packages are also available.
Kelsey's NYE Party
Come dance 2018 away! Kelsey's will be having Grammy-winning producer DEEJAY CYFER spinning the Top 40 hits all night! . Tickets are $45 pre-sale and $55 at the door, including a light appetizer of hors-d'oeuvres and a Champagne Toast.
The Comedy Club
Tickets are $18 with a 2 drink minimum. It is now located at Kelsey's Loft
3) Wilson Creek Winery
Sunday, December 31 at 7:00PM to Monday, January 01, 2019 at 12:30AM
Whether you decide to celebrate East Coast or West Coast style, Wilson Creek have just the option for you! From a four-course wine paired dinner to a night of dancing. It will be the best place to ring in the new year!
5) New Years Eve Dinner & Events in Old Town Temecula
Throughout old town Temecula you will find a long row of restaurants offering up New Year's Dinner & Drink Specials. I recommend grabbing an uber into old town as the street will be quite packed.
Looking for more activities in Temecula? Check out my articles on-
THE BEST CATERING IN TEMECULA FOR YOUR NEXT HOLIDAY PARTY
THE COMPLETE GUIDE TO THE BEST BRUNCH & BREAKFAST RESTAURANTS TEMECULA HAS TO OFFER!
20 KID-FRIENDLY THINGS TO DO IN TEMECULA