Portland is known for many things – the coffee, Powell's bookstore, the roses, the food trucks, the Portlandia hipsters. But it would be remiss to leave out one exceptional part of the Portland landscape, and that is the donuts. Like Michelin-worthy, mouthwatering dough-nuts. You've probably heard of Voodoo (which, of course, has to be included in this list), but there is so much more than that. On our recent visit to Portland, I had to check out the Portland doughnut scene.  Because it nearly inspired me to open my own donut shop a few years ago…I still make a pretty delicious Creme Brulee Donut. Let's take a journey through the best donuts in Portland, Oregon, and I would be remiss without talking about some of their amazing ice cream.
The Best Donut Shops in Portland!

With flavors like blueberry bourbon basil or a hard apple cider fritter, we start this list off with my favorite donut shop around Portland (and there are several of them). Blue Star represents so much of what Portland is – locally-sourced ingredients, collaborating and supporting other local businesses, an eye for details and quality, as well as providing a gourmet donut eating experience for consumers.  We pretty much ordered every donut on the menu, but the highlights were definitely the Blueberry Bourbon Basil and the Lemon Poppy Buttermilk donut was unbelievable!
Voodoo Donuts is one of the most popular donut shops on this list. It's on every must-see list out there and most likely their will be a line waiting for you. However, we went at about 10am on a Friday with zero wait! Their trademark pink boxes can be found wandering the streets with hungry followers eyeing them for a taste. Walking into Voodoo, you'll notice the walls glitter, literally. I'm guessing it's sparkly paint.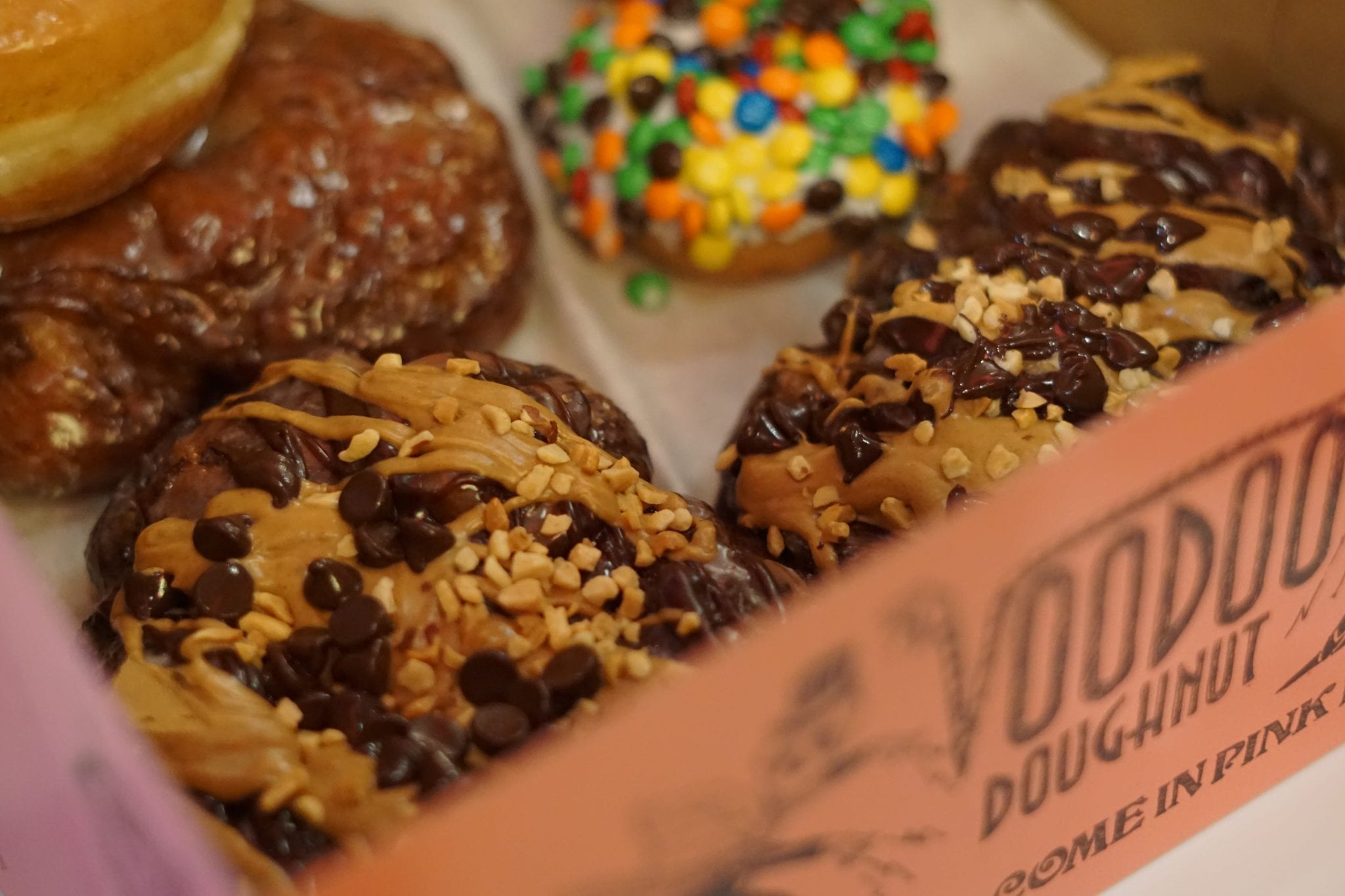 You'll find a wide variety of, shall we say, eclectic donuts. Fruit Loop donuts, anyone? Or maybe an El Diablos Rex is more your style with a pentagram included in the icing. I know you can order a casket full of donuts at their Universal Hollywood Voodoo location, but I did not see that at this locale. Overall, their are some incredible flavors, I think my personal favorite was the Memphis Mafia – Fried dough with banana chunks and cinnamon covered in glaze, drizzled in chocolate and peanut butter with peanuts and chocolate chips on top. Yummmmmy!
Pips.

Pips is the place to go if you're looking for elegant, yet minimal donuts and mouthwatering, house-crafted chai. Ella, really wanted to visit Pips, because she is Chai obsessed. Pips has a stand alone location in Portland but you'll also see Pips traveling around Portland hosting events in their retro food truck (not quite a truck, more like a hipster-cool van). With flavor profiles of drizzled raw honey, nutella, sea salt, and cinnamon, your taste buds will be delighted by these award winning doughnuts.

Coco Donuts- Best Classic Donut in Portland
Coco Donuts prides itself on being an experience rather than just another donut shop. They create those classic donuts (cinnamon sugar twists will always be my favorite) from my childhood, but paired with house-roasted coffee that doesn't disappoint – which is impressive in a city full of freaking awesome coffee. Coco Donuts is a place that guarantees consistency and quality, and you can even take home a bag of their whole coffee beans.
NOLA is the nickname for the city of New Orleans in Louisiana, for those who aren't familiar with the South. The NOLA Doughnut shop is a New Orleans-inspired cafe with jazz music playing, and sumptuous square donuts and beignets (oh, how I love beignets) waiting for you to devour them. It's difficult not to try them all in one go. The square donuts have a different texture than most donuts around here, with flaky layers stuck together making this a light yet decadent meal in its own right. The beignets are made to order, are coated in powdered sugar, and you can dip them in their house made sauces if you like (I chose marionberry).
Angel's Donuts and Ice Cream
Angel's Donuts is a locally-owned corner shop that is loved by those in the community.  While we did not get to visit Angel's Donuts, we had many locals claim that Angel's is one of the best and "where the locals go." You'll find all of your classic donut flavors here. As well as more throwback vibe than you might find with Pips or Blue Star. This is one of those shops that survives the tides of all of the restaurants and bakeries that open and close their doors over the years.
The Back To Eden Bakery isn't strictly a donut shop, but it wouldn't be fair to leave it off of this list. Back To Eden is a plant-based, vegan, gluten-free bakery that does serve donuts. (boysenberry and hazelnut is my favorite with it's rich pink icing). It also serves other incredible baked goods and desserts that embody what it is to be a Portlander. Even in a foodie city like Portland, it can be difficult to find places to eat for those who are vegan or gluten-free. Back To Eden fills that niche perfectly without lacking in quality, flavor, and originality.
Portland Ice Cream Shops
Salt & Straw
The king of ice cream in Portland is Salt n Straw and it is well deserved. Their ice cream is some of the most flavorful and creamiest ice cream you will ever find. You'll love their unique flavors and this will definitely be a highlight of your trip. The snickerdoodle taste like cinnamon toast crunch cereal. My husband loved the pecan and almond brittle ice cream.  My personal favorite was the salted caramel with caramel ribbon.
The Cookie Dough Cafe!
This little gem focus might be cookie dough. But, they have some of the best Ice cream sandwiches I have ever had in my entire life. Plus, their cookie dough it ridiculously good as well. Check it out here!
22 Below Rolled Ice Cream
Rolled ice cream is a Thai creation that rolls the ice cream over a freezing cold pan. At 22 Below, the ice cream rolls are made right before your eyes, and you can top them with an assortment of toppings including Nutella, Peanut Butter Cups, graham crackers and a hundred more.
Overall, what we found is Portland, really can satisfy your sweet tooth, whether you are in search of the best donuts in Portland, or whether you want some good old fashioned ice cream. The choices are endless and delicious.
Have Questions about Portland or know of another incredible Portland Donut Shop? Feel free to leave a comment or DM us on our Instagram Page!