Ever wish you could travel back in time and visit an old Hawaiian village? Want to know what their luau's actually looked like… did you know they didn't have fire dancers? Want to dine on an authentic Hawaiian meal? Then Old Lahaina Luau will knock your socks off!
Pin for later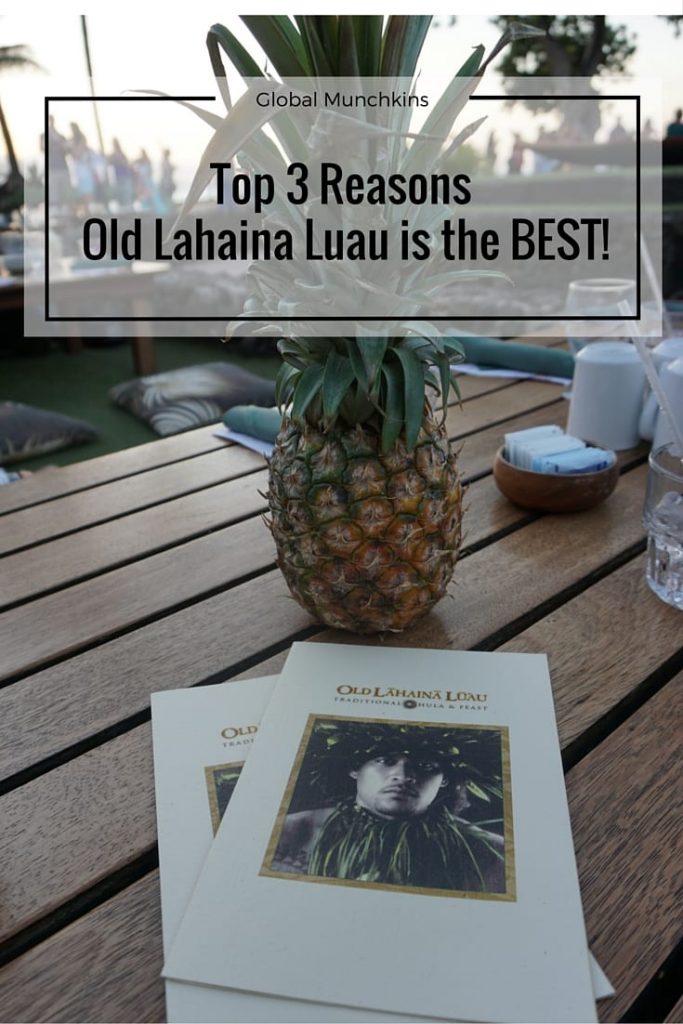 We were fortunate enough to visit Old Lahaina Luau on our recent trip to Maui. It was by far the most authentic Hawaiian luau experience we've ever had. As you know we travel to Hawaii on a yearly basis so trust me when I say that Old Lahaina Luau is truly one of the best. And, I'm not alone in my beliefs either as Old Lahaina Luau has tons of accolades including:  Six time recipient of the Hawaii Visitors and Convention Bureau "Keep it Hawaii" award, "Best Lu'au" Perennial winner of the Maui News, Zagat Survey Rated their Food: "Excellent", Service: "Excellent", Décor: "Extraordinary to Perfection". Not to mention being featured in such publications as National Geographic Traveler, The New York Times, Conde Nast Traveler, Travel and Leisure & more! There was SO many reasons to love Old Lahaina Luau but I've summed up my top 3 for you below:
Here are our 3 Reasons to Love Old Lahaina Luau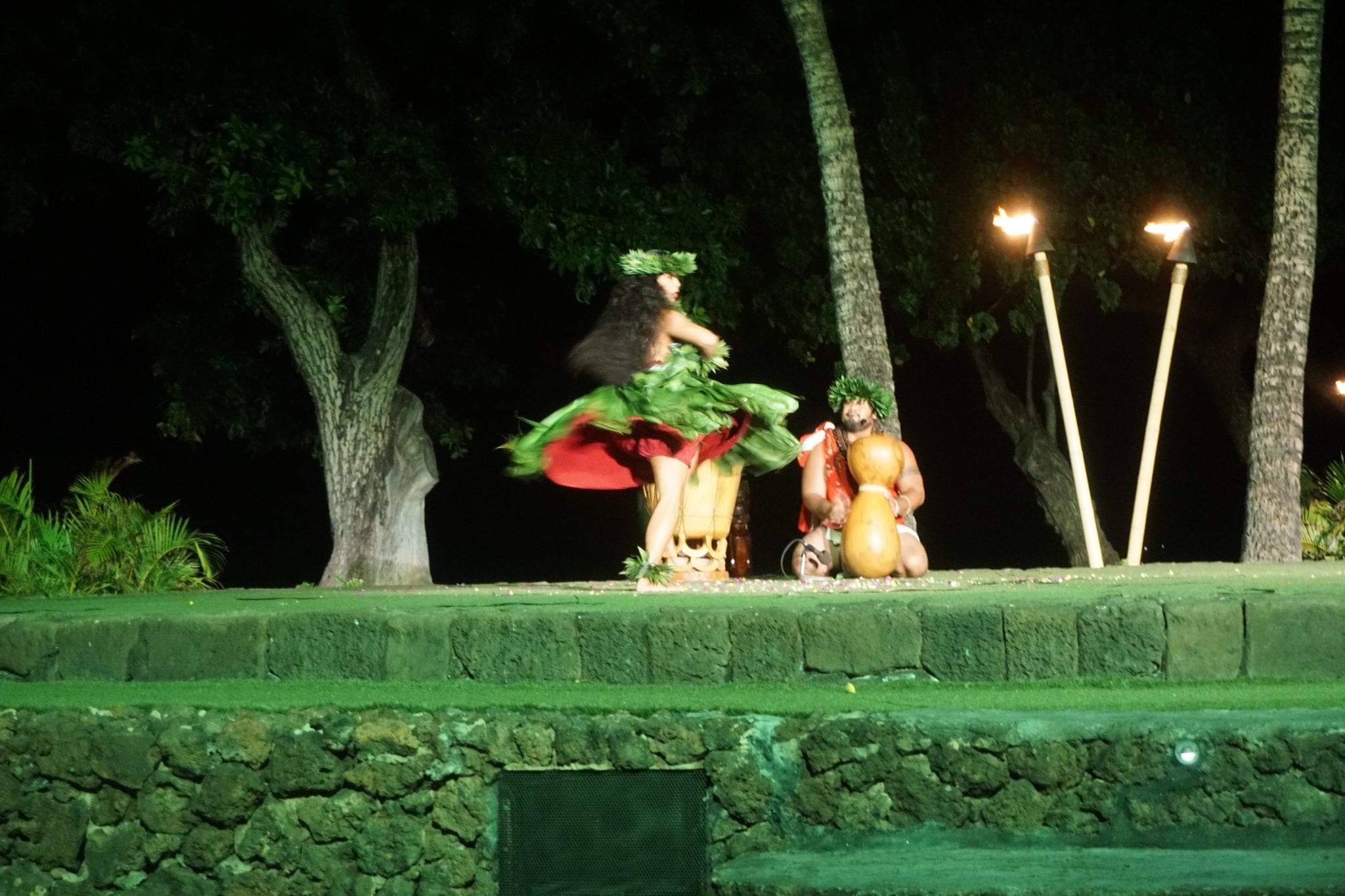 Authentic Hawaiian Experience
Upon arrival you might think Old Lahaina Luau is just like any other luau experience. You are greeted with leis, a drink and shown to your seats. But, as your greeter walks you back you notice things are a little bit different. Beautiful Hawaiian music is being played live by Na Leo Ho'oulu. You look past the musicians and notice there are carvers busy with their craft forming wood into gorgeous tikis along the ocean. The entertainers who are warmly greeting you are wearing leis made of authentic kukui nuts. When you arrive at your seats you are happy to have chosen traditional Hawaiian mat seating (conventional table and chair seating is also available) as you realize this gives you the best view in the house.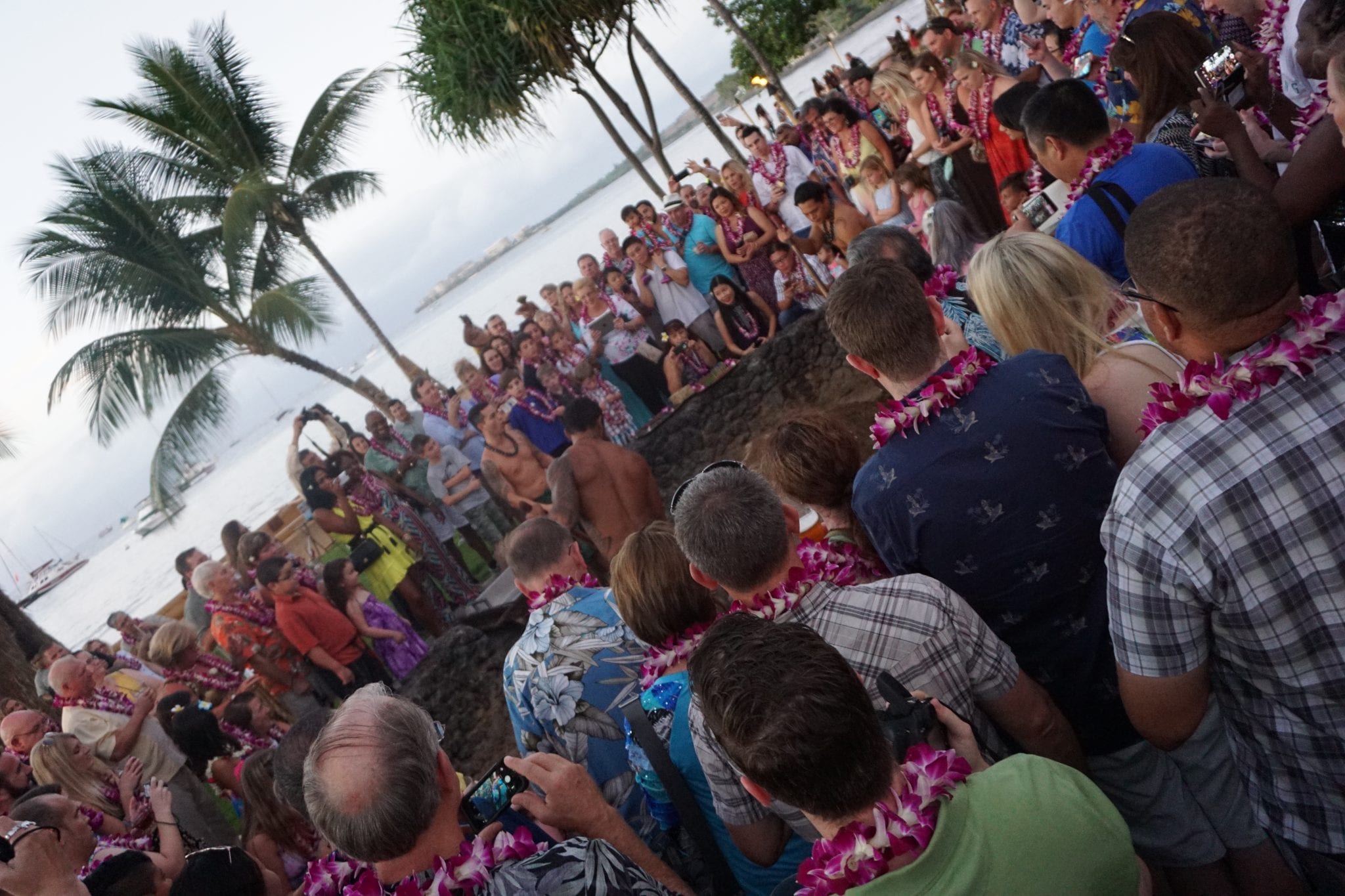 You check out your table then walk towards the crowd of visitors gathered around to watch the Imu ceremony as the kalua pig will be unearthed from the "Imu", a traditional Hawaiian underground oven. Not too long after that the conch horn is blown and it's time for the show. This is where Old Lahaina really stands out. Their production takes you through the actual Hawaiian history . Witness each phase from the early Polynesian migration, to ancient Hawaiian hula and then finishing with the more modern contemporary style Hula. We learn about royal Hawaiian history, which contributes greatly to the culture they enjoy even to this day, leading all the way up to Hawaii's being brought into the United States. The presentation is equally educational as it is entertaining. Even our 2 year old was wrapped up in the show the entire night. Impressive because she has zero patience usually.
She was far from the only person riveted by the lively entertainment, white featured live music, hula dancing, and so, so much more! It is worth noting that fire dancing is NOT part of the luau because it is NOT part of actual Hawaiian tradition.
The show gave us a hula lesson, showing us traditional hula kahiko dancing, modern hula auana dancing, and Tahitian dances as well. My kids were inspired by the lesson and tried inventing their own interpretations of hula dancing after the show. I'm not sure if it'll catch on and become a new island tradition, but I was a fan!
The folks at Old Lahaina Luau make it abundantly clear from the jump that the tradition of "luau" means embracing one another as family and sharing the festivities together. They are among the warmest, kindest, most welcoming people we've ever met!
The FOOD!!!
I LOVE food. I love to make it and I love to eat it. Rarely am I impressed with large group/ buffet style meals though. I feel like it's always quantity over quality and that's not what I am looking for. So to say I was pleasantly surprised by the abundant spread at Old Lahaina Luau is an understatement. I was thrilled!!!
This is one of the best luau buffets I've ever experienced. Similar to other luaus they release you by table to avoid too long of a queue. They offer a variety of cuisine and you can go back up as many times as you would like… our kids loved this.
*TIP- Traditional Hawaiian mat seating is taken up to the buffet first
Take a look at their menu on their website:
"Traditional Hawaiian cuisine includes: Pua'a Kalua (Kalua Pig), Lau lau (Pork wrapped in Lu'au leaf steamed to perfection), Poi, Poke 'Ahi (marinated raw Ahi tuna), He'e Poke (marinated cooked octopus/tako), Big Island Sweet Potato, Pipi Ko'ala (Grilled beef steak), Chicken Long Rice, BBQ Guava Glazed Chicken, Maui Style Fish (Chef's special preparation). Stir Fry Vegetables, Local Style Fried Rice, Island Crab Salad, Pohole Salad (fern shoots), Lomi Lomi Salmon, Banana Bread, Fresh Island Fruits, Assorted Island Desserts, Freshly baked Palaoa (Dinner Rolls)."
*menu subject to change
My favorites were the Island Crab Salad, Lomi Lomi Salmon, Big Island Sweet Potatoes (they were purple- how fun!) and the banana bread with a homemade whipped guava butter (pictured above). Heavenly!!!

Oceanfront Location
Can we be honest for a minute… when you pay to travel all the way to Hawaii you don't want to be on some random grass lawn for a luau right? You want to be sitting facing a stunning ocean view and watching the sunset mai tai in hand in said location. Can I get a "Hey, Hey"!!!
Well, you're in luck because that is EXACTLY the case at Old Lahaina Luau. I couldn't get over how gorgeous their location was. I took a ridiculous amount of pictures both on my own and with their fantastic professional photographers because it was just too gorgeous not to.
BONUS
Cocktails Included!!!
Unlike most luau's I've been to Old Lahaina Luau has a premium open bar that is included in your ticket (no additional fee) and it's open throughout the evening. They had delicious blended drinks such as the Lava Flow I enjoyed. And, my husband and his sister said their Mai Tai's were the best they've ever tasted. They even blended up virgin drinks for the kids which they thought was a real treat!
Overall
You really can't go wrong by choosing Old Lahaina Luau as a place to visit on your next trip to Maui. You get an authentic Hawaiian experience in a gorgeous setting. Just picture yourself drink in hand sitting on your cozy Hawaiian mat watching an amazing sunset. As the sun finally sets you hear conch shells being blown and the stunning Hawaiian dancers parade out providing great entertainment while you chow down on some of the best Hawaiian food on the island. I highly recommend the Old Lahiana Luau as it is one of my favorite experiences on Maui.
I almost forgot to mention… you get a parting gift as you leave of their AMAZING banana bread. A mini loaf for each person- I think they do that because they know its too good to share.
BUT WHAT ABOUT THE FIRE DANCING?
Thanks to our friends at the Old Lahaina Luau, we don't need to visit a Polynesia cultural center to learn that fire knife dancing, the spectacle that attracts so many tourists to visit Hawaii and luaus in the first place, is NOT an authentic Hawaiian tradition. Old Lahaina Luau prides themselves on providing entertainment and education, dispelling this and other myths of Maui luau traditions.
Since Old Lahaina Luau is a true, authentic ceremony that demonstrates age-old traditions of Hawaiian culture, the fire knife dancing that attracts so many tourists to the islands is specifically left out since it's more of a Samoan tradition rather than Hawaiian.
If you're looking to get this kind of experience while in Hawaii, there are other luaus that cater to this. However, if you're willing to forgo this feature, it's well worth it to enjoy the Old Lahaina Luau. Then again, there's no rule about attending too many luaus. You're on vacation, after all!
KO MOANA
The Ko Moana Luau is located in Waimanalo Beach on Oahu, and offers beautiful oceanfront views, traditional hula dancing, and fantastic fire spinning that starts and finishes the award-winning show. You'll receive complimentary flower leis and shell leis along with an encouraging smile, a joyful "mahalo", and a sincere invitation to embrace Hawaiian culture.
It doesn't hurt that the food is excellent as well, featuring a bread pudding you will scour the intercontinental United States trying to find something anywhere near as good. Spoiler alert– you won't! It's just too darn good here!
If you're on Maui, you'll need to take a boat or plane to get to Oahu to enjoy this one. Once there, however, you'll also be a short drive from the Sea Life Park, which provides up close and personal encounters with some of Hawaii's famous marine life!
PARADISE COVE LUAU
Nestled near the picturesque Ko Olina, you'll find the Paradise Cove Luau which offers a great selection of savory and sweet cuisines and top-notch entertainment. Take in the sights and sounds of the ocean, the island breeze, traditional Hawaiian music, and all sorts of other Hawaiian essentials.
Oh, and you'll get that iconic fire dancing here as well.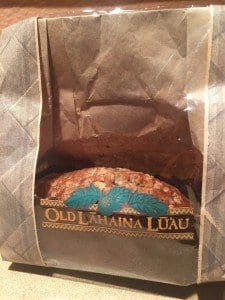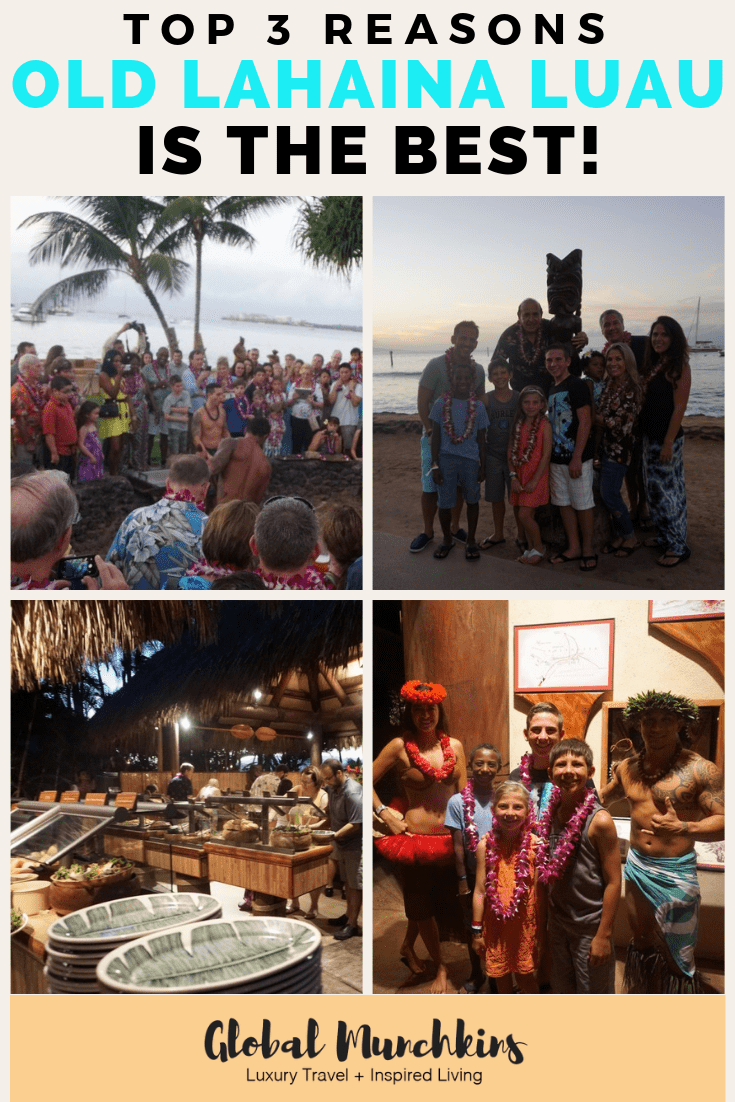 For more information or to make a reservation visit
Check Out our YouTube Channel for more:
*A big thanks goes out to Old Lahaina Luau for hosting the munchkins on our recent visit. My thoughts and opinion, as always, is completely my own.
Latest posts by Mama Munchkin
(see all)