If you follow us on Instagram you are probably pretty familiar with our Weekly Chore Challenges so it probably comes as no surprise that one of the most frequently asked questions in our DMs is "what are age-appropriate chores for kids of "fill in the blank" age". So, today I am breaking it down for you plus sharing some reasons why chores are actually great for both parents and kids.
As parents we don't have time to do everything—we can't cook and chauffeur and work and pick up after everyone all the time. What's more, having our kids help out with age-appropriate chores can help them feel important in the home and teach them life skills like responsibility, self-reliance, and work ethic.
From a young age, children can do small, easy chores. Getting your kids started with chores early into their childhood will get them in the habit of helping out around the house. By the time they are teenagers, your kids will be able to do almost any chore and will have an easier time transitioning into adulthood.
The key is to select age-appropriate chores for your kids. Choosing chores that are within your children's grasp will make them feel more willing to help and more satisfied with their work. Start by showing your kids how to do simple chores when they are young and gradually teach them more difficult chores as they get older.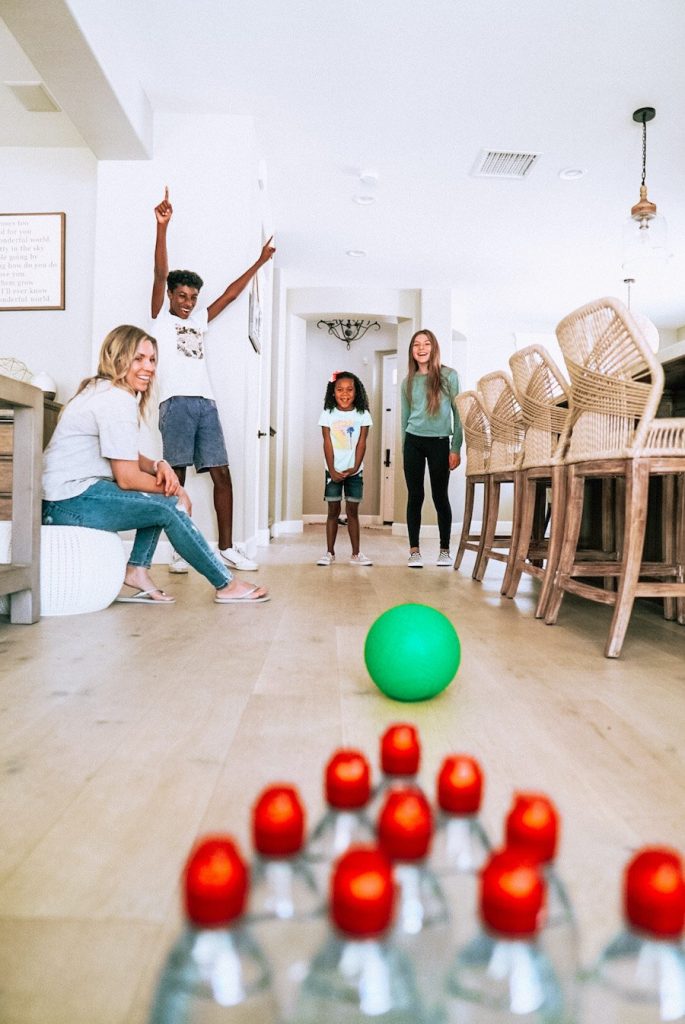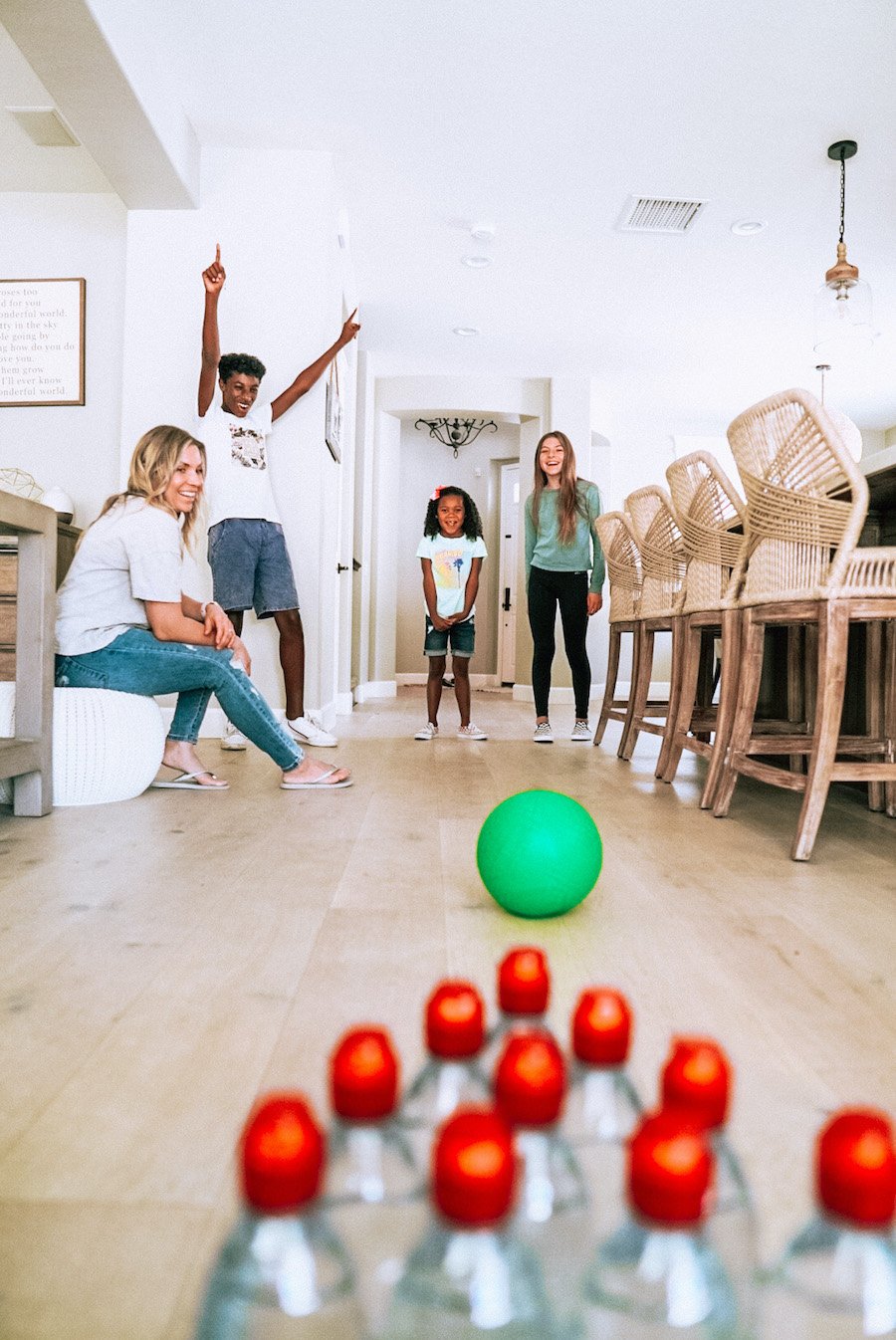 Here are our recommended chores for children aged two to eighteen:
Age-Appropriate Chores for Kids 2-18 Years Old
Toddlers (2-3 years old)
Yes, your little ones can perform small tasks around the house. Plus, having your children start with chores at a young age can help prevent later resistance to doing chores as they get older. Toddlers love to imitate those around them. More likely than not, your small humans will be thrilled at the prospect of helping their parents, caretakers, or older siblings.
Of course, at this age, you will have to spend some time guiding and supervising your kids. Be patient with your toddlers, even when aren't doing things "right." I promise that this investment of time will pay off in the long run.
Here are some chores that toddlers can handle with supervision:
Pick up toys
Fill up a pet's food/water bowl
Place their dirty clothes in the hamper
Dust surfaces with clean socks on their hands
Pile up books/magazines on low shelves
Help make their beds
Help clean up spills
Preschoolers (4-5 years old)
Preschoolers continue to copy those around them and love to help their parents. Children can start to do some 4-year-old chores without supervision. Usually, these chores are the ones you taught them to do as toddlers. Their hand-eye coordination will have improved by this age, and they will be able to follow more complicated instructions.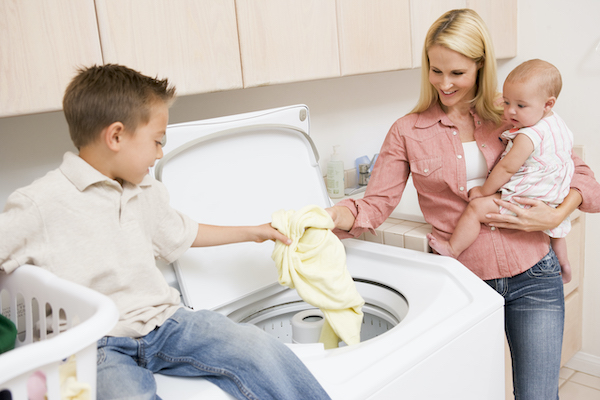 While toddlers usually need to be guided through a chore step-by-step, preschoolers can usually remember two to three steps before needing further guidance. You might discover that your kids are naturally gifted at certain tasks. Pay attention to these strengths and make sure to compliment your children on a job well done.
In addition to the chores above, preschoolers can help with these tasks:
Clear the table with supervision
Vacuum crumbs with a hand-held vacuum
Put away clean silverware
Water plants
Wash plastic dishes with supervision
Clean their room with supervision
Help an older sibling set the table
Help carry light grocery bags
Sort laundry into whites and colors
Match socks together
Dust with a cloth or duster
Hang towels in the bathroom
Elementary Schoolers (6-9 years old)
At this age, children can begin to take on more responsibility with less supervision. They will be able to remember multi-step chores and their coordination will have improved. Your children will be able to read at this age as well, and you might consider making a household chores list for them to refer to.
Elementary schoolers are more independent than preschoolers. They might begin to rebel against doing chores. Remain patient and firm. They'll eventually understand that you still expect them to help around the house. You may find that some kids don't ever resist their chores. This will largely depend on your children's personalities.
In addition to the chores listed above, elementary schoolers can do these chores:
Fold the laundry
Make their school lunch
Prepare their own breakfast
Rake up leaves
Clean their rooms without supervision
Put the groceries away
Sweep the floor
Scrub the table
Load/empty the dishwasher
Vacuum
Help prepare supper
Take the dog for a walk with supervision
Preteens (10-13 years old)
Kids 10-13 years old can do a lot of chores on their own. Preteens need fewer reminders and can be held responsible for tasks. Making a household chores list or chart can be really beneficial at this age. Having a physical list can help your kids visualize their tasks and is a good way to hold them accountable.
In addition to the chores listed above, preteens perform these tasks:
Wash the car (at home of course!)
Prepare easy meals without supervision
Keep their room clean
Use the clothes washer and dryer
Take the trash bins to the curb
Wash the dishes without supervision
Take the trash out
Babysit siblings with parents at home
Clean the bathroom with supervision
Wash clothes
Mow the lawn with supervision
Full-fledged teenagers (14+ years old)
Once your kids are in high school, they can do almost any household chore. Whether we like it or not, adulthood is just around the corner for our teenagers. This is a crucial time to ensure that your children are prepared to live in and maintain their own spaces in the future.
That being said, not all children move out at 18. More and more, children are choosing to live with their parents while going to college or saving up for their own house. If your child does stay with you past eighteen years old, you'll be thankful for the continued help they provide around the house.
In addition to the chores listed above, teenagers can help with these tasks:
Make dinner for the family
Help deep clean the kitchen
Clean out the fridge
Clean the bathroom
Mow the lawn
Walk the dog
Iron clothes
Yardwork
Babysit younger siblings
Go shopping alone (with driver's license)
Maintain the car they drive (i.e. gas, oil change, car washes, etc.)
Frequently Asked Questions about Age-Appropriate Chores for Kids
How early can I get my kids started on chores?
You can start giving your kids chores when they are two years old. Remember, they don't have to be big chores (honestly, they can't be at this age) and your children might not execute chores to perfection. The idea is that your children start getting used to helping around the house at a young age so that chores are a habit instead of a surprise when they're older.
What if I didn't think to give my kids chores until they were older? Am I too late?
It is never too late to get your kids started on chores. However, you might be met with more resistance than you would've had you started earlier. At later stages, you might have to rely on incentives and/or consequences to help motivate kids to complete their chores.
How do I know if certain chores are age-appropriate for my kids?
7-year-old chores look a lot different from 14-year-old chores. You know what your kids can handle better than anyone. And there's always trial and error. If you are uncertain about how your child will handle a new chore, supervise or check in while they do it. If you realize that your child isn't ready for a certain chore, you can shelve it until they're older.
How do I make a chores list?
A chores list can be as simple or elaborate as you want it to be. You can go for the classic bullet-point list or make things fancier with a graph or chart. Consider using a sticker system (great for little kids) or list the price you're willing to pay for extra chores (great for older kids). You know better than anyone what your kids will respond to and can always switch things up if need be. 
Takeaways
Our kids can be a real help at home. Children as young as two years old can start helping out with small, easy tasks. Make sure that the chores you assign are age appropriate—scale tasks up or down as you see fit. You'll find that doing chores will help teach your kids valuable life skills and prepare them to be independent and considerate adults.
If you enjoyed our list of age-appropriate chores for kids, you might also like:
TEENAGE CHORES – OUR TRICK TO GET OUR TEENS EXCITED ABOUT CHORES.
Pin for later