There are some things about my life that I just find unbelievable. I am talking "someone pinch me because this cannot be my kind of life moments'- receiving a coveted invite to Oprah's Favorite Things is definitely on that list! So, today I am sharing all the goodness that happened during my quick trip to NYC including sharing some of my favorite gifts that I was able to come home with. If you haven't already I highly suggest you head over to OprahMag.com to check out ALL of Oprah's 107 Favorite Things right now. I promise you will find something for everyone on your list!
I Was Invited to Oprah's Favorite Things!!! Now I'm spilling the details…
A Peek at the Event- Oprah's Favorite Things
One of my FAVORITE things about being a #OMAGInsider is the incredible women it has brought into my life. Leave it to Team Oprah to find & bring together the most charismatic, kind-hearted, accomplished, driven, generous, positive humans on the planet. Spend a few minutes with our amazing leader, Cara, and you would understand how this is all possible- she's INCREDIBLE!!!
Oprah's Favorite Things is obviously a HUGE deal so they flew in quite a few of us for the event. It was so amazing to get to meet so many of my OMAG sisters. I can't even explain to you the energy in the Hearst Tower lobby the night of the event- it was O-mazing!!!
Walking into the event I had to take a moment, it was just too surreal. I have been an Oprah fan since I was a little girl, every day I would come home from school to my mother watching her show. A flood of happy memories rushed into my brain as I recounted all the years of my mom and I watching Oprah announce her Favorite Things on her TV show- and, now I was here!!
As I walked into the room I was greeted by waiters passing around delicious bites. There was a bar serving Adam's favorite drink- a Pink Panther which happened to feature Oprah's favorite Tequila (more on that later). Happiness and joy filled the room as people chatted and took pictures- most of us in disbelief we were actually there.
It all was made real when Gayle King and Adam Glassman walked in and YES they are actually as sweet and kind as they appear on television. We snapped photos as they toyed around at the photo booth and then we all took our turn trying to be as cute and funny as they had. Then it was time for the show to begin.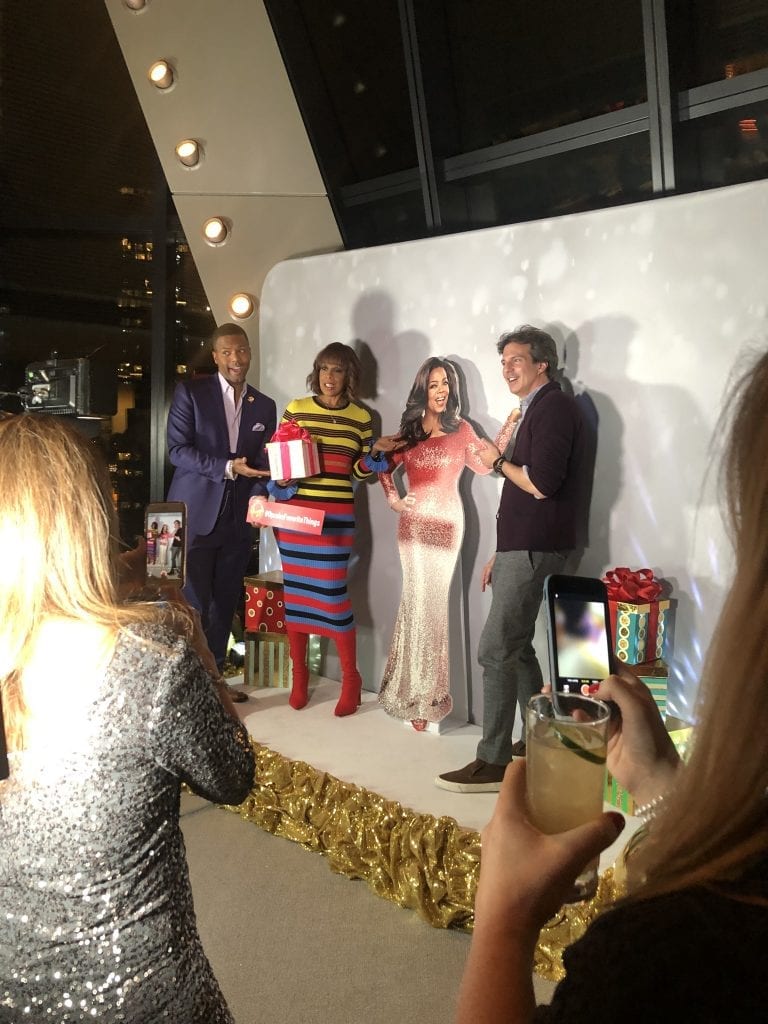 I am pretty sure I had a stupid smile plastered across my face the entire evening. I just couldn't get enough of Gayle and Adam's banter combined with the anticipation of what O-mazing gift Ms. Oprah had in store for us underneath those beautifully packaged boxes. Plus, every few minutes ELVES appeared gifting us with some of the items we had just seen. I felt like a little kid on Christmas morning- IT WAS INCREDIBLE!!!
I was seriously so sad when Gayle and Adam finished. I didn't want the night to end but alas it was coming to a close. I snapped a few more photos and tried to soak in the entire room, the smell of all the yummy treats, the view from the Hearst Tower with all the sparkling NYC lights down below and said my goodbyes.
OFT Swag Bags
Of course, Oprah wasn't going to send us home empty handed though. I came home with bags of amazing gifts straight off Oprah's Favorite Things list. I could barely stand up straight with all the weight- check it out! And, in heels mind you- ha!!
My Top Picks from Oprah's Favorite Things
Story Bikes Electric Step-Through Bike- You can buy it here. This would be a TOTAL SPLURGE but OMG isn't it the cutest bike ever. I love the basket!! and save 10% with code OPRAH.
iPhone XR- I am a sucker for anything that makes my life simpler and this phone does just that! In fact, I find myself leaving my DSLR at home for some of my events because the camera is just SO good on the phone. Another bonus for boss babes is that this phone can support two numbers meaning you may not need to have a separate work phone- woot! woot! Check pricing and learn about more features here.
Apple AirPods- I thought my son was a fool when he asked for these last Christmas, turns out it was me that was foolish bc I could not live without my AirPods. They are so convenient and perfect for flights and listening to my favorite Podcasts while I work. Order yours here.
Behind the Scenes at O, Oprah Magazine- Office Tour
The O-Mazing team at O, The Oprah Magazine is always super gracious about allowing the #OMAGInsiders to tour their office space whenever we are in New York. It is super exciting because the office is located inside the famous Hearst Tower- which has an INCREDIBLE view of NYC and, even more importantly, the Oprah Magazine staff are some of the most wonderful people I have ever met.
Cara is the tour guide and she has a wealth of knowledge about the Hearst Building and the operations not only at O, Magazine but she also knows a bunch of fun facts of some of the other magazine titles that also have offices at Hearst as well.
Ella and I visited the OMAG offices back in October when we were in New York with Adventures By Disney but I wasn't going to pass on the opportunity to tour again with my fellow OMAG sisters.
The closet tour is always exciting because we get to see some of the behind the scenes that Adam Glassman and his team are working on for upcoming issues. We also get to see some of the outfits, Ms. Oprah, herself will adorn on future covers. She actually has a section of the closet reserved for just her clothing items. Around the corner is the real good stuff- jewelry, shoes, and purses GALORE!!!
After drooling over all the gorgeous shoes we said hi to a few editors and then went to check out this view. I mean, seriously, I would never get any work done if I had a view like this to stare at all day. It's just so pretty!!!
Below is a photo of all of us OMAGInsiders who were touring the office that day along with Christine and Cara there in the middle from Oprah Magazine. Such a wonderful group of women, I feel so incredibly blessed by their friendship.
We got to see some sneak peeks of the December issue, no photos were allowed sorry and then it was time to go. But, I couldn't leave without getting the obligatory magazine cover wall before I left 😉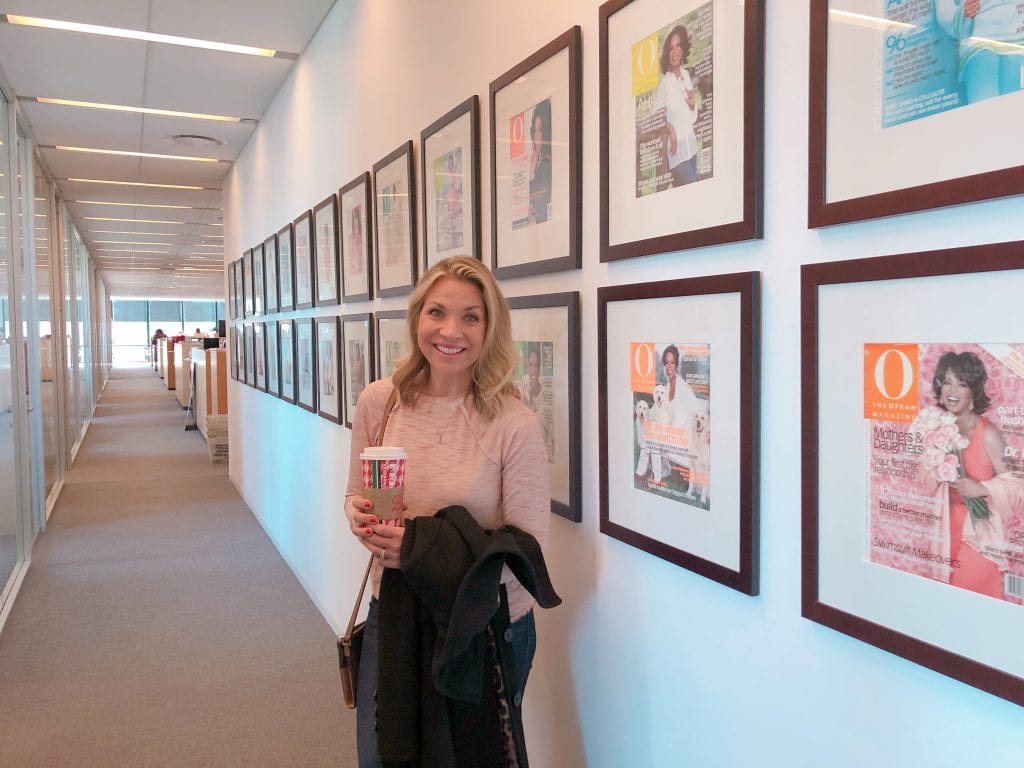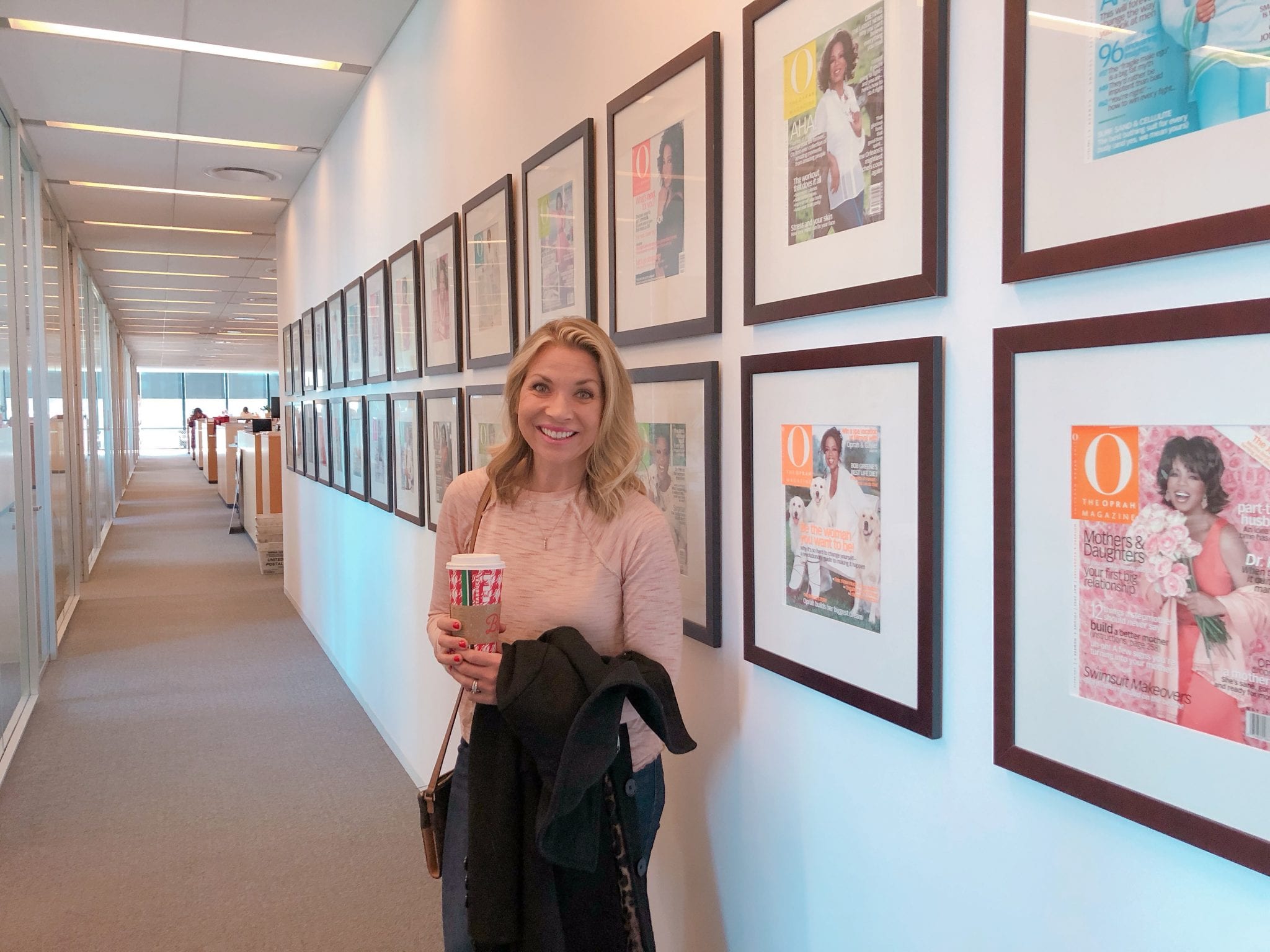 As you can guess I walked away with a giant grin plastered across my face for the rest of the day. I'm definitely living my BEST life!!!
Have you checked out Oprah's Favorite Things List this year? Share your favorites in the comments below.
*Disclaimer- I was a guest of Oprah Magazine as part of my #OMAGInsiders Ambassadorship to Oprah's Favorite Things event. However, as always, all thoughts and opinions are 100% my own. Also, this post contains affiliate links.
Latest posts by Mama Munchkin
(see all)