Life as a mom, well… it's chaotic. I recently came across Erin Condren planners and she makes the Best planners for moms. My planner seriously changed my life, I'm totally not kidding either. I was gifted a planner by my mom a few years ago and itis seriously one of the BEST gifts I have ever received. It brought order and peace back into my crazy busy lifestyle. I am now going on my 4th straight year of using Erin Condren Planners. Check out the three reasons I think the Erin Condren planner makes the BEST planners for moms, plus 3 other solid choices.
3 Reasons I Love Erin Condren's Mom Planner
I'm busy, like insanely busy! I am a mom of 5 kids, I run not one but four businesses with my husband, plus I try to sneak in time to hang out with my friends and family, keep up with the house, run the kids to and from sports and appointments… you get it! So, I need organization in my life to keep me sane. The trouble is I have tried spreadsheets, big giant desk calendars, chalkboards, my phone, you name it, but nothing really worked until I found the Erin Condren Planner. These planners are different than any other planner I have ever owned. I could literally list tons of reasons why their planners are the BEST planners for moms, but because you're a mom, I know you don't have time for that. So, instead, I will give you my top three reasons Erin Condren Planners are the BEST planners for moms hands down!!!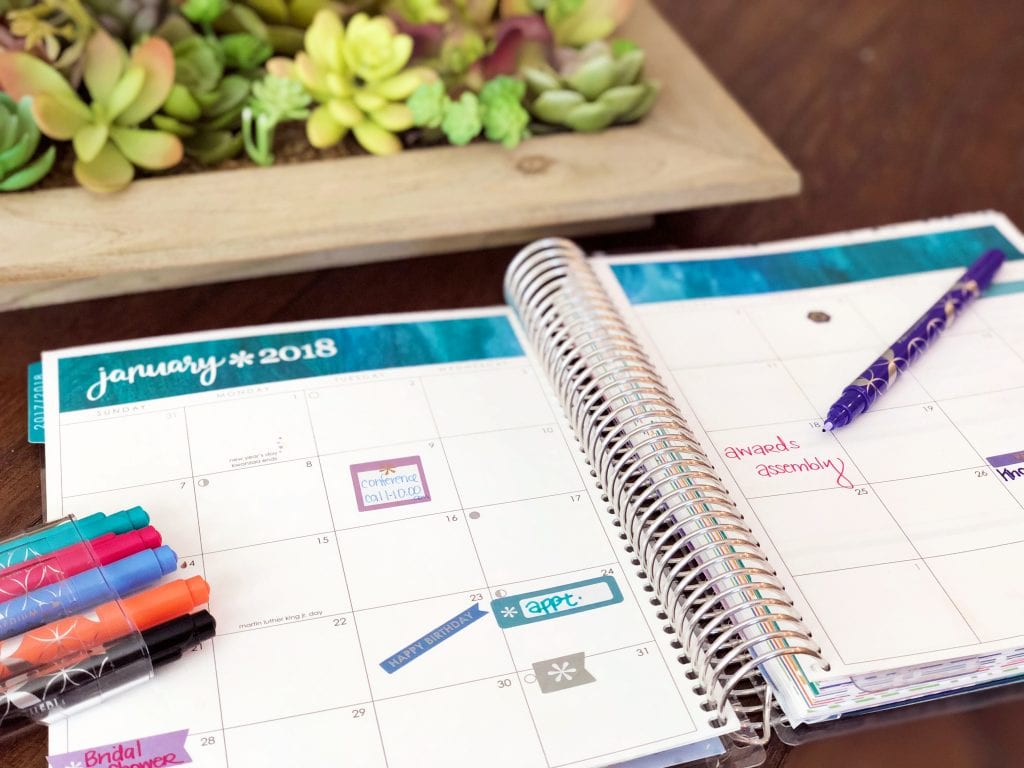 1) Erin Condren Planners are Practical + Inspiring
Gone are the days you need two planners to manage work + homelife. With Erin Condren planners you have everything you need all wrapped up in one gorgeous binder. There are calendars, day planning sheets, inspiring quotes, pockets, note pages, goal-setting areas, coloring pages, gorgeous stickers and so much more.
I feel like prior to owning a LifePlanner I really struggled to find a planner that balanced both the need for practical pages like calendars and notes while still looking pretty and having fun things like inspirational messages and places to write down and track your big life goals.
I love being able to not only look forward using the inspirational messages, but also to look back towards the end of the year and see how much I accomplished. Especially as a mom, I often feel like I am not succeeding, this planner helps me look back and realize how much I accomplished.
2 Erin's Planners are Completely Customizable
I also love that you can completely customize your planner at Erin Condren. When you choose the LifePLanner you have the option to choose between weekly planning layouts (both hourly, vertical and horizontal layouts available), a color scheme, you can customize your cover & choose the color of your coil too; there are just so many ways to plan your days! I also love that you can personalize your planner with your name, initials, or a fun saying.
source: Erin Condren
3 These Planners Nourish a Women's Need to Be Creative
I feel like most women appreciate pretty things. I know I do! And, one of the reasons I think Erin Condren planners are the BEST planners for moms is because they recognized this key element and found ways to weave in gorgeous colors, inspiring messages, coloring pages, fun stickers that nourish a woman's creative nature. I wouldn't even consider myself a super crafty girl but that said I can tell you that I absolutely love utilizing the fun stickers to mark special dates or to serve as reminders. I don't even know what it is about it, I guess it is just fun and couldn't we all use a little more fun in our lives?? Check Erin Condren Prices Here!
BONUS
source: Erin Condren
Another reason that Erin Condren sells the BEST planners for moms is that she is a MOM! And, a kick a$$ girl boss too. I mean just check out this article from Women's Day about How Erin Condren went from Stay-at-Home Mom to Multimillion-Dollar Business Owner, pretty incredible right?
Find Erin Condren on Amazon too-
Other Great Mom Planner in 2020!
Bloom Daily Planners are pretty versatile and can really help a mom stay organized. This is a great planner for moms. It's a perfect size: not too big or too small. The first section before the calendar starts is all about setting goals which I initially wasn't planning on using but it's actually been really helpful.
They give you a sheet of fun stickers to decorate your days. In the weekly spread, I love that they give Sunday the same amount of room as the rest of the weeks. I hate when other planners squish the weekend together into one space. Sorry, but us mom work 7 days a week, and Bloom Daily Planner gets that. The pages are a decent thickness. I mostly just use pen and coloring pencils but you could use markers lightly. I love how affordable this planner is compared to a lot of other popular brands. You get a good quality planner without breaking the bank. Check Current Prices Here!
Happy Planner 2020
Pros: This planner has each undated month on a 2 page spread, and then 5 weeks of vertical daily plan pages, as 2 page spreads. They are not hourly but broken into three unlabeled sections. The last back page of the final week is a page for notes with sections labeled "Currently this month", "goals", "birthdays", "notes", and "important dates". I love the colors, the divider pages, the 2 magnetic bookmarks. Look at the backside of the box. Everything pictured is what you get, and all you get. In the store there are other 12 month planners sold alone that have several note pages, but then not the stickers and bookmarks.
Cons: There are no pocket folders or other planning pages, with the exception that on the backside of the last unlabeled month tab is one "notes" page.
I would give this planner 4 stars! Each month has a spot for notes, goals, and then a journaling page to reflect on the past month and prepare for the next. It even has a sticker page to mark appointments and other plans. Such a great planner, exactly what a mom would be hoping for and then some.
What Elements Create the Best Moms Planner in Your Eyes?
You Might Also Enjoy:
I'm NOT Mom Enough and I'm totally okay with that!
The Stay at Home Mom Schedule to Make you a happier Mom
Pin it for Later-
*Disclosure- This page contains Amazon affiliate links which means a tiny percentage of your sale will come to me to help me bring you more awesome content. It does not in any way change your sale price.