You've researched and planned, saved up all of your cash, and now you are on vacation and YOU DON'T EVER WANT IT TO END. Well, what if it didn't have to? What if your vacation memories could be captured by a professional photographer and live on forever? Introducing my new favorite vacation souvenir, meet Flytographer. *Make sure to read through to the end, there may be a GIVEAWAY in store for you ((hint…hint)) 😉
The BEST Vacation Souvenir You'll Ever Buy, I promise!
How do you hold onto those magical vacation feels? Those exuberant, blissful, vibrant emotions of total elation that happen when you disconnect with the world and truly live in the moment with your family on vacation? You hire Flytographer to capture them!
Candid Shots of the Whole Family- TOGETHER!
How many times have you come home from a trip and looked through all of the hundreds of photos you took only to notice that you have ZERO shots of everyone all together? For me, that happens every S.I.N.G.L.E. T.I.M.E. We may have a few decent photos of the kids, maybe even one with either my husband or I in it if we are lucky. But, NEVER of our whole family together. But, our recent Flytographer, Natalie, was able to capture all of us TOGETHER on our recent trip to La Jolla AND not only are we together but the quality of these photos are AMAZING!!!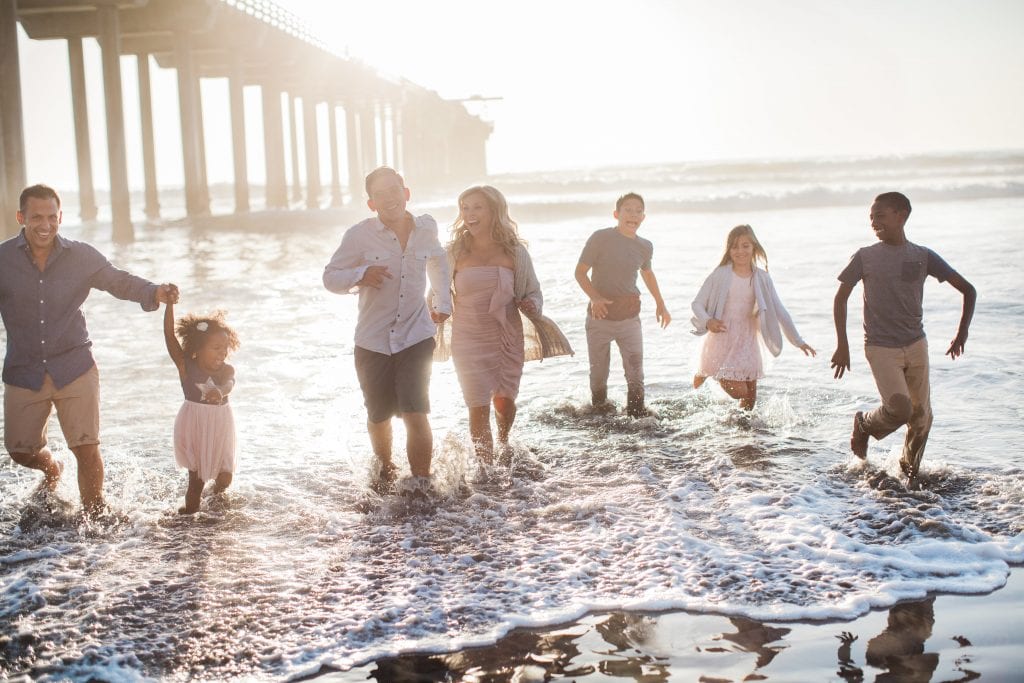 What is Flytographer?
Flytographer is a curated community of over 400 professional photographers in over 200 cities worldwide. In fact, they are literally on every continent, besides Antartica, so chances are wherever you are traveling you can find a Flytographer to capture your memories for you. Check out all of the destinations you can find Flytographer in here.
Get Started… it's easy!
1 Book Your Flytographer Shoot
Simply log onto the Flytographer Website and select your destination. Then choose your photographer. *You are actually able to see each local photographer's gallery allowing you to choose one that matches the photographic style you desire. 
Next, you are contacted by the Flytographer Shoot Concierge Team to help you plan your shoot. They offer tips on excellent photo shoot locations in the area, wardrobe ideas & more!
2 Meet Your Flytographer
Once all of the fun details are planned you meet up with your Flytographer to capture all of your magical vacation memories.
3 Receive Your Photos- FAST!
You receive your photos back via email from Flytographer within 5 days of the shoot. Inside the email, you will find both a link to your online photo gallery and all of the digital high-resolution image files ready to download. *I loved the online gallery because with just one click I was able to share all of our amazing family photos on a variety of social media platforms.
Our Experience with Flytographer Natalie in La Jolla, CA.
We could not have had a more pleasant experience with our AMAZING Flytographer, Natalie. She texted us the day before the shoot just to make sure we didn't have any questions and to make sure we had her cell phone number. When we pulled up to our agreed meeting place Natalie was waiting in the parking lot ready to go with a smile on her face.
As a fellow mom herself, Natalie was keen to engage the kids and keep the overall mood of the shoot light and fun. She also made it a point to chit chat with each one of the kids allowing her to get to know them on a more personal level. This tactic was brilliant because with that insight she was able to capture each child's unique personality in the photos.
Even rambunctious and energetic Livvy, who was not in the most cooperative mood during the shoot, was able to be captured by Natalie's unique style, quick thinking, and creative spontaneity.
We booked a 60-minute session which I think is TOTALLY worth it because it gave us enough time to switch up the backgrounds and get a variety of shots.
Natalie's expertise in the area also proved to be invaluable. Being a local she had insider tips such as walking down a hidden road versus trekking across the sand which prevented us from getting all hot & sweaty (thank you, Natalie!). She was also familiar with how the lighting was going to act allowing her to manipulate our positioning in ways to bank off the beautiful natural light. Not to mention Natalie was crazy talented at commandeering incredible expressions from the kids- especially Liv.
I can say without hesitation that I am completely HOOKED on the amazing services Flytographer offers. But, if you follow my Instagram you know how much I LOVE family photos and you would probably say that I am an easy sale. HOWEVER, did you know my husband normally hates when I book photo shoots and yet after we received our pictures back from our San Diego Flytographer session HE was the one who asked me to look into booking a session for our upcoming Orlando trip!!! 
If they could sell him on their services surely YOU will love them too! And, to help you get started we have teamed up with Flytographer for an AWESOME GIVEAWAY. Enter below for your chance to WIN One of THREE 30-Minute Flytographer Sessions. Good Luck!!!
using coupon code "FlytographerMom"
Enter for your chance to WIN One of THREE 30-Minute Flytographer Sessions!!!
Pin for Later-
*Photo Credit- San Diego Flytographer, Natalie.
*Special thanks to Flytographer for partnering with Global Munchkins on this post. All thoughts and opinions, as always, are 100% my own.