Traveling as a family has changed our lives and I seriously love the way it has molded and shaped my kids. I am a big advocate for traveling with your kids, but I know it can seem like a daunting task. We started traveling when my kids were just babies and while it was tough at times, they were well trained little travelers by 3 or 4! I know what you are probably thinking. How do I fly with a baby? The biggest piece of advice I can give you is to be prepared and we've got all the tips you need to get ready.
Flying with a Baby? Our Best Tips on How to Fly with a Baby!
Everything to Prep Before Flying with a Baby
Do I have to Buy a Ticket for my Baby?
First off, you have the choice of buying a seat for your baby or not. Any child under the age of two can lap-sit and will not require a ticket. However, if you want your baby to have a seat on the flight, then you will have to purchase a ticket.
For any flight time over 2.5 hours, I would highly recommend purchasing your baby a seat! This way you can bring their car seat along and strap it in. For one, this is safer for your baby but it also gives you a place to set them down when necessary. I have done a few flights with a baby from LAX to Orlando and my arms are pretty much dead after the flight.
In addition, if your baby is near two and you can afford a ticket, get one. Your near toddler is quite big and trust me it is no fun to carry a child that size for a flight.
What are the best times to fly with a baby?
You have a couple of options when it comes to flight times and I say go with your gut! You know your baby best; when they nap, when they're happy, when they're grumpy. Most would say it is ideal to fly around your baby's nap time or bedtime for a longer flight.
I agree but only if your little one is a good sleeper. If you know they won't sleep in this new setting, pick a different flight schedule. It is better to have to entertain your baby during the day for a while people around you are awake than trying to deal with a crying baby at night while others are trying to sleep, especially if they are experiencing teething symptoms. It is too stressful on you and the baby.
Lastly, keep the flight connections to a minimum and book a direct flight whenever possible. Getting on and off the plane is difficult with a baby and they may be extra grumpy when they realize you are getting back on a plane for another round. If you do have to layover, a two hour stop is ideal. This is long enough to take a break and let your baby play and you won't be running across the airport trying to make the next flight with all your baby gear.
What to Pack When Flying with a Baby
Your luggage will obviously depend on what kind of trip you are taking, but when flying with a baby it is very important to pack your carry on well. Snacks and distraction are the two main ingredients to a happy flight. Here's a checklist of what to pack!
Your Usual Essentials + Some Extras- Bring along everything you would bring with you for a day out; changes of clothes, diapers, bottles… x2. Traveling can be unpredictable and you don't want to be stuck without any of the essentials. Toss an outfit in for yourself as well because sitting on a flight with a leaky diapered baby is disastrous otherwise.
Formula– If you are bottle feeding, this is probably the most important thing to remember! Make sure to use a formula separator so you don't have to do any measuring while on the go. These little gadgets are so simple, but they will save you.
Baby Food– Depending on how long your flight is, you may want to pack a meal for your little one. Preventing them from getting hungry will keep them happier and calmer.
Snacks– Bring all the snacks. You never know what your baby will be in the mood for and it's best to have a couple of options.
Create a Cheerios Necklace – A cheerios necklace is a great way to let them snack without the food falling all over the place.
Toys– Bring a couple of your baby's favorite small toys. Make sure to remember their favorite snuggly toy so that they can nap happily!
Entertainment– Once we had toddlers, we always made sure to have a couple of their favorite shows downloaded on an iPhone or iPad. You can find some cute baby headphones here!
***Pro Tip*** Download Movies or Shows your Baby likes before you head to the airport, wifi is spotty at Airports and you'll want as much entertainment to keep your little one entertained**
At the Airport Tips with a Baby!
What can you pack in your Diaper Bag – TSA Exemptions When Flying with a Baby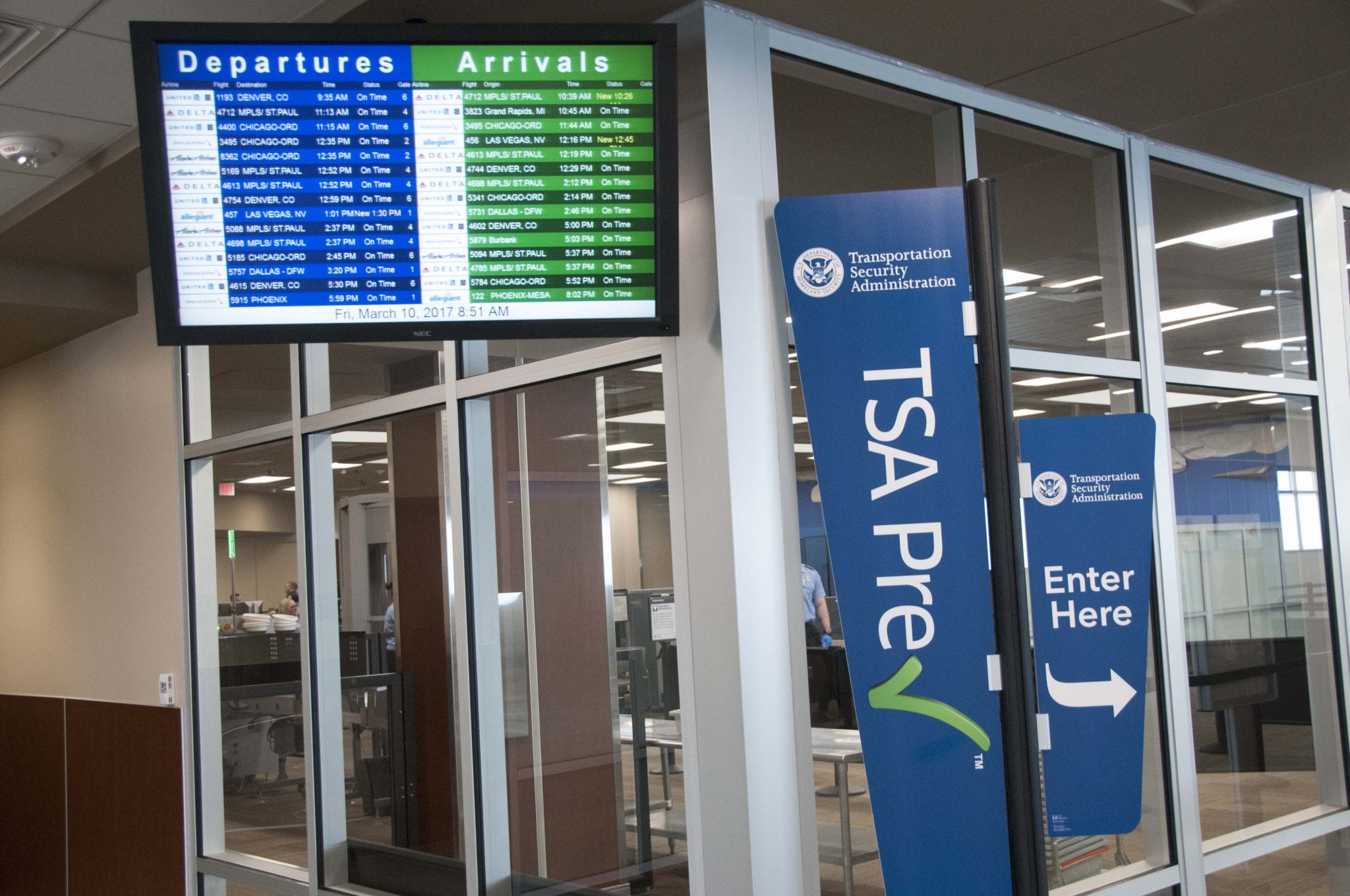 You will still have to go through the normal security screenings with your baby, however, there are a couple of things you should know! Breast milk, formula, and juice are exempt from the 3.4 oz rule when you are traveling with a baby. You will just need to inform a TSA officer at the beginning of the screening process and remove the item from your bag to be screened separately. You can also bring accessory items needed to cool your formula and baby food.
Check out the Traveling with Children page from TSA to clear up any questions. If you travel a couple times a year, I recommend getting TSA Precheck, it is a lifesaver for us parents traveling with kids.
What to do with Strollers and Car Seats?
Strollers
There is no reason to check your stroller with your bags. I highly recommend gate-checking your stroller right when you board. This way you can stroll your baby the whole way through both airports and save your arms a bit.
To get a gate check,  you just ask the airline attendant at your gate for a gate-check tag and they will have you leave your item at the bottom of the jetway. Then, when you get off they will be at the jetway waiting for you. Of course, be sure to check with your airline for their specific policy.  The best part, there is NO FEE for gate checking your stroller.
***Be Prepared for Security to Hand Check your Stroller if it can't fit through the X-Ray Machine***
Car Seats
If you don't want to use a car seat on the plane, you can check them with your bags for FREE! (strollers too but we recommend taking them to the gate). Car seats can be brought on the plane if you would like to use one. However, they are big, bulky and very hard to take through the airport. This car seat travel belt is an easy way to stroll your car seat through the airport.
I fully researched car seats for planes and found out the CARES (Child Aviation Restraint) system is the only FAA Approved Child Safety Device. It's an FDA-approved restraint system that loops around the seat back
and the seat belt to give him more security than a regular airplane seatbelt.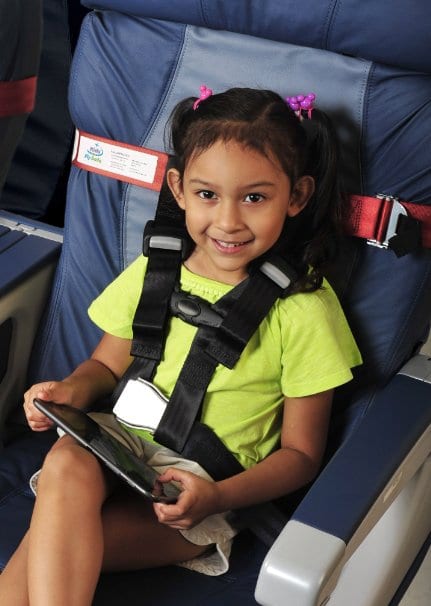 Once our baby is more of a toddler we use this super travel-friendly car seat (it can fit in your diaper bag).  Grab the mi-fold car seat (pictured below). It is so compact and approved by the NHTSA. These two items together weigh 90% less than a standard car seat. That is definitely a lot less back pain you will be experiencing on this trip.
Early Boarding with a Baby
Boarding is my least favorite part of flying in general, add a baby to that and oh my. However, almost all airlines are going to allow families with young children to board during preboarding! Definitely take advantage of this and get settled in your seats before everyone else begins shuffling through.
The downside of this is that you will be on the plane a little extra time. I always have something prepared to entertain my little one or push their feeding out so that I can feed them while everyone else boards!
On another important note, always take a potty break before boarding if you have time. It's just better for everyone all around and means one less time having to use the airplane restroom. As you can imagine, they aren't exactly the easiest place to change a diaper.
Take-Off and Landing
Your baby may be a little fussy during take-off and landing. That is just life and typically people are very understanding of this. If you want to have a little gift for those sitting in close proximity to you, though, it never hurts!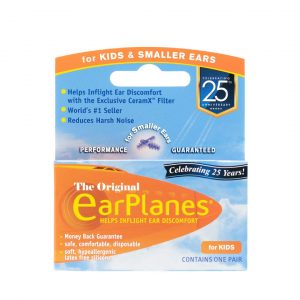 Swallowing can help to relieve ear pressure which will make for a much happier baby. If you can plan feedings around take-off and landing, do it! You can also give them a pacifier to suck on or use baby earplugs for children one and over.
In-Flight Tips for Flying with a Baby
Fingers crossed your baby will just sleep through the flight! Just in case they don't, here are some tips to help you through it.
The floor is lava! Okay, not really but it is pretty gross. Do your best not to drop anything while you're seated and definitely use a clipped pacifier holder. If you are bringing the car seat along, use clips to keep toys from falling as well.
It's okay to ask for help. Something as simple as asking the flight attendant to heat up a bottle can change your little one's whole mood.
Get ready to walk up and down the aisles – Your baby will most likely get antsy especially if they are in the crawling or walking stage. When the seatbelt sign isn't lit, take a few strolls up and down the aisles to keep them entertained.
Everything is a toy. Is your baby suddenly uninterested in every toy you've packed? Well, luckily there are safety guides, magazines, and air-sick bags that all make for great spur of the moment entertainment.
Lots of Peek-A-Boo – When there were more than three of us flying I would often put my husband in the seat behind me and the baby, that way we could play endless games of peek a boo. This truly was a lifesaver for many of our trips.
Bon Voyage!
I know it can be intimidating to take your baby on a flight, but its something many moms have done before you! And, guess what? It usually isn't half as bad as you think it is.
If your baby does begin to loudly cry, keep calm and ignore the haters. Do your best to distract your little one and calm them down. After all, grumpy babies are just part of life and your baby needs your attention more than the haters do.
You May Also Like:
The Best Travel Car Seat for 2020 [Top 7 Choices]
Surviving A Road Trip with Toddlers; Our Best Tips!
30 Things To Do In San Francisco with Kids + 5 Absolute Musts