Does traveling with your kids sound like all work and no fun? Trust me I hear ya! But, the good news is it doesn't have to be!
The past 5 years I have been traveling around the world with my 5 kids. We have been to over 11 countries across 5 continents plus plenty of weekend getaways and theme parks in between. Below I will give you my tried and true methods for making family travel FUN- for EVERYONE!
Top 10 Tips for Traveling with Kids
Practice Makes Perfect
You wouldn't hand your child keys to the car and expect them to know how to drive right? So, why do you expect them to know how to travel?
Knowledge is power. Use your child's excitement and curiosity for their upcoming trip as an educational opportunity . Anything that your child has never experienced before should be introduced to them BEFORE you travel.
Here are some examples of things we have been doing to prepare our kids for our upcoming New York trip:
Checked out the NYC Go Tourism Site (aimed at kids)
Watched movies filmed in the city: Home Alone 2, Night at the Museum and the new Annie. We pause the movie and point out different things they might see, hear or experience in New York.
Looked up YouTube clips that showed getting on and off subways. New for us SoCal natives.
Talked about safety: how we would navigate walking around in crazy touristy areas like Times Square. This included: traffic safety, encountering homeless, politely avoiding crazies (Times Square Elmo I am talking about YOU!).
Keep Your Routines
I used to think we would grow out of this one. But, to be honest staying as close as you can to your normal routine is helpful to travelers of all ages.
Get your body clock straight. To adjust to new time zones try: taking a shower, going for a walk/ enjoying some fresh air, nap and if necessary use melatonin or lavender essential oils to help you fall asleep.
Once you are adjusted to the new timezone try to stick as close to your normal routine as possible. This includes: waking up at the same time you do at home, eating around the same times, napping (if you normally do that) and getting to bed around the same time too.
Of course, you are on vacation so you need to stay flexible. Just be sure to make up for any lost sleep by sleeping in or napping. The closer you can stick to your routine the better adjusted your body will be and the more you will be able to regulate moods and emotions 🙂
Cut the Sugar
Yes, you are on vacation and all you want to do is "treat yo'self" but we all know sugar causes your blood sugar to rise and fall which causes major mood swings. And, ain't no body got time for that on vacation!
So, lessen your sweetness load by:
eating healthy nutrient rich meals
packing healthy snacks to keep everyone from getting hungry in between meals
drinking lots of water to stay hydrated
when you do indulge try sharing a treat or save indulgences to a few really special occasions throughout your trip.
You will come home feeling better both physically and mentally plus if you do it right you will save some cash too! And, you may find a new meaning for "treat yo'self". For me taking care of my body is a real treat. Like the meal below. Delicious to look at, eat and I felt amazing after I ate it too!
*TIP: How to Eat Healthy on a Budget while Traveling

Ask your hotel to send up a mini fridge or remove all the items from the mini bar before you arrive.
Load up on healthy staples at the store on your way in. Things like:


milk, yogurt, fruit, peanut butter, hummus, granola bar, nuts, bread and pre-cut veggies.

It's much cheaper and convenient to eat breakfast in the room, pack sandwiches and snacks and then go out for dinner each night
It helps you stick to your normal diet so you come home feeling great!

And, saves you cash!!!
Head to a Park
Another great thing about packing food (as I mentioned above) is you can take picnics at the park. Some of my favorite memories were made sitting at parks around the world watching our kids play.
Parks allow kids to have a break and engage in activities they are familiar with. This helps comfort and soothe them after all the stimulation they encounter while touring. Plus, while the kids play you also get the chance to relax and unwind. It is the perfect family reset between morning & evening activities.
One Planned Activity a Day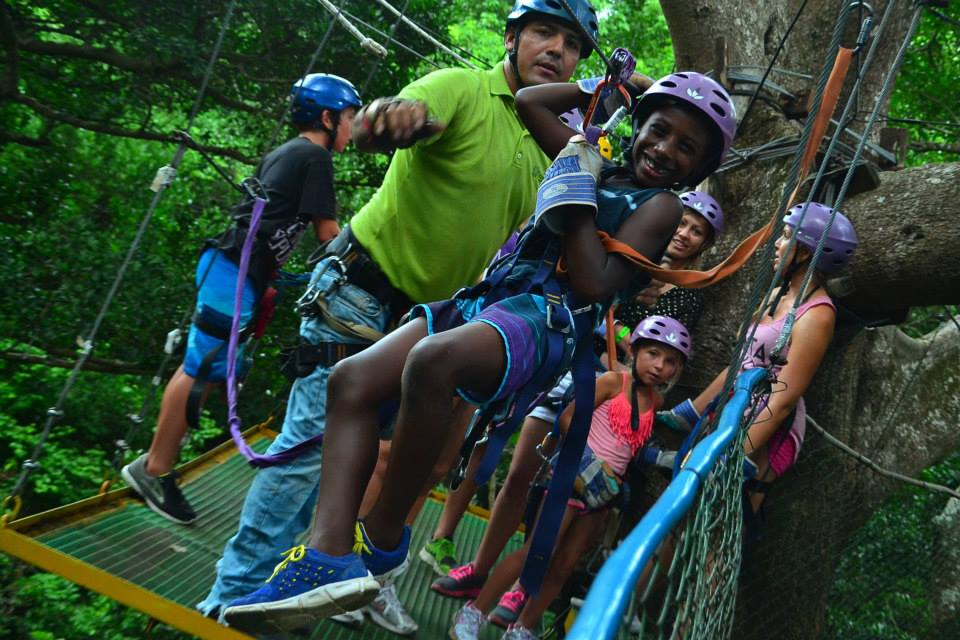 It's easy to get overly excited when you plan your trip. Most people end up trying to squeeze as much as they possibly can into each day's itinerary. I get it… you want to do it ALL because you aren't sure when you will have the chance to be in that destination again, right?
The trouble with that is everyone in the group ends up exhausted, cranky & stressed out. Making the experience a negative one and depleting the entire point of the vacation. Which is to ENJOY YOURSELF!!!!
To avoid this common mistake follow these tips:
Research activities prior to arrival
Divide your list into 2 categories:
Book one activity per day from your "Must Do' list
Then make a list on your phone of the "Would Like to Do" activities along with their details. This way "if" a chance presents itself (everyone is in a good mood & you have plenty of time) you have all the info you need at your fingertips to add the activity into your schedule.
If you follow those tips you will find spontaneity adds an element of excitement and the open itinerary alleviates the pressure of needing to stick to a schedule. You may do less… but you will actually enjoy what you do get to do & see. And, in the end, its the quality of those moments that makes them great. NOT the quantity.
Unless you are into racking up a list of 'The Top 100 Places your Toddlers has had a Tantrum'. If you are into that by all means… book away!!!
Research Family Friendly Eateries near Hotels and Activities
My husband and I love green smoothies, the kids love a good burger and we all love sushi and pizza. I check out Yelp and Tripadvisor to find restaurants that: we would like + are family friendly + that are near key attractions and our hotel before we leave.
Then I make a list and keep it handy on my phone so we can always find a family friendly place to eat that serves food we enjoy.
Another great place to go is Lonely Planet's Thorn Tree forum. You can ask country/ city specific questions to real expert travelers. I received SO many great ideas on places to eat for our upcoming DC & NYC trips this way.
Embrace the Little Things
Eyes on the prize. Do you want to create amazing memories… ones that will last a lifetime? Guess what?
Those moments live in the smallest crevices of your trip. It's the talk you had with your child while walking through a park. The silly faces you made in the mirror at the fun house. The ice cream you had to eat as fast as you can before it melted. Those tiny perfect moments where all is right in the world. And, vacations can be filled with these moments because it is one of the only times everyone in the family is disconnected from their daily responsibilities long enough to focus on enjoying them!
My favorite moment in Rome wasn't seeing the Colosseum or the Pantheon… it was watching my boys play in the Roman drinking fountains. Or sitting in the gelato shop making faces in the mirror at each other while we enjoyed the best gelato we had ever eaten. These small moments are the ones I will cherish forever!!
Slow Down
The happiest people I know are also very patient people. They don't rush through life. Instead, they try to suck as much out of each moment… each tiny little second as they can. Embrace their zen like state and your vacation will run much more smoothly.
This sort of goes along with embracing and enjoying the little things. But, that is a conscious decision for yourself. Where as slowing the family down relies on parents to act as pace setters. You are helping your kids slow down which allows them to also enjoy the small things 🙂
Out Early and In Early
There is something magical about waking up early and seeing the world before everyone else does. The lighting is amazing, everything is clean and orderly and (given they were fed) everyone is in a good mood!!
Take this opportunity to head to your sight seeing for the day. You will surpass the crowds, run into shorter queues and have a better experience with your kids.
Lastly, Never Miss a Sunset!
Ask a local where the best place is to view the sunset and make it a priority to get there. Nothing is more enjoyable than ending your day with a gorgeous view like the one above!!!
Want more great tips from real moms who travel often with their kids in tow? Check out some of my favorite family travel articles below.
Pin for Later-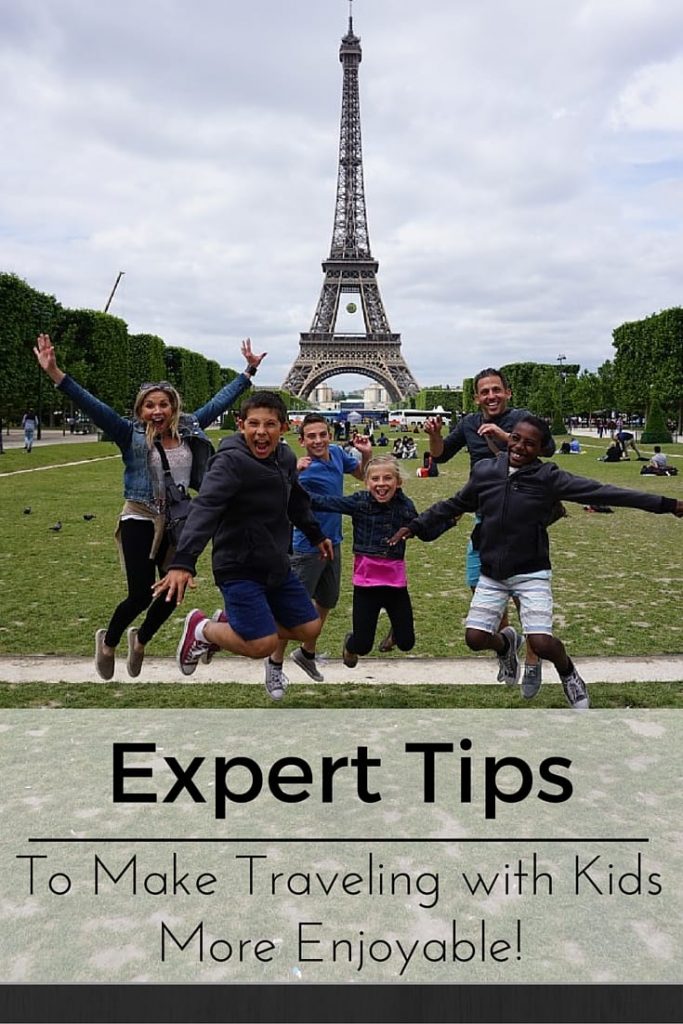 Do you have tips to share that make traveling easier with kids? Help other parents out and leave your tips or links to your traveling tips posts below.
Have a specific question? email me at amberm@globalmunchkins.com