Have you ever gotten off of a redeye flight and dreaded getting to the hotel HOURS before normal check-in? After being stuck on a plane for hours with your kids, the last thing you want to do is make them sit around and wait for your room to be ready. Well, I am about to tell you a story about one of the best hotel experiences ever.
Where to Stay in Reykjavik: CenterHotel Thingholt
Recently, our destination editor, Emilee, toured around the beautiful country of Iceland scoping out all the family-fun activities to see if those crazy cheap flights were worthwhile for families.
She arrived in Reykjavik at 6:00 am and headed to CenterHotel Thingholt thinking surely her room wouldn't be ready for hours. She walked up to the receptionist, Andrea, who greeted her with a warm, friendly smile. Anna asked Emilee about her flight and offered Emilee a cup of coffee. Wow! What a welcome! Anna informed her guest that a room would be ready in a few hours. However, shortly after Emilee walked away from the desk, Andrea chased after her to let Emilee know that her room was already ready, at 9 am! Lucky break!
When booking hotel accommodations, we focus on three key aspects. Is the hotel clean? Is the staff friendly and helpful? Finally, is the hotel located in a good location? CenterHotel Thingholt exceeded Emilee's expectations is all three of these areas.
Clean Hotel Room
The hotel room was extremely clean and nice. The bathroom featured stone walls and a refreshing rainfall showerhead. Emilee noted, "After a 7-hourour flight, the shower was to die for." The room was well appointed with a comfortable bed and spacious enough for a couch. It could easily sleep a small family with one child in tow.
CenterHotel rooms also feature free WiFi, satellite TV, and a tea/coffee maker. But, the BEST feature might be the gorgeous view of Reykjavik.
Friendly Staff
Every single staff member at CenterHotel Thingholt was genuinely happy to be working and assisting guests. All of the waiters and waitresses were both attentive and kind, and the receptionists were helpful, informative, and friendly.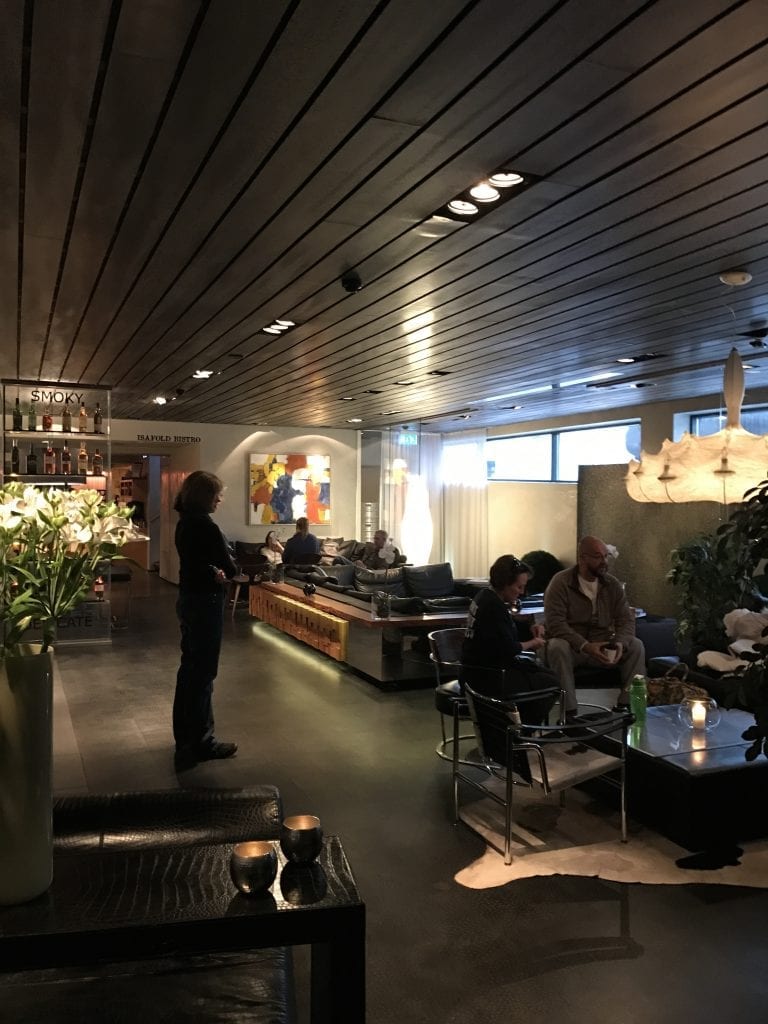 Emilee noted that "Our favorite interaction was with Andrea. She seemed very interested in our travels, where we were going to explore in Iceland, and she cared about our stay. It is employees like Andrea that makes take a hotel experience from good to great."
Excellent Location
Finally, the most important aspect of choosing a hotel when traveling should be location. Can you easily experience the city from just outside the hotel's doorstep?
At CenterHotel Thingholt, you can! This stylish and original hotel is just a 2-minute walk from Reykjavik's main shopping street, Laugavegur. If you walk outside the main entrance and turn right, you are in the heart of Reykjavik. Go for a stroll, grab a cup of coffee, and start shopping.
Check out our room tour-

BONUS!
Fuel up before you head out and explore the city at CenterHotel Thingholt's continental breakfast. It is included in your stay, and it is absolutely delicious. After traveling around Iceland for 10 days, Emilee got to experience a lot of different continental breakfasts, and the breakfast at CenterHotel Thingholt was easily one of her favorites. She couldn't stop raving about their chocolate croissant.
In Reykjavik, there are hundreds of hotels to choose from. Avoid the hassle of trying to find the right hotel for you and your family. Trust us, CenterHotel Thingholt is the way to go. Check out their reviews on Booking.com, Trip Advisor, etc. and you will know that you are making the right decision.
Is Iceland on Your Family's Bucketlist?
Pin it for Later
*special thanks to

Centerhotel

for hosting our Global Munchkins family on our recent visit for purpose of this review. All thoughts and opinions above, as always, are 100% my own.
Latest posts by Mama Munchkin
(see all)