Our kids are growing up in a world where patience is no longer a virtue. A place where everything can be instantly downloaded before you can blink an eye and while I appreciate the convenience I also worry about the consequences it will have on our munchkins. That is why I think it's important to teach your kids to write letters.
3 Reasons to Teach Your Kids to Write Letters
1 Helps them learn how to express gratitude
Gratitude is much more than saying thank you. True gratitude is a lifestyle choice and therefore learning how to be grateful is a skill that can help your child throughout their entire life. In fact, a study conducted by Dr. Robert A. Emmons of the University of California, Davis, reveals that cultivating gratitude can increase happiness levels by around 25 percent. It can also cause individuals to live happier, more satisfied lives and enjoy increased levels of self-esteem, hope, empathy and optimism. Who wouldn't want that for their kids?
A great beginning to letter writing is to introduce your child to writing thank you notes after they receive a gift. The simple act of recounting their blessings and recording them in written form extends the joy they feel, and kids love hearing that a family member appreciated their handwritten note. Try it next time your child has a birthday or after the next big gift-receiving holiday.
2 It teaches them patience can be rewarding
As previously discussed our fast paced, instant gratification based world leaves children without much practice in patience. Remember, waiting until a movie rental was returned at Blockbuster or a book you wanted came back in stock at your local library. Our kids have no idea that there was ever a time you couldn't just instantly download the new movie that just got released 😉
The act of writing a letter and waiting for it to reach the recipient or receive a response teaches kids about delayed gratification. It helps them learn that sometimes the anticipation is almost better than the gift. When starting out it is wonderful to have your kids write letters to people like grandparents who can write back. Kids love going to check the mail and finding something addressed to them and grandparents adore receiving notes from their grandkids- win/win!
3 It takes them away from the screens
I am always looking for ways to get my kids away from the screens whether it's the tv, iPad, or computer screen it seems like they are constantly sucked into some kind of screen. Letter writing can be super fun especially if you supply kids with colorful paper, stickers, and pens. Which is why I LOVE Hello Paper Crate.
Hello Paper Crate Review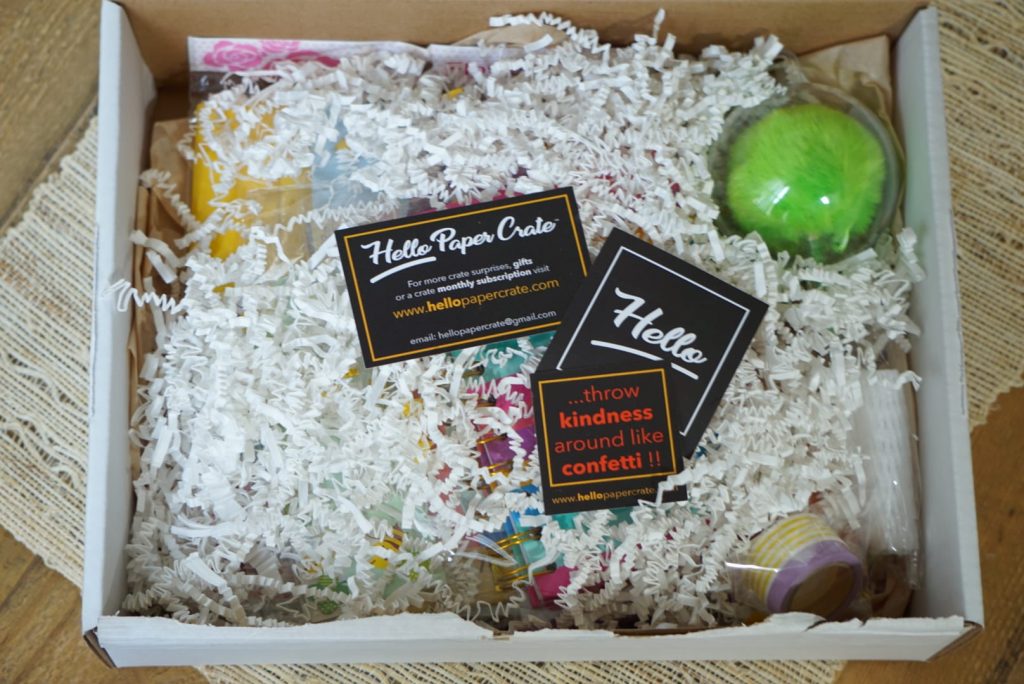 Hello Paper Crate is a stationary subscription box company started by a mom and her two twin teen daughters, Ashley & Emily. You can purchase just one crate or sign up for crates to be delivered to you through one of their subscription plans. As a frequent traveler, the twins mother used to bring them home paper supplies and trinkets as gifts from her trips. The family-owned company uses this same global mindset when stocking their crates today. Of, course I absolutely LOVE that they source their products globally.
The fact that their crates come in the mail adds an extra element of surprise that kids and adults will both enjoy. I know Ella was so excited to open up her crate and see all the wonderful surprises inside.
How It Works:
1 You Choose Your CRATE- monthly or single box?
2 Choose Your FREQUENCY- how many months would you like your subscription?
3 UN-BOX Your Crate- open up the fun as your crate is filled with gold and paper confetti + a positive message card to make it super exciting!!
Ella is in LOVE with her crate. I knew she would like it but I didn't expect the hours and hours of creative play it would inspire. I think Hello Paper Crates would make excellent gifts for kids 7+ as well as adults. They would also be a great way to entertain kids over spring and summer breaks.
Have You Taught Your Kids to Write Letters?
*a special thanks to Hello Paper Crate for supplying a crate for the purpose of this review. All thoughts and opinions expressed above, as always, are 100% my own.