Florida is known for a lot of things but two things that are sure to come to mind – sunshine and theme parks. Combine the two and what do you get? Waterparks! Now, there is a new Universal Studios Waterpark, Volcano Bay! This is probably my favorite waterpark of all time. From the moment you walk in and see the massive wave pool underneath a giant volcano, you know you are in for a full day of fun. That being said, tickets are not cheap for volcano bay, so here are 5 Ways to Get Discounted Volcano Bay Tickets.
Best Options for Discounted Universal Volcano Bay Tickets
My personal favorite option for discounted Volcano Bay park tickets is ARES Travel. They almost always have the best pricing out of any of the discount ticket companies. Also look at their travel bundles as they offer great combo deals with hotels and other park tickets.
For Universal Volcano Bay, again, the discounts are focused mainly on multi-day and multi-park bundles. These not only offer better per day prices but also give you the chance to see Universal Studios and Islands of Adventure in addition to the Volcano Bay park.
2 day Universal Park-to-Park Tickets plus 3 Days FREE
With all Universal Park-to-Park tickets, you can again visit any of the three Universal properties, with the option to visit multiple parks each day. Since adding extra days to Universal park tickets is relatively affordable, the aRes deal prices out 2-day Park-to-Park tickets with 3 extra days added, all for the price of a standard 2-day pass. What that means is you get 5 days total at any of the parks with an average savings of around $50 on each adult ticket.
2 day Universal Base Tickets plus 3 Days FREE
Offering a similar deal on a Universal Base Ticket, aRes Travel prices out 5 full days at the Universal Parks. You will get Universal Studios, Islands of Adventure, and Volcano Bay – for the price of a 2-day pass. With the base ticket, you can visit one park each day. The average savings here comes out to around $27 per adult ticket!
---
Undercover Tourist is a great option when you are looking for discounted tickets to any theme parks. They provide discounted Florida park tickets and great travel advice since 2000. Plus, Undercover Tourist offers really nice extras like free shipping on your tickets and a 90-day refund or return policy. They also have an A+ rating with the Better Business Bureau.
Another great feature of Undercover Tourist is their park calendars. Using insider information, Undercover Tourist provides a ranking for every day of the year. The ranking takes into account a number of criteria. It includes average crowd size, park hours, and even the weather at Volcano Bay. Using the ranking system, you'll know exactly which day is the best day to visit.
2, 3, 4, or 5 days Universal Park-to-Park Tickets
With these tickets, you can visit all the Universal Orlando parks, including Volcano Bay, Universal Studios and Islands of Adventure, with the option to visit multiple parks on each day. The savings on each adult ticket range from $40 on the 2-day pass to $67 on the 5-day ticket option.
3 or 5 day Universal Base Tickets
With these tickets, you can again visit all the Universal Orlando parks. Of course, this includes Volcano Bay, Universal Studios and Islands of Adventure. The difference is that you are only able to visit one park each day. The savings here range from $29 to $41 on each adult ticket.
Disney or SeaWorld Bundle
For an additional $5 savings, Undercover Tourist will let you combine any of there above Universal Volcano Bay discounted tickets with a discounted Disney or SeaWorld ticket.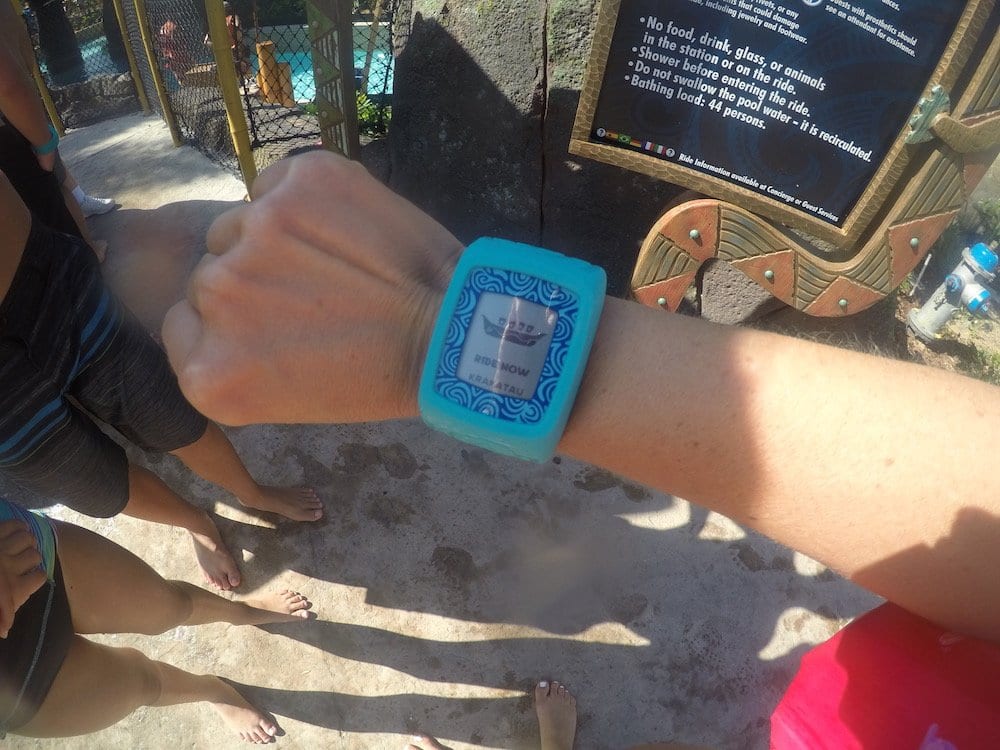 Another company offering great discount tickets to Orlando theme parks is "Best of Orlando". Focused on Orlando in particular, they offer amazing deals. Their website offers deals on almost anything you'd want to do or see in the city and surrounding area.
Best of Orlando has been around for years and is well trusted in the market. They do not charge any sort of convenience fees, administration fees, or credit card fees.
Their Universal park ticket discounts are also great with one discount offered on Volcano Bay in particular.
5 day Universal Park-to-Park Ticket
With the Best of Orlando deal, you can visit all the Universal Parks – Universal Studios, Islands of Adventure, and Volcano Bay – and hop around to any combination of parks each day for 5 full days. The savings on each ticket bundle is over $70 making this a particularly great deal if you will be staying in Orlando awhile.
Getting an Annual Pass
For the true, committed fans, no deal on tickets to Volcano Bay or any Florida theme park is going to be better than what you'll get with an annual pass. Offered directly from Universal, the annual park tickets are a great option for anyone living in Florida or visiting often. Even if you are taking a couple of vacations each year to Orlando, this pass is still a good deal. Keep in mind, you will need 3-park pass to get into Volcano Bay.
In addition to getting admission directly to the parks, with some Universal Annual Passes, you'll also score additional benefits and discounts. For example, at Volcano Bay, a Premier Annual Pass gets you 15% off all restaurants, Universal Photos, and Universal merchandise and the Preferred Annual Pass gives you 10% off as well.
As of July 2021, the annual pass options for Volcano Bay include:
Premier Annual Pass, Preferred Annual Pass, Power Annual Pass, and the Seasonal Pass – Each pass at Universal offers slightly different access and benefits. On the higher end, you have no blackout dates, extra discounts on special event tickets, no blackout dates, etc.
Even with the base Seasonal Pass, you have entry to all the parks, including Volcano Bay, and additional savings on special events. The average savings will really depend on how much you visit the parks. If you fall in love with Volcano Bay and want to visit often, definitely check out the Universal annual passes.
Additional Options to Save
We have covered a number of ways to save money on your Volcano Bay tickets. From multi-day passes to bundling with other theme parks to annual passes, there are plenty of money-saving options.
In addition to the companies above, we wanted to mention a few other ways to save a bit of cash. First, Florida residents get special offers at all the major theme parks, including Volcano Bay. Whether you are going for just a day or want to buy an annual pass, don't forget to mention you live in Florida and be sure to bring along a Florida ID.
Another super simple option to save, even if you want to order directly through Universal, just order your tickets online. On the Universal website, you can save up to $10 on each adult ticket to Volcano Bay, just by ordering your tickets online.
With all the saving options above, we know you can score a great deal on your Volcano Bay visit. We hope you enjoy the water!
Why We Love Universal Volcano Bay
Volcano Bay is a massive waterpark that goes above and beyond with dozens of rides, real sand beaches, and a volcano complete with a lava light show each night.
Luckily, Universal Volcano Bay has everything you need to cool off on a hot Florida day. Whether you are into relaxing and floating down a lazy river or prefer the adrenaline rush of a huge water slide, the park has you covered. Also, there are over 20 waterslides and rides ranging from kiddie pool options to massive drop slides. You will also find a number of more creative waterpark rides.
Universal Volcano Bay Best Rides!
Ko'okiri Body Plunge – This slide drops you down through a trapdoor at a crazy 70° angle for over 100 feet. Keep in mind, it's ot for the faint of heart.
Krakatau Aqua Coaster – This water roller coaster is just as much fun as a traditional coaster. With sharp turns and steep drops, the coaster will have you screaming before plunging you into a waterfall. This waterfall will completely soak you.
Kopiko Wai Winding River – If you need a break from the waterslides, this lazy river is a great option. The river runs all around the park and is also the perfect place to relax
Waturi Beach – Located at the base of the volcano, this is a real beach, complete with sand! Grab a beach lounge chair, a specialty Volcano Bay tropical drink, and enjoy.
Check out all the rides at volcano bay here.
You Can Check Out My Full Review and list of all the best of Volcano Bay Here!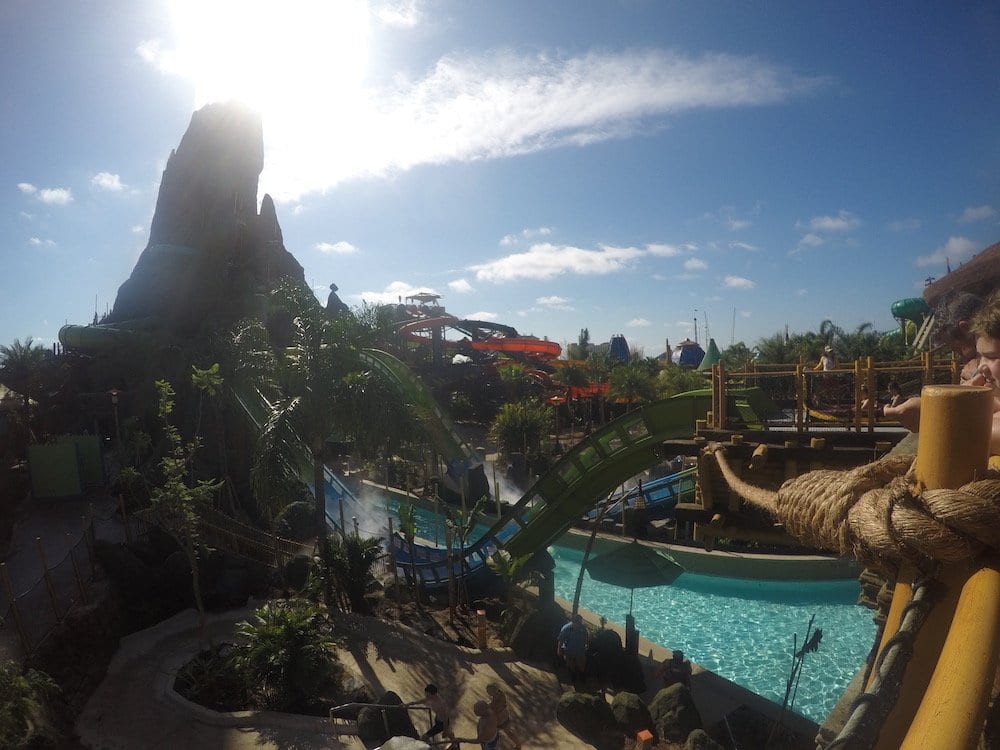 Year Round Fun
Thanks to Florida's beautiful weather, you can visit Volcano Bay nearly year round! Not to mention the fact that the water at Volcano Bay is heated to comfortable 85° Fahrenheit. During the cooler winter months, the park does close earlier. There are occasionally days that are just too cold where the park will be forced to close. In general, though, visiting is possible basically year round.
Whether you are visiting in the off-season winter months or in the height of summer though, saving on your Universal Volcano Bay park tickets is super easy. Savings are a great way to maximize your vacation budget.
Pin for later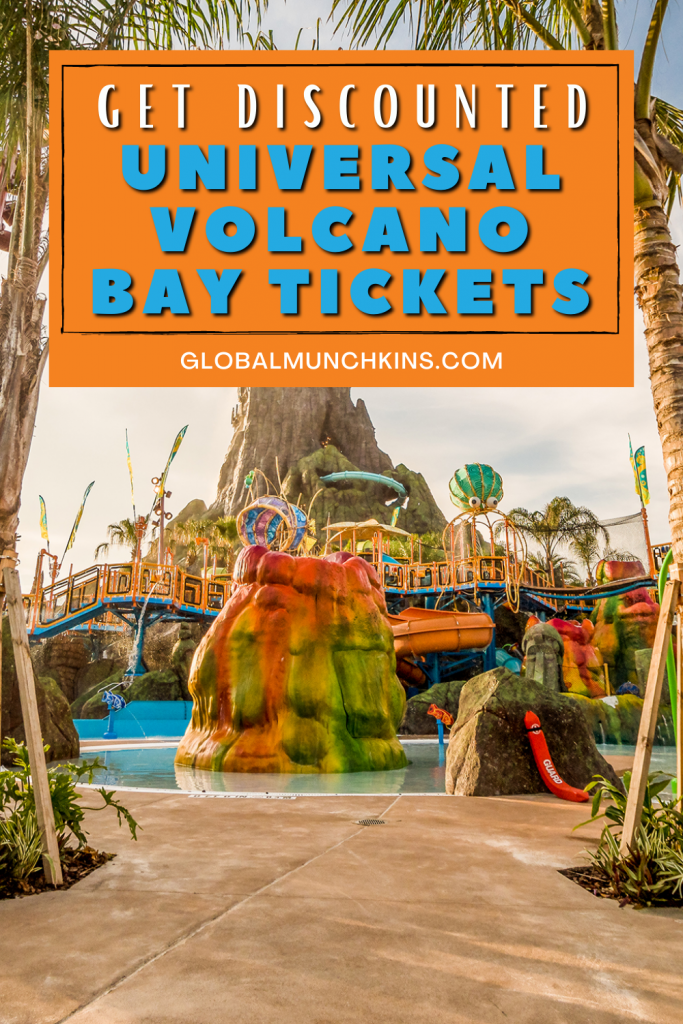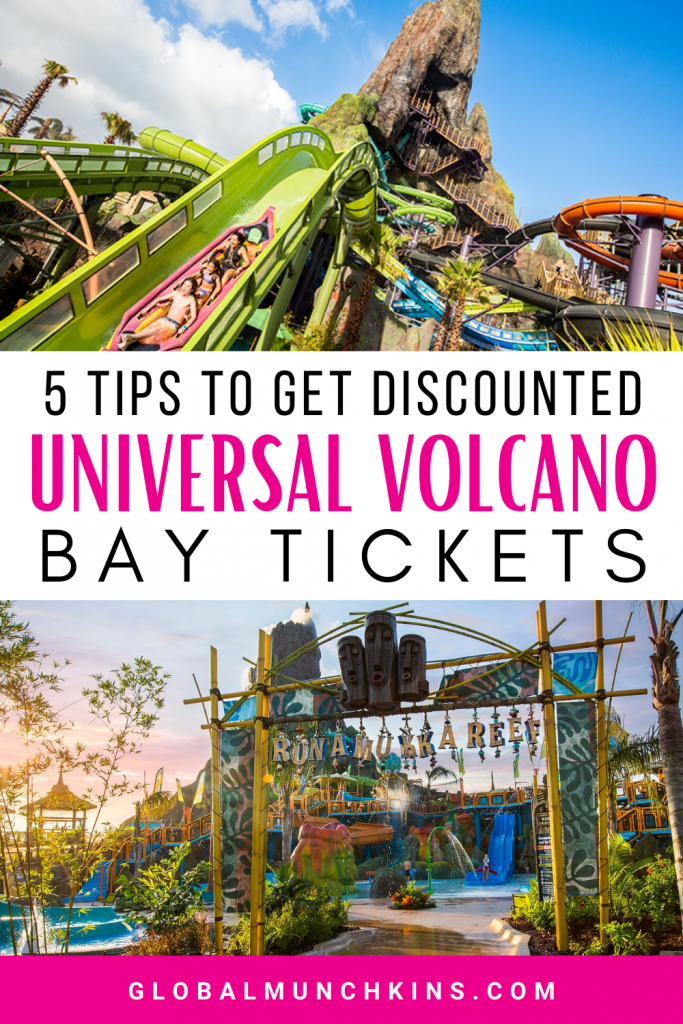 You Might Also Enjoy:
The BEST Universal Orlando Tips from a Pro [Over 25 Amazing Tips]
Universal Studios Orlando Discount Tickets [9 Ways to Save + Express Passes]
How to Purchase Legoland Discount Tickets [11 Ways to Save]
Latest posts by Mama Munchkin
(see all)